Welcome to the fourth of four fantastic recaps of our entire experience at A-Camp 2.0, which took place 2.5 hours outside of Los Angeles at Alpine Meadows Camp atop a mountain in Angelus Oaks, California, from September 12th-16th, 2012.


A-Camp was the genesis of an idea Riese had at 3AM in July 2010: the concept was to take the spirit of the website into three glorious dimensions and create an affordable option for queers for whom other lesbian vacations aren't always a perfect fit. In April 2012, we did it for the first time — along with 160 campers and 35 staff members, we rented out a summer camp in its off-season and enjoyed a transformative weekend of fun, friendship, panels, workshops, classes, sports, entertainment, events and so forth. It was probably the most awesome experience of our life and we knew from there it would only get bigger and better.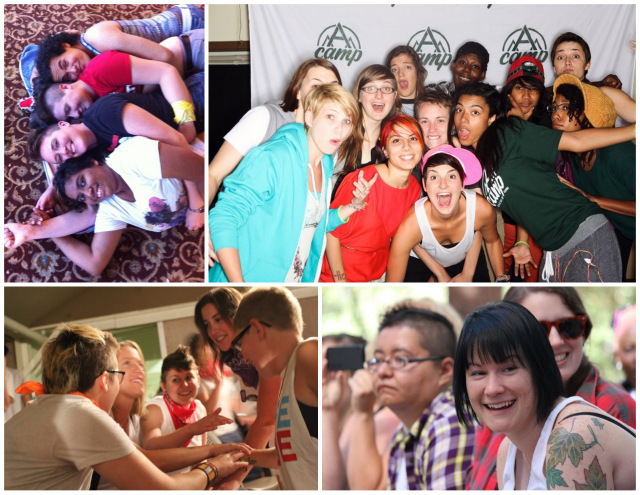 So in September, 220 campers and 40 staff descended upon The Mountain for four days of much-better-organized fun, friendship, panels, workshops, classes, sports, entertainment, events and secret initiation rites.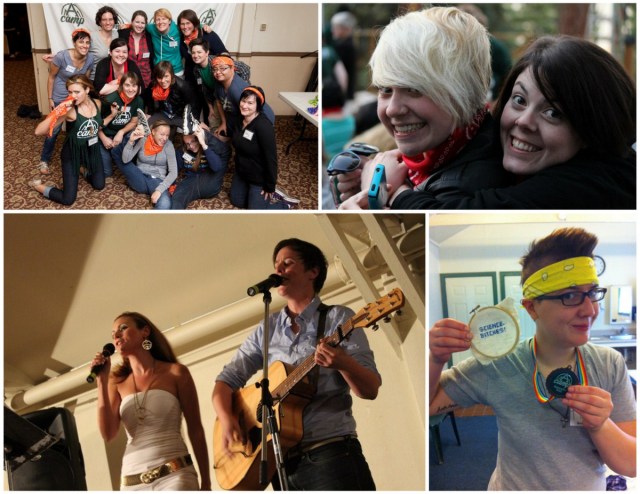 These epically long monster-posts will do their best to explain and extrapolate upon the camp experience, from avoided-shitstorms to emotional revelations to glory/triumph. But we can't tell you everything. We must leave some things up to the imagination.
The next Camp Autostraddle will take place May 23rd-27th, 2013 in Angelus Oaks, California, Mark your Calendars!
+
Saturday, September 15th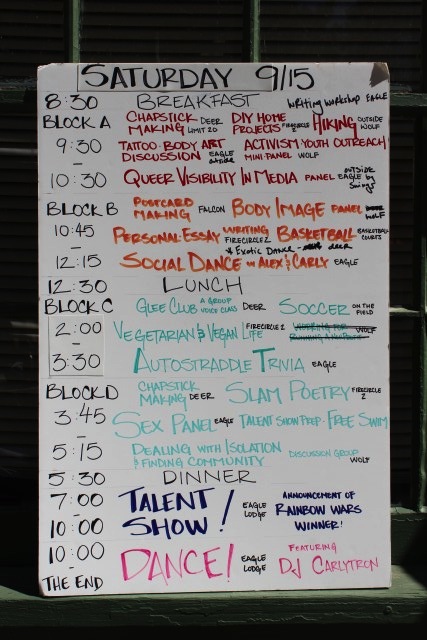 I. Saturday Morning Fever
Carmen Rios, Misfits Counselor/Contributing Editor: Another day, another cup of coffee with one slice of french toast to start my day. I was sad on Saturday because it was becoming clear that camp was eventually going to end but I did have the amazing experience of finding my iPhone in the dirt, so.
Annika Penelope, Unicorns Counselor/Writer: I'm apparently really bad at packing because I brought enough clothing to last me at least two weeks. This meant that I was able to have multiple outfit changes per day — not a single one of which was practical for camping in the mountains.
Riese Bernard, Runaways Counselor/Editor-in-Chief: Saturday! Saturday is the day in which I was scheduled to tell people how to be writers, talk about eating disorders, give away a campership to whomever loves Autostraddle the most and tell people how to have sex! EASY!
Sara Medd, 21 Hump Street Counselor/Stylist: Saturday was not as jam-packed with activities for me, so I tried to just enjoy spending time with the campers and tried to process some of my own feelings.
+
Block A:
Chapstick-making w/Laura & Laneia
DIY Home Projects w/Marni & Jill
Tattoo/Body Art discussion w/Crystal
Queer Visibility in Media w/Carly, Riese, Haviland, Brittani, Carolyn & Mollie
Activism/Youth Outreach mini-panel w/Carmen, Katrina & Jamie
Professional Writing w/Riese, Rachel & Carolyn
Hiking w/Sarah Croce
Jill, Wild Stallions Counselor/Camp VIP: I thought the DIY Home Projects Workshop went well.
Marni Kellison, Camp Co-Director/Contributor: The unofficial title of this workshop was "Butching it up with Marni," for which Carly had written a jingle that she'd been singing during every conference call we had leading up to camp and all throughout camp. It's actually pretty catchy.
Jill: Marni showed everyone how to patch a hole in drywall and discussed essential tools to have in your home.
Marni: During pre-camp I made a little mini-wall out of scrap 2x4s and drywall that I'd haggled for at the Home Depot in Oakland, and for the workshop I had one person smash a hole in it with a hammer and then demonstrated how to patch it. Then I went through my tool bag and talked about different tools' uses and what types of tools are good to have on hand at home, and did my best to answer people's questions about home repair.
Gabby Rivera, Catch-22 Counselor/Writer: Butching it Up with Marni (and Jill!) was really a study on how to make girls swoon by getting shit done. This is not to take away the high levels of skill both Marni and Jill have in the DIY sector of queer living. No, it's more of a comment on watching the campers watch them do their thing. The queers around Marni while she banged around on some dry wall were sprung. Sprung off Marni with a hammer in her hand, fer sure. Maybe even I was a little sprung, like how could you not be? I wanted to be Marni, do all of fix-it type things and swoon a little too.
Marni: Obviously I had Foreman Jill on hand to supervise the work, and she also shared her plumbing expertise with the group.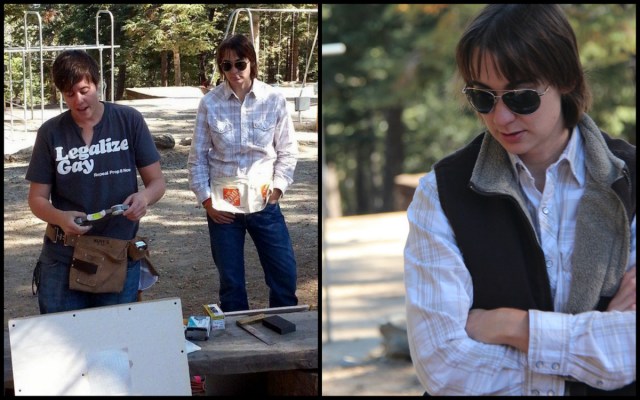 Jill: I crammed everyone into the Men's bathroom in Eagle Lodge to show queers what a sink looks like and easy fixes for sinky problems. Campers asked great questions. It was a success, but no big deal. HOWEVER, later on I was informed by several people that, apparently, when you combine the butchy awesomeness of Marni and myself into one workshop, it creates enough pure sex heat to melt the panties (or boy shorts) off of women. True story.
Marni: It was so fun! I went to carpentry school in Montreal but don't work as a carpenter at the moment, so I loved being able to talk shop with everybody.
Gabby: Jill — pause: can I just say how absolutely fucking amazing Jill turned out to be? like thank you lesbian Jeezus for making Jill — Unpause: So I left the Butchin it Up workshop for a minute and when I came back there were only five girls around Marni. Jill came back to the workshop area with like 20 other campers from out of nowhere. So I asked where they went. Jill says: Oh, we plumbed a sink. -shrug- Oh, right, cuz that's a thing non-plumbers do for themselves. Also, wow that is such a perfect way to explain what ya'll were just doing. I've never uttered the phrase "plumbed a sink" and now it's one of my favorites.
Crystal, Thundercats Counselor/Music Editor: So many more people showed up to the Tattoo & Body Art Discussion that I had anticipated. I didn't really have a game plan and so we just sat around the picnic tables and showed off our tattoos. Everyone had so many super interesting pieces and stories and questions.
Carmen: We turned the "Activism Mini-Panel" into a "chairs in a circle" discussion and it was really cool having people all contributing to one another and lending some helpful tips to everyone else. We all have something to learn from one another, and I think in organizing it's super important to simply engage with one another about what we do.
Carolyn Yates, Valencia Counselor/Contributing Editor: There had been a lot of discussion about how Professional Writing 101 was not going to be a workshop, and I was privately worried that I was going to disillusion a lot of people about writing for a career (pro tip: do not do it if you have other skills!).
Riese: Nobody knew the Pro-Writing 101 thing was happening 'cause it'd been rescheduled from Wednesday, when I was sick, but I think we provided a personalized touch for the seven people who showed up, three of whom already work for me in some capacity.
Rachel Kincaid, Jetpack Counselor/Senior Editor: When we talked about the workshop, we realized that we mostly just wanted to emphasize how little money you make as a "professional writer," which was depressing and not the ideal way to start off the day/panel. Also none of us had had very much coffee yet, so. The group of people who came to the panel were fabulous, though, and had a lot of awesome specific questions.
Carolyn: Riese and Rachel talked about writing for literary journals and I talked a lot about how I wrote blurbs about security cameras as a way to pay for school and we almost went over the time.
Rachel: I drew on my experiences writing freelance, writing for magazines, copywriting for a human resources outsourcing company, working at online magazines, being the editor of Autostraddle, publishing stories in books, working at a literary agency for two years, and so forth. I've been on both sides of a lot of things. (TWSS)
Daniela, Unicorns Counselor/Intern: I went to this workshop twice: once in April, once in September. I now have at least two new subscriptions to writers magazines and a written timeline for applying to a few contests. So, basically, this was a success. I left full of ideas and excitement about the fact that one day I can possibly make enough money writing to buy myself something nice of undefined value -and it's going to be good.
Rachel: Riese did a great job addressing questions about the publishing world, magazines, freelancing and a variety of other important life topics. Carolyn is a super profesh freelance writer and was able to address a lot of things about credits, pitching, deadlines, and communicating with editors. I am mostly dumb and was able to primarily talk about an MFA and why/how you might ever pursue this largely impractical degree. It's always great to meet other writers, and it's super cool to be reminded of how smart and funny and driven the people in our field always are. Thanks for keeping the bar high, A-Camp writers!
Laneia Jones, Runaways Counselor/Executive Editor: I was so amped for chapstick making! This was the project I'd wanted to do at April Camp, but we couldn't figure out the logistics of 20+ people making personal chapstick in a hut on a mountain, so we had to shelve it. But then Laura had a theory and a plan and BAM it was on the schedule for September.
Laura Wooley, Bomb Girls Counselor/Associate Editor: Chapstick making was a magical adventure. After spending 20 minutes or so being convinced that Deer Lodge was broken, Megan discovered the fusebox and flipped the switch so we could use electricity instead of having to heat our water in our burning loins of desire (or something).
Megan O'Grady, Valencia Counselor: Making water boil is so much more complicated that you'd think! I had an elaborate set up in the bathroom involving a microwave and two plastic chairs.
Laneia: Megan is the MacGyver of water boiling. This has been proven time and time again.
Stef Schwartz, Battlestars Counselor/Contributor/OG Autostraddle: I had no idea what I wanted to do for Block A, but I was having a lot of trouble making a decision because my lips were so chapped! Then I was like, "HEY, I SHOULD GO TO THE CHAPSTICK MAKING WORKSHOP!"
Laura: Instead of getting bored and leaving during the long figuring-out period, the campers who came pulled out magazines and started decorating their containers and it was so beautiful that I wanted to hug them all. Laneia and Megan boiled water and cheered on the intrepid lip balm mixers. I hope everyone got to share their chapstick with a really fun activity partner.
Stef: Laura and Laneia taught us how to make our own lip balm out of beeswax, oil and a flavor of our choosing, and then we got to decorate the tins we put them in! Everything was actually so precious I thought I might melt but NO! My wax did! And then it cooled and then I had chapstick. It made all the bourbon I drank for the rest of the day taste like tea. Sidenote, when I got home I bought candelilla wax (which is more vegan-friendly), some coconut oil and some flavoured teas and although I had to alter the recipe a liiiiittle bit, I ended up with some pretty delicious lip balm. I learned a craft!
Mary Tully, Little Rascals Counselor/Calendar Girl: Hot Laura made me chapstick!!!!
Brittani Nichols, Contributing Editor: The Queer Visibility in Media Panel was timed perfectly because there's no better time to be sad than soon after you wake up.
Carly Usdin, Thundercats Counselor/Contributor/OG Autostraddler: This wound up being more of a discussion than a panel, which I think worked out really well.
Brittani: I don't really buy into the notion of "straightening up" cultural productions to make them more financially lucrative. Despite my strong feelings on this topic, I managed not to drone on about it and I think the panel ended up being equal parts insightful and depressing. The main question we were left with was, "Do we take any visibility we can get despite the inaccuracies and negative portrayals or only embrace queer visibility we can be proud of?"
Carly: This turned really quickly into Real Talk About Money, the Patriarchy and the World of Entertainment, which got us all fired up. So we ended on a very Damn the Man, Save the Empire high note.
Sarah Croce, Forever 21 Counselor/Contributor/Calendar Girl/The Talent: I finally felt well enough to go hiking! Mary Tully and I led a small but amazing hike through the woods on a beautiful Saturday morning. Our three adventurous campers made it a delightful journey!
+
Block B:
Postcard Making w/Carmen & Jamie
Social Dance w/Alex & Carly
Personal-essay Writing w/Rachel
Basketball w/Brittani
Body Image & ED Discussion w/Riese & 5 Anonymouses
Carmen: Jamie and I hosting Postcard Making was super fun, especially because she arrived on Wednesday and we hadn't been able to hang too much. We were lower on supplies but the same amount of people showed up and Sophia made another avant-garde piece of art and EVERYONE'S POSTCARDS WERE ALWAYS AMAZING. I created a promotional test design for the Klub Deer afterparty, DJ'ed using some fancy speakers, and decided my only advice about life is "drinking has consequences."
Carly: Basically Social Dance is the most fun I've ever had? I remember when the idea for this activity was proposed months ago, and even back then I knew it would be amazing, but I really had no idea just how amazing it would be. We had an amazing turnout and Alex led the group in some warm-ups and then some excellent choreography.
Alex Vega, Avengers Counselor/Design Director/Co-Founder: Social Dance gave me social anxiety all week leading up to it. I've never led people in a dancing situation before and I didn't know how I was going to do it for an hour and a half. Luckily, the campers are awesome and just wanted to dance. Period.
Carly:  Everything sorta dissolved into the BEST DAYTIME DANCE PARTY EVER.
Alex: The whole thing was really just a free-for-all dance party. Also Michelle Attah, you guys.
Carly: Shoutout to Michelle Attah for CRUSHING IT.
Alex: ALL OF YOU ARE SUCH AWESOME/FUN DANCERS. WTF.
Carolyn: During the social dance I decided what I really needed to do was not talk to humans for an hour, so I went and read with a camper from Valencia and got really sunburnt and helped her look up what the weather in the place she'd told her family she was was like.
Cee Webster, Golden Girls Counselor/Tech Director: Watching social dance was super fun. I am seriously jealous of the dancing skills at camp.
Brittani: Every time I worry about there being enough people to get a Basketball Game going and every time I'm reminded I'm at a camp for queer women so duh, there will be enough people. We continued the tradition of not being able to breathe after an hour of running and jumping in that altitude and finished before the block was over. This gave us time to check out what everyone else was doing. Quickly I was summoned by the spirits of movement to the Social Dance where I could not believe there were so many people willing to dance in the middle of the day with all the lights on. I've never been more impressed.
Camper Quote: "My favorite activity was SOCIAL DANCING ZOMG!!! I love dancing but I only do it after drinking because I'm self-conscious, but during social dancing everyone was just having a great time."
Rachel: I had been super pumped about getting to put together an Essay Writing Workshop where people could work on personal nonfiction/essays, because part of my real-life job as an instructor of mandatory English composition classes for college freshman is trying to get them to write personal essays, and it's like pulling teeth and/or squeezing blood from a stone. It's like squeezing blood-teeth, I guess. So understandably I was really excited about getting to work with people who actually wanted to be there, and weren't just going to fart out something about how winning their softball championships senior year taught them to never give up. (Not that that's bad! Props to you if you won your softball championships/never gave up! I just find it hard to believe that that's the most important thing that's ever happened to you.)
So I was really excited to be there with people who were also really excited to be there, but began to become more panicked when I realized that this meant they would be expecting a lot more from me, whereas my freshman students really only expect me to show up and not be visibly hungover. Luckily, we had a super awesome, small, intimate group of people who wanted to work on their writing, and I think we all made something really special together. We talked a little bit about what goes into personal essay writing in general, and worked with a Lynda Barry writing exercise that's outlined in this post.
We all got to sit quietly in the sun and write for a while (and Lord, there's something great about being on a mountain with a group of people who are all happy to sit in the sun and write quietly), and it was a great way to take some silent space to process on our own on the page in the midst of what can sometimes be a chaotic and overwhelming (although wonderful and affirming!) camp experience. After we regrouped, some people were kind enough to share a little bit about what they wrote with the group, and we reflected on the value of writing to write, even without a specific project or purpose in mind. Everyone who came to that workshop was a really special person, and I hope you're all still writing!
Riese: So, the body image panel: we promised the campers and presenters absolute confidentiality going into this activity, so nobody was required to write about it or to even let you know that they were involved. But I'm already naked on the internet, so let's do this thing!
Planning this was impossible. Pre-pre-camp emails remained Marked As Unread. Our pre-camp conversation involved a lot of fidgeting, deep breathing and near-crying. We talked about our experiences with eating disorders mostly, but also general body image/self-esteem issues, drugs, the role of family in defining our relationships to our bodies and self-harm. Clearly talking about these issues was hard enough without thinking about how to like, organize talking about these issues.
Luckily we'd brought Sarah to A-Camp, who works as a counselor and is in training to be a therapist. She was our on-site Go-To Girl For Feelings, and facilitating discussions like the one we had is basically HER BAG. She was a G-dsend.
Sara Medd: The Body Image Panel was one of the most profound times of camp for me. Even though I was in the role of a counselor at camp, I felt myself growing so much as a person during the week, and simultaneously feeling challenged that I still have so much more growing to do.
Riese: I'd envisioned about 20 people in a circle talking about our feelings and instead we packed Wolf Lodge so full that some people had to stand. It was profound and emotional and also cut short — I regretted that we lacked time for post-panel self-care or to get into discussions with the campers. Ultimately most campers seemed to really get a lot out of it and it was cited as a favorite by many, though, so it's something we might build on for next time.
Camper Quote: I really loved so many of the activities, but if I were to choose one favorite, I would choose the body-image panel. That was a moment when I felt absolutely supported and understood as I was telling my short story and I respected the staff immensely for exposing themselves like that and telling us their story and their struggles.
+
 II. The Afternooners
Riese: The Body Image Panel was my last "heavy" thing, so after that I felt light and airy like a fairy.
Gabby: At some point, Jill (Snatch-22 Jill) and a crew of other dapper queers organized a Dapper meet up in the lunchroom. It was awesome. I learned the phrase "Peter Pan-of-Center" as opposed to masculine of center. Bangarang. I loved sitting with the Dappers and talking about how the clothes we wear are more than just clothing. They're an expression of a self that's been held inside for fucking ever. It's not about trying to being a "man." For me (maybe even us) dapperness is where queerness connects to my instincts to be chivalrous, old school, gentle, well-dressed and dignified. Having brunch together pulled all those threads in and man, we were seamless.
Crystal: Six campers showed up to the lunchtime Australian meet-up, which was both lovely and surprising given that Australia is so far away. After spending a week surrounded predominately by Americans, listening to an entire group talk in Australian accents was incredibly strange.


Next: Somebody wins a campership and everybody wins when we all talk about SEX!
+
++
Block C:
Autostraddle Trivia w/Riese & Alex & Laneia
Glee Club: A group voice class w/Haviland
Vegetarian and Vegan Life w/Sarah Croce, Rachel, Jamie & Stef
Soccer w/Crystal
Carmen: I went to my cabin to nap but instead Gabby and I had a heart-to-heart in my bed and it was really sweet. I kind of wish Gabby was my mentor? In being a person.
Crystal: No one showed up to play Soccer in the afternoon and I was secretly relieved because playing soccer at 7,500 feet is really hard work. I returned to my cabin, saw a spider above my bed and commenced a freak out that was disproportionate to size of the spider. Carrie and Carolyn heroically rushed to my rescue because that's the kind of people that they are, ones who will make you feel better even when you're being unreasonable.
Sarah Croce: I can't even talk about how much I love Vegetarian/Vegan Life! There was a lot of good discussion about nutrition and balanced diets as well as recipes.
Stef: Surprisingly, a few people at the workshop weren't vegetarian at all, just curious, and everyone was very happy to answer their questions.
Daniela: I'm not a vegetarian so first I felt kind of like a spy or something, particularly when everyone started introducing themselves and mentioning how long they've been veg*an -but, by the time I shared my plantain recipes I was in.
Stef: Jamie and Rachel brought a couple of cookbooks to pass around and review, and we exchanged tips on everything from dealing with family pressure to eat meat to delicious vegan breakfast options.
Daniela: Now I have a badass list of vegan deserts to make as soon as I unpack my cooking utensils.
Sarah Croce: I think next camp we'll do a recipe exchange!
Riese: Autostraddle Trivia was an event that evolved from me noting how fun it was to write AS-related trivia questions for Jeopardy in April. AS Trivia cut the crap and got down to business with 100% Autostraddle-related questions. The winner of Autostraddle Trivia would not only nab the points for their color team, but win a 100% Campership for A-Camp May 2013. My money was on Brianna before I even knew if she was planning on coming.
Carrie, Forever 21 Counselor/Community Managerette: I could watch Brianna answer questions about Autostraddle all day. I mean, she knew the amount raised in the Indiegogo campaign down to the exact dollar! Girl is an Autostraddle factoid machine.
Alex: My favorite part was Riese's brilliant idea to read a selected comment and the contestants had to guess the guess the post it was from. This could only mean that we were treated to a dramatic reading of a comment from the infamous Taylor Swift article, obviously. Also you guys, the Autostraddle Trivia competition is serious. You know more this website than I do and I am amazed.
Riese: The final two competitors were Brianna and Alice, and the Final Round Challenge was to name as many Autostraddle Team members as possible in 60 seconds. Each went individually while the other waited outside the room.
Laneia: I got to escort Alice to the patio and I felt like Vanna White or one of those nameless women from The Price Is Right. What I'm saying is it was more fun that it should've been.
Riese: Here's the amazing thing: THEY BOTH CHOKED. Seriously neither named more than five team members before apparently becoming frozen with fear and unable to go on, despite the eight team members in the audience gesticulating wildly and pointing to their own faces. Because both contestants blew that round though, it didn't really count, and Brianna ended up winning the game! Free campership for Brianna!
Brittani: Looking around and seeing all of the writers present be completely stumped by some of the questions was one of my favorite moments of camp. When Brianna won, I felt like a proud mother. But I'd never met her so I just was a very proud stranger.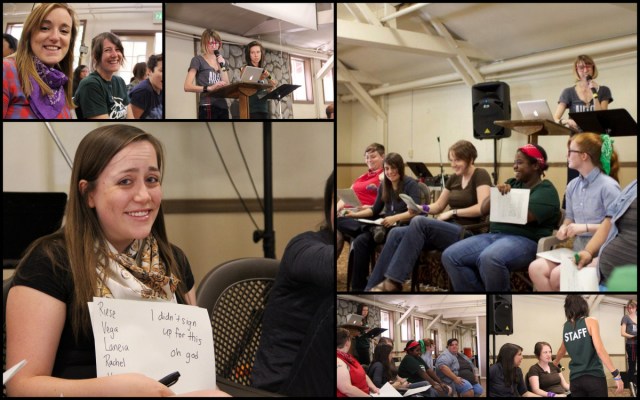 +
+
Block D:
Chapstick-making w/Laura
Slam Poetry w/Whitney, Gabby & Carmen
Sex Panel w/Riese, Carolyn, Daniela, Ali, Sara Medd & Mollie
Dealing With Isolation and Finding Community w/Guest Facilitator Sara Evan
Free Swim
Carmen: The Slam Poetry Workshop birthed the hashtag #dandybeast. Use at your own discretion and interpretation because it's art.
Gabby: We all shared solid pieces and took the time to comment on each other's work. Ashley is probably one of the best slam poets I've heard in a very long time. She could be a guest panelist next time. Homegirl gave me the poetry chills. But for real, It's hard to concentrate on poetry when a raucous sex-panel is happening on the camp grounds. We ended early to catch the last twenty minutes of the panel.
Carolyn: After lunch I mostly spent my time worrying about The Sex Panel. Bourbon may or may not have been involved. I was also nervous about the fact that my main qualifications for being on the panel were my involvement with the NSFW Sunday, which mostly qualifies me to recommend semi-tasteful gender diverse tumblrs, and the fact that I have sex, which is not really a qualification.
Ali, Bomb Girls Counselor/Contributing Editor: You guys, I was so nervous about the sex panel that I could smell myself sweat. I got sick in the bathroom in Eagle before hand and luckily no one was in there to witness my shame.
Daniela: I dealt with my serious feelings about The Sex Panel by hugging Ali and freaking out with Carolyn -we even strategized about which seats we should take.
Riese: The Sex Panel is easy! Much like sex itself, chances are good that even if you're nervous, it's gonna go well and everybody will have a good time. Basically; the audience sticks their questions up our boxes and then we answer them 'til time runs out. We can go on and on and on.
Laneia: As an observer, I'd say that having Intern Grace read the questions to the panelist was one of the best decisions anyone has ever made at A-Camp.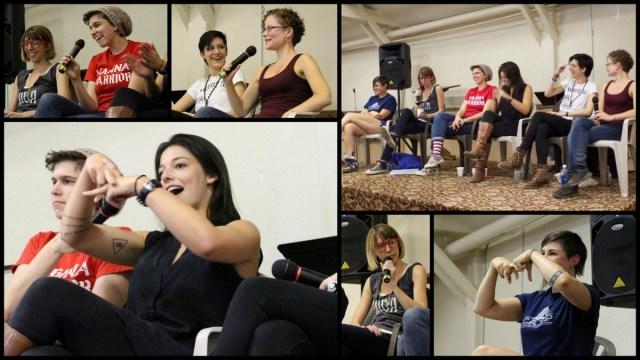 Ali: Having not been present at the first A-Camp, and therefore at the first sex panel, I didn't know what to expect and I was terrified that everyone would be terrified to talk about sex. I told my cabin that if there was any dead space, they had to just stand up and ask a question on the spot. I believe I said something to the effect of "Here are the topics I can talk about: I like to get hit in the face, oh, and I have a good fisting story I can tell. So if there's silence, you're obligated to ask me one of these things." There was no silence and I should have had more faith in the 200 queers on a mountain. But I did get to tell my fisting story, and I love to talk about fisting.
Carolyn: Luckily Daniela is a sex educator and Ali is basically Daniela but with more graphic stories of being mauled by her cat during strap on sex, and we made it through.
Brittani: Nothing makes me happier with my own sex life than attending the sex panel. It's weirdly reaffirming.
Sara Medd: I was there, I made people laugh. But I will never repeat what was said. You just have to be there.
Sarah Croce: Sex Panel: Sexy.
Daniela: Everyone in the audience was so ready to be there and receptive and funny and then everyone on the panel was so smart and so ready to share their own stories and perspectives and have a sense of humour about this sex thing -it was great. I learned so much and loved so much having the time to just sit there and think and talk and geek out about sex -you can't find those spaces everywhere, and I love that A-Camp provides us with that.
Ali: On top of many other things, I discovered that Daniela and I are leading parallel lives. Right down to the roles we had in the Vagina Monologues, we seem to be identical people. It's scary. I have an extremely deep love for Daniela now. Deep, deep love. And I was so impressed with how much everyone knew about sex! I was so proud to have been included in such an amazing group.
Ali: I have a lot of feelings about talking about sex. We, in our communities, talk about literally everything else. But we don't talk about this huge part of our lives. Sex is on a list of needs for most (but not all) people. It's a huge motivator in our actions, it is a part of many of our relationships. It has the power to maim our bodies or send them into ecstasy and has a huge amount of control over our psychological well-being. And yet this incredibly important topic doesn't get airtime in the same way other topics does. We need to, as a culture, de-taboo talking about sex. I should be able to get any job I want while being out about the fact that I'm a sex writer, but that's not the case. And I feel as though us 200 queers talking about sex in public and with each other on a mountain is such a good step toward that. Our bodies deserve pleasure. And us bringing that into normal is one of the ways to attain that pleasure, to make it easy for us to talk to our partners about sex.
Riese: To take a crack at the questions we didn't have time to answer and get the toys/etc recommended in the panel, check out last week's NSFW Sunday Special.

Next: And the moon will rise and the sun will set…
III. Saturday Night Fever
Marni: Before dinner, Cee had asked me about getting access to the camp office's photocopier in order to print out flyers for the dance "afterparty" at Klub Deer that night, and when I asked Katie (Alpine assistant director) about it she thought it was hilarious! Katie was new to our group this time and, much like Beth last time, I think eventually came to really like us. I mean what's not to like? The flyers also said "Free before 2am / Free after 2am" which was perfect and I think Carmen's idea.
Cee: The homemade runoff flyers totally reminded me of rave afterparties in the 90's. We managed to get everything printed and ready right as the talent show started.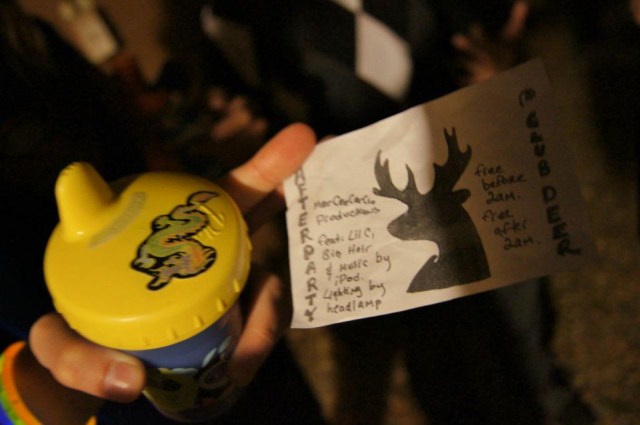 Meredydd: The Alpine Meadows staff said that this was the first time there had been a dance club at the retreat. A-Camp is a totally singular experience. Where else can you spontaneously create an underground nightclub at 8,000 ft that opens and closes in three days?
+
The Talent Show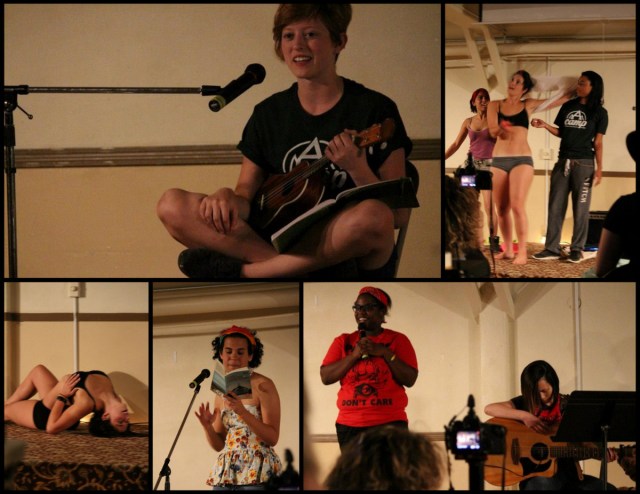 Brandy Howard, The Talent: Julie and I hosted The Talent Show, which means Julie hosted it while I sat on the side of the stage and drank vodka out of a water bottle.
Carly: I was trying to be really on top of the talent show situation, trying to make sure that the talent didn't run too long because I selfishly wanted to make sure we had a lot of time for the dance. Except that I did everything sorta backwards and then we wound up with like 25 acts and the talent show ended up being way longer than it was supposed to be. Totally my bad, you guys.
Brandy: The Talent Show is always the perfect summation of camp and there's something for everyone. Whether it's sexy girls doing frivolous stuff, or sexy girls doing serious stuff — it takes a lot of courage to get up there in front of everyone and at the end, we all feel like we went through something very special together, and we did. Camp!
Sara Medd: I wanted to have a front row seat because the Talent Show is one of my favorite activities at A-Camp. So I sat on the floor in front of the front row.
Morgan McCormick, Battlestars Counselor/Contributor/Calendar Girl: Mollie and Launa! How was that fair, doing burlesque as the first act of the night?? Do you realize how many of us were tripping over our words after? I think we needed an intermission right then and there.
Carly: I cannot listen to both the True Blood theme song and "Feeling Good" without thinking about that performance.
Marni: Talent shows are such a fun way to end a camp session, with everyone as relaxed and as supportive and close as they're ever going to be. Jetpack's "Blame it on the Altitude" song was so amazing and brilliant and I think really spoke to everyone.
Carmen: You're all very talented but unfortunately I've blocked out everything from this portion of the night that isn't Mollie Thomas stripteasing me. Just kidding – because I was deeply moved by Blame It On The Altitude. That's my life story, you guys.
Rachel: Jetpack's breathtaking original composition of "Blame It On The Altitude" was clearly the showstopper, and everyone who says differently is a dumb jerk.
Cee: So much talent! I loved the poem by Ashley. I posted it to Facebook a few days ago and my mom told me she cried when she read it. So yeah, mom liked it too.
Alex: I always cry a little bit at the talent show. And by "always" I mean that one other time in April that we did this. I can't help it, sometimes I'm just overwhelmed with the feelings, with everyone's feelings, with the support/respect for whoever is on stage no matter what, with how fucking awesome everyone is. What did it this time? It was the violin solo you guys. SO AMAZING.
Crystal: I stood up the back of the room during the talent show with Alice, who cares about my well-being and kept slipping me $1 bills for the vending machine so that I could stay hydrated.
Morgan: I saw over a third of my campers up on the talent show stage being their truest, bluest selves. If my pride could have affected plate tectonics, you would have seen every Richter scale the world over light up.
Marni: I had a blast jamming with Ashley, who agreed to jump on stage with me on about five minutes notice to do a Jessie J song.
Riese: Marni had thought about performing at the talent show but ultimately vetoed her own idea 'cause she didn't want to take time away from the campers. I mentioned this to Brandy Howard and we decided the best way to override Marni's veto would be for Brandy to announce that Marni was on deck when announcing the next act. SURPRISE!
Sara Medd: I didn't think that that Jessie J song could be any sexier, but Marni singing it acoustically with Ashley Reed on the drum was exponentially sexier than Jessie J.
Brittani: I'm pretty sure Marni won camp with her "Do It Like a Dude" cover.
Stef: The room got very quiet as Marni immediately became a sex symbol throughout the entire land.
Rachel: I didn't tell either Marni or Riese this when camp was actually happening, but Marni's rendition of "Do It Like A Dude" has fundamentally altered my sexual identity. I am now only attracted to humans who can perform "Do It Like A Dude" as well as Marni can on acoustic guitar. Sorry, everyone.
[Riese: This song will be available for download ASAP, I promise. Marni and Ashley are recording it.]
Carly: THUNDERCATS, you made my heart explode with pride and love. But really I was in awe of everyone who got up there, you are all brave and talented and I love you.
Sara Medd: 21 Hump Street's skit was THE BEST. Okay, maybe I'm being a little partial to my cabin, but seriously it was genius. There were bedsheet church choir costumes, and doctrinal readings, and Anna Goodman does an amazingly accurate impression of me. Praise Lesbian Jesus!!!
Stef: I was so proud of my baby Battlestars for all of their performances, which were all brave and funny and adorable. The talent show is quickly becoming my favourite part of A Camp; it's so wonderful to see how amazing and talented all of our campers are. My tiny heart exploded over and over with every skit, or maybe it was the altitude. Everybody, you were so cute!
Laneia: The talent show feels like getting a hug from camp itself. We stood in the back of the room because it's the best way to watch everyone experience the same thing all together. I can't get over how hilarious and creative A-Campers are! Like where the heck do you people come from with your giant brains and hearts??
Mary: I laughed, I almost cried, I laughed some more. I was honestly blown away with how talented and brave our campers were.
Daniela: This is the part that I have the hardest time communicating to anyone who hasn't been to camp — everyone is talented, and creative, and awesome. I left hoarse from excitedly screaming every time someone new went on stage.
Stef: Alex and I had been talking about doing a ukulele version of "Call Your Girlfriend" for months (even before someone suggested it as her Indiegogo campaign dance!), but I had realized early on that Robyn's vocal range is… slightly better than my own. We definitely wanted Marni joining me on guitar, but then started exploring the option of having Haviland sing… In the end though, we decided to just sing it ourselves, and I'm actually really glad we did! The audience sang along with us, so it didn't matter how terrible my voice is. As usual, Alex was amazing and funny but she danced so hard that the entire stage was shaking and if you watch the video closely, I'm actually desperately trying to hold the mic and music stand down with my feet. Everything is better with a kazoo solo.
Alex: Here's how to make a ton of friends really fast… learn a silly dance from the internet and have your friend play the song on their ukelele while you do the choreography. People like it. Idk.
Marni: Alex's dance was perfect (we'd established way before camp that it was a non-negotiable talent show event, and she delivered).
Carly: Anyway by the time we got through everything and through all the staff intros and cheering and crying we were running an hour behind.
Crystal: At the end Carly ran up to me saying, "OMG did you see our campers perform? We have the BEST cabin!" and we high-fived in agreement. We were just so proud of everyone.
Riese: At the end Brandy and Julie called us all up there so that everyone could applaud and I could say things. I kept it short/sweet.
Ali: Even though I was sick for the talent show (altitude!), I hear my exploits earned me the name Ali "Your Clit Deserves It." It's kind of like my "Dances With Wolves." I can deal with that. I can deal with that so hard.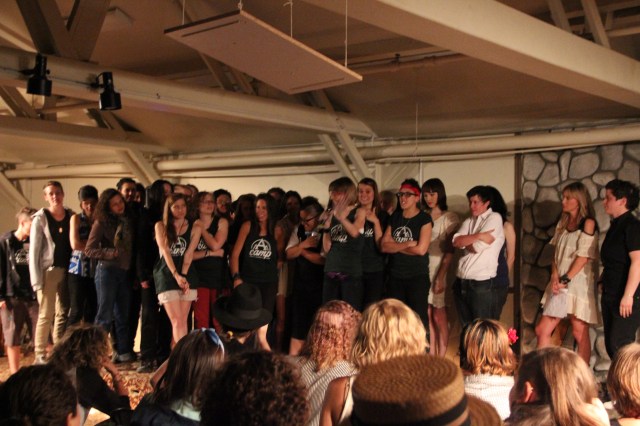 +
The Dance
Crystal: After dinner I was alerted to an illness in the Thundercats cabin, however by the time I got there Hot Doc Amy had already provided medical support and everything was going to be fine. I provided ice cream and hug support and then bid a sad farewell to the few campers who weren't going to the dance.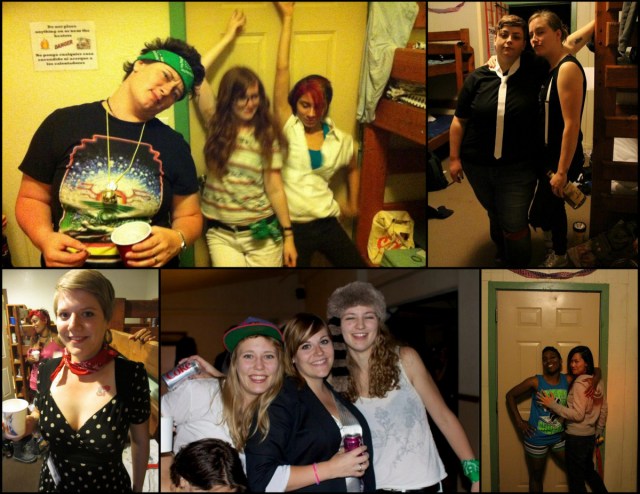 Carmen: Cracked a bunch of wristbands, threw a streamer until it got caught for the third time on a ceiling bar, and then sat back and waited for Drake to play.
Daniela: I remember wondering at camp in April about all the decoration during the dance, and this time I got to see the magic happening: people throwing paper rolls everywhere, hoping against hope not to hit anyone in the process.
Sara Medd: Carly looked so legit behind her DJ booth. Not only did she put together a kick ass set, but she looked fucking rad with her headphones.
Carly: I was a little stressed. I JUST WANTED EVERYONE TO DANCE ALL NIGHT! So we set the dance up SO FAST and I put on my dapper bowtie and Robin set up this amazing photobooth and then I didn't see Grace for so many hours (which was the longest I went all of camp without seeing her) and I kept asking who was in charge of my thirst but then just drank all of Alex's whiskey (sorry!) and Lauren Aadland was the best hype man/go-go dancer a girl could ask for. Great moves.
Brittani: If there's a better way to start a dance than with ice cream sundaes, I couldn't tell you.
Crystal: Earlier in the day I had promised some campers that I would dance even though I never dance, because that's how much I love them. I stood on the dancefloor and let them dance around me for a few songs, then spent the rest of the night watching campers play it up for the photobooth. Carolyn and I took the opportunity to emulate poses from bad 80s cop movies.
Stef: Annika and I went to Wolf Lodge to do a couple of tequila shots, and my body apparently decided it had had enough of my shenanigans. I ended up being mostly sober for the entire dance, which was novel!
Carmen: I think I finally rapped for you guys, right? Everyone saw that, right? Brittani and I definitely rapped multiple times as in we pretty much recorded a mix tape on Saturday night. I also ran in and out of the Smokers' Circle and discovered someone had left a cooler of beer on the steps. Let this be known as one of the many acts of Lesbian Jesus to occur at September camp.
Marni: Mollie Thomas is a gift from Lesbian Jesus.
Stef: I spent the evening dancing to the sweet sweet tunes of DJ Carlytron on stage with some of my favourite ladies. Mollie Thomas took it upon herself to grind her body against mine for an extended period of time, during which I turned beet red and probably made a series of amazing faces. It was probably the most terrified I've ever been in my entire life. Thanks for that, Mollie!
Cee: I danced. I passed out flyers to the exclusive after party. It wasn't super exclusive actually because everyone was invited.
Sara Medd: I was asked to dance by a really cute girl I had been eyeing all week….although I tried to remain professional as a staffer, I still got butterflies inside (don't tell her that).
Carly: Three things that happened at the dance:
1) Mollie Thomas told me that if I played Britney's "Slave 4 U" that she would go dance on the stripper pole (did I mention we installed Mollie's travel stripper pole in the center of the dance floor? Because that is a thing that happened), at which point I loudly asked, "If Mollie Thomas tells you to play a song and she'll dance on the pole, you do it right?" and everyone shouted "YES!" Moments later Launa asked for Rihanna's "S&M" and I obliged, telling everyone I had to "keep the music sexy." Jesus take the wheel.
2) I took some other requests too… I played a Missy Elliott song for Katie Millar but then accidentally turned it off halfway through (I still feel bad about that), and I played Destiny's Child's "Say My Name" for the Auto-staff. You're welcome.
3) The dance was to end promptly at 1am, but as we started late I decided I was going to keep playing music until I got in trouble. Sometime after 1, Marni came up to me and I thought for sure the party was over… but she told me to keep playing. She also Danced Up On Me. MARNI IS THE BEST YOU GUYS, we got to party until like 2:30 or something.
Meredydd: I had such a great time at the dance and not just because we were handing out the flyers Cee designed for Klub Deer.
Mary: The dance had such great beats! Carlytron is the best DJ everrr. At some point a camper gave me a can of whipped cream and told me to 'have fun'. Obviously I covered Haviland's arm with it and told Ashley she had to lick it off.
Laneia: I've made "somewhere on the stage behind Carly" my official dancing spot, because it feels safer back there and I can pretend no one can see me. Also Carly's DJ set-up is fascinating. The dance is just super surreal you guys. Mountain magic and such.
Brittani: Post-dance I was exhausted. I'd worked all week and then squeezed in a week's worth of fun into 24 hours. I went to my cabin and there were like two people there. I felt a deep shame rush through my soul but I desperately needed to nestle into my towel pillow so I called my girlfriend and went to sleep.
Carly: It was one of the best nights of my life. I'd like to just go back and relive the dance on a loop. Sigh. #feelings
IV. After The Party Is The Afterparty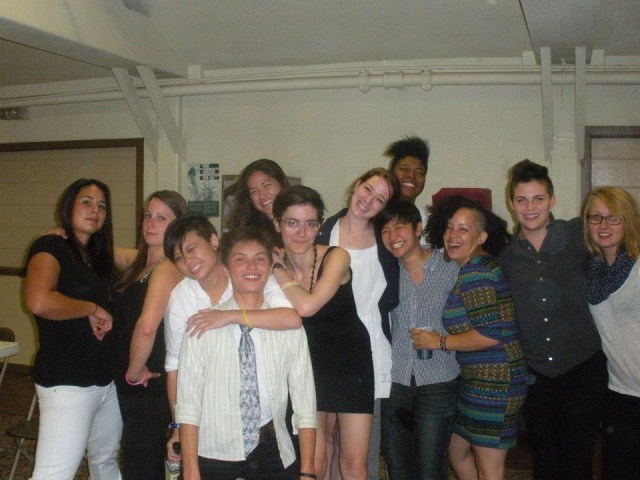 Carly: After the dance, Mary, Grace, Mollie and I went to go surprise the Thundercats and the Little Rascals. I was so excited! Mollie and I ran to the Thundercats cabin and found that most of them weren't there, some were off processing feelings, god only knows where the rest of them were, and I gave Rachel a high five. We felt defeated and headed off to find the Little Rascals' cabin – much harder that I thought it would be in the dark – and eventually stumbled upon Mary and Grace sitting on the floor with the Little Rascals, talking about their feelings. It was precious.
Riese: I took a disco-nap during the dance and promised to wake up at 2AM to finish the "gifts from our district" exchange. I fell asleep with all my clothes on, the fact that I actually did wake up at 2AM and go to Cabin 17 is a great testament of my love for The Runaways.
Carly: Finally we wound up at Klub Deer. LUCKILY I was able to get past the bouncers and I don't even know how to explain what I found when I went in there (there were body shots involved)… so I won't. What… a whirlwind.
Sara Medd: Obvs I got a VIP wristband and didn't have to wait in line. I'm just glad I received the flier at the dance.
Carmen: When I arrived at Klub Deer the place looked like a log cabin or something. So I shut the blinds, turned on my iPhone in the iHome (see what I did there), and turned off the lights. Ten minutes later I committed myself to being one of many official Klub dancers and proceeded to recruit Jamie and Fonsexy in this pursuit as well. Our platform of choice was the mantle to the fireplace, which sits app. 1 inch off of the ground.
Cee: Club deer was bouncing! Tons of people showed up, DJ iPod was amazing and the lighting was super high tech. Body shots happened. That's all I'm allowed to say. The rest is classified.
Sara Medd: KLUB DEER!!! Off the hook! There were go-go dancers, body shots, strobe lights….apparently its the hottest new venue in Angelus Oaks. And it happened to be right across from my cabin!!
Sarah Croce: Closing night: Body shots. Need I say more?
Gabby: Katrina and I take our jobs as counselors very seriously. We want our campers to feel connected to A-Camp, us and each other other. This type of solidarity doesn't just happen when you throw a bunch of queers in a cabin. You have to build it and then they'll come (all over each other). We came up with a few ritual calls to get our Snatchers feeling like a troupe, like a crew, like a gang of queer badasses. When we yelled: Who Runs the World? They yelled: SNATCH. Yeah maybe other cabins hated us but it was fun and gave us something verbal to proclaim. These things might seem silly but damn did everyone know when Snatch-22 was around and it stuck us together like gorilla glue which is something that camp queermos have in their back pockets. Well maybe just Marni.
Every night, Katrina and I (together or separately) checked in with our Snatchers for at least an hour, which is super important because they were our gaybabies and it was our duty to be their fairy godbrothers. Every day of camp is filled with feelings. Feelings you never thought you had or that you'd ever feel again come spilling out. And it's tough and super emotional and not something to just be shrugged off. So we knew it was mega important to get those feelings processed in a safe space with our campers. Enter the 'snap circle of feelings' where everyone got a chance to tell us something great (rose), something bummer (thorn) and something they were looking forward to (rosebud) about every day of camp. We listened, snapped our fingers and then moved on to the next person so everyone got a chance to speak, be heard and feel loved. We also shared a few drinks, played some strip truth or dare, listened to Ashley slam and watch Nia shake her rump. Basically, good times all around and well, it made me feel closer to them and feel like camp really was a place to learn how to make family and mean it. Snatch-22 for life.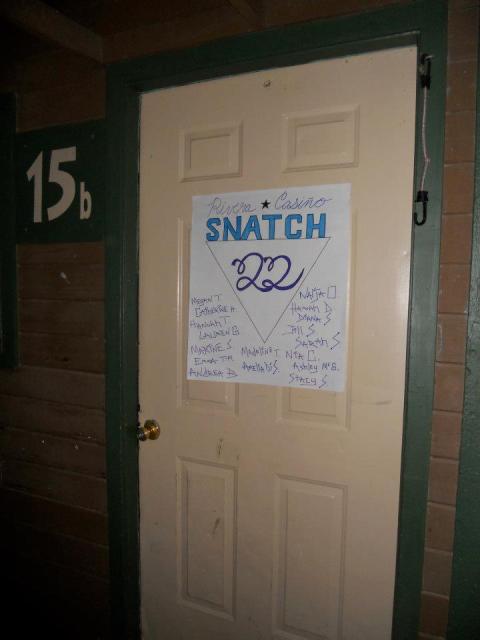 Sunday, September 16th
In which we enjoy a pajama breakfast and everybody goes home.
Crystal: I had to get back to LA first thing to interview Vero, which meant leaving camp at a stupidly early hour and not being able to say goodbye to anyone. I hitched a ride with a car full of Thundercats who were on their way to see the US women's soccer game (obvs) and by the time we'd reached the bottom of the mountain I had burrowed up against a camper and was sleeping the most peaceful sleep of my life.
Riese: I'd returned to my bed from The Runaways Cabin circa 5AM, so you can imagine I felt like a billion bucks when I woke up at 8AM on Sunday for Pajama Breakfast!
Laneia: Team Sad-Ass Hangover.
Carmen: I woke up at 8:30 AM on Sunday and was depressed as fuck to be leaving the little lesbian colony I'd called home for six days. I also was worried I had forgotten what urban areas and relative civilization looked like, and was terrified to descend into what we call "irl." I arrived at breakfast late, stayed in Eagle Lodge late, and then drank a coffee and went to my cabin to pack and cry silent camp tears. JK. Sort of.
Carmen: Geneva, Annika and I made our way to Wolf and then I made my way to the most important destination of all time, the Smokers' Circle. And then Katrina came over and I was like "HEY! COME SMOKE A CIG!" and she was like "HEY! WE WERE WRONG ABOUT OUR FLIGHT BEING AT 9 PM AND WE HAVE TO GET ON A SHUTTLE RIGHT NOW WHICH IS TWO HOURS EARLIER THAN EXPECTED!"
Gabby: So I made it to Transpo Captain Laura's 10am shuttle and helped her heard the queers onto the bus. I didn't even need to be on the shuttle cuz my flight was leaving later but fuck it, right? Then I realized my plane was actually leaving at 4pm and not 9pm. I immediately texted Carmen and Katrina so they could haul their out-of-it-WOC asses to the same shuttle cuz we were all leaving on the same plane.
Carmen: I threw my cigarette to Geneva, somehow lost my pack later on in the day, and got my luggage. I only said goodbye to the people standing right there at that exact moment and all I can reveal about the next series of exact moments is that they involve me having an incredible amount of feelings pour out of my exhausted, relatively tiny body and that they end in me passing out listening to The National five minutes later.
Sarah Croce: Boyz II Men said it best:
How do I say goodbye to what we had?
The good times that made us laugh
Outweigh the bad.
I thought we'd get to see forever
But forever's gone away
It's so hard to say goodbye to yesterday.
Daniela: I can't do goodbyes, so I was in a full state of denial the whole day.
Brittani: I misspoke earlier. Tiny spring rolls won camp.
Cee: All of a sudden it was over and I was on a bus on the way to the airport.
Carmen: Gabby, Katrina and I did what we always do – drink pre-flight and try to process privately around one another. We boarded our flight with full bellies and I was wearing what Gabby went on to name my "boom boom shorts." We didn't end up having seats next to each other. I slept for the next 30 hours, on the plane and then on the train and then on the bus, all the way until I got home and did it some more. I tried to write but this time I had nothing left to say to myself. I think maybe my body thinks it was all just a big, alcohol-induced dream, but probably just because it doesn't know what to do with something so special. I know better.
Riese: We spent Sunday cleaning everything, which is a daunting task, and packing/re-packing everything, which makes me want to die every time, because if I leave the wrong thing behind, the entire world will explode. Last time I left a pillow behind.
Marni: When we were just about done cleaning up the site on Sunday and I was thanking (Alpine Assistant Director) Katie before we left, she asked me if I'd been at Klub Deer the night before. When I said I hadn't, without skipping a beat she said, "Why? Were you not on the list?"
+
+
+
Brittani: Thinking about going back to LA was way sadder than last camp. Mostly because everyone else was ready to get off that mountain and I'd just gotten there. LA would be a place where this thing hadn't happened and where so many people didn't know it happened. Like more people than don't know who killed Jenny. It's bothersome.
Laneia: It finally hit me that everything was over, which is when I started crying like an actual toddler and didn't really stop until Megan bought me a fish taco and made inappropriate gestures with a french fry. We made lists and notes for the next camp, which is the only way to move on, in my experience.
Annika: On the final day of camp, after packing, cleaning, and several emotional goodbyes, Daniela, Whitney, and I climbed into Stef's trusty rental van and drove down the mountain. We all had a few hours to kill before our flights left, so we decided to stop by Croce/Medd/Alex's place in Echo Park, and then Carly and Robin showed up too which meant that we all had to repeat the emotional goodbyes from earlier that morning again.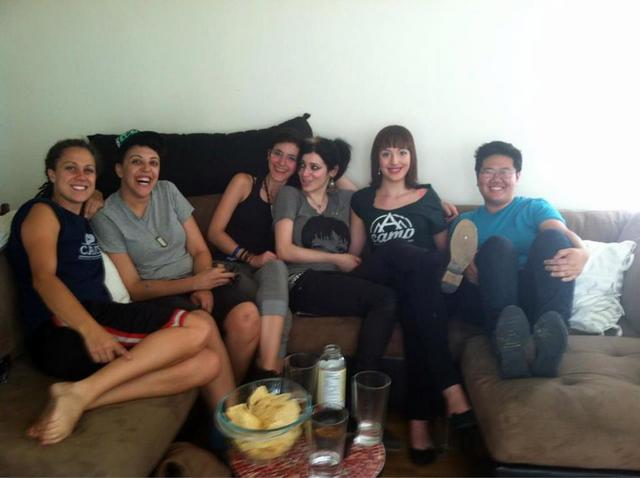 Daniela: Before getting back to the airport, Stef, Whitney and I had dinner at this place called Mohawk Bend, which I thought it was quite fitting to the theme of the week. Still I didn't really get the fact that Camp was over, that I wouldn't be seeing everybody's faces every day anymore until Stef got off the bus at the airport and Whitney and I hugged goodbye at her terminal. My phone died as soon as I got to my terminal and before I had a chance to freak out, camper Mary came out of nowhere and lend me hers, proving that the A-Camp love doesn't die as soon as you leave the mountain. Once I started walking towards my gate, trying to ignore my own feelings, I ran into camper Keisha leaning against some chairs at her gate, watching Alex's talent show performance on her phone while she waited for her flight and I quietly lost it. As soon as I reached my gate I retreated to myself and let the magnitude of A-Camp's amazingness overwhelm the hell out of me, so I played "Call Your Girlfriend" on repeat until I had to board my plane.
Riese: In April, the last day was an epic shit-show and I was hungover/tired/hungry/dirty/needy, but it was all pretty painless. Except lunch.
Crystal: Later in the day I met up with Riese and Marni for our post-camp ritual of dining at The Cheesecake Factory.
Riese: The Cheesecake Factory is a jarring re-entry to Real Life, as illustrated by the patron in the ladies room who told Marni she was in the wrong bathroom. Our first journey to a public restroom after camp! OH, REAL LIFE and your humans.
Crystal: Everything felt so different compared to the last time we had done this, when our conversations were filled with notes on things that could've gone better. This time all we talked about were the things that had gone right, which was everything.
Riese: Things are gonna go so much better next time, though. I mean we already have so many ideas!!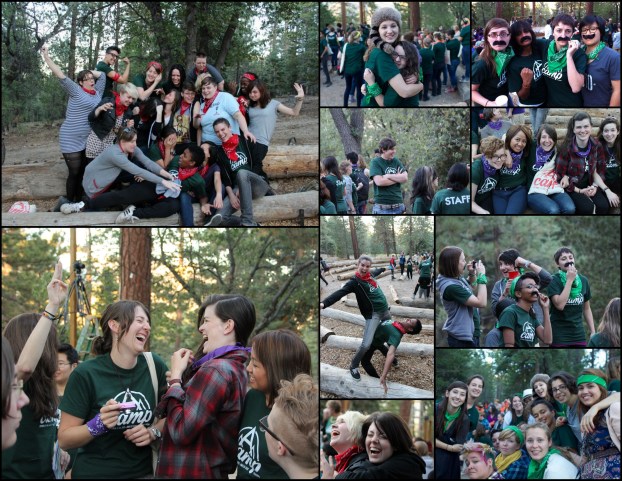 Next: Dance Photobooth Pictures, final thoughts On Camp, and the date registration will open for A-Camp May 2013.
FEELINGS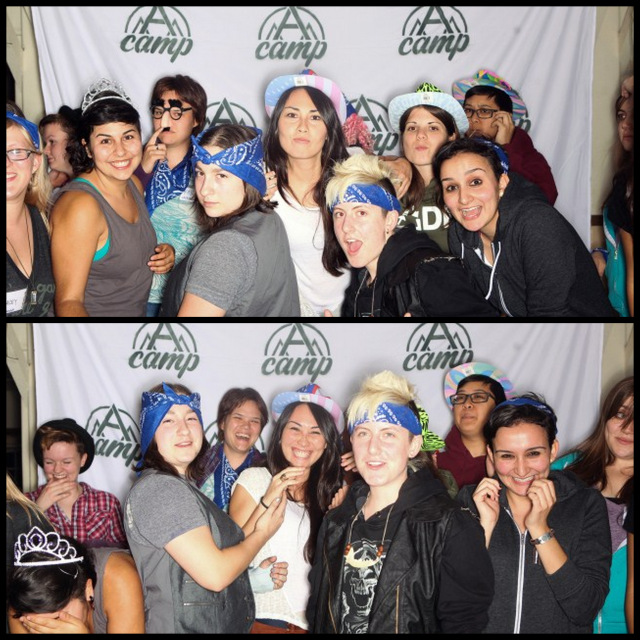 Crystal: Pulling out of the parking lot was one of my favourite moments of A-Camp — not because camp was over, but because it was the first chance I'd had to stop and actually reflect on the past few days. Right at that moment I was so content. There I was, in a car with some of the most amazing campers who I'd bonded and created memories with. I'd just spent four days leading activities that couldn't have gone any better and I'd done things that I didn't know I was still capable of. I mean, I talked to people. I talked a lot. I led discussion groups. I "danced.". I even wore white. I did all of these things that I usually find so terrifying or uncomfortable, because A-Camp makes me feel like I can do anything.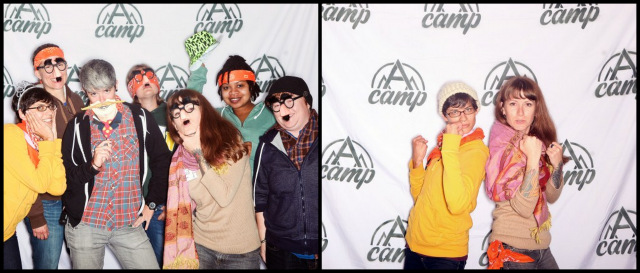 Camper Quote: "My favorite part of camp was the overall experience of community, completely uninterrupted by anything else. Being on a mountain (that was not at all creepy this time), surrounded by not only queer women but the most interesting, unique, fucking wild and beautiful queer women specimens, was just the coolest."+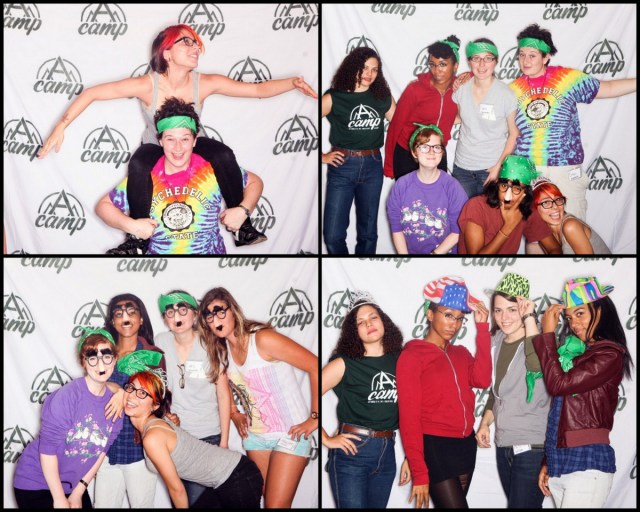 Malaika: I think the lesson I ultimately got out of A-Camp is that there are so many wonderful gay, weirdo, nerds in the world. Thank the Rainbow-Unicorns up in Heaven for that!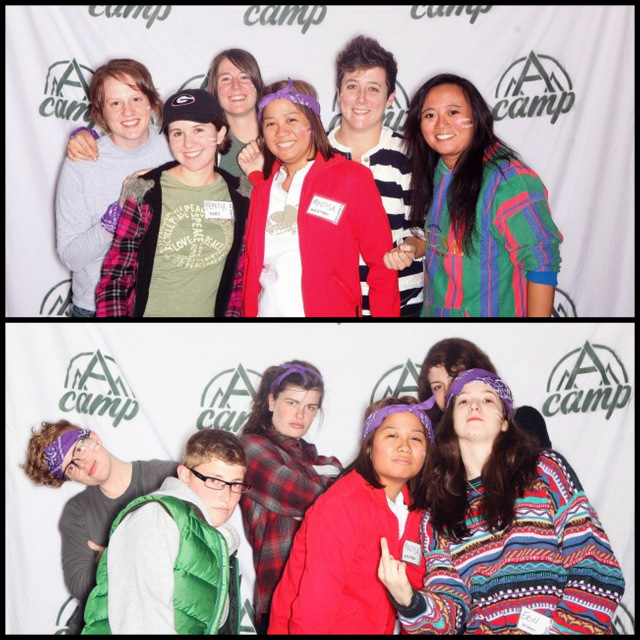 Camper Quote: "I loved staying up into the early hours of the morning processing feelings with cabin mates and being around people who 'get' autostraddle. Unconditional acceptance."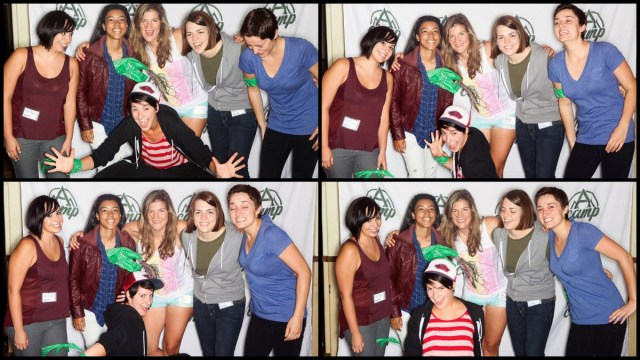 Morgan: "My idea of fun is this, and for me and many of us it is perfect: read a book, sleep, watch a great TV show, take a long walk, etc. But at A-Camp I celebrated and cut loose in a way I never do, because at camp I always felt cherished and I always felt safe. A-Camp has not flipped the extrovert switch in me to ON. Rather, camp gives me a space where I can leap over all the initial awkwardness I usually have in meeting new people because I know the people I meet at camp are, y'know, good. Solid. Like titanium or the energies that hold our little universe together, they are made of tougher, finer stuff. A-Camp puts people together who share similar visions of what a happy world looks like, and that is special and nice in ways that too few things are special and nice. A-Camp was some of the most fun I've had in my life, and I can say that without caveat, addendum or equivocation. Thank you, because you the reader of this paragraph are why it is."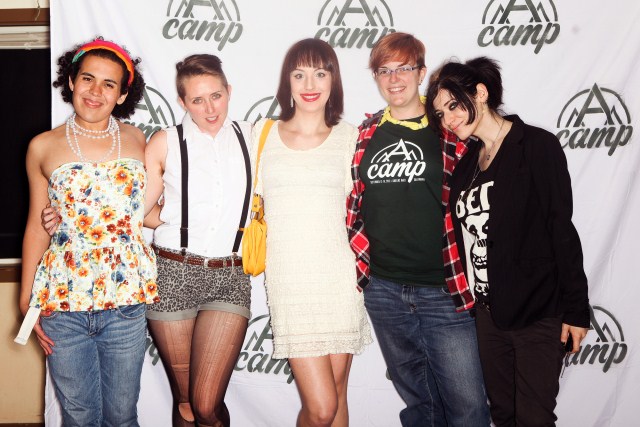 Camper Quote: "It was so amazing to have such a positive atmosphere for everyone to really be themselves and everyone else accepting it without question. We need more of this in the world and I only hope that we can all share some of it where ever we go. It was great when Gaela stood up and said "Thanks for making a trans girl feel so welcome here!"… There was just so much love and bonding. Everyone wanted everyone else to have the best time ever. It just felt so good."
Camper Quote: "It felt so fucking right to be one of many gaymos and not 'this one gay girl'. Being totally out to myself and the people around me was also a first and an amazing feeling."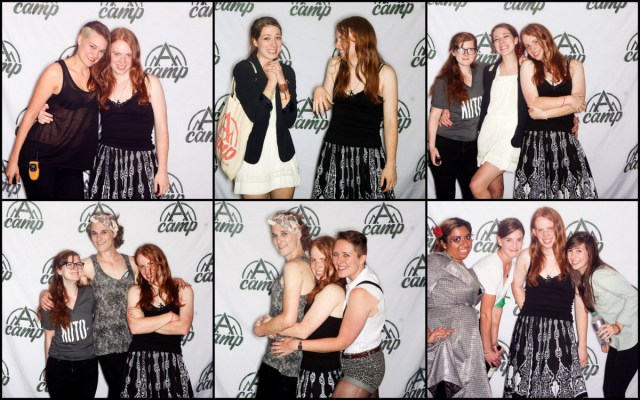 Camper Quote: "My cabin rocked my A-Camp experience, literally. There was definitely a sense of Stallion Pride and we really bonded over so many different things. We were SO PROUD to have Jill as one of our counselors and honestly, she felt like one of us for the most part. Haviland was just the sweetest thing. I'm really glad that our cabin was as happy, easy going yet up for the wildest time as it got quite loud and messy every night and everyone could laugh about it in the morning."
+
Camper Quote: "The best part of camp for me was the smokers circle! And being in an environment where I could talk about binding over lunch."
+Camper Quote: "The best parts of A-Camp (because I can't choose just one) were meeting staffers and writers that I'd known about and wanted to meet for years, and getting to be in an incredibly amazing cabin that bonded so hard."
Camper Quote: "One of the new Golden Girls told me, "I have peers." That's a huge deal and hard to come by at our age. Our perspectives and places in life remain very similar. And we happen to be pretty nice people, which makes it better."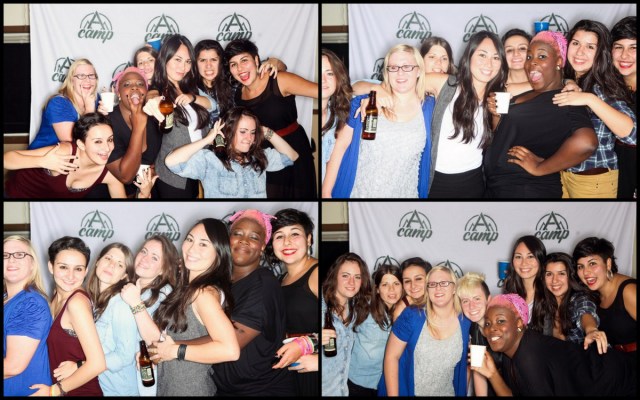 Riese: I think camp can be life-changing in really literal ways and in emotional ways, too. I think camp is that for a lot of people. Maybe most people. But also it's just really fun. I think a lot of campers just wanna have fun, too, and talk about smart stuff in the woods. I mean, we're just talking about stuff we like to talk about and doing things we like to do for five days with a bunch of other cool people. Any eventual catharsis is just the icing on the cake.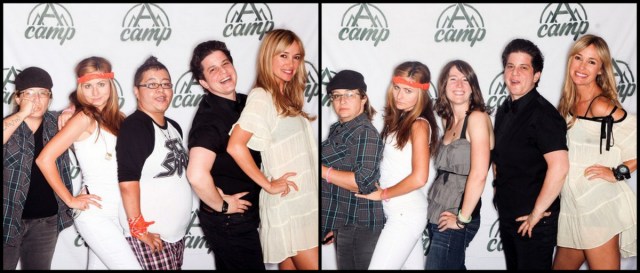 Camper Quote: "The best part of camp was finding other women with my interests, seeing the all the variety in dress and bodies and style and attitude among the queers and getting confidence to talk to girls I didn't know."
Camper Quote: "Camp = the world I used to dream about in my room as a kid…I can't thank you all enough for that. I have the confidence I've been missing and wanting for so long."
 
Camper Quote: "I'm realizing more and more that ACamp isn't just about making friends and having fun but finding people to build things with and grow with and having a space to push you to "do you" and be yourself in a bolder way. I wouldn't let my boobs be water gunned and sing Justin Bieber in front of ANY OTHER audience."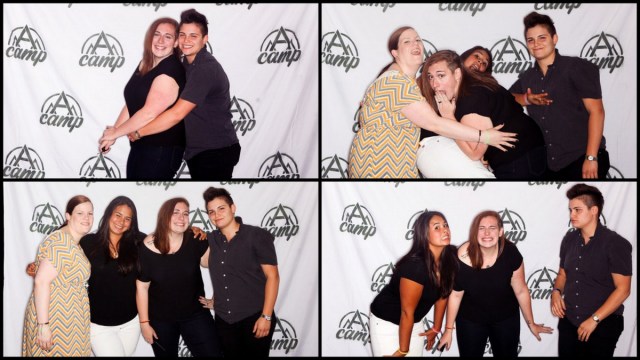 Camper Quote: "Much like last camp, my favorite part was waking up early and having coffee with Grace and whoever wandered by. Just the goddamn best. Also also, I really loved zine-making. I'm coming to both sessions next camp. Most especially, though, my favorite new situation this year was the staff readings. Are there words? It seems so far away and deep inside now. Utterly unforgettable."
Vikki: Before going, I assumed that participating in the Queer Families panel would be the highlight of my time there. While I enjoyed the panel and the discussion, it turns out that my favorite thing about A-Camp was being a camp counselor. I was assigned as co-counselor for the Avengers' cabin and the campers were simply the best. It was my job to make them feel comfortable and welcome but, really, that's what they did for me. They let me eat every meal with them and they hung out with me all the time and I seriously loved every minute of our time together. They also kept me from eating a bad burrito when I was immune to its rotting aroma due to hunger. So thank you Avengers! For everything…not just the burrito thing.
Camper Quote: "My favourite part of A-Camp started about 2pm on Wednesday and finished about 1pm on Sunday. Oh wait, I guess that's all of it."
Camper Quote: "I can't choose just one favorite thing. I HAVE TOO MANY FEELINGS. Favorite things included: Swagger 101, speed dating with Gabby, the coming out, family, and sex panels, getting my hair cut by Katrina, the staff readings (especially Morgan!) and the talent show."
Camper Quote: "You get to meet incredible people, and learn so much. Everyone is so sweet and supportive of one another. The whole time you would hear people asking preferred pronouns and saying they wanted to make the people around them as comfortable as possible. It was amazing. Plus, it's a great deal! Food and lodging and all those great activities for that price is great."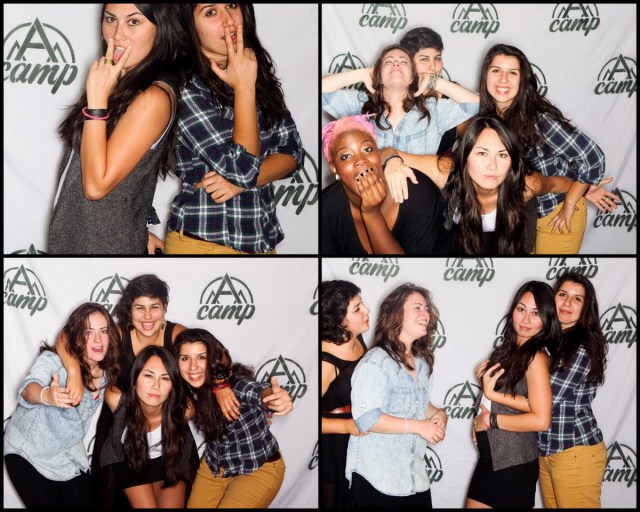 Camper Quote: "I liked how well suited my whole cabin was to one another and to our councillors! Whatever magic you guys used to put us all together is amazing and you should probably market that to everyone and make a lot of money off of it because WOW. Also just every single staff member was incredible! Like you guys are the most amazing group of people ever. You all walked around smiling and laughing and being insanely nice to everyone!"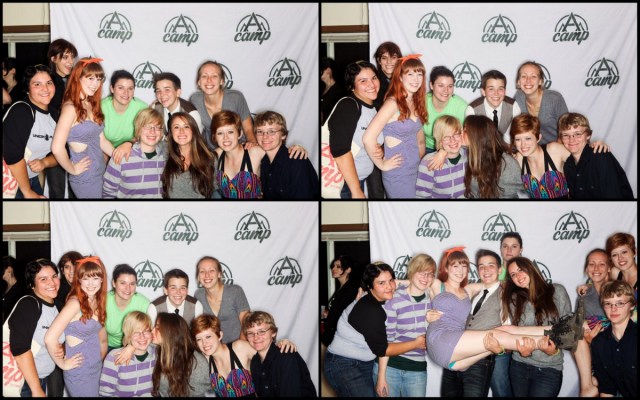 Camper Quote: "It was absolutely incredible. At the end of camp, I was trying to figure out why I hadn't spent the whole time in a kind of euphoria, and I realized it was because the whole experience seemed normal – like what the world should be like all the time. Now that I'm back, I'm missing it so much – no one has an undercut, there are far fewer bowties, and no one is making sexual innuendos. I don't think it really would have been possible for me to imagine, before I went, the extent to which I felt at home."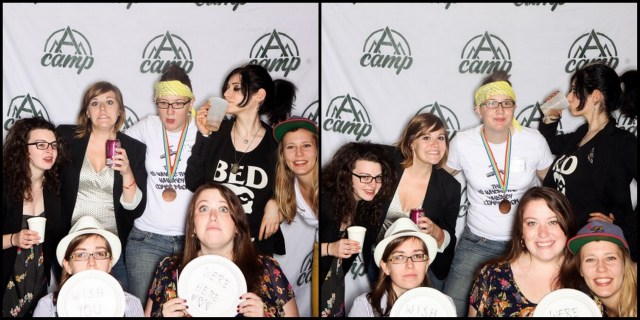 Camper Quote: "I liked learning how to make friendship bracelets and staring at Alex Vega."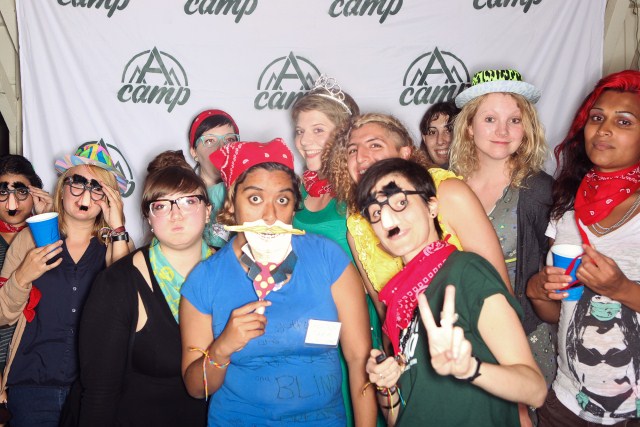 Brittani: Everyone should know what camp is. Even if they don't think it's for them, they should at least understand what it is. But I don't think you really can unless you're there. Amazing gets thrown around way too much for it to properly describe camp because nothing else like camp exists.
Camper Quote: "My favorite part was the panels. Last camp I didn't go to many of them. It completely changed my experience this time. I felt like I was having really intense conversations with people all of the time. It also helped me meet people with similar interests."
Camper Quote: "The community support that was found there, the bravery of everyone willing to share their stories. The cabin assignments, I cannot even express how well my cabin got along. Honestly I don't even think I can think of my favorite moment because I have so many."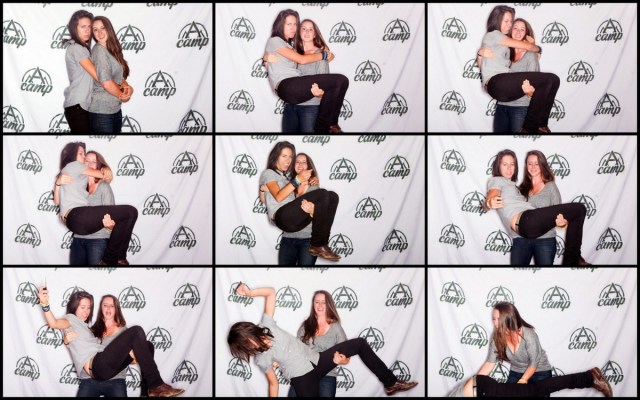 Camper Quote: "Everything was beautiful and nothing hurt and it was a super supportive wonderful group of humans who constantly affirmed and complimented each other."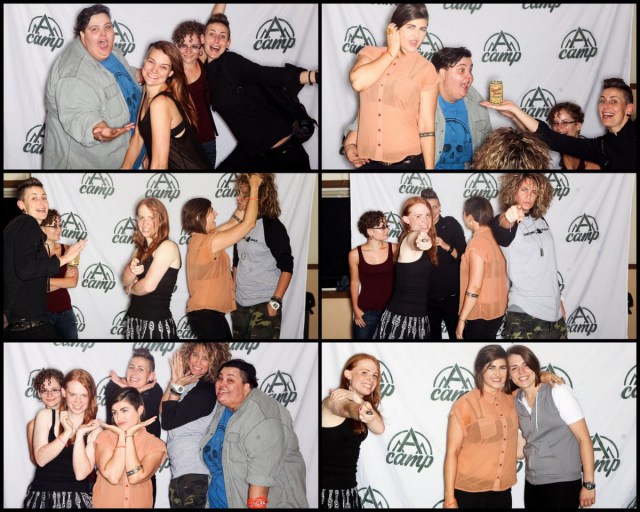 +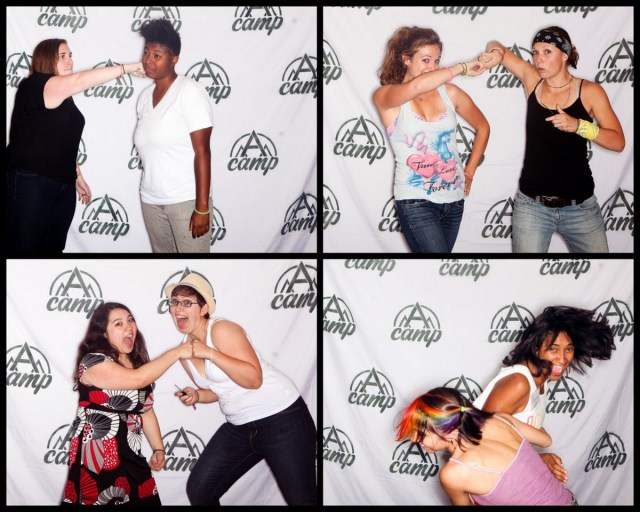 Camper Quote: "I loved returning to camp and seeing so many familiar faces, particularly the staff. I loved that generally the staff seemed to have more time to talk to us. The beautiful weather and location were great too."
+
+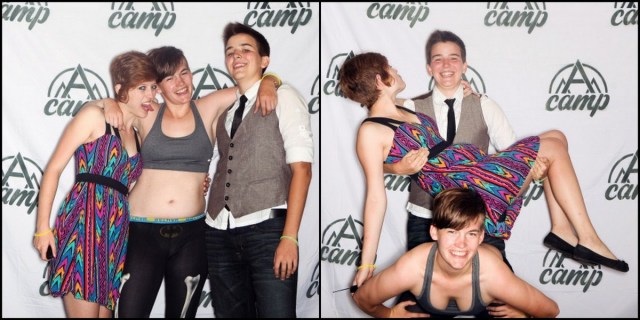 Camper Quotes: "I liked  being in a place where I felt totally safe and affirmed, and the staff reading. If camp were just those two things, it still would have been entirely worth it."
+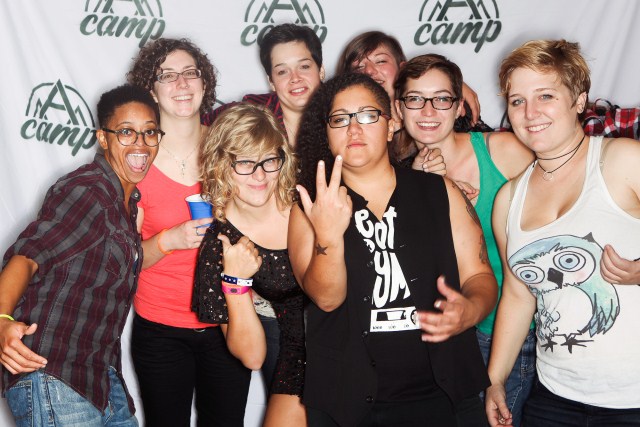 +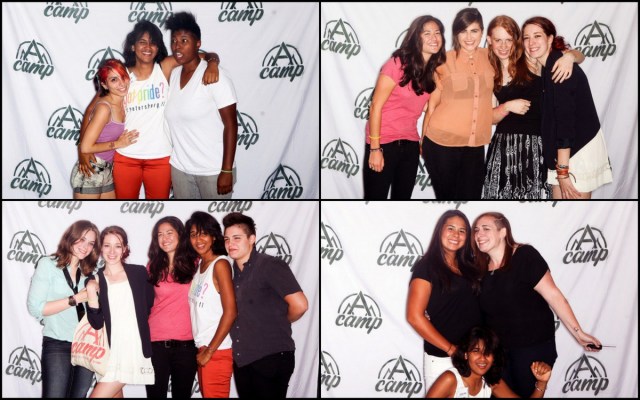 Camper Quote: "I liked being in a space where I fit in, where I was normal — where people liked me and got my jokes and thought I was cute/funny/smart. Belonging."+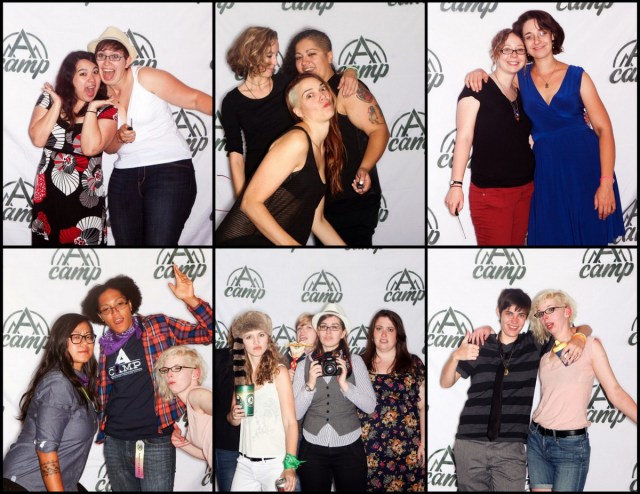 Marni: There's something that's just so magical about camp. About being in this little world full of little people who are all living by the same little laws, in a secluded, secret world in the woods. Priorities shift. Suddenly the most crucial questions are things that would seem ludicrous on the outside, when compared with our usual life stresses – where is the glitter for the pigeonholes, do we put pole dancing before stratego or during, do we have time to run and get flashlights before the ghost story campfire. Camp, at its best, lets you let go of everything that holds you captive in your regular life and give yourself over to a collective consciousness that exists exactly in its own moment and can never be re-created, only re-imagined in new and better ways each time; it's a place where you can be yourself – your best self – and be loved for it. And A-Camp is all of that, and more. It's everything amazing about camp combined with everything amazing about Autostraddle's incredible community and sense of family. It's this tiny world on a mountain ruled by weirdos and writers and freaks and crazies, and we're all in it together. Just being able to be a part of it is one of the most humbling and rewarding experiences of my life. So thanks, A-Camp. It's only going to keep getting better.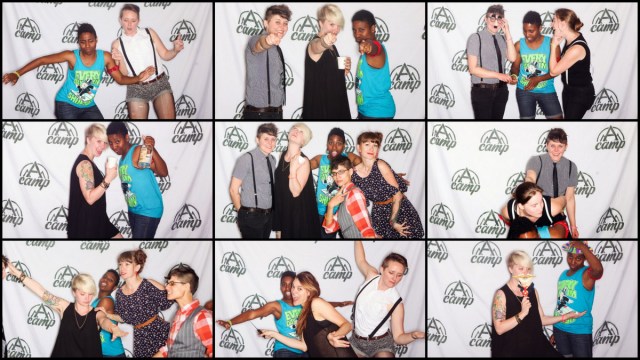 +
Camper Quote: "My favorite part of camp was how absolutely no judgement was cast for how we all looked/behaved/believed – by the A-Camp staff, campers & the Alpine Meadows staff."
Camper Quote: "A-Camp was the most amazing experience I have ever had in my life and I loved every second of it. I loved meeting all the campers and all the staff, everyone at camp were just such amazing humans. Everything about camp was the best. I am having the hardest time articulating my feelings… A-Camp changed my life. I have never felt more myself or more at home. Thank you!"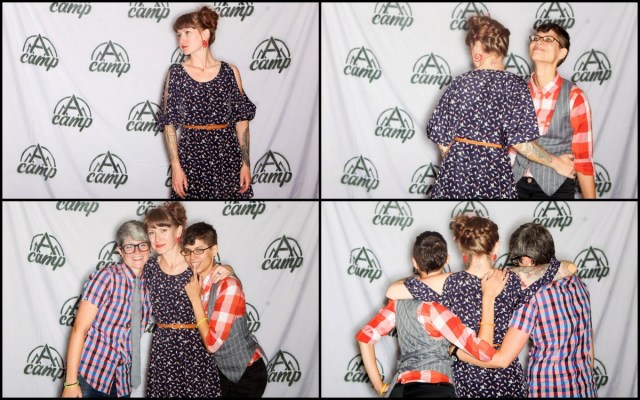 Gabby: Leaving camp, I held in the tears that were choking my breath and the angst that squeezed my ribs. Leaving A-camp is leaving my family. You must think I'm being over dramatic or making my connection to this place sound bigger than it is. But, this shit is for real, I love everyone that works for Autostraddle and have so much love for the people that keep us alive and that come to A-camp. You queers make me feel like a real person, like I have a right to exist in this world as I am. It's hard to say goodbye to that.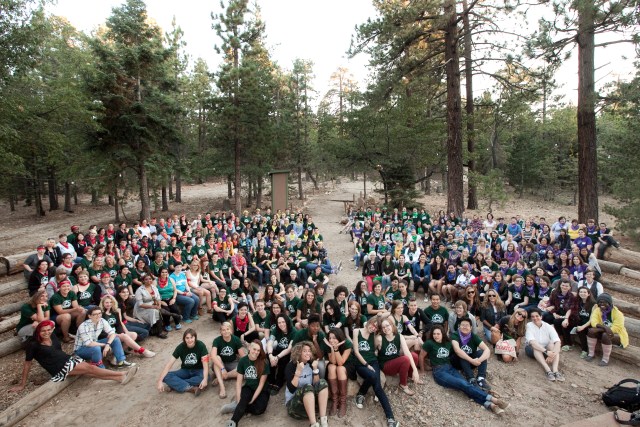 Registration for May A-Camp (May 23rd-27th, 2013) will begin on November 12th, 2012. If you're one of the 50 people who purchased the "priority registration" perk during our fundraising campaign, we'll get in touch with you before that date to ensure you get a spot.
---
Before you go!
It takes funding to keep this publication by and for queer women and trans people of all genders running every day. We will never put our site behind a paywall because we know how important it is to keep Autostraddle free. But that means we rely on the support of our A+ Members.
Still, 99.9% of our readers are not members.
A+ membership starts at just $4/month.
If you're able to, will you join A+ and keep Autostraddle here and working for everyone?
Join A+