+
++
Block C:
Autostraddle Trivia w/Riese & Alex & Laneia
Glee Club: A group voice class w/Haviland
Vegetarian and Vegan Life w/Sarah Croce, Rachel, Jamie & Stef
Soccer w/Crystal
Carmen: I went to my cabin to nap but instead Gabby and I had a heart-to-heart in my bed and it was really sweet. I kind of wish Gabby was my mentor? In being a person.
Crystal: No one showed up to play Soccer in the afternoon and I was secretly relieved because playing soccer at 7,500 feet is really hard work. I returned to my cabin, saw a spider above my bed and commenced a freak out that was disproportionate to size of the spider. Carrie and Carolyn heroically rushed to my rescue because that's the kind of people that they are, ones who will make you feel better even when you're being unreasonable.
Sarah Croce: I can't even talk about how much I love Vegetarian/Vegan Life! There was a lot of good discussion about nutrition and balanced diets as well as recipes.
Stef: Surprisingly, a few people at the workshop weren't vegetarian at all, just curious, and everyone was very happy to answer their questions.
Daniela: I'm not a vegetarian so first I felt kind of like a spy or something, particularly when everyone started introducing themselves and mentioning how long they've been veg*an -but, by the time I shared my plantain recipes I was in.
Stef: Jamie and Rachel brought a couple of cookbooks to pass around and review, and we exchanged tips on everything from dealing with family pressure to eat meat to delicious vegan breakfast options.
Daniela: Now I have a badass list of vegan deserts to make as soon as I unpack my cooking utensils.
Sarah Croce: I think next camp we'll do a recipe exchange!
Riese: Autostraddle Trivia was an event that evolved from me noting how fun it was to write AS-related trivia questions for Jeopardy in April. AS Trivia cut the crap and got down to business with 100% Autostraddle-related questions. The winner of Autostraddle Trivia would not only nab the points for their color team, but win a 100% Campership for A-Camp May 2013. My money was on Brianna before I even knew if she was planning on coming.
Carrie, Forever 21 Counselor/Community Managerette: I could watch Brianna answer questions about Autostraddle all day. I mean, she knew the amount raised in the Indiegogo campaign down to the exact dollar! Girl is an Autostraddle factoid machine.
Alex: My favorite part was Riese's brilliant idea to read a selected comment and the contestants had to guess the guess the post it was from. This could only mean that we were treated to a dramatic reading of a comment from the infamous Taylor Swift article, obviously. Also you guys, the Autostraddle Trivia competition is serious. You know more this website than I do and I am amazed.
Riese: The final two competitors were Brianna and Alice, and the Final Round Challenge was to name as many Autostraddle Team members as possible in 60 seconds. Each went individually while the other waited outside the room.
Laneia: I got to escort Alice to the patio and I felt like Vanna White or one of those nameless women from The Price Is Right. What I'm saying is it was more fun that it should've been.
Riese: Here's the amazing thing: THEY BOTH CHOKED. Seriously neither named more than five team members before apparently becoming frozen with fear and unable to go on, despite the eight team members in the audience gesticulating wildly and pointing to their own faces. Because both contestants blew that round though, it didn't really count, and Brianna ended up winning the game! Free campership for Brianna!
Brittani: Looking around and seeing all of the writers present be completely stumped by some of the questions was one of my favorite moments of camp. When Brianna won, I felt like a proud mother. But I'd never met her so I just was a very proud stranger.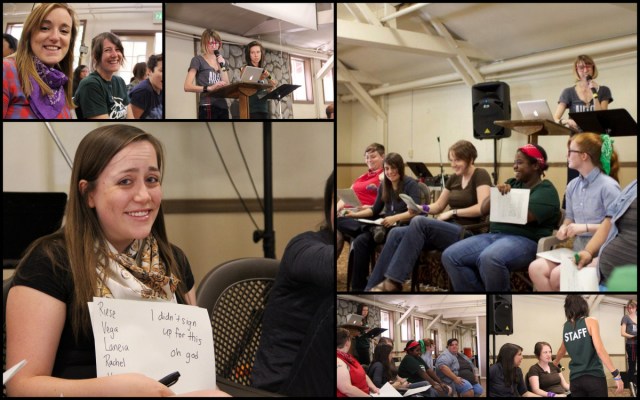 +
+
Block D:
Chapstick-making w/Laura
Slam Poetry w/Whitney, Gabby & Carmen
Sex Panel w/Riese, Carolyn, Daniela, Ali, Sara Medd & Mollie
Dealing With Isolation and Finding Community w/Guest Facilitator Sara Evan
Free Swim
Carmen: The Slam Poetry Workshop birthed the hashtag #dandybeast. Use at your own discretion and interpretation because it's art.
Gabby: We all shared solid pieces and took the time to comment on each other's work. Ashley is probably one of the best slam poets I've heard in a very long time. She could be a guest panelist next time. Homegirl gave me the poetry chills. But for real, It's hard to concentrate on poetry when a raucous sex-panel is happening on the camp grounds. We ended early to catch the last twenty minutes of the panel.
Carolyn: After lunch I mostly spent my time worrying about The Sex Panel. Bourbon may or may not have been involved. I was also nervous about the fact that my main qualifications for being on the panel were my involvement with the NSFW Sunday, which mostly qualifies me to recommend semi-tasteful gender diverse tumblrs, and the fact that I have sex, which is not really a qualification.
Ali, Bomb Girls Counselor/Contributing Editor: You guys, I was so nervous about the sex panel that I could smell myself sweat. I got sick in the bathroom in Eagle before hand and luckily no one was in there to witness my shame.
Daniela: I dealt with my serious feelings about The Sex Panel by hugging Ali and freaking out with Carolyn -we even strategized about which seats we should take.
Riese: The Sex Panel is easy! Much like sex itself, chances are good that even if you're nervous, it's gonna go well and everybody will have a good time. Basically; the audience sticks their questions up our boxes and then we answer them 'til time runs out. We can go on and on and on.
Laneia: As an observer, I'd say that having Intern Grace read the questions to the panelist was one of the best decisions anyone has ever made at A-Camp.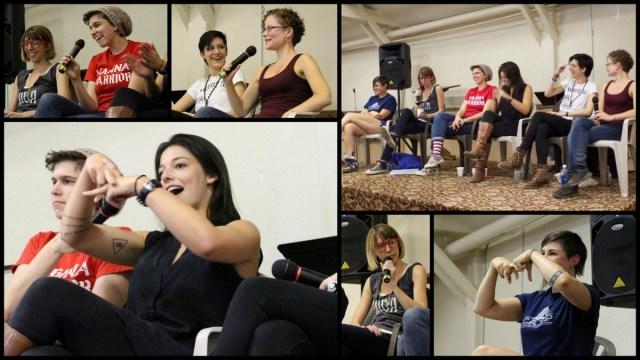 Ali: Having not been present at the first A-Camp, and therefore at the first sex panel, I didn't know what to expect and I was terrified that everyone would be terrified to talk about sex. I told my cabin that if there was any dead space, they had to just stand up and ask a question on the spot. I believe I said something to the effect of "Here are the topics I can talk about: I like to get hit in the face, oh, and I have a good fisting story I can tell. So if there's silence, you're obligated to ask me one of these things." There was no silence and I should have had more faith in the 200 queers on a mountain. But I did get to tell my fisting story, and I love to talk about fisting.
Carolyn: Luckily Daniela is a sex educator and Ali is basically Daniela but with more graphic stories of being mauled by her cat during strap on sex, and we made it through.
Brittani: Nothing makes me happier with my own sex life than attending the sex panel. It's weirdly reaffirming.
Sara Medd: I was there, I made people laugh. But I will never repeat what was said. You just have to be there.
Sarah Croce: Sex Panel: Sexy.
Daniela: Everyone in the audience was so ready to be there and receptive and funny and then everyone on the panel was so smart and so ready to share their own stories and perspectives and have a sense of humour about this sex thing -it was great. I learned so much and loved so much having the time to just sit there and think and talk and geek out about sex -you can't find those spaces everywhere, and I love that A-Camp provides us with that.
Ali: On top of many other things, I discovered that Daniela and I are leading parallel lives. Right down to the roles we had in the Vagina Monologues, we seem to be identical people. It's scary. I have an extremely deep love for Daniela now. Deep, deep love. And I was so impressed with how much everyone knew about sex! I was so proud to have been included in such an amazing group.
Ali: I have a lot of feelings about talking about sex. We, in our communities, talk about literally everything else. But we don't talk about this huge part of our lives. Sex is on a list of needs for most (but not all) people. It's a huge motivator in our actions, it is a part of many of our relationships. It has the power to maim our bodies or send them into ecstasy and has a huge amount of control over our psychological well-being. And yet this incredibly important topic doesn't get airtime in the same way other topics does. We need to, as a culture, de-taboo talking about sex. I should be able to get any job I want while being out about the fact that I'm a sex writer, but that's not the case. And I feel as though us 200 queers talking about sex in public and with each other on a mountain is such a good step toward that. Our bodies deserve pleasure. And us bringing that into normal is one of the ways to attain that pleasure, to make it easy for us to talk to our partners about sex.
Riese: To take a crack at the questions we didn't have time to answer and get the toys/etc recommended in the panel, check out last week's NSFW Sunday Special.

Next: And the moon will rise and the sun will set…
---
Before you go!
It takes funding to keep this publication by and for queer women and trans people of all genders running every day. We will never put our site behind a paywall because we know how important it is to keep Autostraddle free. But that means we rely on the support of our A+ Members.
Still, 99.9% of our readers are not members.
A+ membership starts at just $4/month.
If you're able to, will you join A+ and keep Autostraddle here and working for everyone?
Join A+
Pages: 1 2 3 4 5See entire article on one page