III. Saturday Night Fever
Marni: Before dinner, Cee had asked me about getting access to the camp office's photocopier in order to print out flyers for the dance "afterparty" at Klub Deer that night, and when I asked Katie (Alpine assistant director) about it she thought it was hilarious! Katie was new to our group this time and, much like Beth last time, I think eventually came to really like us. I mean what's not to like? The flyers also said "Free before 2am / Free after 2am" which was perfect and I think Carmen's idea.
Cee: The homemade runoff flyers totally reminded me of rave afterparties in the 90's. We managed to get everything printed and ready right as the talent show started.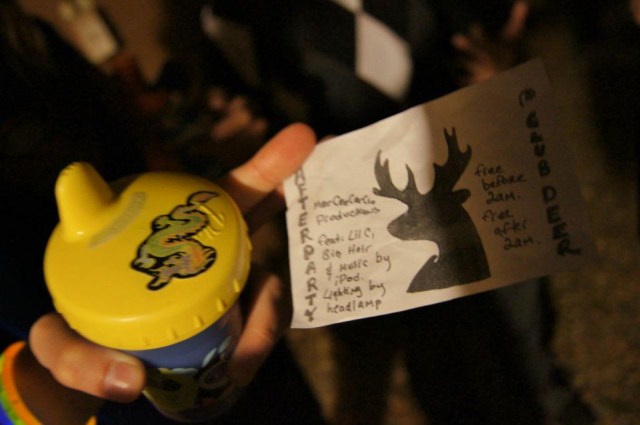 Meredydd: The Alpine Meadows staff said that this was the first time there had been a dance club at the retreat. A-Camp is a totally singular experience. Where else can you spontaneously create an underground nightclub at 8,000 ft that opens and closes in three days?
+
The Talent Show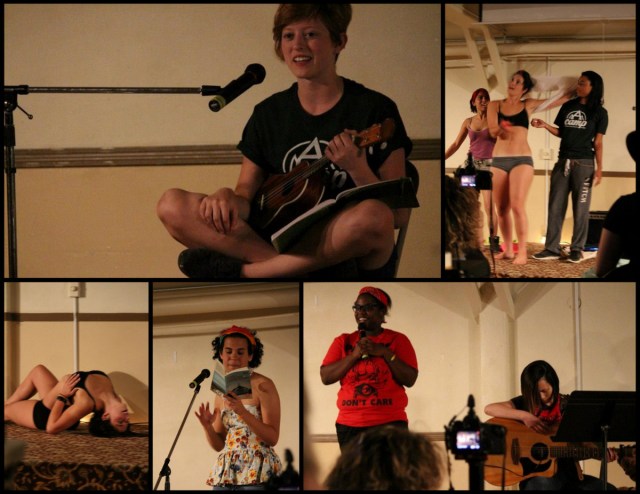 Brandy Howard, The Talent: Julie and I hosted The Talent Show, which means Julie hosted it while I sat on the side of the stage and drank vodka out of a water bottle.
Carly: I was trying to be really on top of the talent show situation, trying to make sure that the talent didn't run too long because I selfishly wanted to make sure we had a lot of time for the dance. Except that I did everything sorta backwards and then we wound up with like 25 acts and the talent show ended up being way longer than it was supposed to be. Totally my bad, you guys.
Brandy: The Talent Show is always the perfect summation of camp and there's something for everyone. Whether it's sexy girls doing frivolous stuff, or sexy girls doing serious stuff — it takes a lot of courage to get up there in front of everyone and at the end, we all feel like we went through something very special together, and we did. Camp!
Sara Medd: I wanted to have a front row seat because the Talent Show is one of my favorite activities at A-Camp. So I sat on the floor in front of the front row.
Morgan McCormick, Battlestars Counselor/Contributor/Calendar Girl: Mollie and Launa! How was that fair, doing burlesque as the first act of the night?? Do you realize how many of us were tripping over our words after? I think we needed an intermission right then and there.
Carly: I cannot listen to both the True Blood theme song and "Feeling Good" without thinking about that performance.
Marni: Talent shows are such a fun way to end a camp session, with everyone as relaxed and as supportive and close as they're ever going to be. Jetpack's "Blame it on the Altitude" song was so amazing and brilliant and I think really spoke to everyone.
Carmen: You're all very talented but unfortunately I've blocked out everything from this portion of the night that isn't Mollie Thomas stripteasing me. Just kidding – because I was deeply moved by Blame It On The Altitude. That's my life story, you guys.
Rachel: Jetpack's breathtaking original composition of "Blame It On The Altitude" was clearly the showstopper, and everyone who says differently is a dumb jerk.
Cee: So much talent! I loved the poem by Ashley. I posted it to Facebook a few days ago and my mom told me she cried when she read it. So yeah, mom liked it too.
Alex: I always cry a little bit at the talent show. And by "always" I mean that one other time in April that we did this. I can't help it, sometimes I'm just overwhelmed with the feelings, with everyone's feelings, with the support/respect for whoever is on stage no matter what, with how fucking awesome everyone is. What did it this time? It was the violin solo you guys. SO AMAZING.
Crystal: I stood up the back of the room during the talent show with Alice, who cares about my well-being and kept slipping me $1 bills for the vending machine so that I could stay hydrated.
Morgan: I saw over a third of my campers up on the talent show stage being their truest, bluest selves. If my pride could have affected plate tectonics, you would have seen every Richter scale the world over light up.
Marni: I had a blast jamming with Ashley, who agreed to jump on stage with me on about five minutes notice to do a Jessie J song.
Riese: Marni had thought about performing at the talent show but ultimately vetoed her own idea 'cause she didn't want to take time away from the campers. I mentioned this to Brandy Howard and we decided the best way to override Marni's veto would be for Brandy to announce that Marni was on deck when announcing the next act. SURPRISE!
Sara Medd: I didn't think that that Jessie J song could be any sexier, but Marni singing it acoustically with Ashley Reed on the drum was exponentially sexier than Jessie J.
Brittani: I'm pretty sure Marni won camp with her "Do It Like a Dude" cover.
Stef: The room got very quiet as Marni immediately became a sex symbol throughout the entire land.
Rachel: I didn't tell either Marni or Riese this when camp was actually happening, but Marni's rendition of "Do It Like A Dude" has fundamentally altered my sexual identity. I am now only attracted to humans who can perform "Do It Like A Dude" as well as Marni can on acoustic guitar. Sorry, everyone.
[Riese: This song will be available for download ASAP, I promise. Marni and Ashley are recording it.]
Carly: THUNDERCATS, you made my heart explode with pride and love. But really I was in awe of everyone who got up there, you are all brave and talented and I love you.
Sara Medd: 21 Hump Street's skit was THE BEST. Okay, maybe I'm being a little partial to my cabin, but seriously it was genius. There were bedsheet church choir costumes, and doctrinal readings, and Anna Goodman does an amazingly accurate impression of me. Praise Lesbian Jesus!!!
Stef: I was so proud of my baby Battlestars for all of their performances, which were all brave and funny and adorable. The talent show is quickly becoming my favourite part of A Camp; it's so wonderful to see how amazing and talented all of our campers are. My tiny heart exploded over and over with every skit, or maybe it was the altitude. Everybody, you were so cute!
Laneia: The talent show feels like getting a hug from camp itself. We stood in the back of the room because it's the best way to watch everyone experience the same thing all together. I can't get over how hilarious and creative A-Campers are! Like where the heck do you people come from with your giant brains and hearts??
Mary: I laughed, I almost cried, I laughed some more. I was honestly blown away with how talented and brave our campers were.
Daniela: This is the part that I have the hardest time communicating to anyone who hasn't been to camp — everyone is talented, and creative, and awesome. I left hoarse from excitedly screaming every time someone new went on stage.
Stef: Alex and I had been talking about doing a ukulele version of "Call Your Girlfriend" for months (even before someone suggested it as her Indiegogo campaign dance!), but I had realized early on that Robyn's vocal range is… slightly better than my own. We definitely wanted Marni joining me on guitar, but then started exploring the option of having Haviland sing… In the end though, we decided to just sing it ourselves, and I'm actually really glad we did! The audience sang along with us, so it didn't matter how terrible my voice is. As usual, Alex was amazing and funny but she danced so hard that the entire stage was shaking and if you watch the video closely, I'm actually desperately trying to hold the mic and music stand down with my feet. Everything is better with a kazoo solo.
Alex: Here's how to make a ton of friends really fast… learn a silly dance from the internet and have your friend play the song on their ukelele while you do the choreography. People like it. Idk.
Marni: Alex's dance was perfect (we'd established way before camp that it was a non-negotiable talent show event, and she delivered).
Carly: Anyway by the time we got through everything and through all the staff intros and cheering and crying we were running an hour behind.
Crystal: At the end Carly ran up to me saying, "OMG did you see our campers perform? We have the BEST cabin!" and we high-fived in agreement. We were just so proud of everyone.
Riese: At the end Brandy and Julie called us all up there so that everyone could applaud and I could say things. I kept it short/sweet.
Ali: Even though I was sick for the talent show (altitude!), I hear my exploits earned me the name Ali "Your Clit Deserves It." It's kind of like my "Dances With Wolves." I can deal with that. I can deal with that so hard.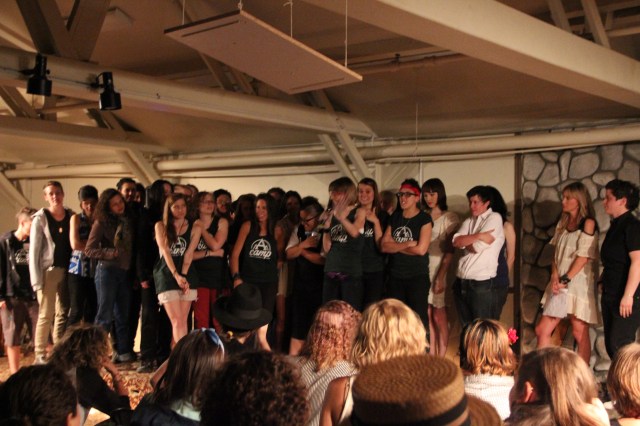 +
The Dance
Crystal: After dinner I was alerted to an illness in the Thundercats cabin, however by the time I got there Hot Doc Amy had already provided medical support and everything was going to be fine. I provided ice cream and hug support and then bid a sad farewell to the few campers who weren't going to the dance.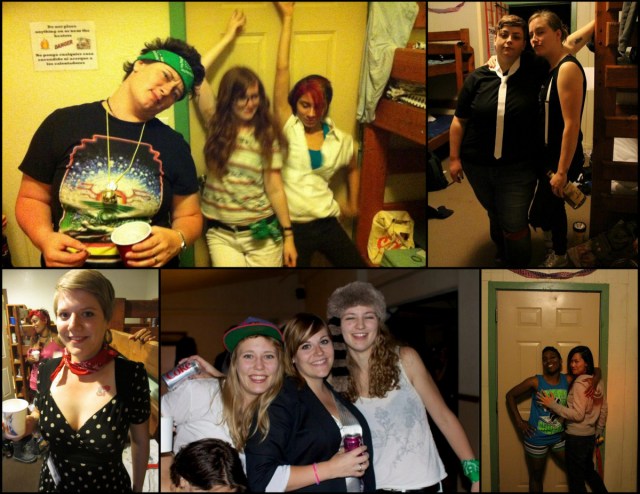 Carmen: Cracked a bunch of wristbands, threw a streamer until it got caught for the third time on a ceiling bar, and then sat back and waited for Drake to play.
Daniela: I remember wondering at camp in April about all the decoration during the dance, and this time I got to see the magic happening: people throwing paper rolls everywhere, hoping against hope not to hit anyone in the process.
Sara Medd: Carly looked so legit behind her DJ booth. Not only did she put together a kick ass set, but she looked fucking rad with her headphones.
Carly: I was a little stressed. I JUST WANTED EVERYONE TO DANCE ALL NIGHT! So we set the dance up SO FAST and I put on my dapper bowtie and Robin set up this amazing photobooth and then I didn't see Grace for so many hours (which was the longest I went all of camp without seeing her) and I kept asking who was in charge of my thirst but then just drank all of Alex's whiskey (sorry!) and Lauren Aadland was the best hype man/go-go dancer a girl could ask for. Great moves.
Brittani: If there's a better way to start a dance than with ice cream sundaes, I couldn't tell you.
Crystal: Earlier in the day I had promised some campers that I would dance even though I never dance, because that's how much I love them. I stood on the dancefloor and let them dance around me for a few songs, then spent the rest of the night watching campers play it up for the photobooth. Carolyn and I took the opportunity to emulate poses from bad 80s cop movies.
Stef: Annika and I went to Wolf Lodge to do a couple of tequila shots, and my body apparently decided it had had enough of my shenanigans. I ended up being mostly sober for the entire dance, which was novel!
Carmen: I think I finally rapped for you guys, right? Everyone saw that, right? Brittani and I definitely rapped multiple times as in we pretty much recorded a mix tape on Saturday night. I also ran in and out of the Smokers' Circle and discovered someone had left a cooler of beer on the steps. Let this be known as one of the many acts of Lesbian Jesus to occur at September camp.
Marni: Mollie Thomas is a gift from Lesbian Jesus.
Stef: I spent the evening dancing to the sweet sweet tunes of DJ Carlytron on stage with some of my favourite ladies. Mollie Thomas took it upon herself to grind her body against mine for an extended period of time, during which I turned beet red and probably made a series of amazing faces. It was probably the most terrified I've ever been in my entire life. Thanks for that, Mollie!
Cee: I danced. I passed out flyers to the exclusive after party. It wasn't super exclusive actually because everyone was invited.
Sara Medd: I was asked to dance by a really cute girl I had been eyeing all week….although I tried to remain professional as a staffer, I still got butterflies inside (don't tell her that).
Carly: Three things that happened at the dance:
1) Mollie Thomas told me that if I played Britney's "Slave 4 U" that she would go dance on the stripper pole (did I mention we installed Mollie's travel stripper pole in the center of the dance floor? Because that is a thing that happened), at which point I loudly asked, "If Mollie Thomas tells you to play a song and she'll dance on the pole, you do it right?" and everyone shouted "YES!" Moments later Launa asked for Rihanna's "S&M" and I obliged, telling everyone I had to "keep the music sexy." Jesus take the wheel.
2) I took some other requests too… I played a Missy Elliott song for Katie Millar but then accidentally turned it off halfway through (I still feel bad about that), and I played Destiny's Child's "Say My Name" for the Auto-staff. You're welcome.
3) The dance was to end promptly at 1am, but as we started late I decided I was going to keep playing music until I got in trouble. Sometime after 1, Marni came up to me and I thought for sure the party was over… but she told me to keep playing. She also Danced Up On Me. MARNI IS THE BEST YOU GUYS, we got to party until like 2:30 or something.
Meredydd: I had such a great time at the dance and not just because we were handing out the flyers Cee designed for Klub Deer.
Mary: The dance had such great beats! Carlytron is the best DJ everrr. At some point a camper gave me a can of whipped cream and told me to 'have fun'. Obviously I covered Haviland's arm with it and told Ashley she had to lick it off.
Laneia: I've made "somewhere on the stage behind Carly" my official dancing spot, because it feels safer back there and I can pretend no one can see me. Also Carly's DJ set-up is fascinating. The dance is just super surreal you guys. Mountain magic and such.
Brittani: Post-dance I was exhausted. I'd worked all week and then squeezed in a week's worth of fun into 24 hours. I went to my cabin and there were like two people there. I felt a deep shame rush through my soul but I desperately needed to nestle into my towel pillow so I called my girlfriend and went to sleep.
Carly: It was one of the best nights of my life. I'd like to just go back and relive the dance on a loop. Sigh. #feelings
IV. After The Party Is The Afterparty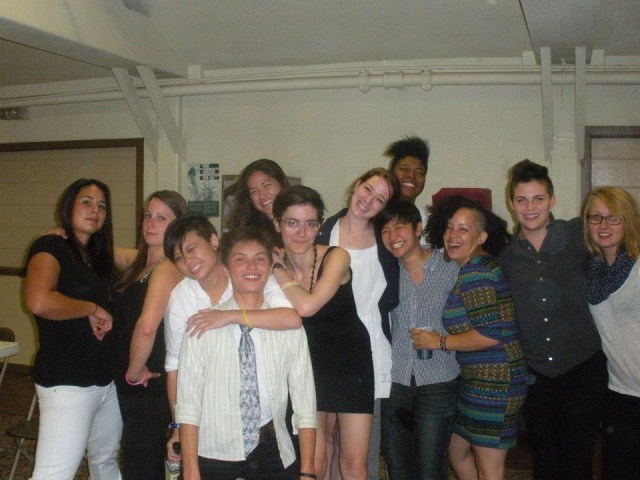 Carly: After the dance, Mary, Grace, Mollie and I went to go surprise the Thundercats and the Little Rascals. I was so excited! Mollie and I ran to the Thundercats cabin and found that most of them weren't there, some were off processing feelings, god only knows where the rest of them were, and I gave Rachel a high five. We felt defeated and headed off to find the Little Rascals' cabin – much harder that I thought it would be in the dark – and eventually stumbled upon Mary and Grace sitting on the floor with the Little Rascals, talking about their feelings. It was precious.
Riese: I took a disco-nap during the dance and promised to wake up at 2AM to finish the "gifts from our district" exchange. I fell asleep with all my clothes on, the fact that I actually did wake up at 2AM and go to Cabin 17 is a great testament of my love for The Runaways.
Carly: Finally we wound up at Klub Deer. LUCKILY I was able to get past the bouncers and I don't even know how to explain what I found when I went in there (there were body shots involved)… so I won't. What… a whirlwind.
Sara Medd: Obvs I got a VIP wristband and didn't have to wait in line. I'm just glad I received the flier at the dance.
Carmen: When I arrived at Klub Deer the place looked like a log cabin or something. So I shut the blinds, turned on my iPhone in the iHome (see what I did there), and turned off the lights. Ten minutes later I committed myself to being one of many official Klub dancers and proceeded to recruit Jamie and Fonsexy in this pursuit as well. Our platform of choice was the mantle to the fireplace, which sits app. 1 inch off of the ground.
Cee: Club deer was bouncing! Tons of people showed up, DJ iPod was amazing and the lighting was super high tech. Body shots happened. That's all I'm allowed to say. The rest is classified.
Sara Medd: KLUB DEER!!! Off the hook! There were go-go dancers, body shots, strobe lights….apparently its the hottest new venue in Angelus Oaks. And it happened to be right across from my cabin!!
Sarah Croce: Closing night: Body shots. Need I say more?
Gabby: Katrina and I take our jobs as counselors very seriously. We want our campers to feel connected to A-Camp, us and each other other. This type of solidarity doesn't just happen when you throw a bunch of queers in a cabin. You have to build it and then they'll come (all over each other). We came up with a few ritual calls to get our Snatchers feeling like a troupe, like a crew, like a gang of queer badasses. When we yelled: Who Runs the World? They yelled: SNATCH. Yeah maybe other cabins hated us but it was fun and gave us something verbal to proclaim. These things might seem silly but damn did everyone know when Snatch-22 was around and it stuck us together like gorilla glue which is something that camp queermos have in their back pockets. Well maybe just Marni.
Every night, Katrina and I (together or separately) checked in with our Snatchers for at least an hour, which is super important because they were our gaybabies and it was our duty to be their fairy godbrothers. Every day of camp is filled with feelings. Feelings you never thought you had or that you'd ever feel again come spilling out. And it's tough and super emotional and not something to just be shrugged off. So we knew it was mega important to get those feelings processed in a safe space with our campers. Enter the 'snap circle of feelings' where everyone got a chance to tell us something great (rose), something bummer (thorn) and something they were looking forward to (rosebud) about every day of camp. We listened, snapped our fingers and then moved on to the next person so everyone got a chance to speak, be heard and feel loved. We also shared a few drinks, played some strip truth or dare, listened to Ashley slam and watch Nia shake her rump. Basically, good times all around and well, it made me feel closer to them and feel like camp really was a place to learn how to make family and mean it. Snatch-22 for life.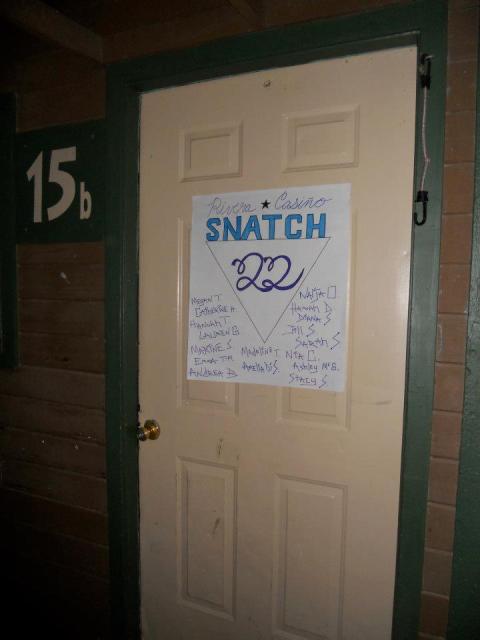 ---
Before you go!
It takes funding to keep this publication by and for queer women and trans people of all genders running every day. We will never put our site behind a paywall because we know how important it is to keep Autostraddle free. But that means we rely on the support of our A+ Members.
Still, 99.9% of our readers are not members.
A+ membership starts at just $4/month.
If you're able to, will you join A+ and keep Autostraddle here and working for everyone?
Join A+
Pages: 1 2 3 4 5See entire article on one page