Sunday, September 16th
In which we enjoy a pajama breakfast and everybody goes home.
Crystal: I had to get back to LA first thing to interview Vero, which meant leaving camp at a stupidly early hour and not being able to say goodbye to anyone. I hitched a ride with a car full of Thundercats who were on their way to see the US women's soccer game (obvs) and by the time we'd reached the bottom of the mountain I had burrowed up against a camper and was sleeping the most peaceful sleep of my life.
Riese: I'd returned to my bed from The Runaways Cabin circa 5AM, so you can imagine I felt like a billion bucks when I woke up at 8AM on Sunday for Pajama Breakfast!
Laneia: Team Sad-Ass Hangover.
Carmen: I woke up at 8:30 AM on Sunday and was depressed as fuck to be leaving the little lesbian colony I'd called home for six days. I also was worried I had forgotten what urban areas and relative civilization looked like, and was terrified to descend into what we call "irl." I arrived at breakfast late, stayed in Eagle Lodge late, and then drank a coffee and went to my cabin to pack and cry silent camp tears. JK. Sort of.
Carmen: Geneva, Annika and I made our way to Wolf and then I made my way to the most important destination of all time, the Smokers' Circle. And then Katrina came over and I was like "HEY! COME SMOKE A CIG!" and she was like "HEY! WE WERE WRONG ABOUT OUR FLIGHT BEING AT 9 PM AND WE HAVE TO GET ON A SHUTTLE RIGHT NOW WHICH IS TWO HOURS EARLIER THAN EXPECTED!"
Gabby: So I made it to Transpo Captain Laura's 10am shuttle and helped her heard the queers onto the bus. I didn't even need to be on the shuttle cuz my flight was leaving later but fuck it, right? Then I realized my plane was actually leaving at 4pm and not 9pm. I immediately texted Carmen and Katrina so they could haul their out-of-it-WOC asses to the same shuttle cuz we were all leaving on the same plane.
Carmen: I threw my cigarette to Geneva, somehow lost my pack later on in the day, and got my luggage. I only said goodbye to the people standing right there at that exact moment and all I can reveal about the next series of exact moments is that they involve me having an incredible amount of feelings pour out of my exhausted, relatively tiny body and that they end in me passing out listening to The National five minutes later.
Sarah Croce: Boyz II Men said it best:
How do I say goodbye to what we had?
The good times that made us laugh
Outweigh the bad.
I thought we'd get to see forever
But forever's gone away
It's so hard to say goodbye to yesterday.
Daniela: I can't do goodbyes, so I was in a full state of denial the whole day.
Brittani: I misspoke earlier. Tiny spring rolls won camp.
Cee: All of a sudden it was over and I was on a bus on the way to the airport.
Carmen: Gabby, Katrina and I did what we always do – drink pre-flight and try to process privately around one another. We boarded our flight with full bellies and I was wearing what Gabby went on to name my "boom boom shorts." We didn't end up having seats next to each other. I slept for the next 30 hours, on the plane and then on the train and then on the bus, all the way until I got home and did it some more. I tried to write but this time I had nothing left to say to myself. I think maybe my body thinks it was all just a big, alcohol-induced dream, but probably just because it doesn't know what to do with something so special. I know better.
Riese: We spent Sunday cleaning everything, which is a daunting task, and packing/re-packing everything, which makes me want to die every time, because if I leave the wrong thing behind, the entire world will explode. Last time I left a pillow behind.
Marni: When we were just about done cleaning up the site on Sunday and I was thanking (Alpine Assistant Director) Katie before we left, she asked me if I'd been at Klub Deer the night before. When I said I hadn't, without skipping a beat she said, "Why? Were you not on the list?"
+
+
+
Brittani: Thinking about going back to LA was way sadder than last camp. Mostly because everyone else was ready to get off that mountain and I'd just gotten there. LA would be a place where this thing hadn't happened and where so many people didn't know it happened. Like more people than don't know who killed Jenny. It's bothersome.
Laneia: It finally hit me that everything was over, which is when I started crying like an actual toddler and didn't really stop until Megan bought me a fish taco and made inappropriate gestures with a french fry. We made lists and notes for the next camp, which is the only way to move on, in my experience.
Annika: On the final day of camp, after packing, cleaning, and several emotional goodbyes, Daniela, Whitney, and I climbed into Stef's trusty rental van and drove down the mountain. We all had a few hours to kill before our flights left, so we decided to stop by Croce/Medd/Alex's place in Echo Park, and then Carly and Robin showed up too which meant that we all had to repeat the emotional goodbyes from earlier that morning again.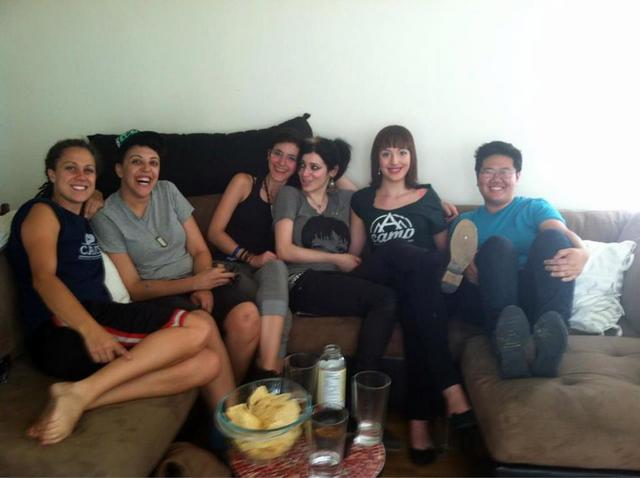 Daniela: Before getting back to the airport, Stef, Whitney and I had dinner at this place called Mohawk Bend, which I thought it was quite fitting to the theme of the week. Still I didn't really get the fact that Camp was over, that I wouldn't be seeing everybody's faces every day anymore until Stef got off the bus at the airport and Whitney and I hugged goodbye at her terminal. My phone died as soon as I got to my terminal and before I had a chance to freak out, camper Mary came out of nowhere and lend me hers, proving that the A-Camp love doesn't die as soon as you leave the mountain. Once I started walking towards my gate, trying to ignore my own feelings, I ran into camper Keisha leaning against some chairs at her gate, watching Alex's talent show performance on her phone while she waited for her flight and I quietly lost it. As soon as I reached my gate I retreated to myself and let the magnitude of A-Camp's amazingness overwhelm the hell out of me, so I played "Call Your Girlfriend" on repeat until I had to board my plane.
Riese: In April, the last day was an epic shit-show and I was hungover/tired/hungry/dirty/needy, but it was all pretty painless. Except lunch.
Crystal: Later in the day I met up with Riese and Marni for our post-camp ritual of dining at The Cheesecake Factory.
Riese: The Cheesecake Factory is a jarring re-entry to Real Life, as illustrated by the patron in the ladies room who told Marni she was in the wrong bathroom. Our first journey to a public restroom after camp! OH, REAL LIFE and your humans.
Crystal: Everything felt so different compared to the last time we had done this, when our conversations were filled with notes on things that could've gone better. This time all we talked about were the things that had gone right, which was everything.
Riese: Things are gonna go so much better next time, though. I mean we already have so many ideas!!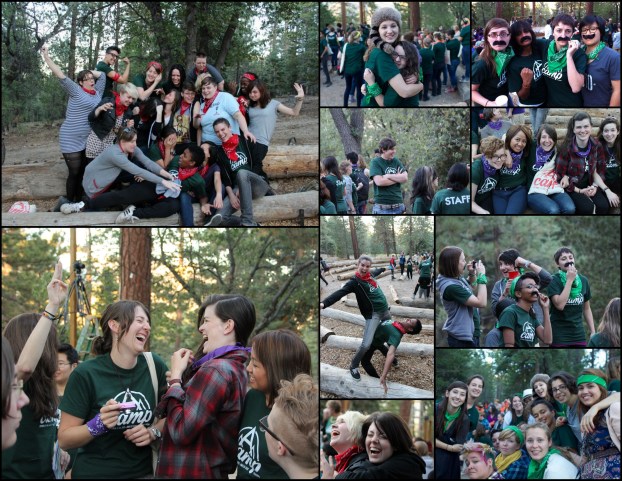 Next: Dance Photobooth Pictures, final thoughts On Camp, and the date registration will open for A-Camp May 2013.
---
Before you go!
It takes funding to keep this publication by and for queer women and trans people of all genders running every day. We will never put our site behind a paywall because we know how important it is to keep Autostraddle free. But that means we rely on the support of our A+ Members.
Still, 99.9% of our readers are not members.
A+ membership starts at just $4/month.
If you're able to, will you join A+ and keep Autostraddle here and working for everyone?
Join A+
Pages: 1 2 3 4 5See entire article on one page