FEELINGS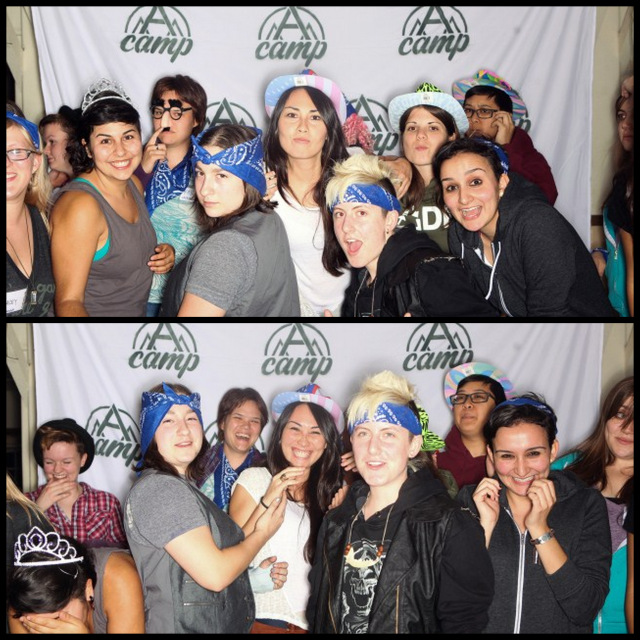 Crystal: Pulling out of the parking lot was one of my favourite moments of A-Camp — not because camp was over, but because it was the first chance I'd had to stop and actually reflect on the past few days. Right at that moment I was so content. There I was, in a car with some of the most amazing campers who I'd bonded and created memories with. I'd just spent four days leading activities that couldn't have gone any better and I'd done things that I didn't know I was still capable of. I mean, I talked to people. I talked a lot. I led discussion groups. I "danced.". I even wore white. I did all of these things that I usually find so terrifying or uncomfortable, because A-Camp makes me feel like I can do anything.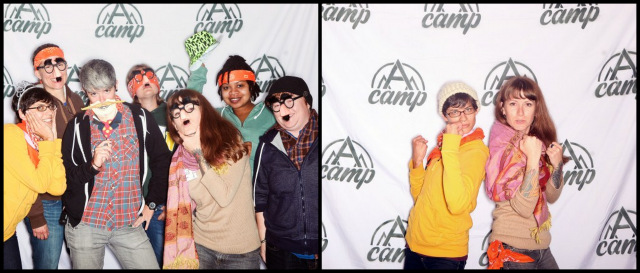 Camper Quote: "My favorite part of camp was the overall experience of community, completely uninterrupted by anything else. Being on a mountain (that was not at all creepy this time), surrounded by not only queer women but the most interesting, unique, fucking wild and beautiful queer women specimens, was just the coolest."+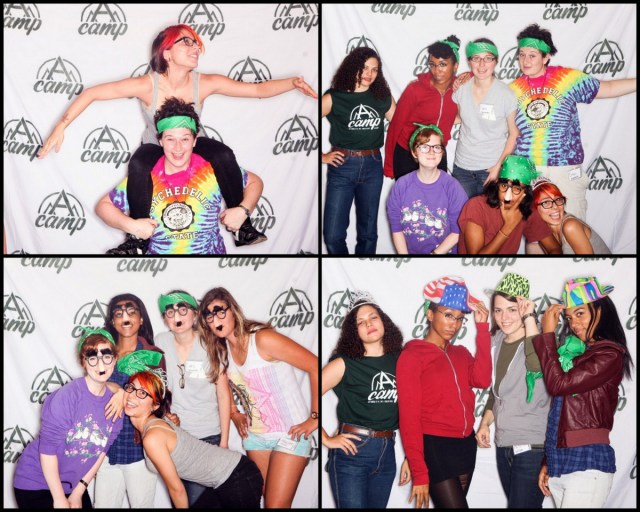 Malaika: I think the lesson I ultimately got out of A-Camp is that there are so many wonderful gay, weirdo, nerds in the world. Thank the Rainbow-Unicorns up in Heaven for that!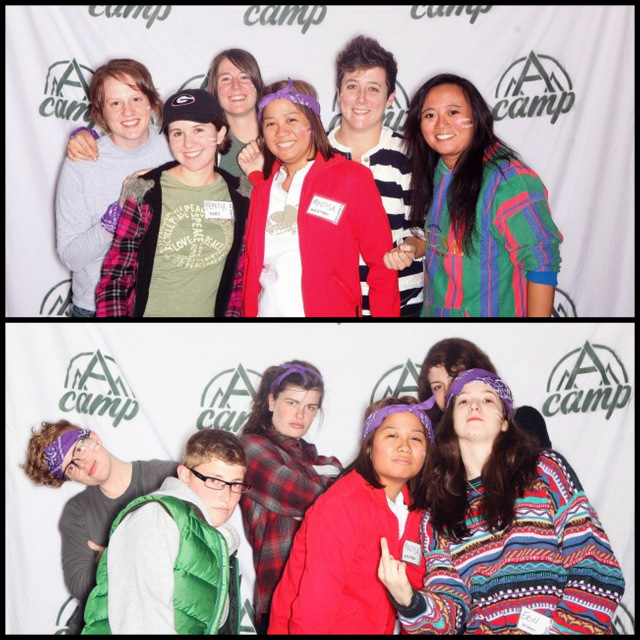 Camper Quote: "I loved staying up into the early hours of the morning processing feelings with cabin mates and being around people who 'get' autostraddle. Unconditional acceptance."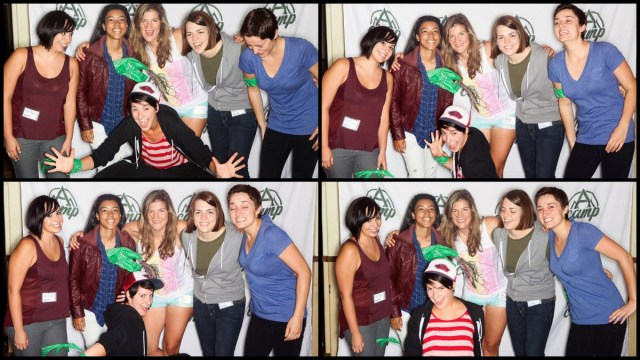 Morgan: "My idea of fun is this, and for me and many of us it is perfect: read a book, sleep, watch a great TV show, take a long walk, etc. But at A-Camp I celebrated and cut loose in a way I never do, because at camp I always felt cherished and I always felt safe. A-Camp has not flipped the extrovert switch in me to ON. Rather, camp gives me a space where I can leap over all the initial awkwardness I usually have in meeting new people because I know the people I meet at camp are, y'know, good. Solid. Like titanium or the energies that hold our little universe together, they are made of tougher, finer stuff. A-Camp puts people together who share similar visions of what a happy world looks like, and that is special and nice in ways that too few things are special and nice. A-Camp was some of the most fun I've had in my life, and I can say that without caveat, addendum or equivocation. Thank you, because you the reader of this paragraph are why it is."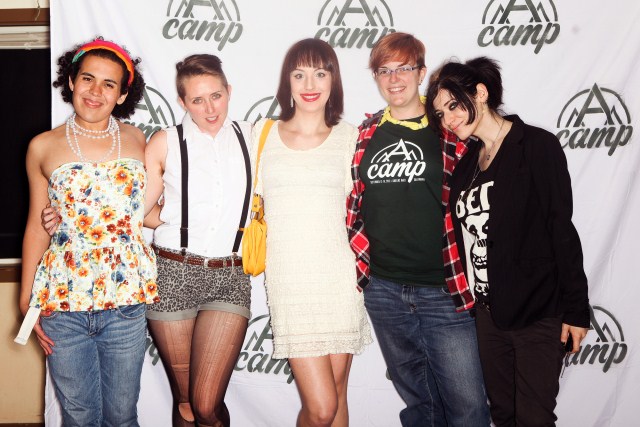 Camper Quote: "It was so amazing to have such a positive atmosphere for everyone to really be themselves and everyone else accepting it without question. We need more of this in the world and I only hope that we can all share some of it where ever we go. It was great when Gaela stood up and said "Thanks for making a trans girl feel so welcome here!"… There was just so much love and bonding. Everyone wanted everyone else to have the best time ever. It just felt so good."
Camper Quote: "It felt so fucking right to be one of many gaymos and not 'this one gay girl'. Being totally out to myself and the people around me was also a first and an amazing feeling."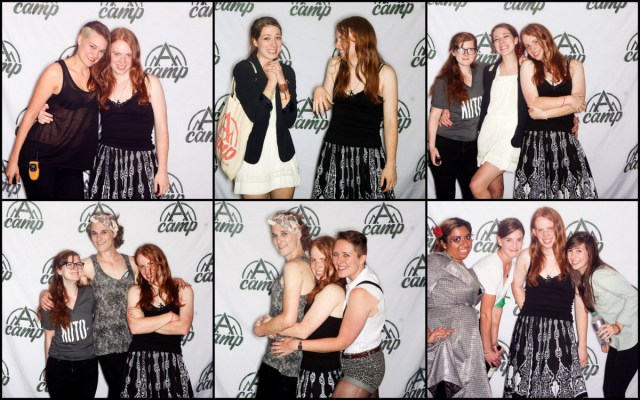 Camper Quote: "My cabin rocked my A-Camp experience, literally. There was definitely a sense of Stallion Pride and we really bonded over so many different things. We were SO PROUD to have Jill as one of our counselors and honestly, she felt like one of us for the most part. Haviland was just the sweetest thing. I'm really glad that our cabin was as happy, easy going yet up for the wildest time as it got quite loud and messy every night and everyone could laugh about it in the morning."
+
Camper Quote: "The best part of camp for me was the smokers circle! And being in an environment where I could talk about binding over lunch."
+Camper Quote: "The best parts of A-Camp (because I can't choose just one) were meeting staffers and writers that I'd known about and wanted to meet for years, and getting to be in an incredibly amazing cabin that bonded so hard."
Camper Quote: "One of the new Golden Girls told me, "I have peers." That's a huge deal and hard to come by at our age. Our perspectives and places in life remain very similar. And we happen to be pretty nice people, which makes it better."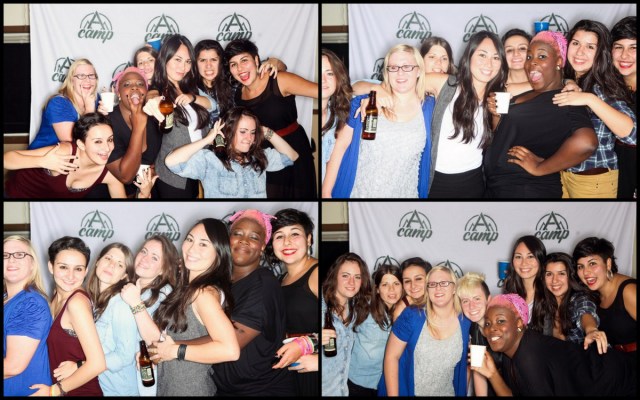 Riese: I think camp can be life-changing in really literal ways and in emotional ways, too. I think camp is that for a lot of people. Maybe most people. But also it's just really fun. I think a lot of campers just wanna have fun, too, and talk about smart stuff in the woods. I mean, we're just talking about stuff we like to talk about and doing things we like to do for five days with a bunch of other cool people. Any eventual catharsis is just the icing on the cake.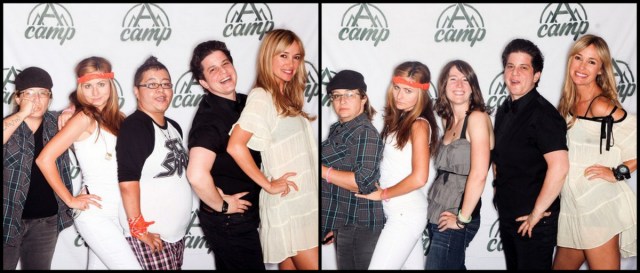 Camper Quote: "The best part of camp was finding other women with my interests, seeing the all the variety in dress and bodies and style and attitude among the queers and getting confidence to talk to girls I didn't know."
Camper Quote: "Camp = the world I used to dream about in my room as a kid…I can't thank you all enough for that. I have the confidence I've been missing and wanting for so long."
 
Camper Quote: "I'm realizing more and more that ACamp isn't just about making friends and having fun but finding people to build things with and grow with and having a space to push you to "do you" and be yourself in a bolder way. I wouldn't let my boobs be water gunned and sing Justin Bieber in front of ANY OTHER audience."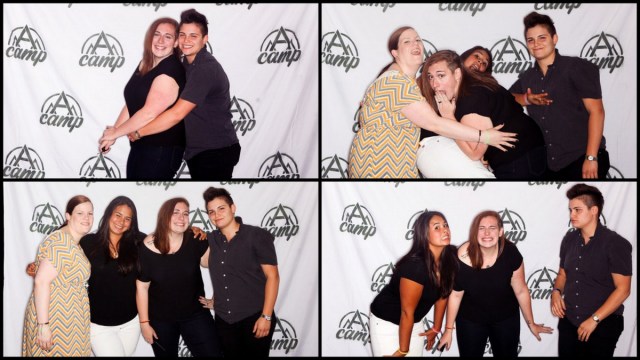 Camper Quote: "Much like last camp, my favorite part was waking up early and having coffee with Grace and whoever wandered by. Just the goddamn best. Also also, I really loved zine-making. I'm coming to both sessions next camp. Most especially, though, my favorite new situation this year was the staff readings. Are there words? It seems so far away and deep inside now. Utterly unforgettable."
Vikki: Before going, I assumed that participating in the Queer Families panel would be the highlight of my time there. While I enjoyed the panel and the discussion, it turns out that my favorite thing about A-Camp was being a camp counselor. I was assigned as co-counselor for the Avengers' cabin and the campers were simply the best. It was my job to make them feel comfortable and welcome but, really, that's what they did for me. They let me eat every meal with them and they hung out with me all the time and I seriously loved every minute of our time together. They also kept me from eating a bad burrito when I was immune to its rotting aroma due to hunger. So thank you Avengers! For everything…not just the burrito thing.
Camper Quote: "My favourite part of A-Camp started about 2pm on Wednesday and finished about 1pm on Sunday. Oh wait, I guess that's all of it."
Camper Quote: "I can't choose just one favorite thing. I HAVE TOO MANY FEELINGS. Favorite things included: Swagger 101, speed dating with Gabby, the coming out, family, and sex panels, getting my hair cut by Katrina, the staff readings (especially Morgan!) and the talent show."
Camper Quote: "You get to meet incredible people, and learn so much. Everyone is so sweet and supportive of one another. The whole time you would hear people asking preferred pronouns and saying they wanted to make the people around them as comfortable as possible. It was amazing. Plus, it's a great deal! Food and lodging and all those great activities for that price is great."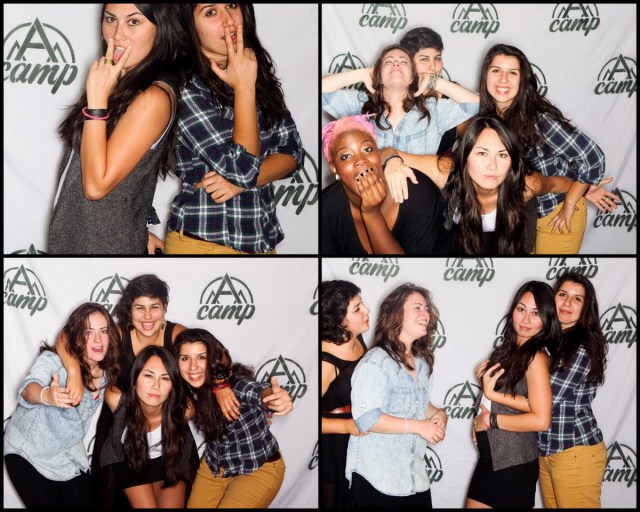 Camper Quote: "I liked how well suited my whole cabin was to one another and to our councillors! Whatever magic you guys used to put us all together is amazing and you should probably market that to everyone and make a lot of money off of it because WOW. Also just every single staff member was incredible! Like you guys are the most amazing group of people ever. You all walked around smiling and laughing and being insanely nice to everyone!"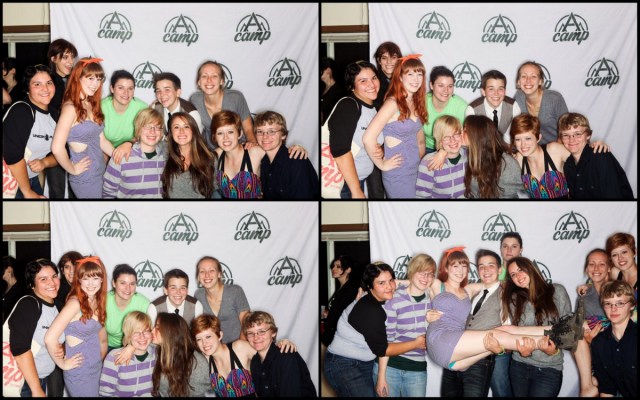 Camper Quote: "It was absolutely incredible. At the end of camp, I was trying to figure out why I hadn't spent the whole time in a kind of euphoria, and I realized it was because the whole experience seemed normal – like what the world should be like all the time. Now that I'm back, I'm missing it so much – no one has an undercut, there are far fewer bowties, and no one is making sexual innuendos. I don't think it really would have been possible for me to imagine, before I went, the extent to which I felt at home."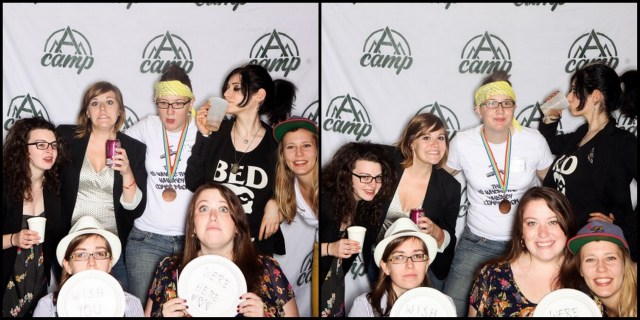 Camper Quote: "I liked learning how to make friendship bracelets and staring at Alex Vega."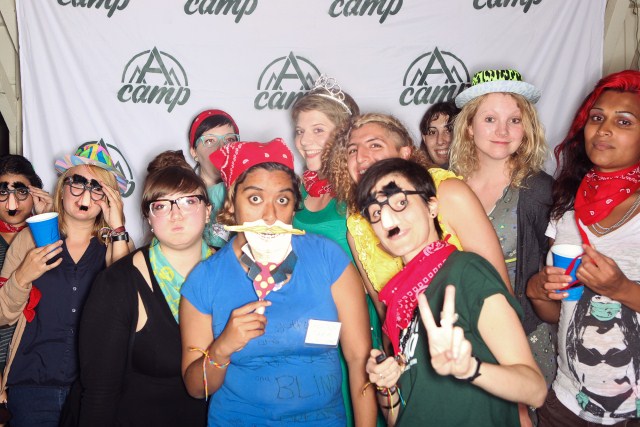 Brittani: Everyone should know what camp is. Even if they don't think it's for them, they should at least understand what it is. But I don't think you really can unless you're there. Amazing gets thrown around way too much for it to properly describe camp because nothing else like camp exists.
Camper Quote: "My favorite part was the panels. Last camp I didn't go to many of them. It completely changed my experience this time. I felt like I was having really intense conversations with people all of the time. It also helped me meet people with similar interests."
Camper Quote: "The community support that was found there, the bravery of everyone willing to share their stories. The cabin assignments, I cannot even express how well my cabin got along. Honestly I don't even think I can think of my favorite moment because I have so many."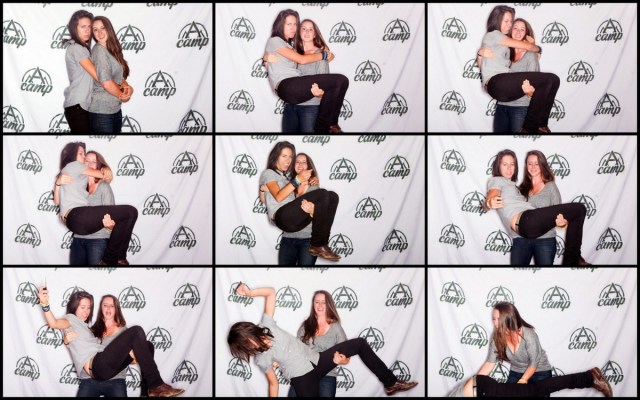 Camper Quote: "Everything was beautiful and nothing hurt and it was a super supportive wonderful group of humans who constantly affirmed and complimented each other."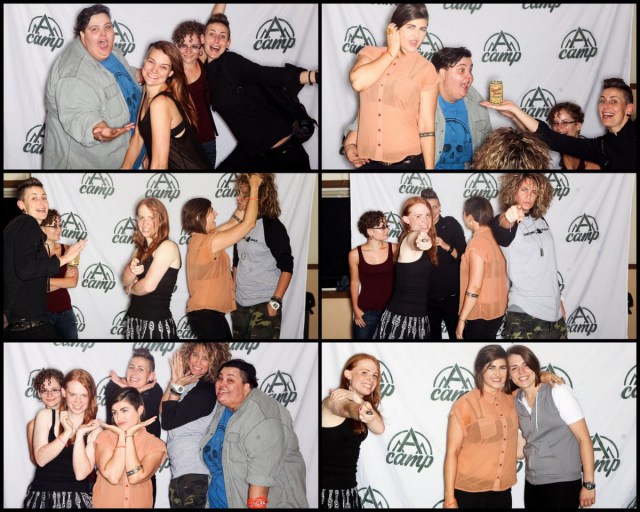 +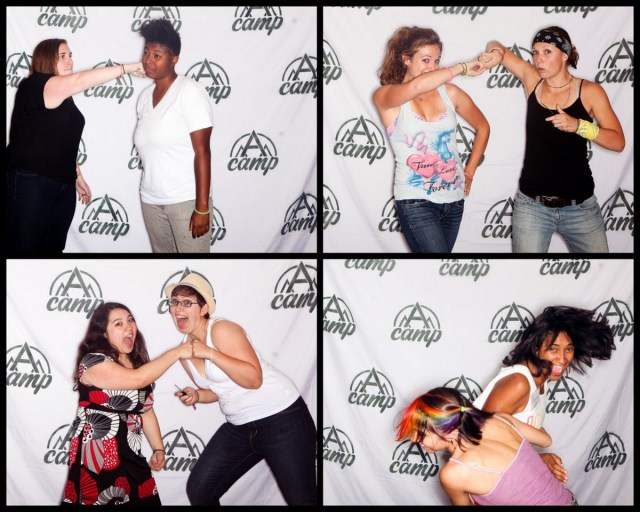 Camper Quote: "I loved returning to camp and seeing so many familiar faces, particularly the staff. I loved that generally the staff seemed to have more time to talk to us. The beautiful weather and location were great too."
+
+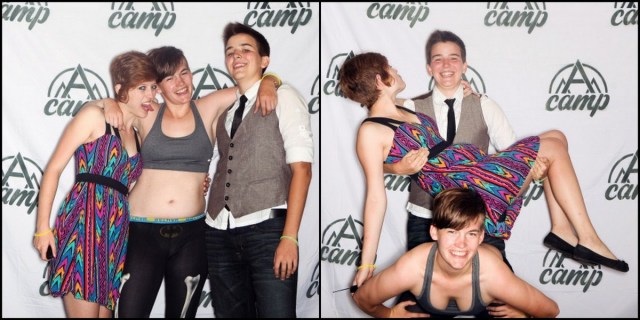 Camper Quotes: "I liked  being in a place where I felt totally safe and affirmed, and the staff reading. If camp were just those two things, it still would have been entirely worth it."
+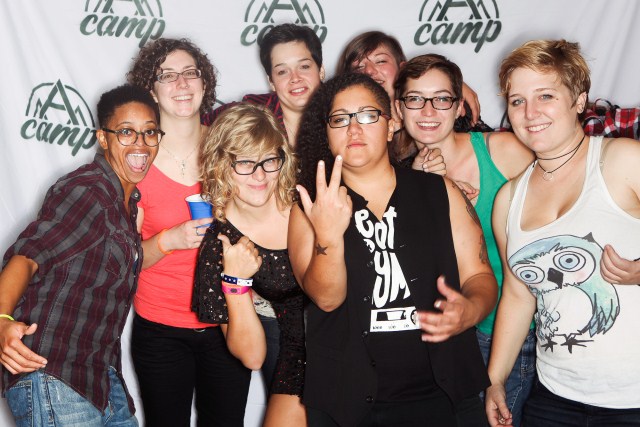 +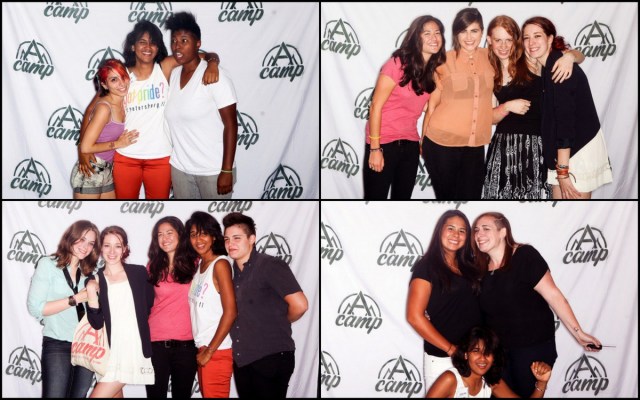 Camper Quote: "I liked being in a space where I fit in, where I was normal — where people liked me and got my jokes and thought I was cute/funny/smart. Belonging."+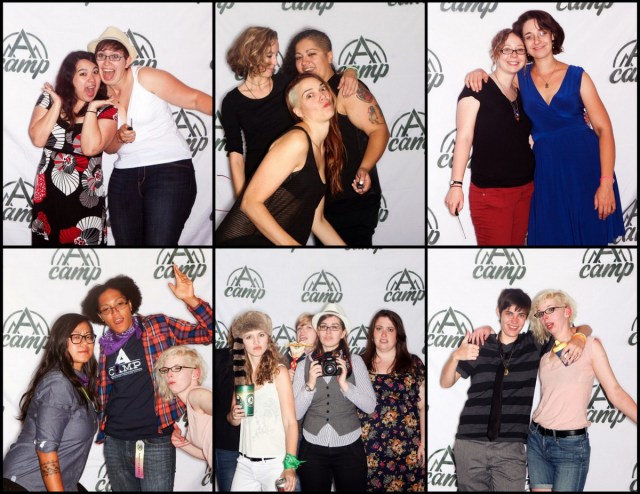 Marni: There's something that's just so magical about camp. About being in this little world full of little people who are all living by the same little laws, in a secluded, secret world in the woods. Priorities shift. Suddenly the most crucial questions are things that would seem ludicrous on the outside, when compared with our usual life stresses – where is the glitter for the pigeonholes, do we put pole dancing before stratego or during, do we have time to run and get flashlights before the ghost story campfire. Camp, at its best, lets you let go of everything that holds you captive in your regular life and give yourself over to a collective consciousness that exists exactly in its own moment and can never be re-created, only re-imagined in new and better ways each time; it's a place where you can be yourself – your best self – and be loved for it. And A-Camp is all of that, and more. It's everything amazing about camp combined with everything amazing about Autostraddle's incredible community and sense of family. It's this tiny world on a mountain ruled by weirdos and writers and freaks and crazies, and we're all in it together. Just being able to be a part of it is one of the most humbling and rewarding experiences of my life. So thanks, A-Camp. It's only going to keep getting better.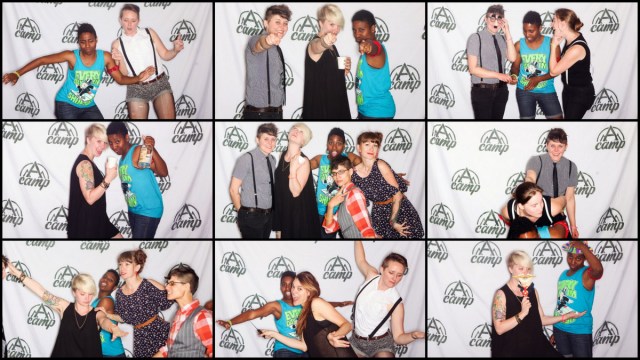 +
Camper Quote: "My favorite part of camp was how absolutely no judgement was cast for how we all looked/behaved/believed – by the A-Camp staff, campers & the Alpine Meadows staff."
Camper Quote: "A-Camp was the most amazing experience I have ever had in my life and I loved every second of it. I loved meeting all the campers and all the staff, everyone at camp were just such amazing humans. Everything about camp was the best. I am having the hardest time articulating my feelings… A-Camp changed my life. I have never felt more myself or more at home. Thank you!"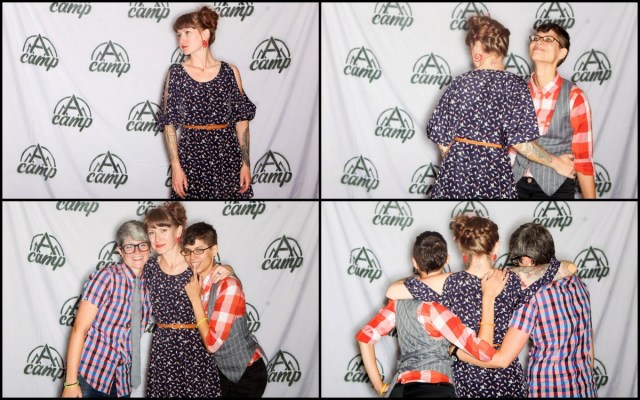 Gabby: Leaving camp, I held in the tears that were choking my breath and the angst that squeezed my ribs. Leaving A-camp is leaving my family. You must think I'm being over dramatic or making my connection to this place sound bigger than it is. But, this shit is for real, I love everyone that works for Autostraddle and have so much love for the people that keep us alive and that come to A-camp. You queers make me feel like a real person, like I have a right to exist in this world as I am. It's hard to say goodbye to that.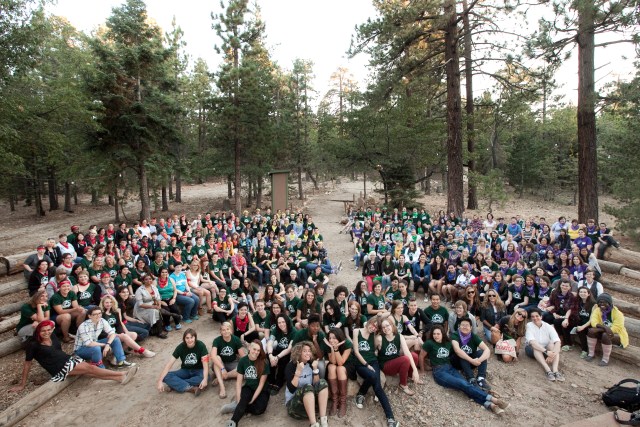 Registration for May A-Camp (May 23rd-27th, 2013) will begin on November 12th, 2012. If you're one of the 50 people who purchased the "priority registration" perk during our fundraising campaign, we'll get in touch with you before that date to ensure you get a spot.
---
Before you go!
It takes funding to keep this publication by and for queer women and trans people of all genders running every day. We will never put our site behind a paywall because we know how important it is to keep Autostraddle free. But that means we rely on the support of our A+ Members.
Still, 99.9% of our readers are not members.
A+ membership starts at just $4/month.
If you're able to, will you join A+ and keep Autostraddle here and working for everyone?
Join A+
Pages: 1 2 3 4 5See entire article on one page