all photos by Molly Adams
It wasn't quite sundown when Shabbat dinner got started at A-Camp 2019, but we didn't let that stop us. We weren't hung up on following exact traditions, or policing how any one person or the entire group of us was going to celebrate Shabbat together. Our goal was feeling good and fostering community, not agonizing over rules.
Earlier in the day, a small group of us had made challah at a workshop where we paired up and learned to do four-strand, five-strand, and six-strand braids while sharing our baking backgrounds and our religious (or not so religious!) experiences. Now those loaves of bread, baked to perfection and all looking fairly professional considering many of the participants had never braided challah before that day, sat on each table ready to be enjoyed.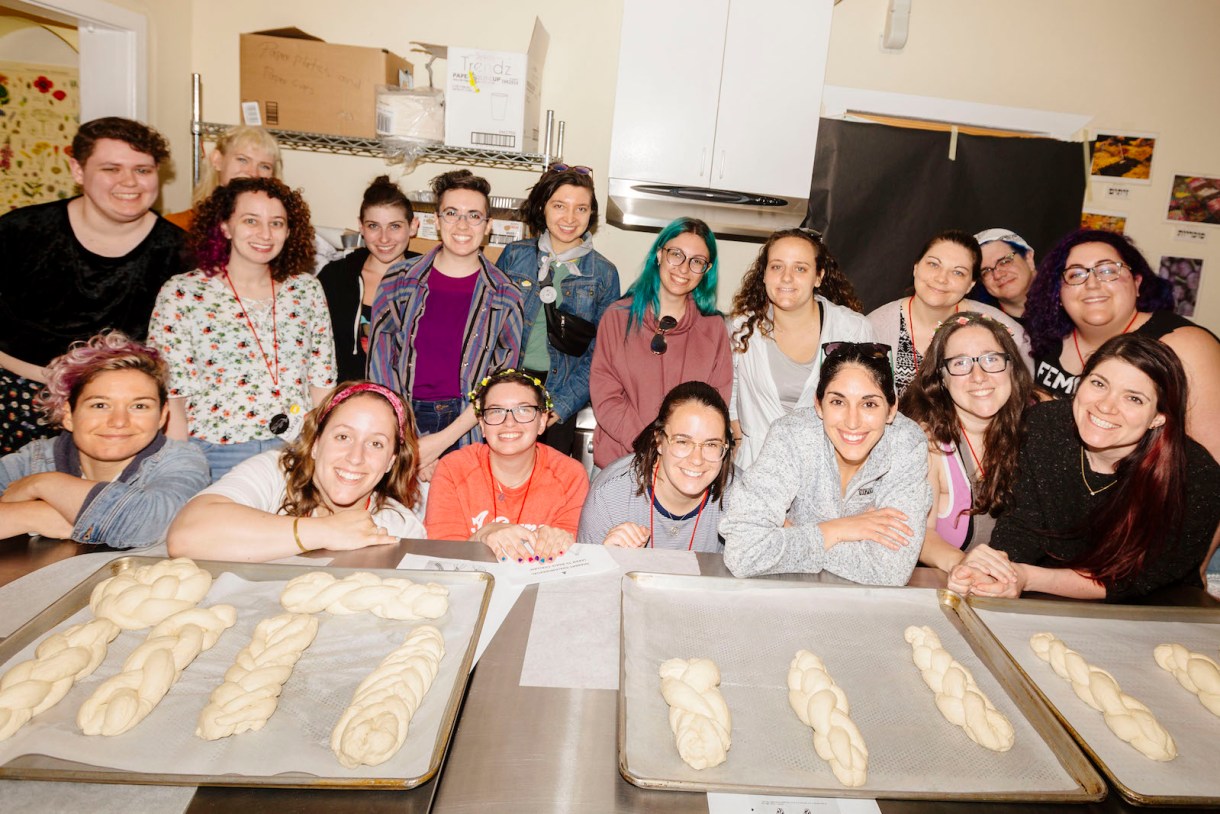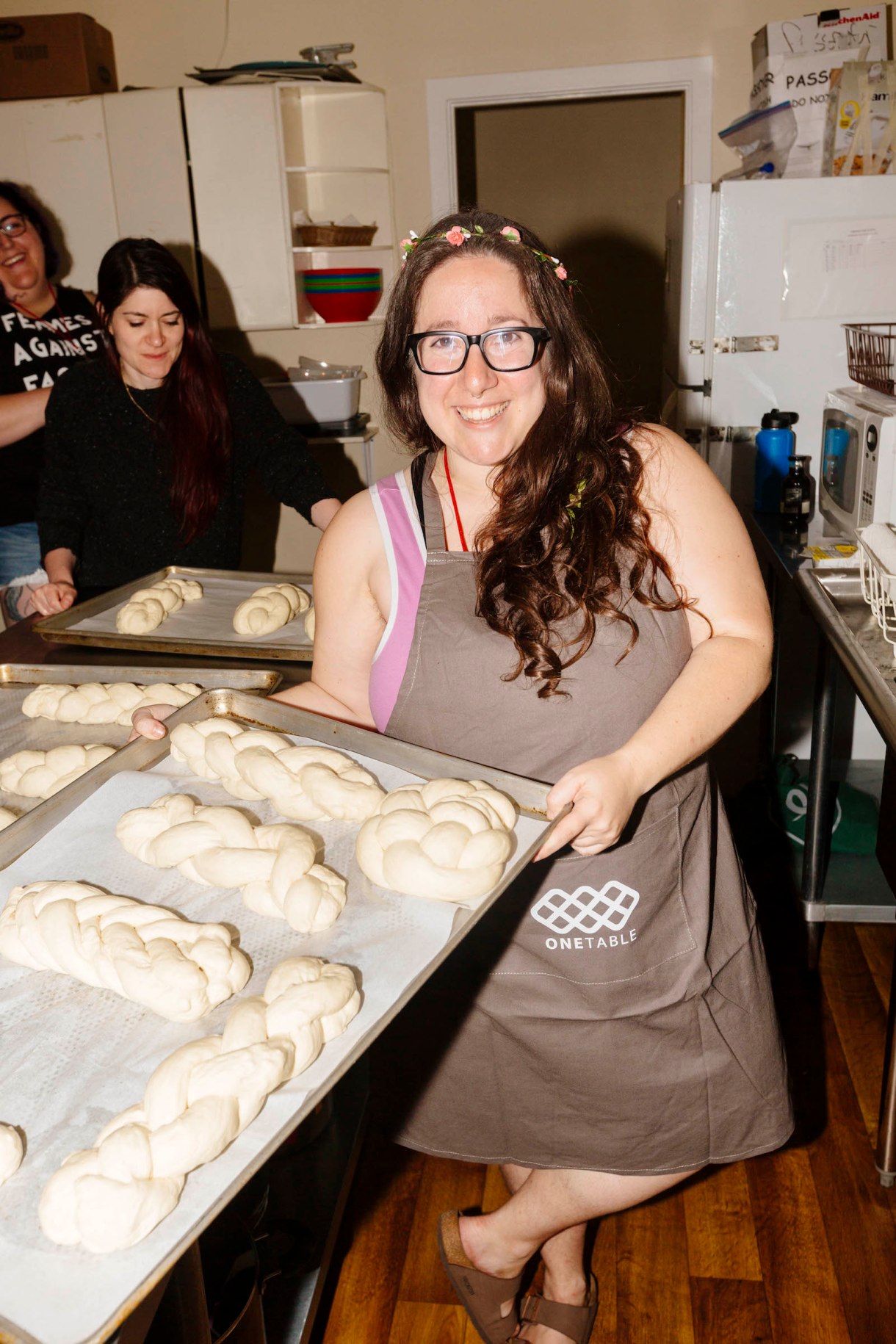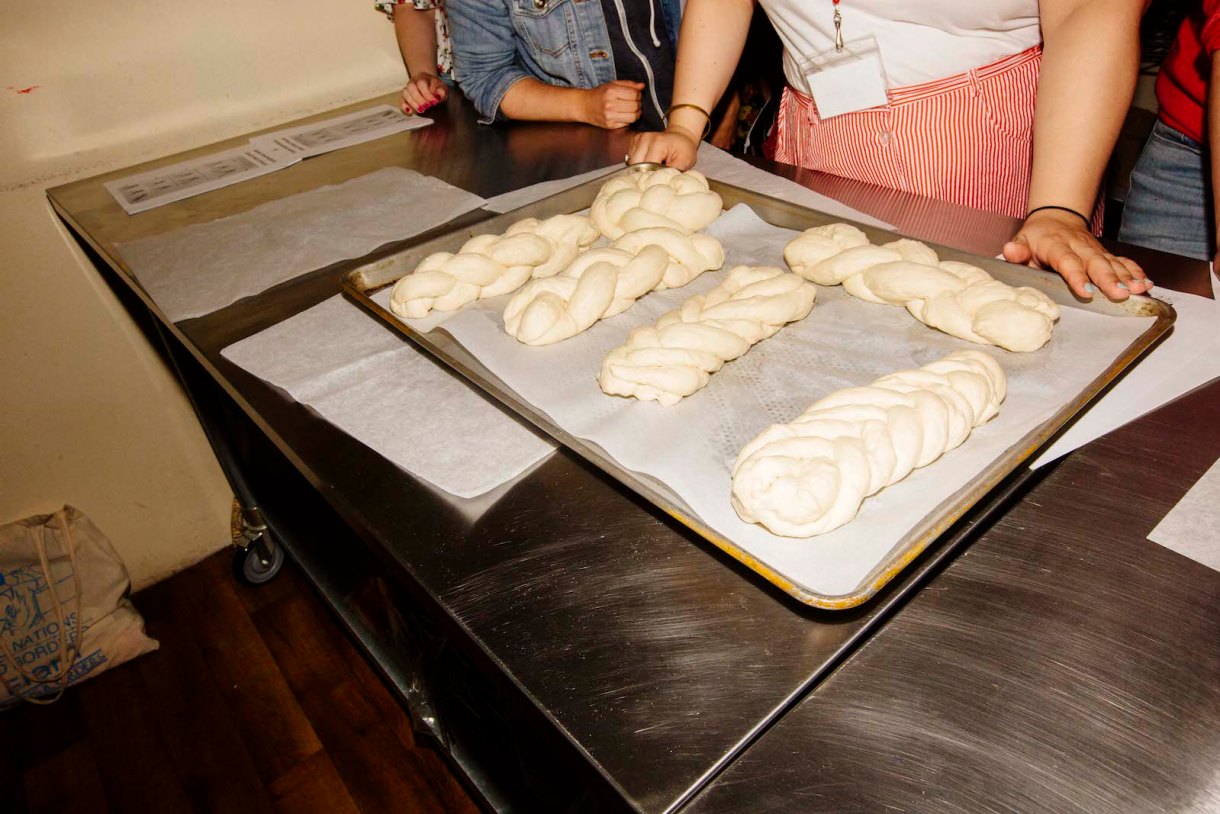 Also on each table: wine and stickers, provided by OneTable. Candles were placed in a group at the front of the room, and when all the Shabbat dinner participants were gathered, everyone who wanted to light came up and did so. Then we stood, most of us with our hands covering our eyes, and said the prayer over the candles.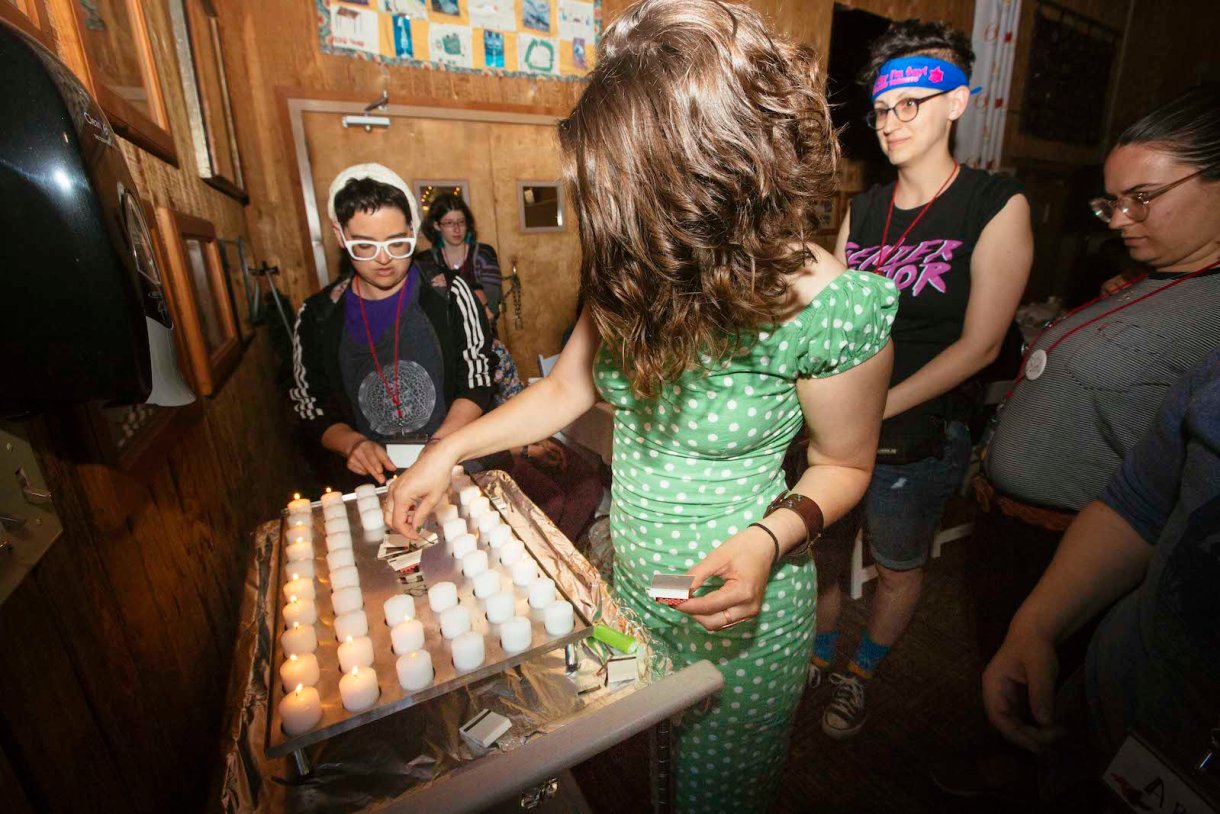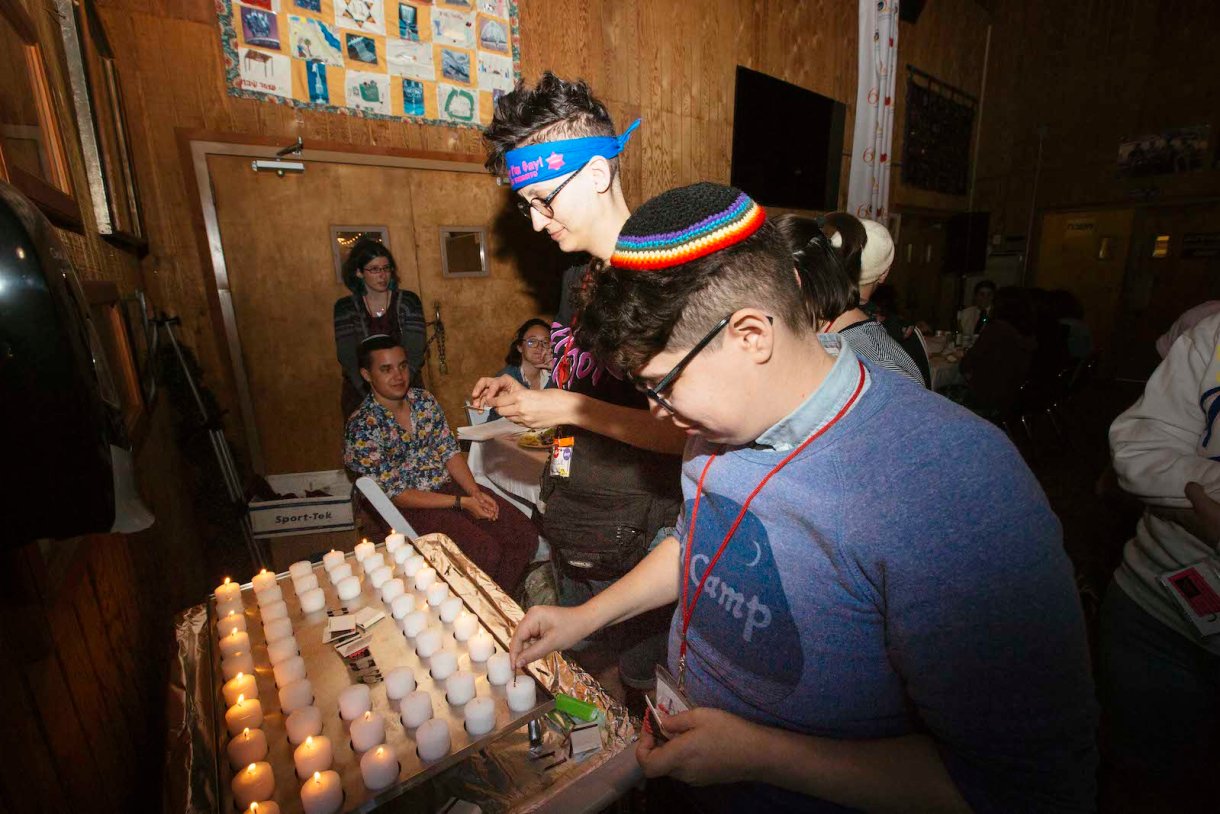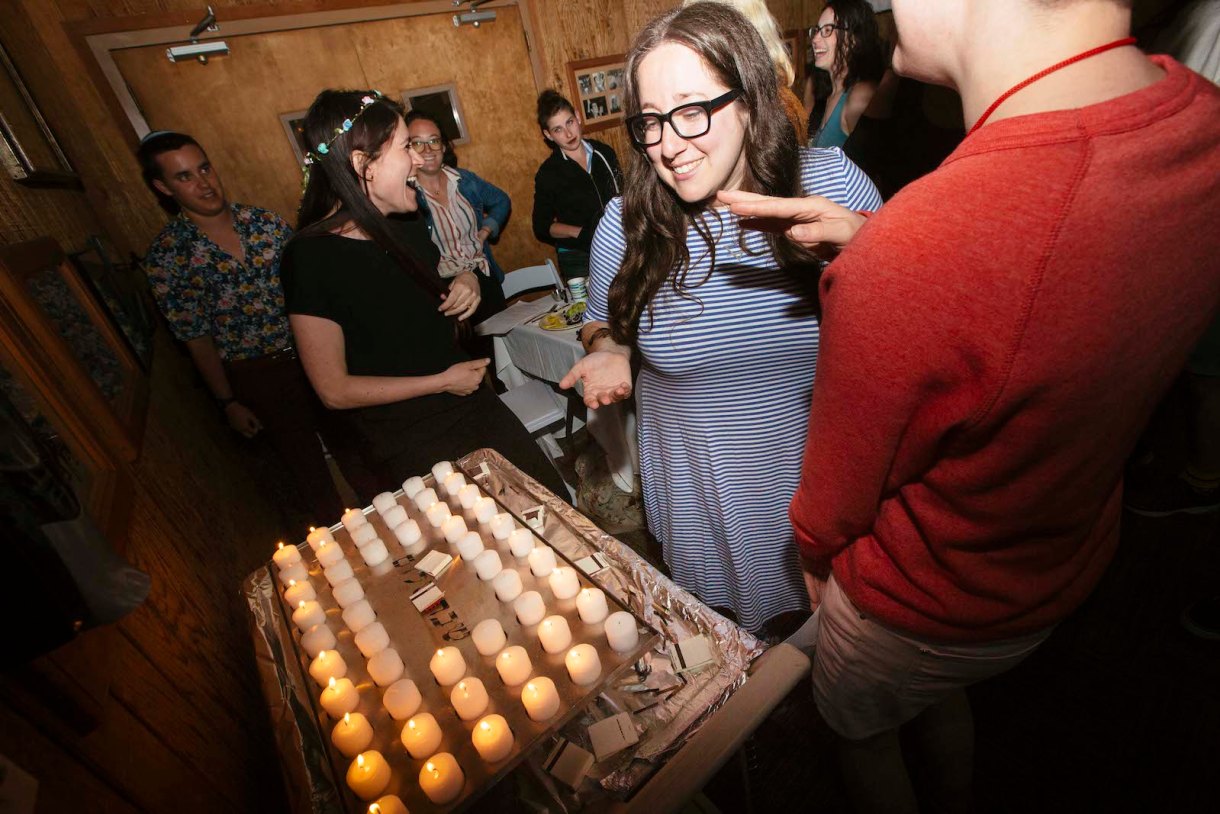 The magical event I'm describing above was our second annual Shabbat Shalomosexual dinner at A-Camp, a week-long 400 person queer adult summer camp experience. Autostraddle's CEO and editor in chief, Riese Bernard, texted me one day two years ago and said, We should have Shabbat at A-Camp. We couldn't believe we hadn't thought about it before. Being a queer Jewish adult looking for community that encompasses all the facets of your identity can be a lonely experience. Shabbat is intrinsically a holiday that allows for connection, but many queer Jewish adults don't know how to go about finding the people they would like to celebrate Shabbat with, or perhaps have never celebrated before and want to start but don't know how. Our first A-Camp Shabbat was such a success that one of our campers, the communications director for OneTable, asked if we could collaborate together if we ever did it again. So for our second A-Camp Shabbat, that's exactly what we did!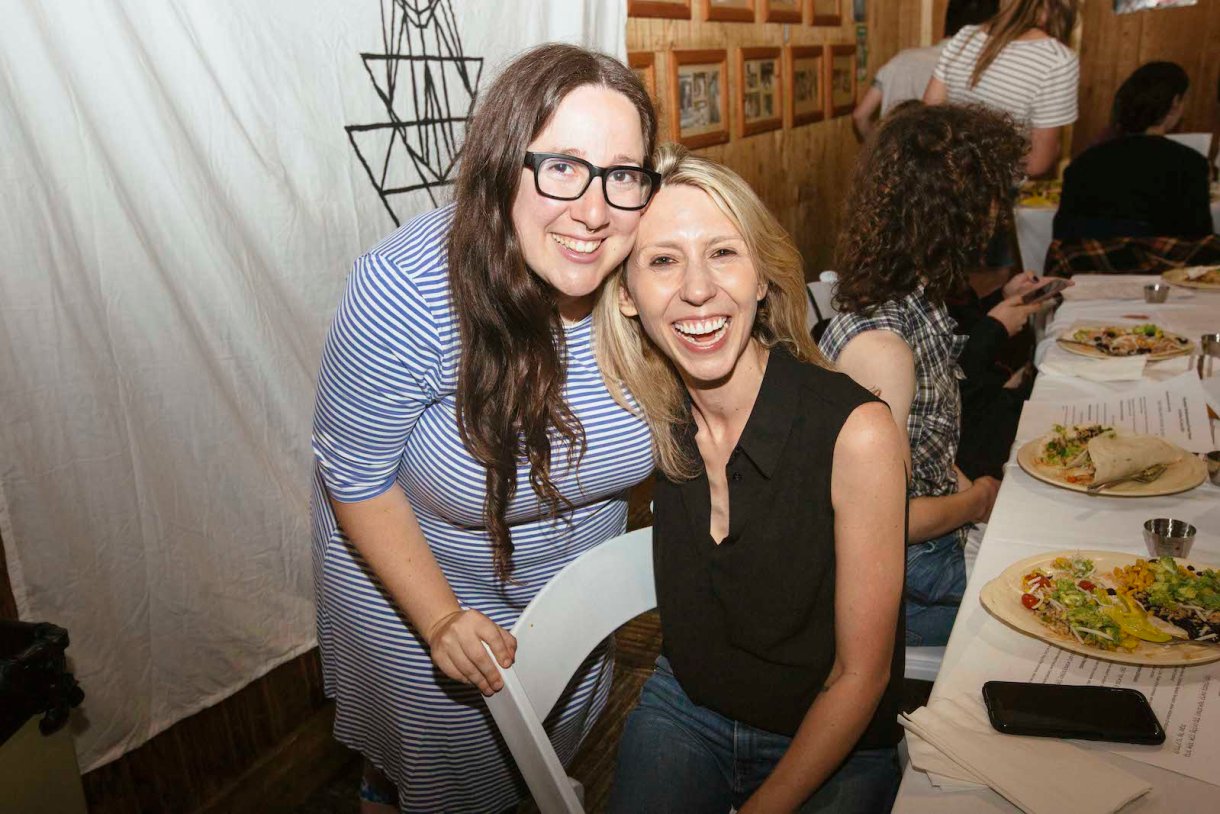 OneTable, whose tagline is "A New Way to Friday," is an incredible organization that provides tangible resources to Jewish young adults looking to build community. Their belief is that Shabbat can change the world, and they aim to empower people who don't yet have a consistent Shabbat dinner practice to build one that feels authentic, sustainable, and valuable. The non-profit's goal is to help Jewish young adults – ages 21-39 – create community through Shabbat dinners.
One of my favorite things about Shabbat at A-Camp is that we strongly believe everyone should come with what they know, and if what they know is nothing, that's okay. A huge thing that keeps people away from developing or strengthening their ties to religion is a fear of not knowing what to do, or feeling as though they are not "enough" in their religion. I loved working with OneTable this year because their approach matches ours when it comes to who can celebrate Shabbat and how we can all do so. OneTable's approach to Shabbat dinner is non-prescriptive, and the organization encourages participants to envision what they want their gathering to look like, then works with them to provide the support needed to make the dream a reality.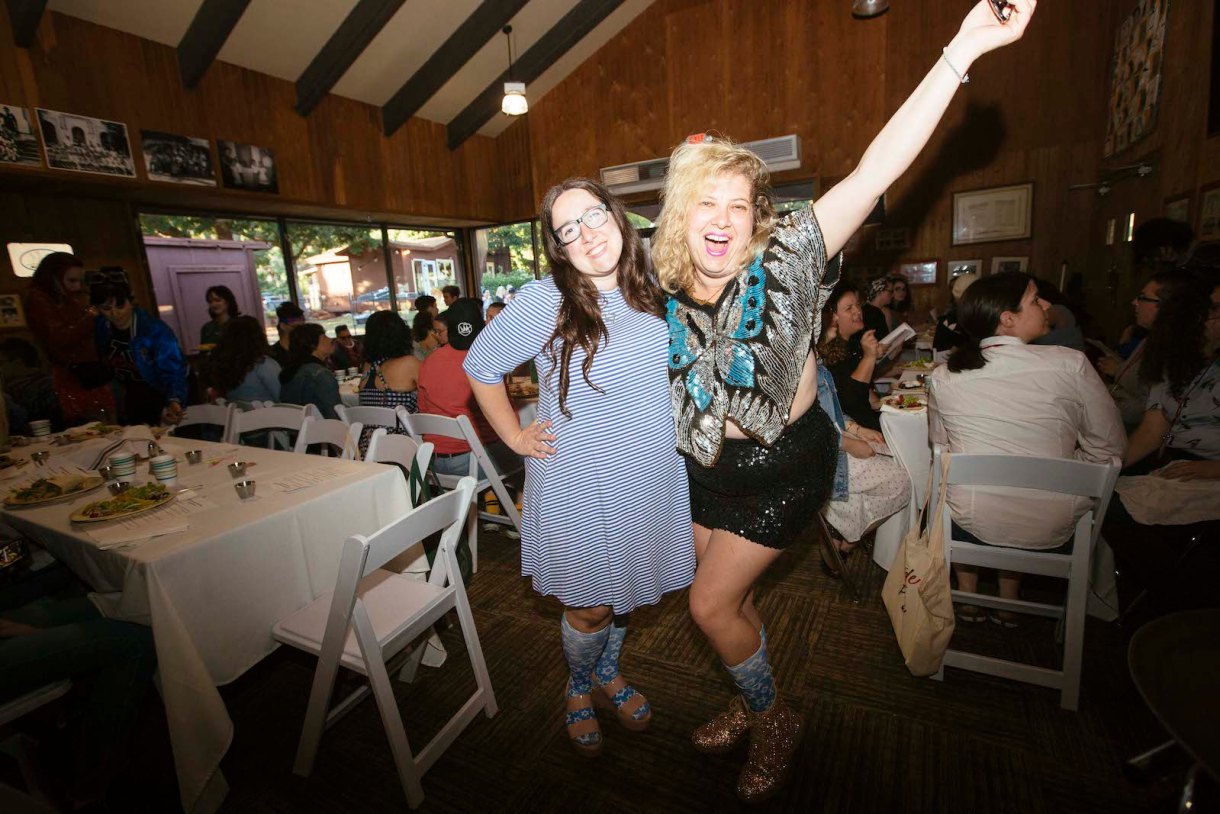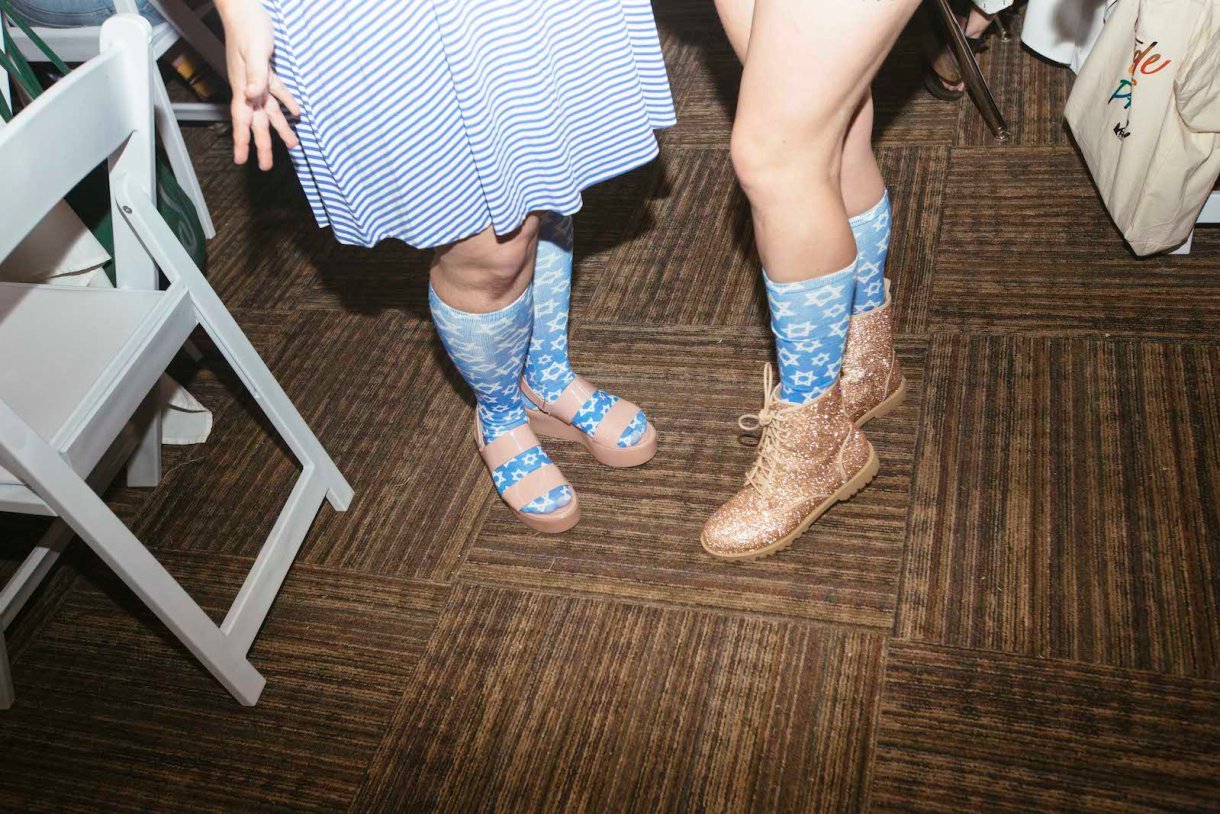 "We envision a whole generation of millennials slowing down, joining together, unplugging from the week, creating intention in their lives, and building meaningful communities," OneTable's website proclaims, and I can say with certainty that as we said prayers, ate challah, sang songs, laughed, joked, and simply enjoyed being in the presence of more than 50 queer Jewish people all at once, we were certainly building meaningful community. Al Rosenberg, former A-Camper and director of strategy and communications at OneTable, described the goal of the company like this: "[We want] to meet people where they are. We believe in the healing powers of community, intention, and good food. Judaism offers these ancient rituals that we hope to make accessible to all of those who want to make them their own."
"I liked Shabbat at camp because I was closeted the last time I got to participate in Judaism like this and it was very emotional to be able to do it all again with a family of queers," said Gaby Dunn, NYT best-selling author and noted bisexual millennial. "Almost like rewriting the memories." Autostraddle staff writer Drew Gregory agreed: "Since coming out I've been to a lot of Jewish family dinners," she said. "And while Manishevitz is a great cure for micro-aggressions, there's something really special about leaving those behind for a Jewish family dinner with my queer family. Here's to taking our traditions and making them our own!"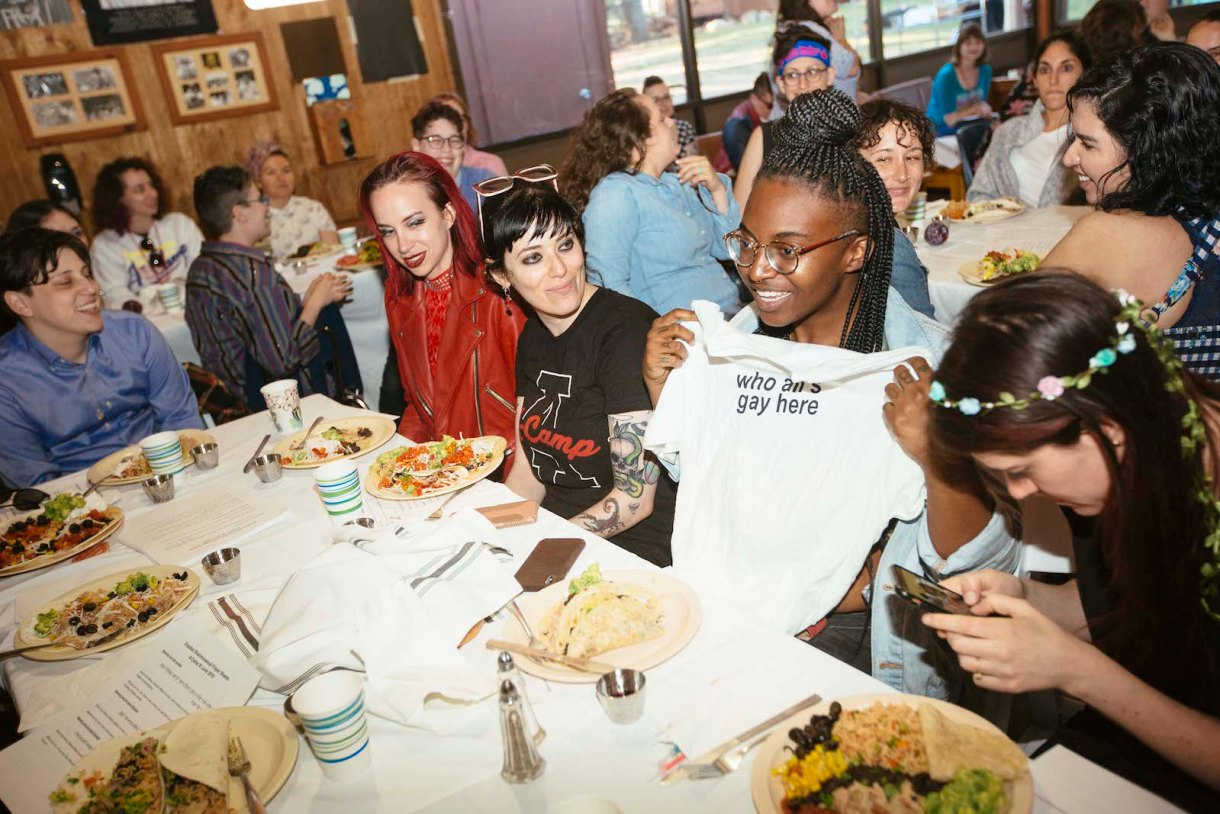 If you are a Jewish young adult (ages 21-39) and you're inspired to create your own Shabbat practice in your home community, OneTable can help! For more information about the resources and support OneTable can offer you in this endeavor, go online to the hosting section of their website specifically for people interested in hosting Queer Shabbats, call their main line at 646-887-3891, or email hello@onetable.org.