Sometimes you wanna go to A-Camp but you just can't afford it, and sometimes you don't really want to go to A-Camp but totally could afford it, and if we mash both of those types of people together, we create a symbiotic relationship known as "the campership.wp_postsAlthough we have lots of good ideas around here, this particular idea just-so-happens to be yours.
Our campership program has sent around 70 people to camp on full or partial camperships, including 18 campers last year alone!
This session is gonna be particularly kickass: we're at a brand-new location in Ojai, California, and our talent line-up includes Roxane Gay, Be Steadwell, Nia & Ness, Gaby Dunn and Brittani Nichols. There's a beautiful pool and it's gonna be so great!
This year we have two options for donating and applying to the campership fund:
The typical way — contributing to the A-Camp Campership fund via Paypal and applying via our website. Applications are open to anybody, although we do prioritize first-time campers, people of color and trans women.
The A-Camp Arts & Resistance Fund, a sponsored project of Fractured Atlas, a non-profit arts service organization. If you go this route, your donations are tax-deductible to the extent permitted by law, and you will be supporting camperships specifically for QTPOC. You can read more about that here and you can donate here.
Now, let's hear from some of the wonderful human beings who were able to attend A-Camp X in Ojai BECAUSE OF YOU. If you'd like to read further testimonials that'd tug at your heartstrings, you can do so here: Spring 2017, Fall 2016, Spring 2016, Spring 2015, Spring 2014, Fall 2013, Spring 2013 and Fall 2012.
We also hope to have some special camperships and sponsored camperships announced in the coming weeks!
---
Amanda, 29. Chicago, IL.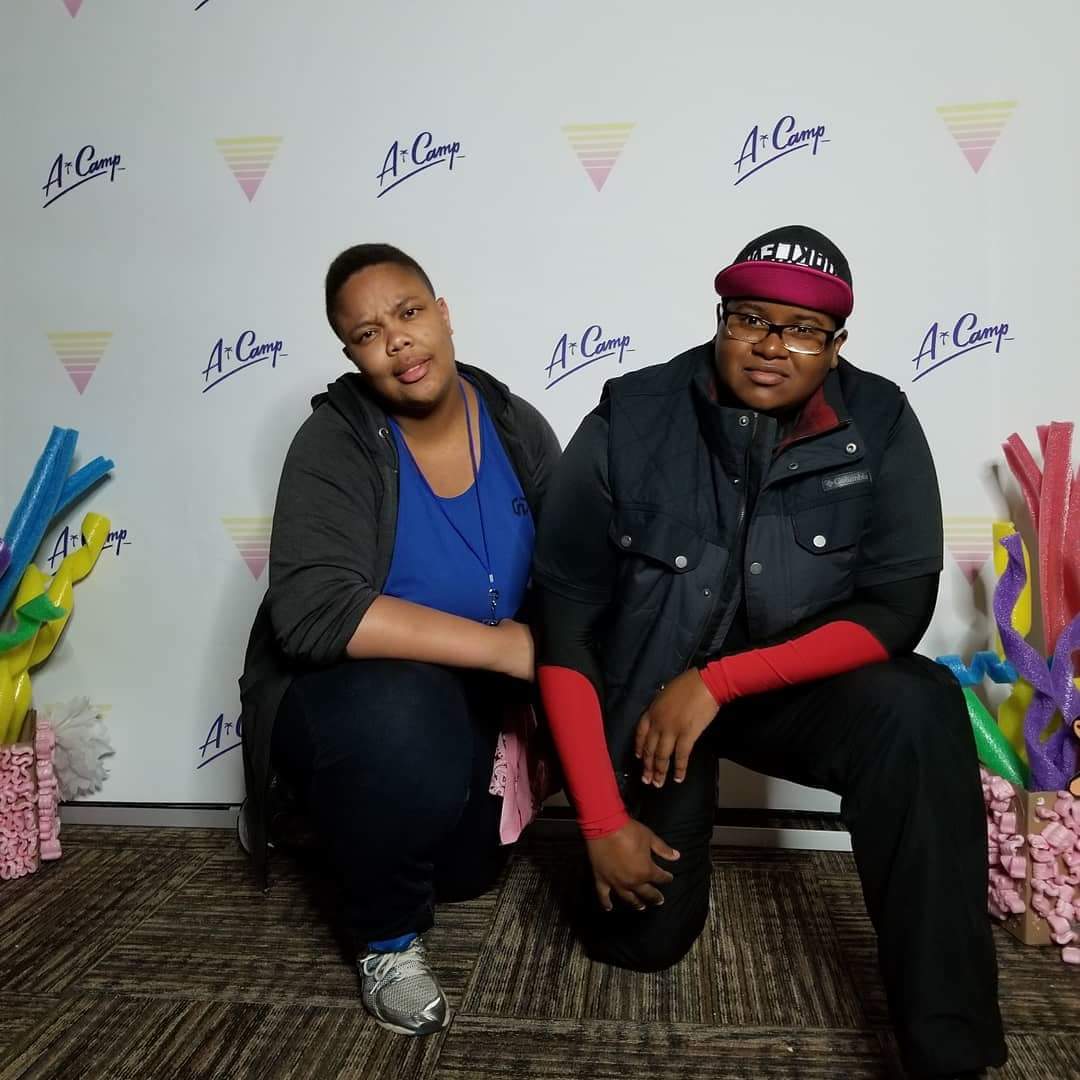 A-camp feels like it was 5 years ago… So much has changed this past year.
I was super thankful that the staff let me host a couple of archery clinics. Being able to share something I love doing with my community was great. (Sorry I didn't have left handed bows!)
This was my second A-Camp, my first was the Spring of 2013. I didn't know what to expect this time around. But I wasn't disappointed and felt like I belonged there. With the added spaces for QTPOC, I could connect more deeply within my community. It also allowed me to work on writing and expressing myself in a way that I was not able to before. Plus being in the greatest Cabin with a more diverse staff made the experience warm.
Also… The Kitchen staff was bomb as hell!
Best part of A-Camp: Lex! Partners in crime, Thank you for being you!
---
Michelle, 37. Los Angeles, CA.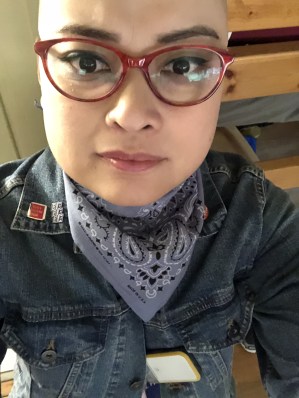 Camp! Oh my goodness, where do I even begin?
Like, okay, I blend into the cishet world pretty seamlessly and for the most part, this is a good thing. Girls like me don't have the highest life expectancy. But even though I have this whole Deep Stealth Thing down to a science, I live with a persistent fear of discovery. What if people knew what I was? What would they think? What would they say?
For five magical days, I jettisoned all that bullshit. I didn't just let my hair down — I dispensed with it completely. I didn't have to "femme it up" so much. And most importantly, I could be my most honest self, without reservations or apologies. So basically, I was living my best life.
I won't lie, I had some serious reservations going into it. I hadn't been to camp before. I didn't know anyone else who was going, and as a socially anxious potato, this sent me into a death spiral of worry. Would I like them? Would they like me? Am I even queer enough for all this rainbow madness? This fear persisted right until the moment I stepped into my cabin for the first time. The warm welcome I received put me at ease right away. Yep, I was definitely among my people! And within minutes of meeting said people, I knew they'd be friends for life.
I was definitely among my people! And within minutes of meeting said people, I knew they'd be friends for life.
Then there's the setting. Ojai is glorious. Cell reception is middling to nonexistent, but that's a feature, not a bug. My advice to new campers? Take a deep breath of fresh mountain air. Hike up the hill to the treehouse. Stargaze with a special someone. Eat all the things, including an extensive selection of berries. Be there, in the moment, with your fellow queers. Bask in their glory!
The only bummer is that it ends. But that's okay! Camp leaves an indelible mark, one that persists until the next camp and beyond. Life is so much better knowing you're not the only wonderful weirdo out there.
If you're on the fence, let me make this easy for you: GO! Seriously, A-Camp will change your life. It might save your life too.
---
Linda, 24. Orlando, Florida.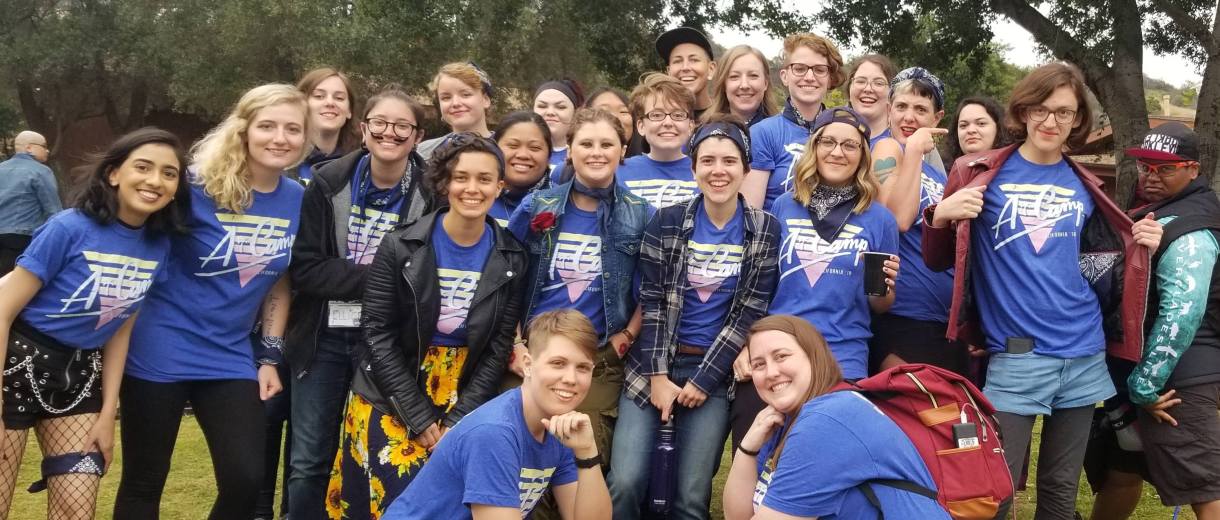 I was never the cool kid. I've always been the awkward, nerdy, shy, brown, ugly duckling queer girl — but never the cool kid — until I went to A-Camp.
A-Camp was the first place where I've ever felt accepted and embraced wholeheartedly for who I am. The first night when my cabin mates and I introduced ourselves to each other, I shared the fact that I have emetophobia: "So, I'm afraid of throwing up or being around people when they are." I was so nervous and embarrassed, but everyone looked at me with eyes of compassion and understanding, and together, with the help of my wonderful counselors, Audrey and Valerie, we devised a plan for what to do to make sure I was okay if someone else had to hurl. From the get-go, I felt so cared for and loved.
There were a bunch of cool workshops during the day, and my favorite was "Bad Breakup Art.wp_postsI made a poster that read "FUCK U 2 CISHET WHITE MEN.wp_postsAt the end of the workshop, I explained to everyone that my piece was dedicated to my ex-boyfriend: "I don't hate him… but I kind of hate him." Everyone laughed with me — including Brittani Nichols. Yes, I made Brittani Nichols laugh!
For the first time ever, I felt like the cool kid. Everyone loved my art, and Kristin Russo even posted a picture of it on Twitter. (Apparently, she posted it on Instagram as well, but it got taken down. Fuck you, too, Instagram!)
At A-Camp, I felt so cool and appreciated and beautiful and important — something I'd never felt before.
At camp, I found my chosen family. In my cabin, I met two amazing humans who I came to realize were my long lost soul sister and my best friend for life. My soul sister and I were serendipitously bunkmates, and by the second day or so, we realized that we were able to communicate with each other telepathically. Months later, she continues to offer me guidance and support, and I'm so grateful for her. And my BFFL, my cabin's kween extrovert, helped to bring me out of my shell. We laughed and laughed, and she showed me that the simple everyday joys are what make life worth living. Although we live in two separate countries, she's still the first person I text whenever I have news to share. In the span of hours, it feels like it has only been mere minutes whenever we talk.
At A-Camp, I felt so cool and appreciated and beautiful and important — something I'd never felt before. My fellow queers complimented my crazy outfits and mediocre makeup. We laughed and hugged and sometimes kissed. My newfound soul family loved me so hard that I realized I ought to love myself back. My experience at camp definitely gave me my first taste of self love, and it prompted a personal journey of mine that's far from over.
If you're thinking about applying for a campership, I'd advise you to take the plunge. I didn't think I'd receive one, but I did. Having the opportunity to go to camp completely changed my life for the better. And if you have the funds, consider donating to a campership or sponsoring one. Camp is the best thing that's ever happened to me, and I can't wait to make even more amazing memories this June in Ojai.
---
Lyra, 30. Camden, New Jersey.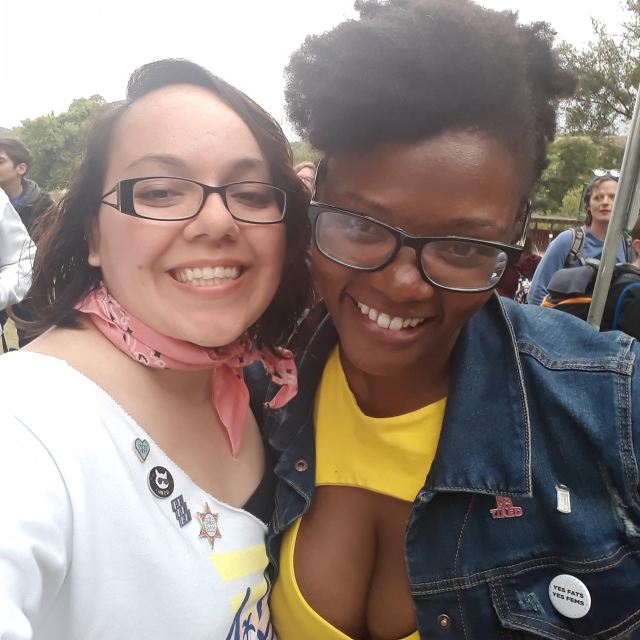 In my 30 odd years of being on this planet, I've never been surrounded by a community like the one I encountered at Autostraddle's A-Camp. From the very first moment that I met my fellow campers at LAX, I could feel the acceptance. This group of fabulous queer people acted as a community that is present, understanding, and free from so many of the limitations and fears that take a hold of LGBT people when they are in the public sphere. A-Camp and everyone that attended this glorious and inclusive event, made me feel safe. Safe to be me. Safe to be weird. Safe to be gay. And safe to explore every single facet of my odd personality.
A-Camp and everyone that attended this glorious and inclusive event, made me feel safe. Safe to be me. Safe to be weird. Safe to be gay. And safe to explore every single facet of my odd personality.
A-Camp also felt like a teaching moment that presented me with a wider and queerer world that I'd never encountered before. I learned the significance of pronouns. I learned more about consent and body acceptance in a handful of seminars than I have my entire life. And I saw parts of my queer community that I'd never even known could be this grand and fabulous if not for fear of what the public would do to them or think of them.
Months later, I carry A-Camp inside of me. I don't live in a place as accepting, dynamic, and wonderful like A-Camp. So it's really important to me that I remember everything that I learned and everything that changed inside of me because of the people I spent time with in Ojai, California. I see myself knowing that community is out there, even when it's not easily accessible. I see myself processing, accepting, and learning more about the LGBT community in a manner I've never done so before. And I see myself as the best version of myself in the face of all the bigotry and hate that we still have to deal with in 2019.
So, thank you A-Camp. Thank you for making this queer Latinx woman feel accepted, understood, and not alone. It matters and I hope you now have a better understanding at why I'm so grateful for Autostraddle, A-Camp, and the wonderful people who make A-Camp camperships possible. You're changing people for the better.
---
Wendy, 20. Folsom, CA.
Amid a flurry of intern and scholarship applications, during a quick Twitter break, I found a link to apply to a campership from a Mara Wilson tweet. I'd never heard of Autostraddle before, but I figured that I might as well apply. Little did I know that that it would be one of the major forces behind a healing that I didn't know I needed.
Fast forward to a month or so before camp, and I was in the midst of what felt like a never-ending panic attack. My heart wouldn't stop pounding. I never had any appetite. I barely slept. My student organization had an impossible deadline approaching, and somehow it had fallen upon me to be one of the major gatekeepers to completion. Every day, it was the only thing I thought about and I let so many other aspects of my life slip — my grades, my relationships, my health. All this only to eventually realize that I was a pawn and for all that hard work to come to nothing.
A-Camp gave me some time to really just take care of myself, and that experience has changed how I work now.
I wish I'd had the energy to connect more with my fellow campers, but now I realize I came to camp simply to heal, and more importantly — it was okay that I did so. From morning meditation sessions to diving lessons (thanks Mac!) to a fabulous spread of food (I ate two plates every meal), I regained a lot of strength. A-Camp gave me some time to really just take care of myself, and that experience has changed how I work now.
I've never been particularly in touch with my queer identity. I don't have very many queer friends, and while my queerness isn't something I'm necessarily ashamed of, it also isn't something that I bring up all that often. I've always been fiercely independent and somewhat introverted. I want to do everything for myself, and I never want to rely on anyone else. In the competitive environments I put myself in, I've always felt like I have to put up a front, one that's invincible and infallible. I think A-Camp taught me that I really am part of an incredible community of gifted individuals that are enhanced by their wonderful queer identities. At A-Camp I was able to seek help and have some hard lessons and honest conversations with cool people that are a little bit more like me than the majority of people I deal with. I feel like I've only just broken the surface of engaging with the queer community, but it's already proven to be an extremely valuable experience. I couldn't be more grateful.
---
Jessy, 27. Buffalo, NY.
Attending camp in May 2018 was the experience of a lifetime and one I didn't realize I badly needed. As a broke graduate student, I never would've been able to attend camp without a full campership and I feel incredibly honored to have received one. I had the time of my life and met life long friends. I can't wait to experience camp again.
---
CLS, 21. Los Angeles, California.
A-Camp was the one moment in 2018 where I could forget about the news and forget about how I, as a lesbian Mexican and product of immigrants, am perceived in modern America. I'd never gone camping so wow, was this a great introduction to the practice! The entire experience was unreal, from the amount of fun and strange and informative workshops to the bomb-ass food to the hill that served as a way to burn off everything I had just eaten. As a person with around 1.5 queer friends, being completely surrounded by all you beautiful people was unlike anything I'd experienced before, and it's something I'll never forget.
It was here that I was actually understood, and I understood others.
I met the friendliest people I had ever met and I had quite the time catching glimpses of my favorite writers from Autostraddle. Tbh it was like seeing celebrities, but well-spoken and intelligent ones. I loved how all I had to do was say "Jodie Foster" to be met with equally-smitten sighs and nods of approval. It was here that I was actually understood, and I understood others. There was a lot of effort put into this camp, a hell of a lot of effort, and man did it pay off. Thank you!
---
Chingy, 20-something. Los Angeles, California.
In my day to day life, I'm a very confident, boisterous femme, so people usually assume I'm comfortable in any scenario. But truly, I was terrified going into my first A-Camp. I was anxious that no one would like what an obnoxious freak I am, both for my loud thirsty tendencies and for the things I hate about myself that I can't hide. I was concerned I wouldn't "winwp_postsat camp, which to me meant taking advantage of every activity & pushing myself out of my comfort zone. I was stressed that it might not impact me, a long-time gay who has lived in many a queer Mecca, as meaningfully as it might a baby queer or a smalltown gay. On all counts, my fears were completely unfounded.
A-Camp was an incredibly transformative experience for me. I'd known about it for years and can't recall what made me decide to go this year, but I'm so glad I did. I experienced more catharsis and joy from moment to moment than ever before. And I did win at camp. For instance: Dancing! Doing anything I'm not naturally skilled at has always petrified me, but while I was at camp, I did dance workshops every day, got down with my homies all night at Klub Deer, and did the Magic Dyke strip tease performance in only a rope harness and Lisa Frank "pasties." And while I did cruise and live my best bottom life, I felt far more drawn towards time with friends than people I was sleeping with (which I and every other lesbian rarely do).
But most important to the experience were the people. Getting to exist and feel seen by queer women and trans folks of color meant the world to me. Seeing queers pray and do communion with coffee cake and champagne at Gay Gospel Brunch hit the softest spot in my cold gay catholic heart that I still can't fully explain, even if I broke the sentimental moment by shouting "JESUS WAS A PARTY BOTTOM". Almost a year later, I still talk to my cabin mates regularly and they are some of my dearest friends. I've told them secrets, both in and out of camp, that I'd rarely shared because I trust them so deeply. I usually eschew tenderness and insist I can't or don't cry, but I wept my eyes out at the staff reading and cried a lot for the rest of camp, and that was largely because of how safe my cabin mates made me feel.
A month after A-Camp ended, I wrote "Camp was beautiful and amazing and I miss it in every moment since I have come back to L.A." And that still rings very true.
---
You can apply for a campership here (If you'd like to completely sponsor one camper, a full campership is $900.
You can apply for an Arts & Resistance Fund campership here.
Make a tax-deductible donation to the Arts & Resistance fund here.
Make a donation to the A-Camp Campership fund here.
If you're a business who would like to sponsor a campership, please email sarah [at] autostraddle [dot] com.