Sometimes you wanna go to A-Camp but you just can't afford it, and sometimes you don't really want to go to A-Camp but totally could afford it, and if we mash both of those types of people together, we create a symbiotic relationship known as "the campership." Although we have lots of good ideas around here, this particular idea just-so-happens to be yours.
This May, we'll be heading up to the mountain with our largest group yet, accompanied by first-rate talent like Julie Goldman & Brandy Howard, Deanne Smith, Somer Bingham, Mollie Thomas, Haviland Stillwell, Sarah Croce & Ashley Reed as well as the entire Autostraddle Team. There will be workshops and panels and activities and lots of feelings, and to find out more about the experience you can read recaps from April 2012 and September 2012, and read the announcement post for May 2013 camp here.
May 2013 camp has been popular beyond our wildest dreams — we filled up in two days and have heaps of people on the waitlist, but we're hoping to get enough donations to give out six camperships for May of $375 each (or $425 for campers who will need shuttles to/from the airport). You can donate to The Campership Fund here, and every little bit helps!:
If you donate a full $375 or $425 and would like to know more about the camper you've completely sponsored, email riese [at] autostraddle [dot] com and I'll send you their application essay as soon as we know who it is you're sending to the woods!
If you want to be considered for a campership, please email daniela [at] autostraddle [dot] com and tell us why you deserve it and what your plan would be to get your ass to camp. The only requirements are that you be a first-time A-Camper and are able to get there. Let us know if you'll be requiring shuttles from LAX, though. Please submit your essay by January 16th.
Now it's time to tug your heartstrings right out of your body with September's winners! Because we picked the worst dates in the history of the world, we had lots of extra spots for September camp and lots of donations and therefore were able to grant camperships to ten lovely ladies who will now share their stories with you.
---
Amanda – 20 – Santa Clara, CA
Growing up, I never fit in at my small town public school. I was a total geek who escaped into a world of books and math to hide from the playground bullies and the girls who preferred chasing boys over talking about possibilities outside our small world.
There was only one place on earth where I felt like I could be myself: camp. My entire family for three generations had been on staff at this camp in the Appalachian mountains of Virginia, and it was the magical place where I could explore nature, myself, and how many times you can make someone laugh in a single day. Camp was home.
Then, the unthinkable happened. The summer I was 14, I was sexually assaulted at camp by a male friend. Camp stopped being home.
I retreated into a deadly cycle of negativity and spent years searching for a way to reclaim that sense of "homewp_poststhat now seemed irrevocably out of reach. I ran away to college and thought that if I just focused hard enough at being "normalwp_poststhen I could erase the hurt of losing camp. Eventually, I started to emerge from underneath the layers of hurt and confusion, and came out to myself. Coming out as a lesbian last year, at 19, to my family and at a Catholic school with a committed but still small LGBTQ community, was made more difficult by my status as a queer survivor. Friends and family reacted with "is this because of, you know, what happened to you?" because at least then there would be a reason that I'm this way.
"The one thing that I do know for certain is that A-Camp is the home that I have been searching for all along, and receiving a campership has changed my life forever."
Discovering Autostraddle is one of the best things that has ever happened to me. Seeing so many queer women kicking ass and inducing general hilarity all day long on the site, gave me hope that things would get better. So, when September A-Camp was announced, I knew that I'd give anything to be there. The moment I found out I got a campership, that I was actually going to this magical place called A-Camp, I did cartwheels down my dorm hallway and made a round of celebratory tea. From then on, my friends knew that just mentioning A-Camp would make me smile all day. I don't know how I can ever truly thank the stranger that gave me such an incredible gift.
Any nervousness I had about going to a camp where I knew nobody vanished within the first few minutes. There's nothing like being in the presence of 300 other amazing queer women to make you feel like you're not alone in this. The stories, talents, and feelings shared at camp made me even more aware that everyone has things that make them feel small and isolated. A-Camp showed me that all it takes is understanding, laughter, and FUN, to create a safe space.
In a post-camp world, I'm still not sure how it's possible that I made so many amazing friends in a single weekend (yeah Forever Snatch!). I don't understand how I managed without the self- confidence and joy that I experienced at camp.
The one thing that I do know for certain is that A-Camp is the home that I have been searching for all along, and receiving a campership has changed my life forever.
---
Gaela – 24 – San Francisco, CA
Within the past year of living and transitioning in the San Francisco Bay Area, I've survived a two-month stay at a seedy hostel, an overwhelming and exhausting workplace, inconsiderate housemates, unsupportive parents, loneliness, hormones, chronic health problems, rock-bottom wages, and a persistent bundle of nerves.
Without a doubt, A-Camp is the single greatest thing that has entered my life. It was the bubble into which I could escape my daily BS for one hot second and reinvigorate myself in a heavenly bubble full of joy, booze, and altitude. I took a risk moving to SoCal on my own, but now I'm getting happier every day.
Never have I ever gone through so many feelings as I did at camp. I couldn't live for a second without at least three feelings overcoming me: race/body feelings at the Women of Color Panel, feelings about my current job and future at the Design and Branding panel, and then the staff reading which gave me so many feelings I had to step out, swing, cry and run to my cabin to pluck the hell out of my eyebrows. Andrea Gibson inspired me to bare my soul at the Talent Show. So. much. Catharsis. Thank heavens for the on-site counselor Sara who helped me sort it all out. But aren't the feelings a good sign that A-Camp was working wonders for me?
Honestly from the moment I signed up until the weekend before camp, I was worried I wouldn't be accepted as a trans girl, but my best-a-girl-could-ask-for counselors Stef and Morgan dissipated my worries before I departed for the words. To my pleasant surprise, almost everyone I encountered at camp was warm or welcoming — I even thanked everybody for making a trans girl feel welcome at the Women of Color Panel.
For two years, Autostraddle has given me a vision of the woman I wanted to be and the life I wanted to lead, giving me the courage to come out and live on my own terms as a proud  Autostraddlin' queer lesbian classy-bitch-femme transgender girl of color and badassery, still believe in the 'Straddleverse. All things considered, I've been given everything I could possibly want: a community, an identity, a safe space, multiple role models, and the sexiest merchandise on the planet. Y'all are magic.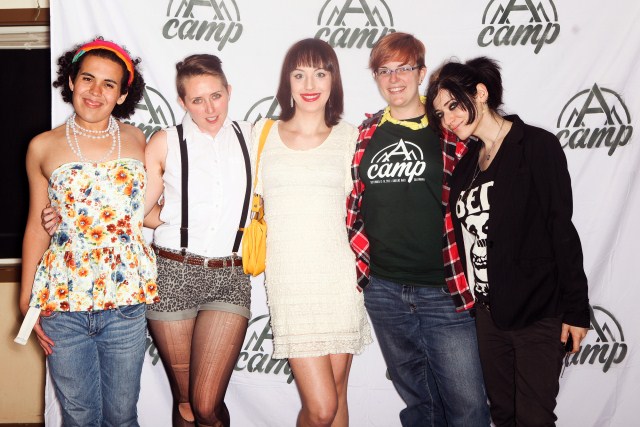 ---
Malene – 24 – Lexington KY
2011 was overwhelming — I lost my job, got my heart broken by a girl, dealt with some extremely uncomfortable family living situations and lost my father to bone cancer. So I moved an hour south and started building a lovely queer community for myself and worked full-time at two crappy food service jobs until, two weeks before April camp was announced, I started a new job. I didn't have the time or the money, but I read the recamps and vowed to make it happen for the next camp. In September, I applied for a campership hoping they'd understand that three years of devoted readership helped me evolve and now I wanted desperately to meet them to be a part of it; of camp and of this community.
When I first got to camp I thought I was dreaming because people I'd only seen in avatar thumbnail versions were helping me carry my luggage and asking me about linens and signing me in, but by dinner I was a happy-in-the-moment camper.
Camp helped revive the parts of myself I'd hidden and been afraid of for a very long time. I've got a pretty strained relationship with my mother leading to a lot of self-loathing and, after a failed attempt at "curing my gay" I think we've just decided not to talk about it.
"I found my voice again at camp."
At camp there is this understanding that we have each come to contribute to a positive experience. There is no feeling that we can't share and have met with feelings of at the very least support and empathy. I don't know if it is the altitude, or the choice, or the fact that we are all in some way little weirdos who share an interest in all the things girl-on-girl, but what happens there is magic.
I found my voice again at camp, I learned that I can be a homo and not feel as if I am the only one, I learned that I can have faith and love women and be okay. I learned that giant rainbow parachutes are still everything I'm about, sometimes I will be the only dancing strudel in the skit, you can crush your opponent with a photobomb, being afraid of everything is a part of being in your twenties, Canadians have better access to candy, women sharing laughter is my favorite sound and there is more to life than I will ever know or ever understand but choosing love is always a good answer. I came back a little taller and a whole lot smarter and possibly even braver. I will be back to camp because I left my heart on that mountain but I took away pieces of about 200 other hearts. Those women became and are my strength when the real world gets me down.
---
Kaylah "Cupcake" – 21 – Kentucky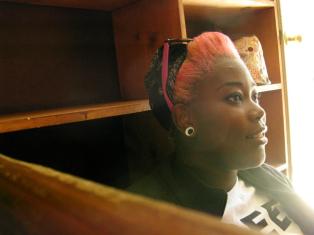 The moment that I received the email saying I was chosen for a Campership, I knew that my life was taking a turn for the better. I still remember the letter I sent in to Laneia/Riese on why I thought I  deserved a scholarship. With mentions of being in an abusive relationship, dealing with EDNOS, having body dysmorphia and living in a hick town, I was sure that I was a shoo-in for Lifetime Movie Networks most pathetic story of the year. After going to A-Camp 2.0 I can honestly say that all of my memories of camp overpower every dark period I've ever had in my life.
I had so much fun at camp thanks to my very attractive and rowdy cabin – Forever 21 and our allies in Snatch 22. Forever Snatch! On the morning of day three, I could tell that they had already changed me. I remember waking up and being told by my cabin mates that I looked beautiful, to which then I went to breakfast with a naked face and a head full of confidence.
Before A-Camp 2.0, I was drowning in all of the shit that had gone wrong in my life. I would sit in my dark room wearing a full face of makeup, and put off doing homework for the classes I was paying thousands for at school. A-Camp gave me the strength to leave my room, meet new people and to challenge myself when I'm feeling down. Receiving a scholarship and attending camp has been THE best thing to happen to me and I will never forget it.
The outside world thinks that Autostraddle Camp 2.0 was nothing but Whiskey, lube Twister, spin the bottle and wet t-shirts. For those of us who attended we know that it was/is SO MUCH MORE than that. So. Much. More.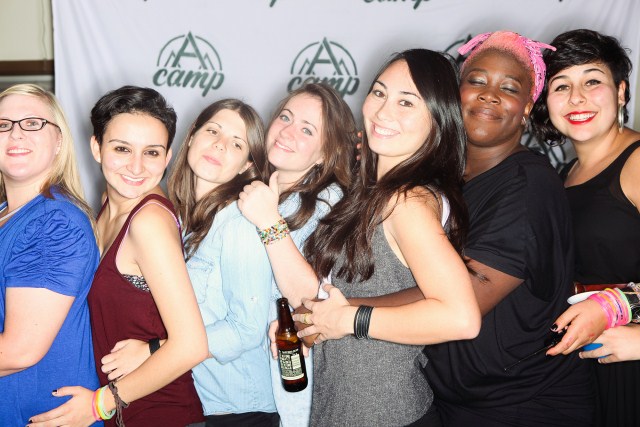 ---
Marika – 25 – Mishawaka, IN
I'm a PhD student in a grueling program. I've been dealing with a lot of family and personal issues—I've essentially been disowned by my parents because my aunt outed me and it didn't go so well. I also go to a fairly conservative Catholic university and unfortunately don't get a lot of support from the queer community, as there isn't a whole lot of queer community here. I'm lucky to have a lot of support from my siblings, but they are scattered across the country. To be honest, things have been a little rough lately.
So when I found out I received a campership for A-Camp September, I wouldn't hesitate to call myself the happiest queer on earth! Camp was one of the best things that ever happened to me. My counselors were amazing (Morgan and I gave each other the world's biggest hug at registration), my cabinmates were perfect, and even though I got approximately zero sleep and came down with Battlestar plague, camp still managed to be one of the most rejuvenating experiences of my life. I loved every single second of it.
My favorite part of camp was experiencing the vibrant queer community that I had only previously seen hints of. I met so many amazing people in real life who had only been (usually really inspiring) words on a screen to me before. Riese even asked me to explain my food allergies at tea one day. I can't believe people remember things like that! If you think the Autostraddle staff is awesome on the internet, I can promise they are infinitely more amazing in real life.
One of the most touching parts of camp, to me, is when my cabinmate got sick—Jules was the originator of Battlestar plague. Not only did our cabinmates and counselors band together to move their things to a lodge that was less musty and damp, but the staff came by bearing everything you could think of. Tea, meds, extra blankets, and general love.
I basically just have so many feelings about camp that can't be spelled out easily, so here are some of the highlights that run through my mind when I think about it:
Standing under the stars on the mountains in the middle of the night, talking about the cosmos.
My cabinmate very politely asking if everyone in the cabin consented to poetry.
Massive cuddle puddles and spoon trains.
Being a part of the very best colors wars team: Team polite!
Discussing gluten free tortillas and baking mixes with Zeller and Hansen on the swings, while drinking tea.
Hammock snuggles with as many girls as I could. (Four. At separate times.)
Midnight poetry readings and ukulele singalongs with a bag of wine.
Making not impressed faces with the medals campers had won on various occasions.
Morgan fetching me a cup of hard boiled eggs from the salad bar when I was hangry and allergic to the entrée on the very first night.
The amazing talent show—I was so impressed with the art on display.
Cross-stitching for the first time since I was a single digit.
Most of all, just experiencing the great community of people at camp! I made so many friends that I keep in contact with, and I was actually lucky enough to meet someone at camp who still makes me smile every day. For me, camp was a formative experience because I gained a lot of self confidence from being in a safe space. I'm so grateful for the opportunity I was given to go to camp, and it has made my life so much better.
---
Courey – 31 – Augusta, GA
I know you guys understand that the path to figuring out who you are isn't always easy. Sometimes you have to hit rock bottom with nothing left to start putting your life back together healthily, and sometimes you're so exhausted that you just wanna sit down and quit but you can't. That's where I was when I applied for a campership. I'd made a series of really hard (but good) decisions that turned my life to chaos temporarily, but were ultimately the best choices I could have made for the future. On the tail of this upheavel came an email… I had actually won a campership.
Now, this was an eventuality that I hadn't actually planned for. I had to read the email a few times before it sunk in that I was going. Suddenly I had something fun on the horizon to look forward to, a promise of something amazing to remember when shit got real. Winning a campership was worth that blessing alone.
"Things began clicking along and I felt that it was this experience I had just had that finally pushed me over the edge and gave me the confidence to not only know what I need, want, and deserve, but to also make it happen."
One thing that really stuck out to me in the beginning was all the people that had gone to the first camp saying, "Camp changes your life. It leads to big feelings that lead to lots of processing." I guess I didn't believe them, or maybe I just thought, "meh, I don't do big feelings, I'll be safe from that." It turns out that those ladies were so very right. Even avoiding anything that could evoke big feelings and just letting myself have fun, it all crept into my heart when I wasn't looking. It wasn't until the last day, as I got to watch while one by one my new friends packed up and returned to their corner of the earth, that I realized how much camp had actually meant to me. I thought maybe these were the big feelings that everyone kept talking about. I was sad to go, but also so happy to have all these wonderful new memories to cherish.
About two or three days after I got home I had mastered the ability to relate every topic in life back to camp. Things began clicking along and I felt that it was this experience I had just had that finally pushed me over the edge and gave me the confidence to not only know what I need, want, and deserve, but to also make it happen. Those parts of me had been dormant for so long I thought they were unwakable. This was the greatest gift I got from camp, this rapid thawing out of my heart and feelings.
The person who walked into that dining room full of dykes and had to refrain from fleeing is not the same person that got back on the plane home. Somewhere on a dusty mountain in California is the memory of who I was, and in its place I brought back lifelong friends. Thank you ladies for every second of it.
---
Nia  – 22 – Atlanta, GA
To say that my time at A-Camp was the most fulfilling time of my life would be an understatement. I applied for campership at the last minute, sure that more deserving people would wind up winning. The reply from Autostraddle was short; it basically said, "Pack your bags, you're going to camp!" I was a mumbling mess, I danced in my room to no music; the song was in my heart. There were a million thoughts in my head. How would I afford a plane ticket? What should I wear? Will I even fit in? I decided not to stress. Since it had already worked out in a huge way, the small details would fall into place naturally.
Though I missed most of the first day, the evening festivities were pretty sweet and featured some of my favorite celesbians, Julie and Brandy. The Color War battles really brought our cabin together. A little friendly competition goes a long way.
As we settled into the activities of the next day, the reason why I loved reading Autostraddle became crystal clear — the writers and readers all have a mutual understanding of something almost intangible: acceptance. No matter our differences, no matter our skin colors and hair styles and hobbies and styles of dress, we all needed and wanted love and happiness. We wanted to be heard and to hear in return, we wanted to create a safe space for each other to share and learn and question and create anew. When we sat down for panels or discussions, there was rarely ever any tension. Lesbian, bisexual, trans* and genderqueer and whatever terms or non-terms we used, we all strived to respect each other's opinion and interpretation. When we danced and partied and drank and got naked (maybe that was just SNATCH!), we got down together, we encouraged each other to let loose because what the hell? Why not?
So I acted out a little bit at A-Camp. I was more outspoken, more myself because I was free to do so. I got my boobs signed and I hugged Hannah Hart and I told some of my secrets and I cried with strangers and I crushed on sexy counselors and I contacted so many like-minded souls my head spun. But most of all, I had a ton of fun. So thanks to everyone that helped me get there. Thanks to everyone that helps this to continue. You are all beautiful. Peace and love.
---
E. – 34 – Toronto
I grew up in a religious family in a small Canadian town where I was taught that being gay was wrong, something only sick and confused people would "choose." I was brainwashed to hate myself from a very early age and was so scared of being found out, shamed and embarrassed. I felt guilty about my boyfriend who I'd been living with for 6.5 years. How'd I get into this situation, why'd I let it go on for so long?
This summer, in the span of about three weeks, I turned 34, lost my job, and broke up with my boyfriend — losing my place to live and a good chunk of my friends in the process. I lost all stability and didn't know what would happen next. Around this time, A-Camp registration opened. I'd read the recaps and it sounded like so much fun! But plane tickets from Canada are expensive when you're piecing your life back together, so I asked for help and some gay angel(s) gave me a campership.
"The most important thing I took away from camp was an idea I heard at the Coming Out Panel… I'd never heard it described in that way before and it was an "A-ha" moment for me."
I was looking for acceptance and community and I found it in spades. I got to run around in the woods and play games, hear a million interesting stories from a million adorable people, drink my face off, eat smores, and act like a big kid. I got really attached to my cabin mates after only a couple days (shout out to the best cabin at camp: GOLDEN GIRLS!!!), and I hope I can go back in May and see them all again. I was able to relax and be myself for the first time in a long time, and it felt really good.
I think the single most important thing I took away from camp was an idea I heard at the Coming Out panel. Someone said that if you come out to someone and they reject you, it's on them not you, and it's not your fault. They were making the decision to not be a part of your life and they would miss out on all the great things that were going to happen to you when you decided to be true to yourself and live honestly. It was about being proud of yourself, but more importantly, not apologizing for who you were. I had never heard coming out described in that way before and it was an "A-ha" moment for me. I've thought a lot about that talk since I've been home and slowly adopted it as my own way of thinking. I came out to my parents yesterday, and although it didn't go well, I was prepared. I didn't apologize, and i stood up for myself, and I know that it would have went much differently if I hadn't heard that discussion (Thank you Robin!).
A-Camp is so fucking awesome for so many reasons. Thank you so much to everyone who donated. It really does mean a lot.
---
Change somebody's life and donate to the Autostraddle Campership Fund today! We'll be taking donations and campership applications until January 16th!