The Internet is especially bright this morning, my darlings, because last night I got the Internet in my new apartment that I've been occupying without the Internet for about nine days and I was gonna go crazy. Also, because Eli is especially soft these days. Here's all the stories we missed while I was rewatching The Darjeeling Limited over and over and over again.
This Week In Homophobia
Let's start in the United States this week, where Obama signed into law a provision with a 'conscience clause' excusing homophobes from, well, having to feel bad about themselves. Oops! Too bad those darn Republicans choose to hide stuff like this in the military budget. 
Closer to home in the Bay Area, The Gay Boy Scout Who Could is the Gay Boy Scout who did – because he's an Eagle Scout, despite being gay! In Alabama, one more lesbian takes a large leap for humankind by making efforts to destigmatize homosexuality in sexual education curriculums for the state.
I wonder if anyone at The Pentagon knows about all this. Do they know anything about us? Do they really care about us? Why can't people at the Pentagon read gay websites.
Americablog editors were notified that their website is unaccessible on military-issued computers. Then Americablog uncovered that several websites geared toward progressive causes and LGBT rights, including The Advocate, Good As You, The Human Rights Campaign's blog, Pam's House Blend, and Bilerico, have all been banned using a filter labeled "LGBT." Conversely, websites of antigay news outlets and organizations including the American Family Association, the National Organization for Marriage, and Red State are not blocked.

According to Americablog, the LGBT filter existed before "don't ask, don't tell" was repealed in 2011 but has not since been removed. The Pentagon has been notified of the problem as early as summer 2012.
In Ganey Tikva, a suburb of Tel Aviv, a 17-year-old girl was "mobbed and assaulted" for having a "lesbian look." The group of teen boys that attacked her threw stones at her face, causing injuries. In Nigeria, LGBT people won't let the bastards get them down and they just keep on partying in order to build community and express themselves as part of a drawn-out survival mechanism in a fucked-up world.
In the end, though, we shall eat our cake. And our pizza, too. And all the homophobes in the world will just have to wait in line.
Ke$ha is Still Bisexual
Appearing on the cover of Seventeen's February issue, the 25-year-old "Die Young" singer admits she's equally attracted to men and women. "I don't love just men. I love people," the musician explains. "It's not about a gender. It's just about the spirit that exudes from that other person you're with."

In the accompanying interview, Ke$ha also speaks out against teenage bullying. "I'm all about standing up to gay/lesbian/transgender bullying, but it's also about my little brother. He's 13 and he gets made fun of because he has a stutter. I just have zero tolerance for people making fun of others," the glitter-loving pop star says.
This Weird Shit Going On W/ Azealia Banks on Twitter: The Micro-Breakdown
OMG have you heard. So here's what happened: Azealia Banks, who got famous on the Internet, got into an Internet fame fight and went toe-to-toe with Angel Haze, even resulting in some dis tracks – none of which, by the way, even come close to the one I never recorded but definitely wrote two years ago when Lil Carmen was in a Twitter beef with Lil Kim for like, 35 seconds. (She never responded.) When Perez Hilton, notorious Internet bully and sadly one of the first Internet-famous homos in history, tweeted #TeamAngelHaze Azealia Banks took that shit to another level and called him a "faggot." She remedied the uncomfortable situation by tweeting, "A faggot is not a homosexual male. A faggot is any male who acts like a female. There's a BIG difference." Awesome!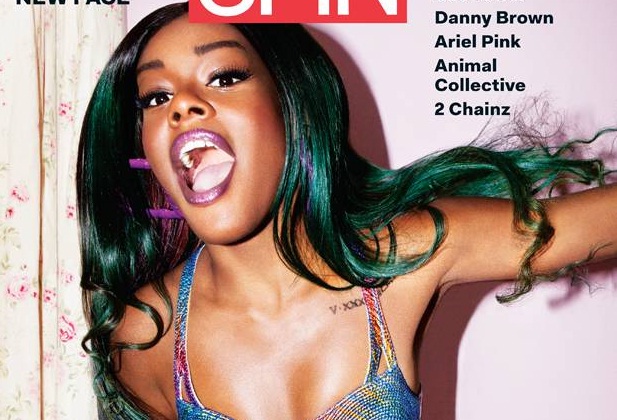 As the situation broke down, Banks apologized on her Twitter with lots of exceptions – saying she isn't sorry "for Perez tho" and that she "knew what she was saying" and thought it was okay. One of her last tweets about the whole mess? "If u listen to my music and are not offended by the word nigga…. We're not gonna go here with this faggot shit… We're just not. Lol." And at that point, she dropped the mic and walked away. Metaphorically, of course. Janet Mock, writer and activist, shared her thoughts on the whole thing.
Amber Riley's ALH
Amber Riley got a total alternative lifestyle haircut. And thinks change is good!!
Homos In Paris, Other European Regions
Vincent Peillon, French Education Minister, is urging 8,300 Catholic schools in the nation to stay neutral on the topic of gay marriage and allow children to escape from their cold, occasionally isolating religious communities unscathed by self-hatred.
It doesn't seem appropriate to bring the debate over equal marriage rights into schools. I have the deepest respect for the Catholic school system. But, the institution, which is under contract with the state, must respect the principle that everyone has the right to a neutral and free thought… We must never forget that we are dealing with young people and that attempted suicides are five times higher among teenagers who realize they are homosexual than others.
But either way, this one gay French mayor is saying no to marriage so whatever. I wonder what France's first baby of 2013, who has two moms, has to say about all of this.
Meanwhile, in Italy, Berlusconi supports gay marriage but is probably lying through his teeth. Or at least exaggerating.
Mo' Money, Mo' Episodes
In Hollywood, Liberace's life is too gay to be made into a film. So HBO picked it up to make sure we controversial homos got our fix. But on the Internet, YOU have the power to fund the videos you want to see in the world! Yes, you! You tiny little ant is this monstrous landscape of our universe, you.
Are you extremely, potentially vengefully, angry at Kim Kardashian for acting on her last hopes for fame by shacking up with Kanye West, only to later on be near the verge of publicly raising his spawn? Then meet Kam. (And fund her existence!)
Creators Fawzia Mirza and Ryan Logan have launched a Kickstarter campaign for Kam Kardashian, which introduces the world to Kim's fictitious lesbian sister.

Four episodes of the series have already been released, which is plenty of time for viewers to get a solid picture of Kam's personality. She's jaded and vicious, likes her whiskey straight, and tells it like it is, with no remorse for her 'famous' family. A series of auxiliary characters exist mainly to fuel Kam's distaste for her estranged siblings.