Once upon a time we had a dream. It involved a couple hundred of you, 35 of us, a group retreat site in the San Bernadino Mountains and a weekend packed with workshops, panels, activities and performances designed to inspire, educate, entertain and/or make you laugh — basically, it was the spirit of this website manifested in three entire dimensions. We wanted to create a special (and affordable!) space where you could be yourself, enhance your relationships within the international queer community, support Autostraddle and make new friends forever.
It was a dream called A-Camp, and it was a dream that came true the last weekend of April, 2012. We did it again in September 2012, and it was even more amazing than the first time.
Obviously, we're doing it again.

Details
When:
Thursday May 23rd – Monday May 27th, 2013+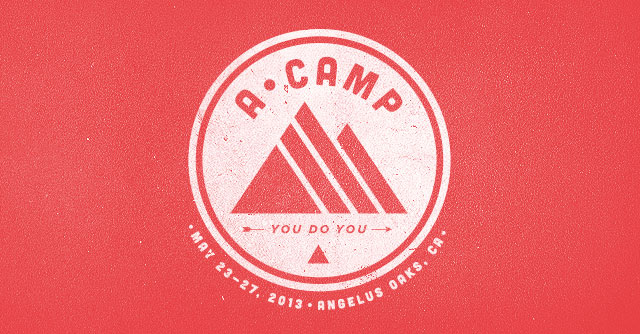 Where:
Alpine Meadows Retreat Center in Angelus Oaks, California. It's 1.5 hours from Palm Springs, 2 hours from Los Angeles, 2.5 hours from San Diego, 4 hours from Las Vegas, 5 hours from Phoenix and 8 hours from San Francisco. We'll be running shuttles from LAX to the campsite from 10 AM to 3PM on May 23rd and shuttles back to LAX from 8AM 'til 11AM on May 27th.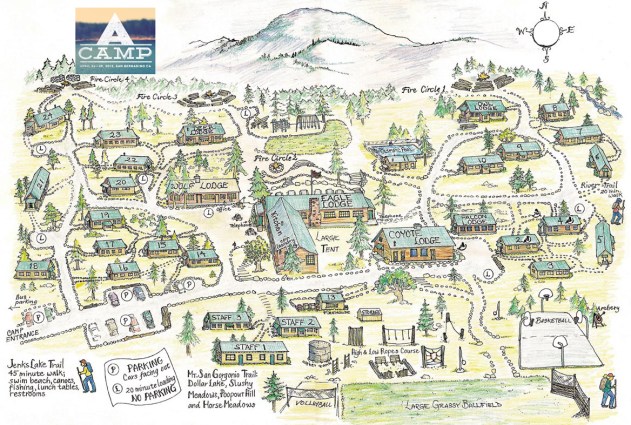 +
Who:
You weirdos! Anyone over the age of 18 is welcome — in September, our campers ranged in age from 18 to 50 and came from all over the world, including lots of Canadians and quite a few Australians and United Kingdomers. Half our campers were over 25 and half were under. About 30% of our campers were returning and 70% were new.
+
Lodging:
You'll be having the bestest biggest surprise slumber party of your life in fully insulated, carpeted & heated cabins with private bathroom/showers/baths and generously-sized bunk beds. You'll be sharing these cabins with somewhere between 10 and 17 others, led by two counsellors from Team Autostraddle. Cabin groups are designed with your needs in mind (we meet all roommate requests!).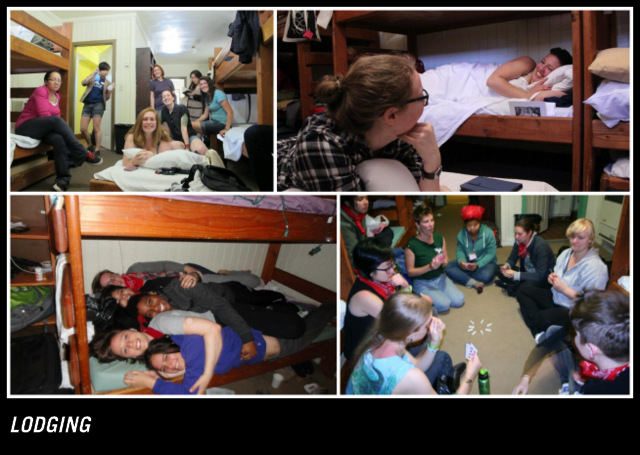 +
How:
Tuition is $375 and is all-inclusive. No extra fees.
+
Your tuition includes:
Four nights lodging (linens included)
Three meals a day with snacks – and this time we'll be working with the chef to design a menu and options catered specifically for our group, and there are vegetarian, vegan & gluten-free options
Full access to a variety of activities, workshops, panels, sports and arts & crafts. You'll also have the option to get fun one-on-one stuff like an Alternative Lifestyle Haircut or an Individual Style Consultation, all included!
Kickass Tote Bag packed with amazing things such as an awesome A-Camp T-Shirt !
+
What the hell goes on at A-Camp?
+
For more information about what goes on at A-Camp, you can check out our recaps from April and September's camp  and testimonies from campers about the joy of the experience. Keep in mind that this time around, things will be even more awesome.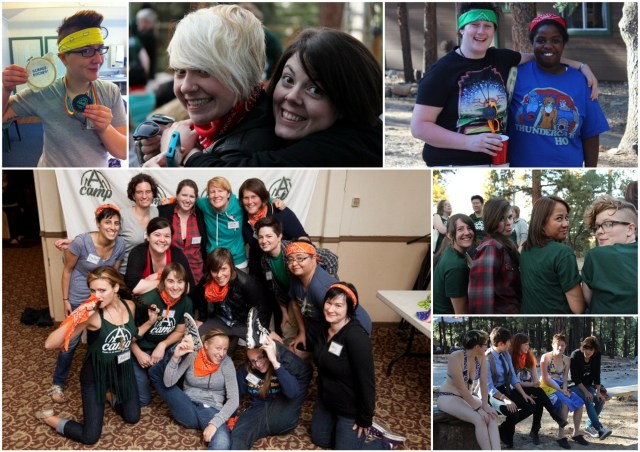 A-Camp Daytime
Days at A-Camp are spent participating in a variety of programming options offered by the Autostraddle Team and special guests — Color Wars! Gender Panel! How To Pick Up Chicks! Morning Hike! Coming Out Panel! DIY Home Projects! Trans* Discussion Group! Meet & Geek! The Truth About Cats and Dogs! Lesbian Jeopardy! The Sex Panel! Free Swim! There'll be lots of new stuff this time and we'll be following through on your requests for things like a Bisexuality Panel, a Kink Panel and more interactive workshops. There'll also be a Quiet Room for people to decompress and enjoy the Camp Autostraddle Library.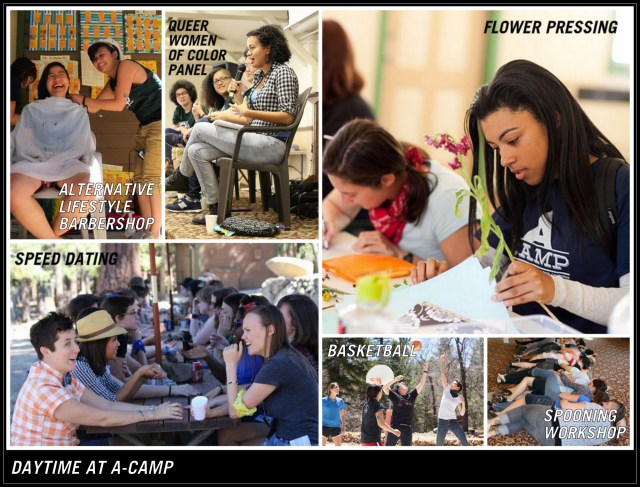 +
A-Camp After Dark
Every night offers plenty of opportunities for fun-fun-fun! Every camp opens with an all-camp campfire hosted by Julie Goldman and closes with an all-camp Talent Show and Dance With DJ Carlytron. In September, we enjoyed a wet/riotous game of Faggity Feud With Julie & Brandy, hosted a Staff Reading (our most well-loved event/activity in the history of camp) which will become a new A-Camp tradition. Other evening activities have included Hav & The Hav-Nots (a musical performance from Haviland Stillwell and the A-Camp Band), all-camp wide games and S'Mores. May Camp will definitely feature a Julie & Brandy Game Show, stand-up from DeAnne Smith and will probably feature my personal fantasy Evening of Lesbian Folk-Rock Music starring Julie Goldman, Somer, Marni, Haviland and other talented teamsters! Much more TBA! (And for night owls, revelry continues all night long in various lodges.)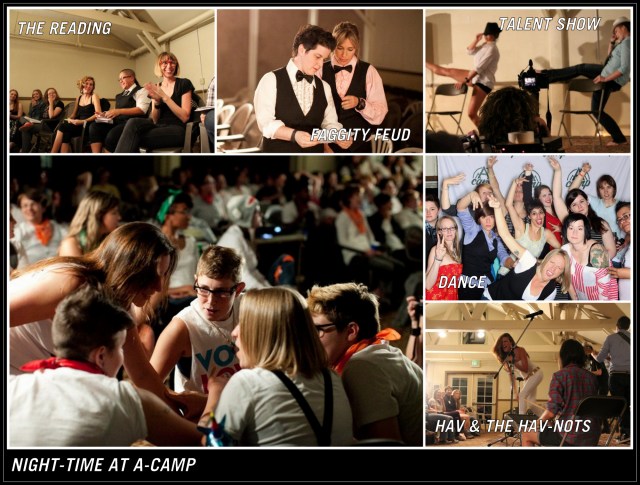 The Talent
We like to bring smart talented lesbians with lots of shit going on to entertain, educate, and hang out with you. They come because they believe in Autostraddle and A-Camp and we're really excited about our Talent Roster (so far!) this time:
Julie Goldman & Brandy Howard – You know Julie & Brandy from their hit Autostraddle webseries In Your Box Office, but that's not all the duo does together — they're staff writers for E! Fashion Police WIth Joan Rivers, are regular guests on The Gay Pimpin' Podcast. Julie Goldman is a world-renowned lesbian comedian and star of the former Logo TV program TThe Big Gay Sketch Show, and has also appeared in Bones, DTLA, The Sopranos, The New Normal, Weeds and Best Friends Forever. Brandy Howard has appeared in 56 beer commercials, as well as Untold, Ditching Party, Just Shoot Me! and It's Like, You Know.
DeAnne Smith – DeAnne blogs for Autostraddle, but mostly she's known for her hiLARIOUS stand-up and prolific career as a comic. DeAnne has appeared on Last Coming Standing, Good News Week, Canada's The Comedy Network, HBO Canada and has won and been nominated for heaps of awards all over the world, such as the Sydney Comedy Festival's Time Out Best Newcomer and the Barry Award at the Melbourne International Comedy Festival.
Somer Bingham – You know Somer from the terrifying Showtime reality series The Real L Word, throughout which Somer remained a low-key down-to-earth human amid a gaggle of oversexed lesbians, but if you really wanna get real you've gotta read our amazing interview with her. Somer hosted SOMER FRIDAYS for Showtime with her wife Donna and heads up Clinical Trials, a "thrashy all-female electro grunge rock [band] with a side of angst."
The cast of Unicorn Plan-It – You know the ladies of Autostraddle's hit webseries Unicorn Plan-It — Haviland Stillwell is an actress & singer (her first album "How I Role," debuted in 2009), who appeared on Broadway in Fiddler On The Roof and Les Miserables and onscreen in Single Ladies, The Client List, CSI: New York and Eastwick; among others. Ashley Reed is a screenwriter/producer & playwright and Sarah Croce (Miss April 2011) is an actress, producer & editor you may have seen in Levi's Jeans Commercials, Flick's Chicks, Girl Talk, GO Mag's Red Carpet or The Real L Word Parody.
Mollie Thomas – 2013 Autostraddle Calendar Girl Mollie Thomas was the first openly gay woman running for Miss California USA. Mollie taught a pole-dancing class at September Camp and is very active in Animal Rescue and animal rights work!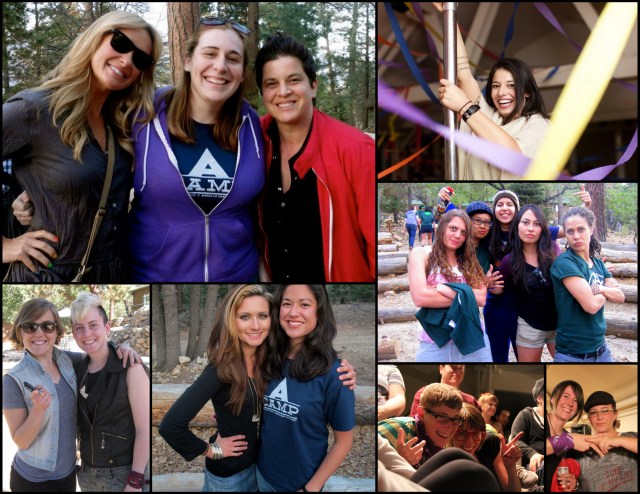 How Is This Camp Not Like All Other Camps?
If you've been to camp before, rest assured that in May 2013, we'll be blowing your minds with heaps of new activities and scheduling that offers a little more breathing room. In addition to returning (but reworked) classics like The Gender Panel, we'll be rolling out a series of more tightly-focused activities that really utilize the talent and expertise of our staff. We can't wait to see what our new team members come up with!
We put a new twist on the experience every time (and get progressively more organized), so the only way to know the whole story is to come to camp, obvs.
Okay, I'm in. What Now?
If you wanna get on the saddle and trot on over to A-Camp with us this spring, here's what you've gotta do:
1. For the low low price of a $50 non-refundable deposit, you can snag your spot for the spring festivities. Please read the instructions at the top of each registration interface page if anything seems remotely complicated.
2. When registration fills up, you can put yourself on the waitlist. Be sure to put an e-mail address you check regularly & often, so you don't miss our note if you're up!
3. If you're driving in on Thursday, please plan to arrive between 12:00 noon and 5:30 PM. On Monday, please plan to leave by noon.
4. If you're looking for flights and will need transportation from the airport, then please book your incoming flights for Thursday, May 23rd to get in by 2 PM at the latest. (E-mail camp [at] autostraddle [dot] com to make arrangements for later flights.) Camp officially begins at 6 PM. There will be activities going on throughout the afternoon, but mostly we want to allow you time to get settled in before your counsellors take you into the woods and brand you for life while howling at the moon.
If you'll need transportation to the airport on Monday, May 27th, there will be busses leaving at 8, 10 and 11, so don't book a flight that leaves any earlier than 1PM.
5. If you need to cancel, you can just log back in to the registration interface and cancel!
Notes on Payments and Payment Plan
In the past, we've offered a Payment Plan, but we're not doing that this time — BUT DO NOT DESPAIR! Although most vacations require their entire tuition upfront, we're giving you five months before the tuition payment deadline. The registration system allows for partial payments, so you can create-your-own payment plan — all we ask is that you put down at least $100 towards your tuition by March 1st and pay all your tuition by April 1st. If those deadlines don't work for you, just email us and we can work something out! We're real people, know money can be tight, and will do everything we can to work with you to get you there. We're super flexible as long as you communicate with us.
The reason for those deadlines (and part of the reason we're abandoning payment plans) is a chronic problem we've had with people signing up for camp, putting down a deposit and holding that spot for months without making more than one payment, then often finally canceling when it's too late for us to fill the spot. Coordinating payment plans and chasing people down has evolved into a nightmare and we bit off more than we could chew. We ended up with quite a few empty spots at last camp due to various problems with abandoned payment plans and non-responsiveness — and because the camp gets final numbers from us six weeks before you arrive, we also ended up at both camps paying the camp for campers who never paid us or showed up. We have to simplify that process this time for mutual sanity, and so we are!
FAQ:
Q: I'm really super poor but I want to go so bad!
A: Firstly, this is a once-in-a-lifetime Utopia-esque situation, I recommend getting your emergency funds out. But we get that hard times are here for some of you, and that's why we're giving you five months after putting down your deposit to come up with the money.
Q: I'm still too poor.
A: We do give out between 5-8 camperships (based on space and the amount of campership donations) per session. To apply, campers submit essays explaining why they deserve to get a campership. Please note that we get heaps more applicants than we have camperships. There will be a post about this soon.
Q: Is there Wi-Fi?
A: NOPE! I know it's scary!
Q: Will there be any free time?
A: Yup! I mean you don't have to do anything you don't want to do, and we'll be adding more free/flexible time this camp. Go read by the river or go videotape your friend hiding in a tree like a monkey or just lie on the grass or in your bed. You can do whatever you wanna do, you're a grown-up!
Q: What's the deal with alcohol?
A: Drinking isn't part of any A-Camp activities and we do not serve alcohol. But if you're over 21 and wish to drink at camp, you have to bring your own alcohol, put your name on it, and store it in one of our designated lodges (food/drink are prohibited in cabins because of bears) where you can access it whenever you want. We'll be providing a "substance-free cabin" option for anyone over 21 who would prefer to room with other abstainers, as well as designated substance-free evening programming/space.
Q: Can I work at camp?
A: No, our camp is staffed entirely in-house. But if you're coming to camp already and you've got a special skill/talent and would like to propose a workshop, email marni [at] autostraddle [dot] com and robin [at] autostraddle [dot] com.
Q: Are there extra charges for anything?
A: If you need a shuttle to or from LAX, it's $25 each way. Everything else is included. Depending on demand, we may offer a ropes course option at $20 for each attendant.
Q: Me and my girlfriend/all my friends want to go together, can we stay in the same cabin?
A: Yes.
Q:  I can't come to camp but would like to help somebody else get there, can I do that?
A: Absolutely! We'll have a post up in the next month or so about how to help send somebody else to camp via the Power of Magic Camperships.
Q: When are you doing an East Coast camp?
A: I know this seems like SUCH a good idea! But for a zillion reasons including a shorter off-season and the fact that most of our team lives on the West Coast, this simply isn't affordable or logistically possible for us right now — and in turn, for you. This is something we hope to do in the future but we're not sure when that will be yet, so don't hold your breath. However, it's worth noting that we picked a site near LA because it's one of the cheapest airports to fly into in the country.
Q: What about A-Camp in CANADA?!
A: The expenses required to put on A-Camp in any other country would drive your cost to about $2,000 for a weekend, and that's before plane tickets, passport fees, etc. If we ever do an international A-Camp, it would be years from now.
Q: When is the next camp after this camp?
A: We're not 100% positive yet, but it will probably be in October at the same site.
Q: Who should I email with my pressing question?
A: Camp directors Marni [marni at autostraddle dot com] and Robin [robin at autostraddle dot com]
Q: What's that link again?
A: Here it is!
Q: Anything else?
A: Please we beggeth of you from the deepest depths of your beating heart, to make sure we have an email address for you that you check often. We will be sending you updates via e-mail and it's imperative that you receive and respond!