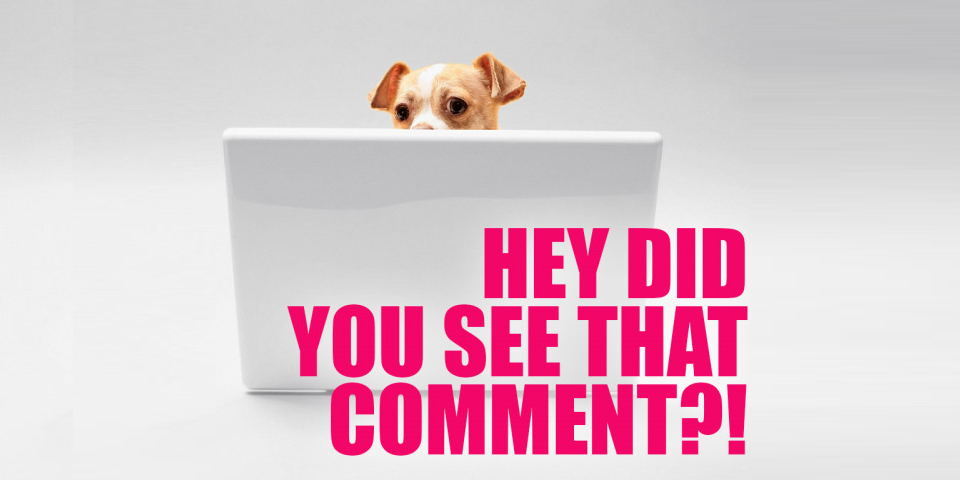 Hi hi! Happy Valentine's Week! I have fully embraced Valentine's Day as a day to express love to all of the amazing people in my life, and guess what: you're some of them! Thanks for being you! I love our Autostraddle family.
This week, Cameron tried to flirt.
Riese knows a LOT about The L Word. I wish we'd met The Captain!
One Day At A Time is back, and it's so! queer! Watch it! Tweet about it! Help us secure a season four!
Courtney wants you to fuck while fat, gloriously.
Natalie wrote about Barbara Jordan, the black lesbian president we should've had in the 70s.
Vanessa wants you to date casually, and here's how!
KaeLyn wrote a love letter you need to read.
Love not your thing at the moment? No worries, Rachel's got you covered with 13 Easy Houseplants for Seasonally Depressed Gays and Their Cats. THIS WAS VERY GOOD.
And then there were your comments!
---
On 68 Things You Probably Didn't Know About "The L Word":
The We Killed Jenny Award to amidola:

On Pop Culture Fix: Alison Brie and Sugar Lyn Beard are Edie Windsor and Thea Spyer on "Drunk History":
The Sinking Ship Award to Caitlin and Laura: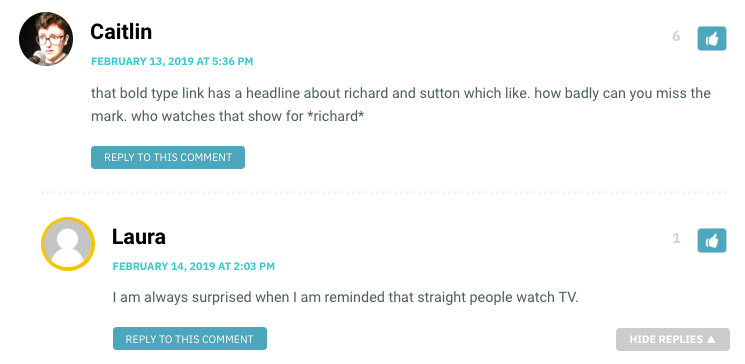 On Yes, Virginia, Queer Women Can Casually Date: Here's How It Works:
The Speed Dating Award to Chandra:

On Foolish Child #39: Ace But Love Your Face:
The Valentine's Cuties Award to Otis:
On What I'm Saying Is You're Stuck With Me:
The Big Mood Award to Celia:

The Heather Hogan Strikes Again Award to ExceptForBunnies:
On 13 Easy Houseplants for Seasonally Depressed Gays and Their Cats:
The Turning Over a New Leaf Award to MARISSAMARISSA, Rachel and Iarran Mé: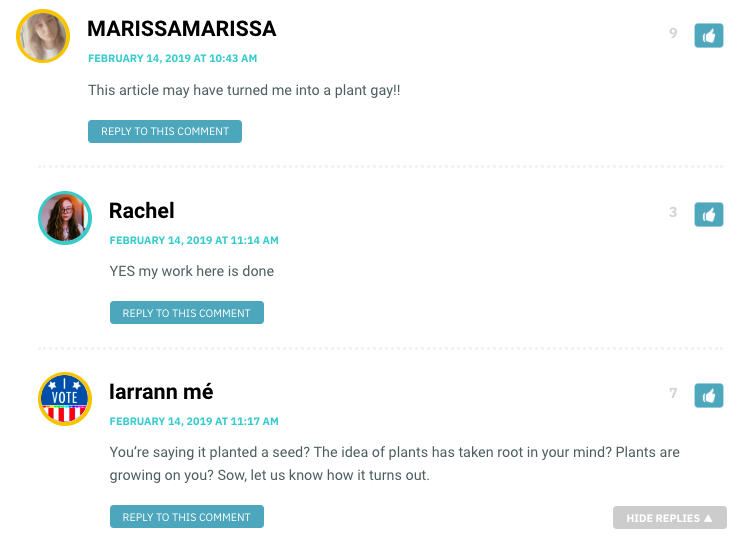 And the Air In There Award to Alex:
And on Who Do You Love: @notallgeminis x Autostraddle Do Queer Valentine's Day Memes:
The Cross Training Award to Kayla:
---
See a comment that needs to be here? E-mail me! Queergirlblogs [at] gmail.com.