I always feel like seasonal affective sadness gets worst for me in February — an arbitrary time, but maybe just the point at which my endurance for winter and snow and darkness and having to pack water and rations if I want to make the days-long trek to get, like, toilet paper and tortilla chips from CVS. While Heather, as always, has you covered with the actionable and practical tips, I am here with the band-aid ones that satisfy the seasonal depression urge to buy something, anything, so you feel alive again. For real, though, plants can make your living space or office space feel brighter and more alive when everything outside is cold and dead; caring for them can provide some helpful structure without being overwhelming; and some of them have (arguably negligible) air-purifying properties, which is nice to think about if you, like me, live somewhere so cold that opening the windows for fresh air is dicey.
Unfortunately, many of the truly chic house plants that Plant Instagram has convinced me will cure all that ails me are toxic to pets, and having to pay $700 to bring my cat to the vet in a Minnesota snowstorm without a car is definitely going to make me feel worse, not better. So no monsteras or birds of paradise for me, unfortunately, or maybe for you. But there are so many options left for beautiful, easy-to-care for houseplants that will make you feel more like there's life in the world and motivate you to care about something without being so demanding that you want to break up with it by telling it you just really aren't in a place to commit to anything right now! Here are some of them.
Pilea peperomides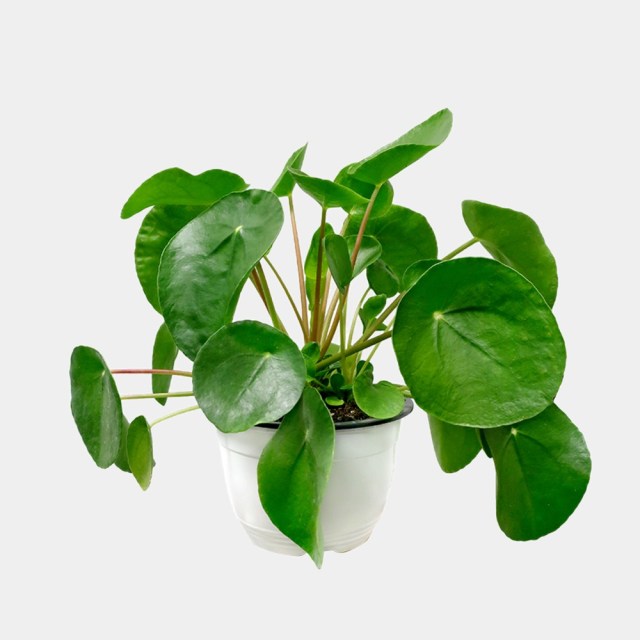 These are very hip on Plant Instagram right now, and for good reason! They're unique-looking and pretty, easy to take care of, and have the added bonus of propagating new baby plants inside their pot, which can be replanted elsewhere or gifted.
Friendship Plant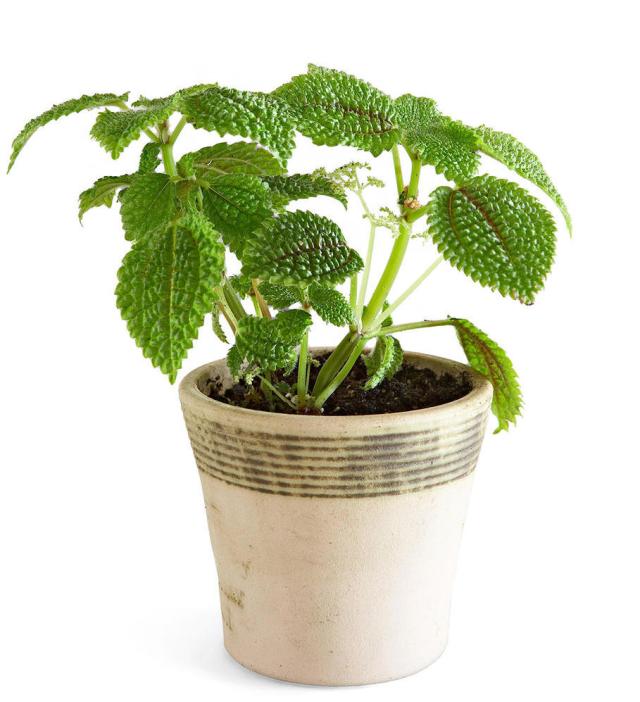 Much like friendship itself, this plant is cute and pleasant, just enough work in terms of maintenance, and won't kill your pets. It's easy to grow from cuttings, which means once you have a healthy one, you can easily share new plants with your pals or with cuties whose level of commitment issues you're trying to evaluate.
(Some) Succulents
(Blue Echeverria, Burro's tail, Zebra Haworthia, Sempervivum)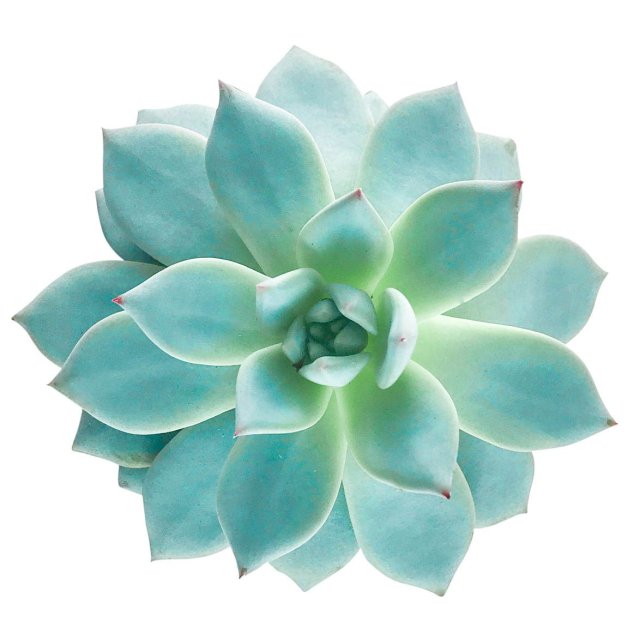 Succulents are a great go-to depression plant because they're beautiful and make spaces greener with an EXTREME minimum of care; forgetting to water them is, in most cases, the best thing you can do for them. The only time a succulent is maybe not the right choice for you is if you live in a very dim environment or if your particular brand of coping mechanism means that you would overwater them. Despite their near-perfection in other ways, some kinds of succulents are in fact toxic to animals; these species are not, and are also very aesthetically pleasing!
Baby Rubber Plant
Some rubber plants are (somewhat) toxic to pets; this one is not, and also the tiny leaves are alarmingly adorable in a way that triggers the same hormonal response in me as like, a comically small reproduction of a normal object like a frying pan.
Boston Fern
A surprising number of ferns are toxic to cats, which is unfortunate as they are basically built like cat toys. This one is not! You can buy it only to have them completely tear it to ribbons and everyone's needs here will be met. Except maybe the plant's.
Prayer Plant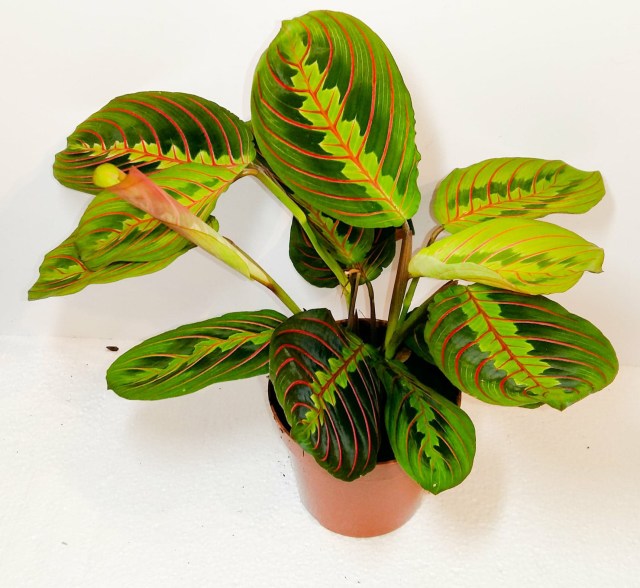 For aesthetic gays, the variegated leaves on the prayer plant will be very satisfying among a sea of plain green leaves or just your dirty laundry, whichever. A neat fact about prayer plants is that their name comes from the way leaves fold closed at night, like hands folding together in prayer, which is a helpful marker of time if your days have become an indistinguishable, timeless haze ever since the sun started setting at 4 pm.
Christmas Cactus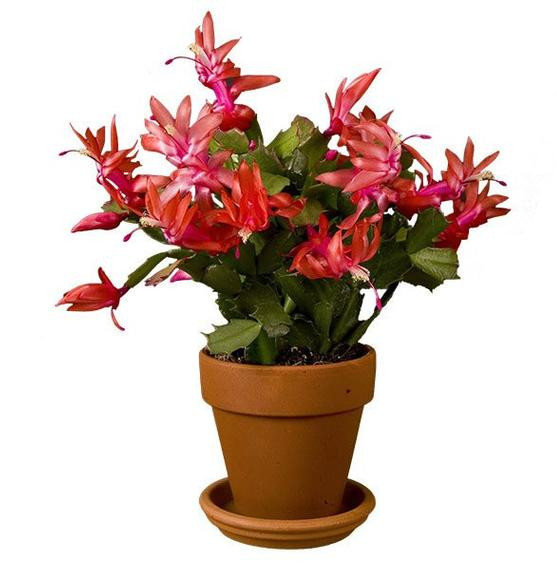 The Christmas cactus looks kind of like amaryllis, a popular plant which will unfortunately poison your pets. Not only will the Christmas cactus not poison your pets, but it will bloom once a year during the holiday season, which will hopefully alleviate a little bit of seasonal depression and the fact that your parents still call your girlfriend your roommate at Christmas.
Areca Palm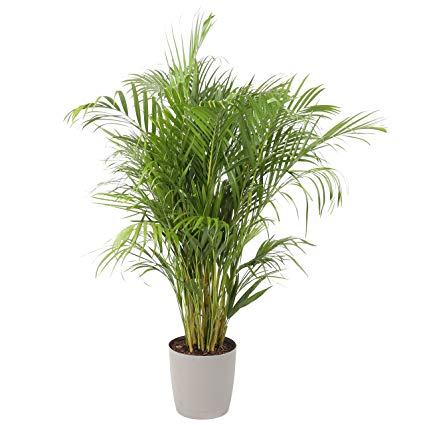 For large, dramatic floor plants that make you feel like you're living in a rainforest and are seeing sunlight on a regular basis, nontoxic to pet options are unfortunately limited — but the areca palm is here for you, and your cat, and your desire to pretend that you're in the first act of a Jurassic Park movie and can see graceful brontosaurus in the distance and also the sun is out, a powerful visualization technique against seasonal depression.
Parlor palms may look familiar from dentist waiting rooms, hotel lobbies and the like, part of why they have their name. They're pretty, come in various sizes and are easy to care for as long as you have some level of humidity and medium to low light, as for other palm varieties. Parlor palms are very long-lived if well cared for, and can be "often passed from generation to generation," a reassuring thought when time seems to have come to a standstill or at least a sort of Russian-Doll-esque endless loop of digging out your car.
Spider Plant
Are the claims that spider plants can 'purify your air' true? Allegedly, although you are said to need "a large amount of plants" for that to work, which may not be the amount of commitment you want — or maybe you're a Cancer and overcommitting to 15 different spider plants is exactly what will get you through this winter, go with God. Spider plants are great hanging plants, which will give you something to look at if you've been spending a lot of time lying on the floor.
Ponytail Palm
If you have always kind of wanted one of those ginseng plants they sell at IKEA and then stood on the IKEA showroom floor and googled whether they would poison your cat and then found that yes, it will, and once again had to leave IKEA with only a lighting accessory and one of those furry rugs they use on Game of Thrones — you will be pleased to know the ponytail palm looks sort of similar and will not poison your plant.
Cast-Iron Plant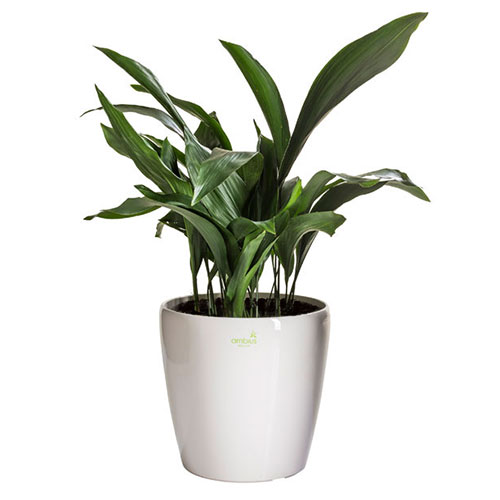 Cast-iron pans are essentially forever; even if you treat them horribly and let them rust beyond recognition, they can pretty much always be brought back to working order. Similarly, this plant is very hard to kill, and is large enough to be a nice floor plant, a change from the rest of the options here which are more cute tabletop situations. It's also called the barroom plant for its ability to survive in less than hospitable environments, a good fit if you're planning on smoking heavily or hosting karaoke in your apartment.
Air Plant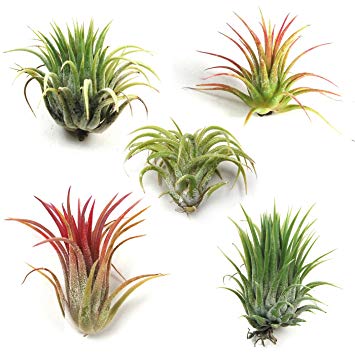 For those with real issues around commitment and caretaking, please consider the plant that doesn't even need dirt and is described by this article as being "for those with a fear of houseplants." Want to be able to pack up at any moment to go road tripping and play sad songs on the hood of your car about your ex-girlfriend? This plant can come.