I thought a lot about how to write this review. Would I rank the Top 10 Gayest Moments of One Day at a Time's third season (with Stephanie Beatriz's stunningly hilarious portrayal of Elena's older gay cousin Pilar obviously ranking as #1)? Would I start with a discussion of the second episode's brutally honest and necessarily complicated discussion of rape culture, consent, and sexual assault that's already gone viral on Twitter? For a near-perfect sitcom that only grows bolder with each passing year, what's the proper way to pay tribute in a review?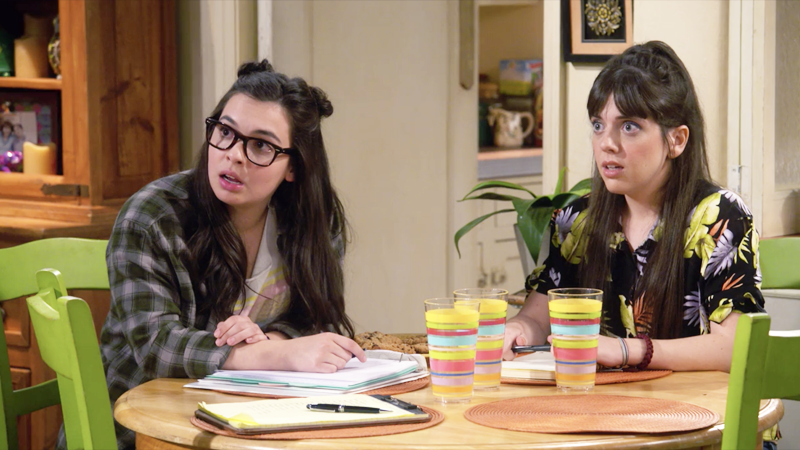 I still don't know the right answer, but I do know this: Three years in, there are still few television shows on air that know how to construct stories as well as One Day at a Time. Their writers' room breaks down arcs into not only 30 minute chunks, but also call backs that reach across episodes (or years) in ways that could be a master class. They carefully place emotional gut punches at the moments when they will be most effective, and do so without ever sacrificing laughs.
Their take on a traditional multi-cam sitcom continues to refresh a genre that many have written off as stale or from a bygone era. No one this side of Shonda Rhimes is more committed to honoring and writing the totality of women of color characters with such loving attention paid not only to their race or gender, but also sexuality, age, class, mental illness or disability. One Day at a Time's goals are lofty, and even though I'd argue there are a few more stumbles in the third season than the previous two, presented as a whole this show is so good at what it does that it makes the entire production look laughably easy. As if anyone could walk this tightrope without breaking a sweat, if only they tried.
If you're somehow still not watching One Day at a Time, the first thing I want you to do is close this tab on your computer, fire up your Netflix, and come back to visit me in a few hours. In its first two seasons the show set itself apart as a traditional, multi-camera family sitcom that unapologetically played close to the legendary Norman Lear's playbook at a time when most television comedies leaned themselves towards sarcasm or experimental humor for awards bait. It's filmed in front of a live studio audience, just like every other TGIF or Nick at Night classic.
The series uses these tropes to their advantage, lulling its audience into comfort as it explored PTSD, depression, gay abandonment, Trump-era racism, and struggles of working class family life from the viewpoint of three generations of Alvarezes. There's the matriarch, Lydia (played by EGOT winner Rita Moreno, who at this point needs a new word for perfection), the main protagonist Army vet and single mom Penelope (Lupita to her family, continuing Justina Machado's run as the most underappreciated work on television right now), and Penelope's two children — Alex and Elena (Isabella Gomez starring as the gay we're all here for).
In Season Three, showrunners Gloria Calderón Kellett and Mike Royce use their well-traveled formula to delve into gentrification and white privilege, addiction, Penelope's continued struggle with depression and anxiety — and yes, Elena's first time having sex. All of which are handled with nuance and the show's trademark earnestness. With One Day at a Time each small moment can be quietly breathtaking between the laughs, so it's hard to unravel them one-by-one. That said, looking back on the six hours I spent this weekend gleefully binging all 13 episodes, nothing stands on its own quite like Elena's first time.
Episode 7 "The First Time" is handled with humor and the utmost care. Elena Alvarez and her Syd, her non-binary romantic partner (or rather her Sydnificant Other, get it?) are some of the few queer teenagers on television, and I couldn't think of a single other example where the first time having sex between two gay teenagers was treated with such importance and from a balanced, sex-positive perspective. Without a doubt, it's going to change the face of how we think about queer sex on television and queer adolescence. I'm still blown away.
Really, this entire season is so gay its nearly unquantifiable.
There are throwaway jokes about dykes in Portland; there are thoughtful meditations on what gender neutral terms to call your non-binary partner. I'd have to go back as far as the last season of Ellen itself (praise the mothership) to find another sitcom that took queer and lesbian points of view this seriously as its comedic blueprint. It's a marvel. Stephanie Beatriz outright nails it as the aforementioned gay cousin, but also Judy Reyes returns as Penelope's lesbian friend Ramona. It's been a while since we first spent significant time with Ramona, in the interim Reyes has crafted an entire other lesbian character as Quiet Ann on TNT's Claws. She's building an entire new chapter of her career playing gays, and I really love the depth she's finding in these otherwise incredibly different roles. Another member of Penelope's therapy group is played by Nicky Endres, and transfemme genderqueer actor who's character Cynthia is a necessary and subtle commentary on the important roles that trans service members have played in our military and the upcoming Trump-endorsed Trans Military ban. That means that some episodes have more than four or five trans, non-binary or queer characters in them — the vast majority of whom are played by women of color, and each with their own fully formed personality and worldview.
And that entire list I just laid out? It barely scratches the surface. Out writer Michelle Badillo was promoted to Executive Story Editor this year, and her delightful thumbprint, along with out writers Becky Mann and Janine Brito, is felt all over the place. The entire show, along with Elena and Syd in particular, is stronger for their efforts.
Last year, One Day at a Time was renewed in what felt like a frustratingly close, down-to-the-wire negotiation. Watching Season 3, I couldn't help but wonder if that history weighed on some of the storytelling choices made by Gloria Calderón Kellett and Mike Royce. Certainly, the finale episode (and its pitch perfect mirror image of the first season's iconic tear-jerker moment) would serve well as a bookend to the series. No one knows how to craft a third act quite like One Day at a Time, and even though this season is decidedly lighter than its previous outings, I still couldn't make it through the season closer without ugly snot crying into my fists. It's a return to form for Isabella Gomez, who first brought out my tears at Eleana's quinceañera years ago. I also couldn't help but be impressed by Marcel Ruiz's turn as Alex. He's found such maturity in a teenage boy character that any other show would have been happy to write for dumb jokes. Somehow, when everyone least expected it, Alex grew into the steadying rock of the Alvarez family tree.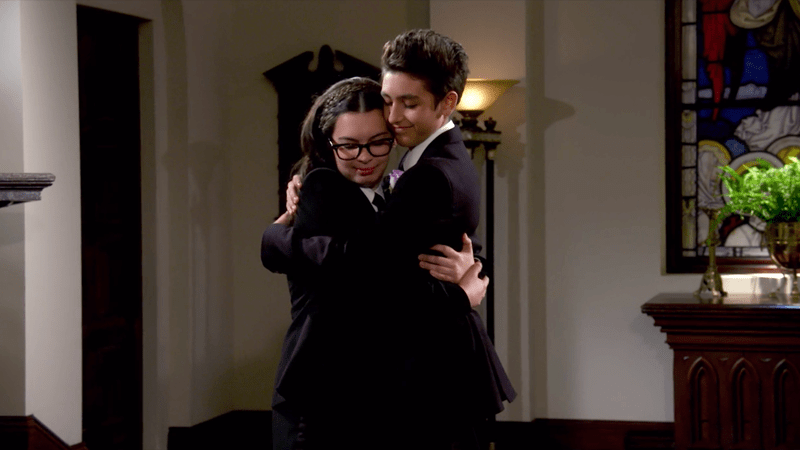 That doesn't mean that I'm prepared for One Day at a Time to end its journey any time soon. I have a lot of love left with this family that reminds me so much of my own. In fact, when Season Three dropped on Friday, I was in the middle of having my own Puerto Rican relatives descend upon me (don't worry; unlike the Alvarezes, there was no family funeral). Coming back to my apartment after spending time with my larger than life, full of laughter, always willing to hug and love on me cousins, I was thankful to have the Alvarezes with me to dull the ache of their absence. They may be a fictional family — but they feel like home. What could be higher compliment than that?