Last night our Senior Editor Heather Hogan had a dream that I was writing a post called "25 Things Only Riese Knows About The L Word" and if that isn't a productive brainstorming session, I don't know what is! Anyhow, I figured, as I am presently in intense deliberations with Kristin about what to name our upcoming L Word re-watch podcast (which we're doing in advance of the reboot) that it'd be a good idea to re-immerse myself in my favorite topic of all time. (If you've read everything I've ever written about The L Word, particularly this post, you might already know some of these things, but perhaps you forgot, the mind can only contain so much!)
Sources include everything linked here (thank you to my esteemed former stomping ground The L Word Online for hosting a repository of L Word related press), TV specials, interviews, the books The L Word: Welcome to Our Planet, Reading The L Word, Loving The L Word and  magazine articles I own in print because that's just who I am — I'm a person who ripped out and preserved everything ever written about The L Word. My only regret is not buying that Jennifer Beals L Word book while I had the chance, because it costs one thousand dollars now.
---
1. Eric Mabius wasn't originally cast as Tim: Canadian actor Scott Bairstow, best known for his roles on Lonesome Dove and Party of Five, played Tim, an anthropologist, in the original pilot, shot in Vancouver in 2002. The network preferred Tim as a swim coach and, according to Rose Troche, Baristow was ousted 'cause he wasn't believable as an athlete.
2. However, the more commonly known story of Baristow's dismissal is that he was fired after being accused of sexual assault against a minor in 2003, eventually pleading guilty to a lesser charge under an Alford plea. Aside from a spot in the 2006 TV movie Android Apocalypse, he hasn't acted since. Baristow's re-casting required re-shooting some promotional photos as well as pieces of the first three episodes.
3. Pam Grier's scenes also required a reshoot: she'd originally played "The Captain," a lesbian performance artist, videographer and documentarian of her local lesbian community who had The Chart tattooed on her back. Showtime didn't like the character, but her sisterly vibe with Jennifer Beals sparked the idea to create the role of Kit, Bette's straight half-sister.
4. Ilene Chaiken based Jenny on her own experiences as a young lesbian new to Los Angeles. Conversely, Bette "is more like Chaiken's adult self, juggling a committed relationship with the demanding schedule of a high-powered career."
5. Chaiken first pitched The L Word in 2000, but didn't get the go-ahead until Showtime witnessed the success of Will & Grace 18 months later, followed by Showtime's own success with the American reboot of the British series Queer as Folk.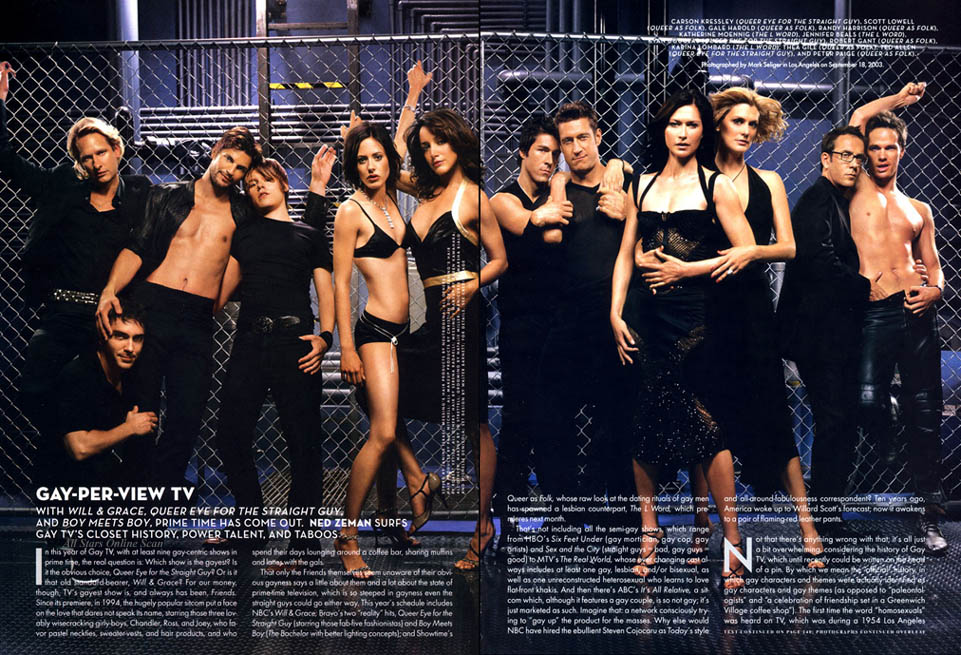 6. Queer as Folk, however, had a harder time casting than The L Word did — QAF couldn't find actors as well known as Jennifer Beals, Mia Kirshner or Pam Grier to head up their program. No major talent agency sent a client in for QAF auditions, but The L Word didn't struggle to get a "yes" from their top choices. What changed? The already-blazed trail, maybe? Moreso, perhaps: a greater cultural discomfort/stigma around on-screen M/M sexuality than there is around F/F sexuality. But perhaps most of all was how desperate female actresses were for central, complex, challenging roles and how eager they were to work with a mostly-women cast and crew. Those opportunities were so rare, so they seized them.
7. When production began, the show was called "Earthlings," not "The L Word," but it sounded just too sci-fi. Chaiken says "The L Word" came to them during a "brainstorming session," during which Guinevere Turner was talking about a bit k.d. lang did at a recent concert, saying "I'm a Leh, I'm a Lehhh….," and then Guinevere was like, "oh, she couldn't say The L Word" and that, my friends, became the series' new running favorite, beating out "The Field Guide to Gay Girls."
8. The mostly-straight cast got some help from co-producer Rose Troche (Go Fish, The Safety of Objects) — she made them all a videotape of lesbian love scenes to study, which included clips from Desert Hearts, Bound and High Art.
9. Leisha Hailey initially auditioned to play Shane, and Erin Daniels initially auditioned to play Bette and Alice before getting cast as Dana.
10. The website AfterEllen took off in part because of The L Word: initially an entertainment blog for lesbians written by Sarah Warn as a side-hobby, the site saw a significant traffic bump after Warn's 2003 piece, "Will Earthlings be the Lesbian Queer as Folk?." The article made the rounds, and AE's traffic doubled and tripled before skyrocketing when the show actually premiered in January 2004.
11. Showtime partnered with lesbian travel company Olivia from the jump — arranging for a special series premiere screening aboard an Olivia cruise to the Mexican Rivera in 2004, hosted by Ilene Chaiken, Leisha Hailey, Kate Moennig and Mia Kirshner.
12. (In Season Two, an entire episode — "Land Ahoy!" — was filmed aboard Olivia's Mayan Caribbean Cruise.)
13. At the time of the show's premiere, Leisha Hailey was the only out lesbian in the main cast. Kate Moennig was floating around in "open secret" territory while basically sticking to the "I'd like to keep my private life private" line with press.
14. But other cast members did identify as bisexual, at least at first — Laurel Holloman (Tina Kennard) came out as bisexual at the age of 16, after starring in The Incredibly True Adventures of Two Girls In Love. In 2011, she told Curve, "I think maybe I shouldn't identify as bisexual. I'm just not sure it'd be right to use that label again… I thought I could be bisexual, but then it never happened again [after the first time she was involved with a woman]."
15. Karina Lombard (Marina) told Playboy that she considered herself bisexual prior to her role on The L Word, but it somehow turned her straight: "Doing it with women on the show got so repetitive that it took the edge off doing it with women of the show. It got associated with work in my brain and kind of ruined it."
16. At the time, Showtime said Lombard wasn't returning for Season Two because of "serious and paralyzing creative differences." Fans were despondent, raising $3k towards a Save Marina ad campaign and launching a petition.
17. Karina Lombard said she left the show 'cause the cast and creator were uncomfortable with her popularity, but Chaiken said Lombard left because "Karina wanted entirely different things from her character and her story than we did."
18. The Chart began in reality: Rose Troche and Guinevere Turner, along with other members of their L.A. writer's room, made a top-secret real-life chart of their own of which lesbians working on the show had slept with whom, referring to those who'd "slept with a lot of people" as "hubs."
19. The chart used in the show has real (former) couples on it too, like Rose Troche and Cherin Dabis as well as Leisha Hailey and Nina Garduno.
20. Speaking of Nina Garduno, it was the Free City Supershop creator's relationship with Hailey that enabled the characters to regularly don the brand's $200 t-shirts, an iconic line of upscale high-quality casual-wear popular amongst celebrities.
21. The costume designer for The Kids Are all Right, directed by Lisa Cholodenko (who also worked on The L Word), also put her lesbian characters in Free City, explaining, "It's not gay women's wear, but it kind of is 'under the cover' gay women's wear… If you're in the gay scene, you know that that's gay women's clothing."
22. Before opening her own boutique, Free City was sold exclusively at Fred Segal — and the Fred Segal Cafe in West Hollywood is also where Alice sees Dana in a flashback and becomes even more certain that Dana is gay, because, according to Alice, Fred Segal Cage is "the biggest lezzy hangout in L.A."
23. The idea for Lisa the male lesbian (played by My So-Called Life's Devon Gummersal) came from Guinevere Turner, who's friend told her about "a guy who was so lesbian-identified that he was mad he wasn't allowed into the Michigan Womyn's Music Festival." (Hmm…) Turner had wanted Lisa to be "more Goth, anarchy, punk-like" and "less like the soft crunchy type Lisa sort of blended into." She felt Lisa came off as "a scammer" rather than the genuine person she'd envisioned.
24. Rumors that Shane was based on iconic hairdresser Sally Hershberger have been vehemently denied by both Ilene Chaiken and Hershberger herself, who said a difference between her and Shane is "she's not successful and she's kind of a wreck."
25. "Provocations" was likely inspired by a former project of Chaiken's — her film "Dirty Pictures," made for Showtime, about the Robert Mapplethorpe – Cincinnati Contemporary Arts Center controversy. I've also always assumed the name itself came from the notoriously controversial Sensation contemporary art exhibit, which I saw in Brooklyn a million years ago.
26. "The Planet" was probably based on the Urth Caffe on Melrose, which by the way is consistently way too crowded to allow anybody to spend an entire day there fighting with their girlfriends at large tables.
27. The Waterfall Building in Vancouver was used as Bette's California Art Center but you may also recognize it from Battlestar Galactica, where it served as Roslin's doctor's office and, at various points along the show's wild timeline, the apartments of Starbuck, Lee and Roslin.
28. Tina ended up pregnant after her miscarriage because Laurel Holloman got pregnant and made the choice to have  the pregnancy written into the show.
29. Sandra Bernhard's guest role as Jenny's writing teacher Charlotte Birch in Season Two was based loosely on Susan Sontag. When Chaiken approached her longtime friend Bernhard about being on the show, Bernhard had two conditions: she didn't wanna be naked, and she didn't wanna make out with anybody.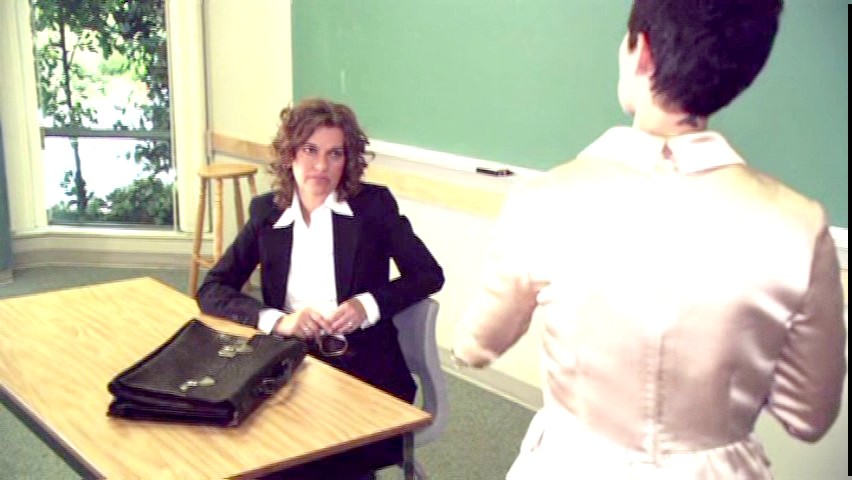 30. Sandra Bernhard hasn't exactly heaped praise on The L Word: on the talk show "Queer Edge," Sandra Bernhard referred to Ilene Chaiken as a "madcap" "lunatic" called the band Betty "losers" who should be "begging on the street" instead of performing on The L Word, and told guests Kate Moennig and Leisha Hailey, "I love you girls, you're super talented, you should not be forced to have to recite dialogue like that, which is absurd."
31. Season Two was challenging for the cast, who sensed "seismic shifts happening in the front office." To cope, they painted the craft services room in a pastel rainbow, with Mia adding a "little wishing tree" to the space.
32. Tony Goldwyn, who played closeted actor Burr Connors and is now best known for his role as Fitz in Scandal, also directed three episodes of The L Word, including what I consider to be the series' best episode, "Limb From Limb."
33. Erin Daniels briefly dated Eric Lively, who played Mark on The L Word and is also the brother of A Simple Favor's Blake Lively. 
34. The L Word girls were close friends and some were even roommates: Mia Kirshner and Leisha Hailey lived together in Vancouver while shooting Season One — Erin Daniels lived next door, with Kate Moennig a few blocks down. Kate then shacked up with Mia and Leisha for Season Two.
35. The D Word: In 2005, Dasha Snyder produced L Word parody "The D Word" for public access cable show Dyke TV (1993 – 2007), but Viacom caught wind and sent Dyke TV an immediate cease & desist. The cast included comedians Marga Gomez and Julie Goldman and although it toured major LGBTQ film festivals, a fear of legal repercussions is why it's never aired on TV or been released on DVD or digitally.
36. Patricia Summers, L Word stylist, had to go overseas to capture Bette's iconic look: she bought European men's shirts for Bette, "with bigger collars and longer sleeves," and then tailored them to Beals' body and then added "custom cuff links."
37. Betty got involved with The L Word after Ilene Chaiken saw their play BETTY Rules! and consequently invited them to submit to their search for a new song. Five bands competed, and Betty, somehow, won.
38. There were plentiful rumors that Elizabeth Ziff (aka EZ Girl) — who became The L Word's Music Supervisor and even wrote a few episodes — and Ilene Chaiken, were dating.
39. In 2005, The L Word was included in TV Guide's "Cheers and Jeers" section, earning a Jeer for: "opening its second-season episodes with one of the worst theme songs in TV history."
40. The new opening sequence that went along with the song featured the girls in "unabashed LA fashion plates," sporting couture by Italian designer Gianfranco Ferré.
41. Ilene has described Jenny's dream sequences as "one of the things we tried in Season Two that wasn't ultimately successful."
42. Kate Moennig and Sarah Shahi's first makeout scene required "20 takes" because, somehow, Kate had burnt her top lip with a French coffee press the night before.
43. Susan Miller, who wrote for the first season of The L Word, wrote a play based on the experience of creating The L Word called "Sweeping the Nation," which put on a reading in New York in May of 2006. Kate Moennig was part of the readings' cast, but Sarah Paulson was the actress playing the show's Shane-adjacent character. [I saw it and it was so funny and great!]
44. Jennifer Beals has never seen a full, edited-for-television episode of The L Word.
45. Clementine Ford joined the cast at her mother Cybil Shepherd's request, playing, of course, Phyllis's daughter in Season Four, before becoming involved with Shane in Season Five.
46. Jennifer Beals had a no-nudity clause in her contract but figured "her sex scenes are 'so hot' that you won't even notice she's still clothed."
47. Lucia Rijker, who played Dana's trainer and Helena's prison lover, is one of the world's top female boxers, was Ilene Chaiken's personal trainer.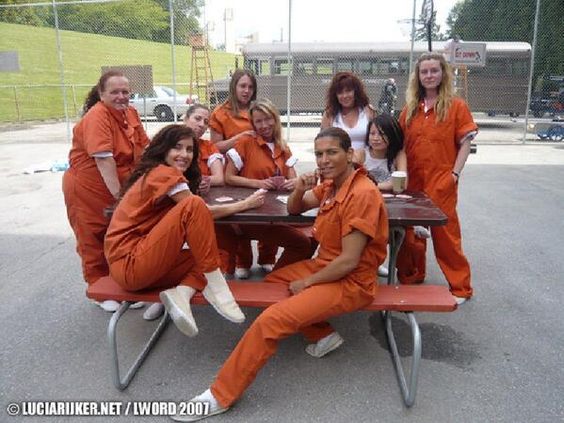 48. In 2006, Jennifer Beals accidentally outed Kate Moennig in an interview with The Advocate, when asked if people still assumed you have to be a lesbian to play one on TV. She said no, adding "oftentimes i will go to Leisha or Kate or Ilene or Rose Troche most often and ask, "OK, is this the right thing to do? Is this not the right thing to do? Am I going to seem like a total chump if I do this?"
49. Ilene now regrets killing Dana, a story inspired by the breast cancer diagnosis (and eventual survival) of one of the show's fellow co-creators. The actors were also not fans of the choice, particularly the unrealistic pace of Dana's diagnosis, decline and death.
50. Prior to the episode in which Dana died, fans believed her death was a solution to Erin Daniels' desire to exit the show — but in a post-episode mini-doc about the breast cancer plotline, we learned Daniels had no plans or desire to leave. We were… very mad.
51. "The L Word" was one of the most popular worlds in multiplayer online game "Second Life," too — Showtime put actual resources into developing its presence there, even getting sponsors like Altoids on board.
52. When Jennifer Beals got pregnant, it didn't make sense to write it into Bette's story, so instead Bette got super into meditation and Buddhism and its figure-concealing kaftans. In some pre-meditation-garb Season Three shots, you can still kinda tell that she's pregnant:

53. Ilene Chaiken hired many iconic indie film directors, many of whom had no television experience, to direct episodes of The L Word, including Lisa Chodenko (High Art, The Kids are All Right), Jamie Babbitt (But I'm a Cheerleader, Itty Bitty Titty Committee), Burr Steers (Igby Goes Down), Mary Harron (I Shot Andy Warhol) and Ernest Dickersoon (Juice). Angela Robinson (D.E.B.S., Professor Marsden and the Wonder Women) was, at various times, a co-producer, writer and director.
54. The SheBar/Planet drama from Season Five was plucked from the True West Hollywood Story of GirlBar, which was run by a lesbian couple (introduced in a 1992 Los Angeles Times article as "Robin Gans and her lover Sandy Sachs") who had a reputation for dyke drama but also ran/run a wildly successful lesbian nightlife empire and co-founded the Dinah Shore Weekend with Club Skirts owner Mariah Hansen, but that partnership dissolved in 2006. Robin and Sandy eventually broke up too.
55. Women-only Turkish Oil Wrestling had been a thing in Brooklyn and Queens for years before The L Word heard about it and decided to include Lesbian Oil Wrestling in their show. The sport was also popular amongst gay men (FYI, this link also incorrectly claims that lesbians stole it from gay men).
56. The Nikki Stevens character was allegedly inspired by Lindsay Lohan.
57. Jenny Schecter's nemesis Stacey Merkin's "little magazine Curve" put L Word stars on its covers over a dozen times while the show was airing.
58. Another rare Los Angeles filming location was Yamashiro, a gorgeous Japanese palace facsimile in the Hollywood Hills where Lez Girls hosted its wrap party at the end of Season Five. I went there for an event last year and died promptly on the spot when I realized where we were!
59. Several regular recurring characters besides Leisha Hailey were played by actors who were out while The L Word was on the air: Jane Lynch (Joyce Wyshnia), Alexandra Hedison (Dylan), Guinevere Turner (Gabby Deveaux), Sandra Bernhard (Charlotte), Heather Matarazzo (Stacey Merkin), Tammy Lynn Michaels (Lacy), Daniel Sea (Max) and Kristanna Loken (Paige). Ali Liebert of Bomb Girls also played a small role with one line.
60. Kelly McGillis (Top Gun), who played a closeted Colonel in Season Five of The L Word, came out about a month after The L Word went off the air.
61. Patricia Velasquez, who played the actress who played the Marina character in Lez Girls in Season Five, came out as a lesbian herself in 2015. Velasquez had secretly dated Sandra Bernhard, the cause of her initial lesbian awakening, in the early/mid '90s.
62. Holland Taylor, who played Helena's delightful mother Peggy Peabody, also came out officially in 2015, when she began dating Sarah Paulson.
63. Clementine Ford, who played Molly, appeared on the cover of 2009 DIVA magazine in a "coming out" interview that Ford immediately claimed did not actually happen, although she soon thereafter told The Advocate that she was gay, but wanted there not to be "this big emphasis on it." She has since dated both men and women.
64. Elizabeth Keener, who played Dawn Denbo, "stepped out" with her rumored girlfriend in the summer of 2008, shortly after wrapping up her tenure on The L Word.
65. Ilene Chaiken and her team did not write Season Six with knowledge of Jenny's killer in mind. They don't know who killed Jenny. This is a terrible way to tell a story, but FINE SURE OK.
66. However, the L Word Spinoff that never got picked up, "The Farm," saw Alice landing herself in prison, seemingly for the alleged murder of Jenny Schecter.
67. Due to music licensing deals that were arranged prior to the onset of streaming services, viewers of The L Word on Netflix have been robbed of many of the show's most iconic musical moments, including 113 ending with Damien Rice's "The Blower's Daughter" and episode 104 concluding with Lucinda Williams' "Right in Time." Queer as Folk has gotten similarly lamentable musical treatment. For this reason, I STRONGLY recommend picking up the DVD set if you're planning a pre-reboot marathon. The L Word killed it with its musical selections and the show just isn't the same without them.
68. The L Word Fandom birthed Autostraddle dot com.
69. Regardless of the lead writer for any given episode, Jenny Schecter's writing was always written by Ilene Chaiken herself.