Holland Taylor, an actress best known to the lesbian community as either Peggy Peabody in The L Word, Mrs. Petrie in D.E.B.S or Professor Stromwell in Legally Blonde, appeared on WYNC's "Death, Sex and Money" podcast last week. In her interview with podcast host Anna Sale, Holland Taylor revealed that as she enters her eighth decade of life on this earth, she's become increasingly interested in developing deeper and more meaningful relationships, including romantic ones. For example, the romantic relationship she is in right now WITH A WOMAN:
But now, at 72, Holland says that without that period of breakdown, she wouldn't have been able to get where she is today—in her first-ever deeply committed relationship. "It's the most wonderful extraordinary thing that could have ever possibly happened in my life," she says. Holland didn't want to discuss her partner's identity in detail, nor did she want to turn her own sexuality into a political conversation ("I haven't come out because I am out," she says, adding, "I live out."). But she did share that she's with a younger woman—and that they've started to talk about marriage. "Given my generation it would not be something that would automatically occur to me," Holland says, adding, "But as a symbol, as a pledge, as a plighting one's troth, it would be a wonderful thing to do."
ETA: Although Taylor declined to reveal the identity of her girlfriend, it has since been confirmed that the lucky lady is, indeed, out actress Sarah Paulson.
My reaction to this news can best be described as "shock" followed by "elation" followed by "shocked elation."
Taylor is an enormously prolific actress who has been working in theater, film and television since the 1960's. She got her start in theater, and in 1983 was declared by New York Magazine theatre critic John Simon as "one of the few utterly graceful, attractive, elegant and technically accomplished actresses in our theatre." In 2013, she was nominated for a Best Actress Tony for her starring role in the solo show Ann, which she also wrote, about Texas governor Ann Richards.
More recently she's become a household name for her role in the terrible television show Two and a Half Men, and other memorable recurring roles include parts in The Powers That Be, Bosom Buddies and The Practice. Movie roles include Spy Kids 2, Baby Mama,The Truman Show, One Fine Day, Legally Blonde, To Die For and George of the Jungle.
In the podcast, Taylor says she's always been a bit of a loner who thrived while working and felt lost when work was slow. She spoke about always financially supporting herself, and how horrified she felt many decades ago when her then-boyfriend suggested getting married — she never wanted to marry, having seen that particular arrangement work out so poorly for her own mother, whose husband was an alcoholic. "I knew I wanted to be very free agent, and travel, and not really be beholden to anyone," she tells Sale.
She explains that now, at this stage in her life, she finally feels prepared to give a relationship the care it deserves, and that she finds the experience exciting, both emotionally and intellectually. Sale asks Taylor if she's enticed by marriage, which is when Taylor reveals that her current relationship is with a woman, as an entry point to discussing the fact that same-sex marriage is a new concept for her generation. However, she tells Sale that if she were to get married, she would do so privately. She says that although most of her relationships have been with women, but she's hesitated to speak about it because she's "not political."
Furthermore, it seems safe to say that her girlfriend got her a bunch of roses on Valentine's Day:
By day-the shortcomings of the phone are glaring. The blood velvet, the lushness, well– I can't tell you.
Smitten. pic.twitter.com/Z0PmQPN1p0

— Holland Taylor (@HollandTaylor) February 15, 2015
Holland Taylor is currently appearing Off-Broadway in "Ripcord." She's also been spending a lot of time engaging in hijinks with aforementioned Sarah Paulson, if her twitter feed is any indication…
In conclusion: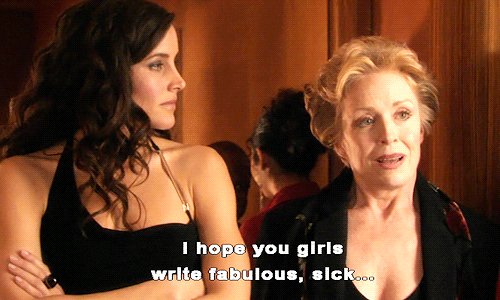 ---
ETA:
When captions fail… pic.twitter.com/b6ECRSA6D3

— Holland Taylor (@HollandTaylor) November 17, 2015