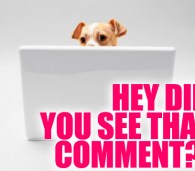 Oh my god. Lesbians love the dramz. You guys are cray cray.
This week Crystal reviewed 20 albums IN HAIKU. I think this inspired everyone because there was much poetry happening elsewhere after this. Riese made us all cry with her article about Adam Lambert and Krista from Effing Dykes made us laugh and then feel really weird about ever having sex again.
AND THEN we revealed Miss December: Romi from The Real L Word who has also accomplished MANY OTHER THINGS.
I'm going to refrain from commenting except to say that sometimes it is hard to put your opinion out in a public forum, especially when you're not sure how your opinion will be received. Sometimes it's hard to defend your opinion because you're not really sure how to articulate what you feel so strongly about; sometimes it feels like people are attacking you because they strongly disagree. Having your argument attacked and being personally attacked are two very different things — if you state your opinion be prepared for dissenting ones that take your words and refute them. This is not a personal attack.
I think we can learn a lot from listening to each other. No one here knows everything, so let's take the opportunities we have to expand our knowledge in a safe space. Don't be afraid of having your mind changed.
At Autostraddle we encourage debate because we know that not everyone is the same. I think many of us know what it feels like to be teased and made fun of and be attacked for seemingly no reason at all. There are ways to be critical without being mean. Take care with the language you use when talking to other people because words really do matter. If you don't believe me, just think of the last time someone said something to you that hurt. Does it still sting?
Ps. All of the Calendar Girls are beautiful.
---
On Top 18 Anti-Gay Groups Listed, Obsessed With Nazis, Resent Being Called "Hate Groups":
The Gay Agenda Award (So Complex and Thought Out) to Lou:
They are totally right though-not 10 minutes ago I made an obscene phone call to a child whilst I goose stepped around the apartment, and as soon I ended the phone call I got back to planning my Nazi military coup of the government here, pausing occasionally to salute a photo of Hitler. My plan (likes all of our plans obvs) when im in power is to adopt a load of children, turn them gay, bring in gay marriage and then THE SKY WILL FALL! *insert evil laugh here, etc*
Seriously though, ultra religious types, you are becoming ever more ridiculous with every passing day, what is wrong with some people!
On 20 Black Friday Gift Deals You Can Get Without Getting Off Your Ass:
The Mom! Make Me A Sandwich Award to Vikki, TLC DEMON: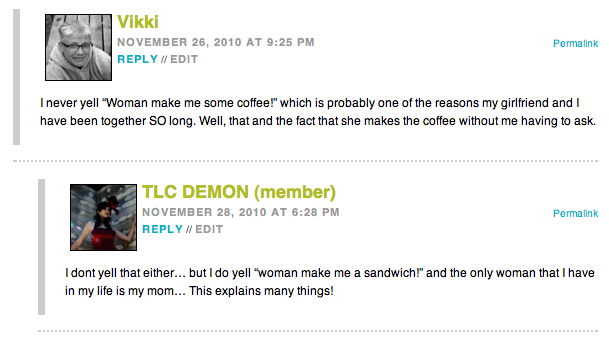 On Every Silver Lining Has A Touch of Gay:
The Return of the Harry Potter Award Award to middlemuse, amythicalcurse, smartypants:

On 20 Album Reviews. 300 Words. Includes Girl Talk, Cee-Lo, T-Swift, Nicki Minaj, etc.:
The Autostradde: Filling the Holes in Your Life Since 2008 to Roxy2:
This makes the fact that

I am now out of string cheese

A bearable truth
On Heterosexual Supremacist Thinks Lesbians in the Military Just Haven't Met the Right Corrective Rapist:
The Focusing on the Important Parts of the Article Award to Megan:
43% of gays have 500+ partners??? I am SO. FAR. BEHIND.
(That's what everyone's freaking out about in this otherwise balanced, well-researched, unoffensive, and completely not at all scary in its portrayal of rape as our natural state article, right?)
On Minecraft Review: Down the Rabbit Hole and Back Again, Kind of:
The New Award for Referencing The Hitchhikers Guide to the Galaxy to wallow14:
"Eddies," said Ford, "in the space-time continuum."
"Ah," nodded Arthur, "is he. Is he."
On Effing Dykes Presents: What Lies Beneath (Her Fingernails):
The Raining Rhinestones Award to the people in the picture:

The Because We Care About Our Celebrities Award to wallow14, Sally:

The Land Before Time Award to wasteunit:
That reminds me of the time I met this lady in a bar and we went back to my place to fuck. She seemed kinda weird, but we were both drunk, so whatevs. Anyway, a few days passed, and my vagtastic voyage was feeling kinda funny. I went to the gyno and found out that there was a dinosaur inside me. True story.
On Listling Without Commentary: Actual Answers to DADT Survey Questions, Out of Context:
The OMGWTFLOLBBQ Award to C, countrysongs:

The Aaaand There's the Mean Girls Quote Award to lola k:
"So then, for my birthday party, which was an all-girls barbeque, I was like, "Janis, I can't invite you, because I think you're lesbian." I mean I couldn't have a lesbian at my barbeque. There were gonna be girls there *eating grilled meat*. I mean, right? She was a LESBIAN."
On Autostraddle Calendar Girls: Romi is Miss December:
The Dead Poets Society Award to e:
so everyone's a little huffy
and we're mad and our faces are puffy

and we all think different ways

and of course thats okay

but lets remember the important things, Buffy.
girls who like girls are real hot

because we know that we have a shot

so lets all hide our knives

and return to our lives

of loving each other a lot
The Dead Poets Society II Award to pyrrhic:
My goodness. Such an uproar over butts -

though such a butt, alas, is rarely seen –

these queers have really gone a little nuts,

while Romi (bless her soul) remains serene.
The hubbub springs from sources we cannot

account for – "jerky friends" and other ghosts

in the machine. However, one cheap shot

ought not derail the discourse of our posts.
By this I mean that we should redirect

our focus to the proffered assets here;

it seems a shame to have the comments wrecked

while we poor cluds might such a sight revere.
So long as gays can type or sites refresh,

so long let Romi bare her flawless flesh.
The I FUCKING LOVE SUPPORTIVE PARENTS AWARD to Ann Stemmer:
Romi, you look beautiful, strong, and sexy! I am proud of your shoot and believe you are a perfect choice for Miss December. I am proud of you for standing strong in all your choices, good or bad Romi…All we have in life is to recognize our ability to choose our steps, change our mistakes and be the change we want in our life. You have always danced to your own drummer and I am proud of you for always standing up for your choices and never allowing yourself to be a victim. You are more than this calendar, more than your work, and more than one episode on The Real L Word. You are a wonderful daughter, sister and hard working, dedicated young lesbian woman. All of your identity is not in your sexuality, it is in all of who you are. I love you!!!!! Your mom.
On This is a Post About Gay Grammy Nominees, Lesbian Movie Scenes, Johnny Depp, Neil Young:
The So What If I'm a Little Self-Indulgent Award to SomethingClever:
Holy shit when did Neville Longbottom get hot?
Yes, I am commenting on the six words in this post about Harry Potter and not anything else. Ok, really I'm just trying to squeeze some more Potter in here for Emily.