GRAMMYS:
It's Grammy time! I know, right? Like who really cares. Whatever. The good news is that Taylor Swift wasn't nominated for anything. I'm guessing it's 'cause she didn't release anything new this year, probably  because she was too busy writing that song about the sunshine-eyed boy who broke her honky-tonk pick-up heart in the backyard of her fennel farm, inspiring her to cry a river all over her guitar and subsequently get into a yacht and ride, Noah's-Ark-Style, into the sunset/sunrise/duskdawn early twilightflash of her virginal youth where she was forced to swap out her damp guitar because she got pneumonia from all the walking/standing/dreaming in the rain and ruined her guitar and then she wrote a song on a napkin and it floated all the way down the river Moses-style and the Pharaoh anointed her with a burning bush which she said she'd really rather save for marriage. And then she was named Entertainer of the Year by Entertainment Weekly: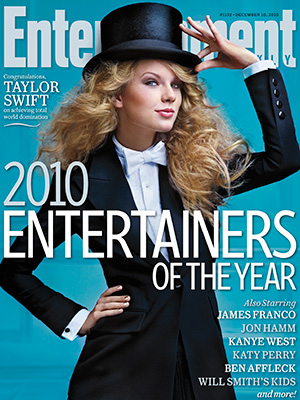 However some other people we like were included:
Anyhow! Back to the Grammys! I'm going to focus here on the bisexuals, homosexuals, and otherwise-identified queer persons. Because this post is horribly behind the news cycle and we need a hook.
Adam Lambert was surprised to see he was nominated for Best Male Pop Vocal Performance for "Whaddya Want From Me."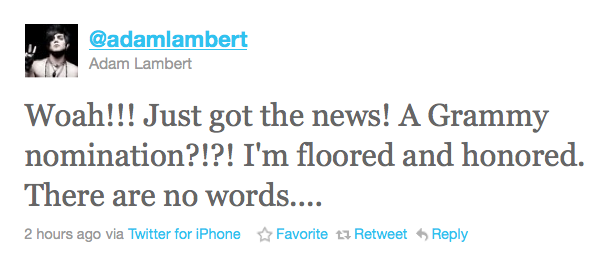 Adam Lambert will compete against the King of Pop, Michael Jackson, who, in addition to being the King of Pop, is also dead. Dead people almost always win, because people panic that just because they're dead, they won't release another album, and they will have missed their golden opportunity to give a Grammy to a dead person.
Lady Gaga was nominated for Best Female Pop Vocal Performance, Best Pop Collaboration With Vocals (for Telephone with Beyoncé), Album of the Year and Best Pop Vocal Album. For Best Pop Vocal Album, Lady Gaga will actually literally be competing with Justin Bieber, John Mayer, Katy Perry and… wait for it… SUSAN BOYLE. What is this world we're living in.
Best Dance Performance is def the strongest category, featuring Goldfrapp, La Roux, Lady Gaga, Rihanna and Robyn. Janelle Monáe's ArchAndroid will compete for Best Contemporary R&B Album. Margaret Cho is up for Best Comedy Album along with Kathy Griffin. Green Day's American Idiot and K-Chen/Sean Hayes' Promises, Promises will compete for Best Musical Show Album.
And Florence & the Machine will duke it out against Biebs and Jimmy-in-the-Wheelchair for Best New Artist. I actually thought Justin Bieber had been around for a while, he's new? Really? Is that why he's such a big deal?
Basically most of these awards are going to go to Neil Young. Here's a video of Neil Young from 1971:
For a more in-depth look at the Best New Age Album category, check The Awl.
STRAIGHT PEOPLE WRITING ABOUT GAY PEOPLE:
Apparently someone at ABC has access to information regarding the Top Five Most Famous Lesbian Scenes. They picked Mullholland Drive, Wild Things, Bound, D.E.B.S and Cruel Intentions. Cruel Intentions? Really? Also, how many of these scenes involve actual lesbian characters? You know we're in trouble when straight girls are winning awards for the most famous lesbian scenes.
In other "random lists made by major news organizations" news, Entertainment Weekly is debating the relative homosexuality of Johnny Depp's characters.
HARRY POTTER:
The cast, then and now.