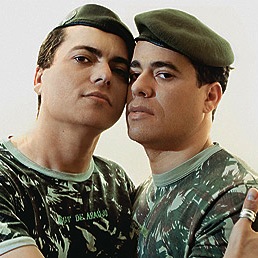 In a rant published in The Daily Caller, Joe Rehyansky, a former District Attorney and member of the US Army, advocated for what amounts to corrective rape for lesbians in the military. You see, John Rehyansky is bored. Not only is he bored with his inability to remember the men he showered with in Vietnam because he wasn't planning to sleep with them, he's bored with "20 years of political blather about gays in the military." That isn't going to stop him from publishing though, because he's solved everything: "Lesbians should be allowed to serve, gay men […] should not."
His logic goes like this: gay men are turned on by the sight of other men and that is super gross — have you seen the Internet? So, gay men should not be allowed in the military.
With the gay men out of the way, then, the remaining straight dudes would have a shot at converting all the lesbians.
Here are only a few of the exciting, ground-breaking, nausea-inducing statements Rehyansky makes:
On sex: "Men by nature are more promiscuous than women."
On gender essentialism: "It fell to men to swing through the trees and scour the caves in search of as many women as possible to subdue and impregnate — a tough job but someone had to do it."
On consent: "How our ancient foremothers ever managed to establish any choice in the matter is utterly beyond me when one considers that they did not have access to Mace, police whistles, Lady Smith .38s, or domestic violence hotlines."
On girl-on-girl: "Lesbians do not face the same pressures as straight women to "put out" for men. They therefore tend to develop long-term, monogamous, stable, and even permanent relationships."
On gay men and legitimate science: "The unrefuted 1978 study by Bell and Weinberg indicated that 43% of gays had sex with 500 or more partners, and 28% had 1,000 or more partners."
On AIDS: "Gays spread disease at a rate out of all proportion to their numbers in our population and should be excluded from the military."
On demographics: "The percentage of gays in our male population is between 1% and 6%. […]The percentage of lesbians is estimated to be between 0.5% and 3%." His excuse for the results of the Kinsey study that suggested 10% of the population was gay? "Most able-bodied American male heterosexuals were elsewhere, serving [in WWII]."
On careers for lesbians: "It is an open secret that they do well in the [military], especially in medical and administrative specialties."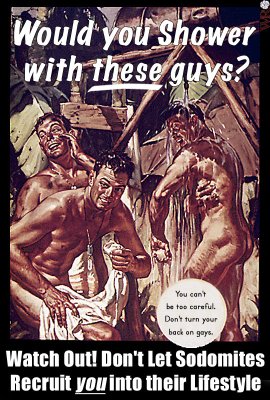 He concludes with a shower scene, suggesting that since men are turned on by "visual stimuli," straight men should be "spared the indignity" of showering with gay men, just in case. But rather than leaving it at straightforward homophobia, Rehyansky suggests that if the Constitution guarantees access to abortions, it should "prevent unwilling heterosexual men from providing beefcake parades without their informed consent."
Consent is a particularly interesting word choice, all things considered. According to Amanda Hess on TBD, The Daily Caller removed the article shortly after publication, and then republished it without the final paragraph, which read:
"My solution would get the distaff part of our homosexual population off our collective 'Broke Back,' thus giving straight male GIs a fair shot at converting lesbians and bringing them into the mainstream."
As Hess notes, he actually said this.
What Rehyansky's "argument" does, then, is take basically every idea anyone's ever had about f*ucking lesbians straight whether or not they want it (answer: they don't), combine that with a few comments about how gay men are disease-ridden and can't control themselves while all lesbians have happy (but tragically penis-less) relationships and, as women, excel at administrative tasks, and pour the results into a grammatical wormhole with a homophobia meter set on blast. I am not sure why he wrote this. I am not sure why The Daily Caller published it. I can only assume they are planning to launch a campaign to have "conservative" and "asshole" appear as synonyms in the thesaurus. In any case, the result is laughably offensive.