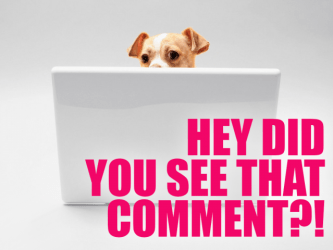 Hey, Dreamweavers! You miss Carrie, don't you. Me TOO! Her shoes must be full of holes because they are impossible to fill. But The Comment Awards must go on because ya'll are just too good to ignore.
This week everyone talked about my favorite subject of all time – awesome Halloween costumes. Ellen Page was a ninja turtle! And we have actual, visual proof that Stef and Crystal are, in fact, two separate humans who dressed as the twins from The Shining. Red Rum.
Everyone lost their minds over the new queer horoscopes column, and rightly so. It's my new favorite thing now that Halloween is over. Melissa Langley wants you to take a hike, literally. Riese talked about a study that pretty much answered all the dreams/prayers you'll ever have ever. And Carolyn talked about sex, a lot.
We learned about Sean Desiree making music AND furniture. We were hopeful about the situation in Houston. And then our hopes were dashed.
Who else but Laneia could write about clitoris festivals and puffins in the same article?! And who else but Heather Hogan could make us laugh as we cry through the SADness.
Also sweaters! And Comments:
---
On Friday Open Thread: IT'S HALLOWEEN:
The Harry Potter Reference Award to Alecia: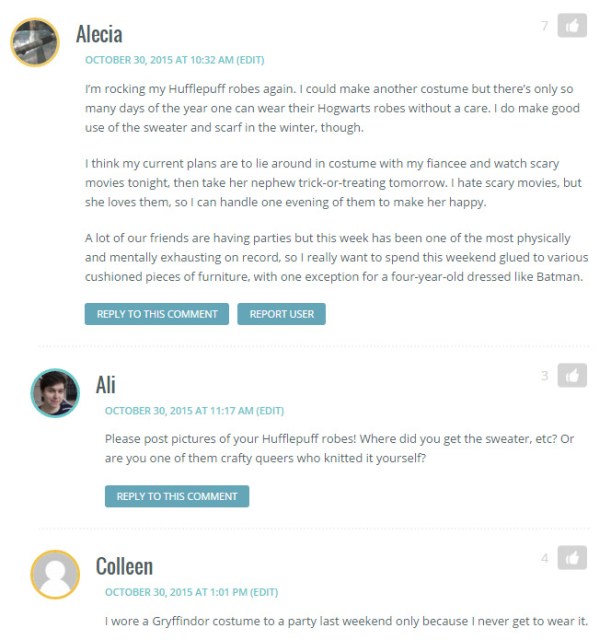 The Kids These Days Award to Colleen:
On Y'all Need Help #3: Maybe You Just Don't Like Bars:
The Whip It Award to megan:

On Also.Also.Also: Where Genderqueerness Meets Feminism and Other Stories:
The Livin' the Dream Award to Alice:

On Helping You Help Yourself #16:
The YEAH You Area Award to Kelty Dennis:

On Satellite of Love: Queer Horoscopes for November 2015:
The Mercury Is Definitely NOT In Retrograde Award to Raye:

On Introducing Autostraddle Plus Cobalt Level: Support Us For Under $3/Month!:
The If Only Award to caseythecanadianlesbrarian:
On 10 Potential L Word / Empire Crossover Plots That Would Definitely Blow Up The Chart(s):
The Alice Pieszecki Award for Excellence to queer girl:
---
See a clever, hilarious or thought provoking comment around this website-ship? Email it to me at: bren [at] autostraddle [dot] com!