Welcome back to GET OUT THERE, a brand-spankin'-new miniseries in which you and I (and all your friends) are gonna explore the heck out of the places we live. (And then put a bunch of collectable downloadable stamps into a tiny book to prove it all actually happened.) We're gonna find new places to eat, drink, be merry, escape, and breathe fresh air — together.
---
My Last Two Weeks
Choosing which natural site in Austin was hard! There are SO MANY! But I decided to go with a local classic: Mount Bonnell. When I was attending university in Austin back in the day, I had always heard that this romantic overlook above Lake Austin was the perfect place to steal a smooch from your favorite gal pal.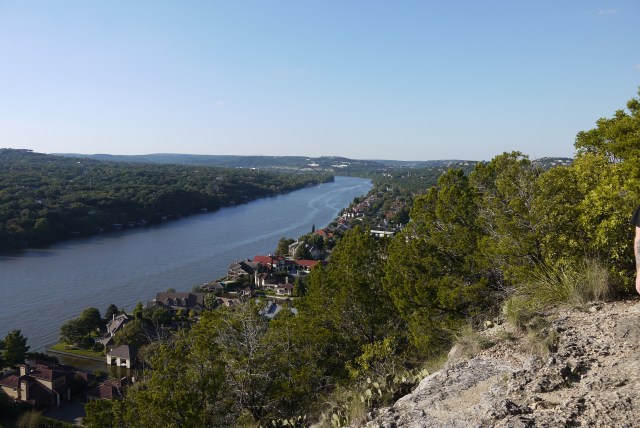 It's super dreamy up there among the limestone and cacti. But the absolute coolest thing about heading out to Mount Bonnell for this challenge was learning the history. It's one of the highest points in Austin and it's also a dedicated historic site! My first challenge and I was already getting a two for one! Apparently people in the 1850s were like, "let's picnic and chill" and the area became so famous that songs were written about it!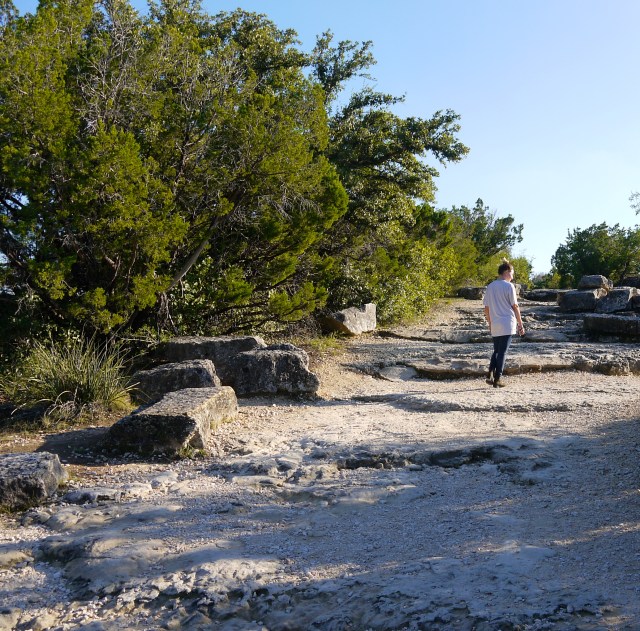 But Mount Bonnell is not without a violent past. Earlier settlers of Austin soon discovered that their fav relaxation station was smack dab in the middle of a Native American trail. Tales of abduction and death rifle this place which is evident in another Mount Bonnell monikor, Antoinette's leap. The story goes Antoinette jumped from the rocky cliffs to escape pursuing natives who had already murdered her boyfriend.
But I think my favorite part of exploring this little piece of history was noticing all the other tourists around me. Their sense of awe and wonder at the beautiful landscape of the Texas Hill Country made me very proud to call this place my home. When they've returned to their respective cities, I still get to chill in this one. That's pretty cool.
My second challenge took me to a historic site. I decided to check out the Texas State Capitol building which is in the center of downtown. Completed in 1888, this is the 6th tallest capitol building in the U.S., which makes it taller than our nation's capitol in D.C. I guess everything really is bigger in Texas.
Texas state politics happen here — which is a really big deal for me since I'm a woman. My state has been notoriously hard on women's rights. Just as recent as last month, Texas cut off medicaid funding to Planned Parenthood. This news could make even the most optimistic feminist feel slightly biased toward the government in Texas. However, I just want to point out that on these very capitol grounds, thousands of supporters came out during Senator Wendy Davis's 12 hour filibuster against an anti-abortion bill back in 2013. Hashtags like #StandWithWendy and #SupportTXWomen were tweeted by celebs and President Obama — there's no denying that our government gets media attention, which I think makes this place pretty special.
And no matter what you feel about Texas politics, you can't help but notice the beauty of the Texas State Capitol grounds. We may be divided on social issues, but the love of this state runs in Texans' blood. It might be because we are the only state in the U.S. that also used to be its own country. Texas pride, y'all
---
Social Media Spotlight
These are just some of the amazing 'straddlers who #GotOutThere over the last two weeks and put up dreamy photos afterward. Let's give 'em a moment to be truly appreciated. Good job, adventurers!
---
How to Participate
GET OUT THERE. Go see your city! Do the thing! Feel free to adventure solo, form a rag-tag group of adventurers, or even host meet-ups around the challenges and get 'em done in a group! However you wanna see your homespace is up to you. People living in extremely rural places might want to cast an even wider net and include neighboring cities and towns. So many options!
Post pictures and updates from your adventures on Instagram with the hashtag #GotOutThere and tag @autostraddle and @lezbackpack. Users who share their stories on social with us could be featured in posts and every one of y'all will earn bragging rights in the process. (You'll notice the hashtag is a little different from the title of this very series — just roll with it! We're excited for your posts to show how you actually went and did things, how you seriously got out there and saw new places and faces.)
Download, print, and collect our custom passport stamps for each challenge in a DIY passport in order to cherish your memories and remind yourself how badass you are.
That's it! Easy peasy lemon squeezy.
I'm doing the challenges in the order listed below, but you can do them in whatever order you want. Feel free to follow my lead so that you can get tips and inspiration every two weeks, or plot out your own course like the brave soul you are and go for it on your own terms. There's also a Choose Your Own Adventure stamp for those of y'all who wanna think up a different way to see the sights in town!
The Challenges
10/22 – 11/5: Visit a Historic Site, Explore Local Nature
11/5 – 11/19: Take Local Transit, Try Local Cuisine
11/19 – 12/3: Connect and Explore with Someone Else on Social Media Using Our Hashtag, Go To a Sporting Event
12/3 – 12/17: Find a Queer Space, Visit Local Coffee Shops (and pick a fave!)
12/17 – 12/31: Go To a Museum, Attend a Free Event
CHOOSE-YOUR-OWN ADVENTURE: Go way off the beaten path and take on a challenge I haven't even thought of – find a vegan joint, check out all the ice cream shops in town, shop at local thrift stores. Whatever you dream up!
Resources for This Week's Challenges