As we're seeing often in Follow Your Arrow, making a living from your passions is rarely easy, and for artists and musicians the journey towards successfully selling something so personal can be especially challenging.
In this interview, musician Sean Desiree — who alone makes up all parts of the indie band bell's roar — explains how they juggle being a musician by day with running a furniture-making business by night, how they learned to deal with rejection, and what's it's like being a queer person of colour in an industry and genre dominated by straight white men.
On a personal note, I first saw bell's roar at Gay Bi Gay Gay in Austin earlier this year and was blown away. Sean's music is powerful and moving and has this amazing resonance that stays with you, deep in your bones and blood, long after the song ends. I fully recommend hitting the play button below as you read through this interview!
[soundcloud url="https://api.soundcloud.com/tracks/154770563″ params="color=ff5500&auto_play=false&hide_related=false&show_comments=true&show_user=true&show_reposts=false" width="100%" height='166′ iframe="true" /]
Age 32, Albany, NY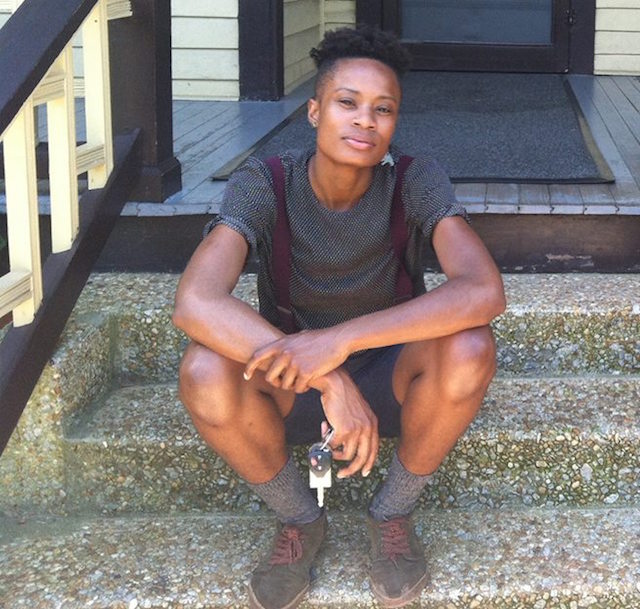 Hi Sean! Can you describe what you do? What's your mission? Who do you serve?
I make up the band bell's roar. I'm the guitarist, bassist, drummer, producer, and vocalist.  I guess you can say it's a freelance music project. Along with that I'm a furniture maker and the owner of South End Pallet Works.
The source of the name, bell's roar comes from black feminist writer bell hooks. I wanted the name to reference something I stand for. Roar represents the fight/push back against white supremacy and speaking my truth. The purpose is self-expression and being a voice in the movement for social justice. By choosing to pursue music, I'm adding QPOC visibility to a predominately white indie rock world.
Trying to simultaneously work a 9-5 and be available for opportunities that come along with music is difficult. I started making furniture about two years ago as a way to support myself and free myself up to tour. I mainly make coffee, dining and conference tables out of pallet wood. I list them on Etsy and ship them to my customers.
How would you describe your approach to business? Are you super smart and professional, a big planner, are you just totally winging it? What personal qualities inform your approach?
Music has made my tolerance for rejection extremely high. Because of it I'm not afraid to ask the question, whether it's about booking me or writing about me. Sure it stings sometimes, but in order to give myself the opportunity I have to push through it. I deserve to be here and be doing what I love. I get hyper focused and can often neglect other things I have to do, like eating or going to the bathroom, etc. You know: the essentials.  Having a partner (Alisa) and kid (Aurora) helps me to keep focused on what's most important.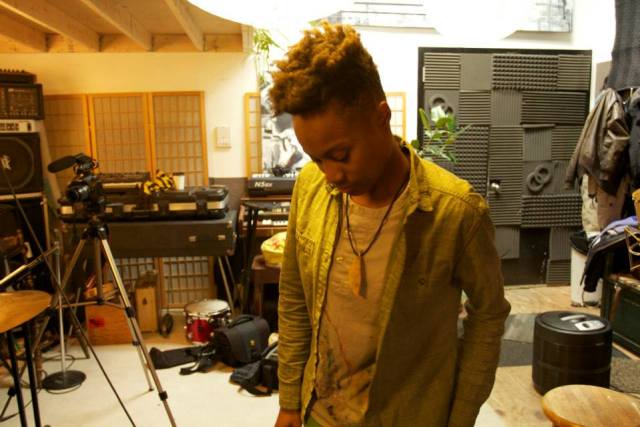 What does a typical day look like for you? Do you have a routine? What kind of things do you actually do? How many hours a week do you spend working on your business? What is your workspace like?
8am: Bring Aurora and Alisa to school
9-11am: Book shows, make a press prelease or any other music management related tasks
11-1pm: Record music and rehearse
2pm: Talk to neighbors
3-6pm: Pick up Aurora from school, help with homework and hangout with family.
6:30: Search for pallet wood behind plumbing store, supermarkets & through craigslist ads
7:30-10:30pm: Go to wood shop to work on an order or experiment and make something new.
Because I have two projects, I spend about 60 hours a week working in some capacity. My music space is setup at home with just a computer, interface, guitar, bass guitar, and mic.  I use the woodshop at a maker space, called Tech Valley Center of Gravity in Troy, NY.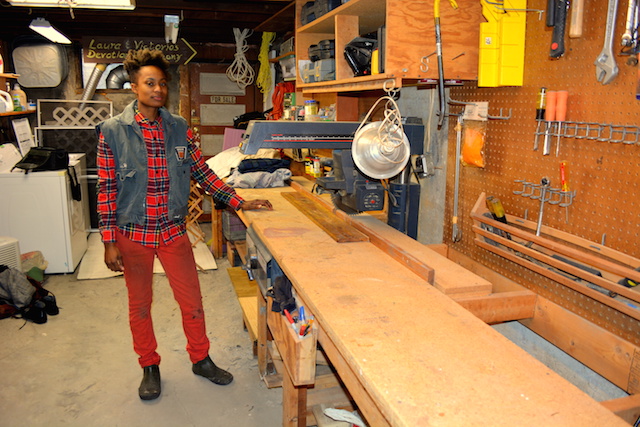 When did you know that this was what you wanted to do? And what were your early goals, your first steps?
I was drawn to music at an early age, seeing my mother sing in the political rock/soul band New Voices of Freedom. Having a supportive mother was a privilege because she helped me get my first instruments and lessons. My early steps were to keep experimenting with music and coming up with sounds that resonated with my aesthetic. Within that time I taught myself how to record and produce independently. I didn't want to rely on anyone to be able to complete my vision.
Once my debut EP starting coming together I found it more and more difficult to try to play shows and work. I quit my job at the NYS Tax Department and was unsure of how to support my family and myself. That's when table making came to me. I tried it and it was like a gift that came out of nowhere. Art is one of those things you have to give all of yourself to in order to build a career out of it.
Why do you do this? What makes you spring out of bed in the morning? What's the best thing about the work you do? 
We all have interests and passions within us. I just love the creativity involved in making music and now furniture. I'm excited to hear what will come out and I get to really listen to myself. Working with my creative pursuits heals trauma and builds community unlike anything else I've done.
And the worst?
The rejection from promoters, festivals and writers can be discouraging at times, but I know it is part of the process. Also, when I perform sometimes I feel quite vulnerable and nervous.
What are the key challenges you face in your work? What are your tactics for overcoming these?
Getting press to pay attention and finding promoters/venues that will book you. They are flooded with bands and standing out poses a challenge. I have to consider if people are homophobic, transphobic, racist, etc as well. I try my best to find communities that can identify with me. Also, not getting discouraged by my own self-doubt. Sometimes I question if I'm good enough or am I crazy for wanting to pursue music. Being your own worst enemy is real.
How do you approach time management?
By making lists and sometimes coming up with a schedule for the day.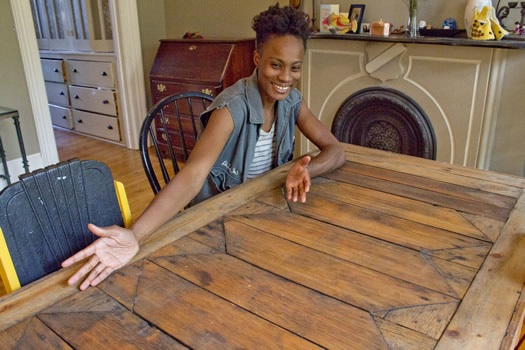 Where would you like to see yourself in five, ten years' time?
5 years – Not being stressed about money is a big goal. I want to support my family and myself without constantly worrying. I hope the risk of committing to what I love pays off.
10 years – Being able to support and give back to the community. I want to open a recording studio that allows musicians to record for free and youth to learn about the process. I will donate my performances and money to grassroots organizations that support women, LGBTQGNC and people of color communities. I see so many ways the musicians who have "made it" can give back, but they seem to fall short. I hope to be doing all that I can.
How do you market your business?
By playing shows, sending press releases and some social media. For this upcoming album I'm going to work with a PR agent for the first time. I hope it helps. For South End Pallet Works I use local media and Etsy and word of mouth.
What's the most valuable tool in your kit?
Voice and chop saw.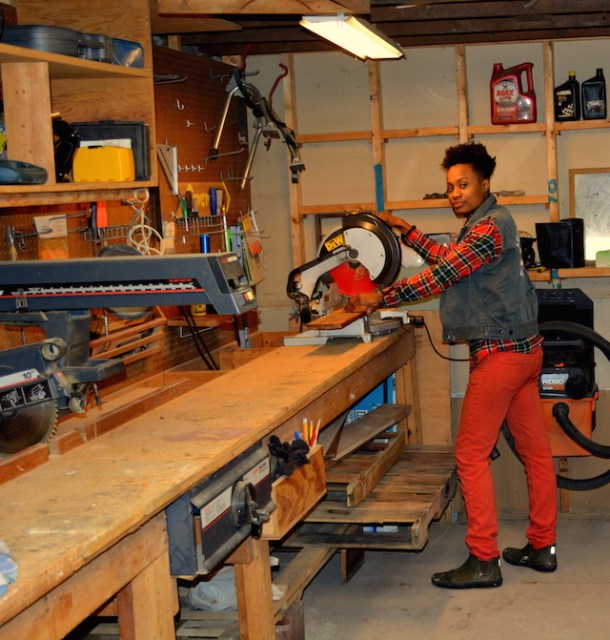 How does being LGBTQ impact your business (if at all)? Do you mention it, make a big deal out of it, hide it, not really think about it…?
It's a big part of my identity within music. I seek to perform in spaces that support LGBTQGNC people. I find it important to connect with my community through my music.  I just had a show on the tour I just finished that was mainly a cis, white audience. During the performance I felt quite emotional because it didn't feel as if people understood, or could relate to, the things I speak about in my music, such as gender identity and the Black Lives Matter movement. I immediately left and cried in my car. That show reminded me why being surrounded by my community is extremely important to me.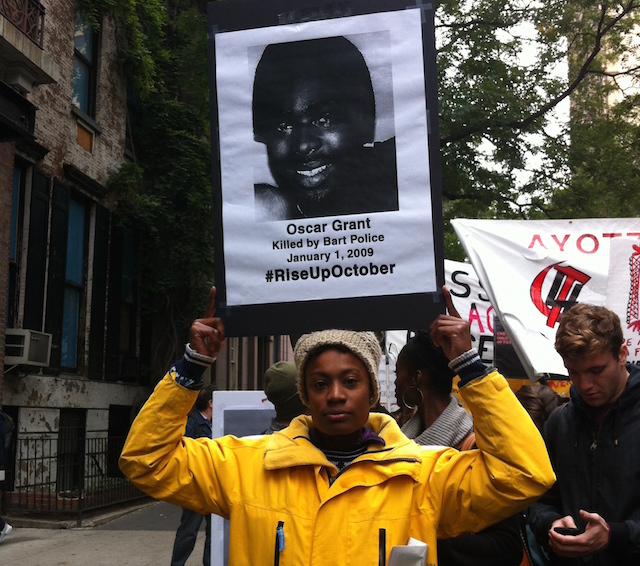 What three websites, blogs, books or people do you rate for business advice or ideas about musicianship?
I read the blog posts that Sonicbids puts out that give tips to musicians and I find it helpful.
I read the bios of artists I appreciate to learn how they established a successful music career.
I constantly bug my partner for advice on flyers, music and everything really. Because it's a solo project I don't have anyone to bounce ideas off of most of the time. For that I am really grateful she tolerates my questions and is honest in her critique.
What's your hot tip for queer women who want to start their own business?
Starting a business is scary and, contrary to the oversimplified narrative that anyone can do it, it has a lot to do with privilege. Our world is not setup to support people's individual dreams as means for survival. If you're able to balance supporting yourself and fully committing to your idea, go for it. If you can't do it fully, take small steps and try to make the time for yourself amongst all of your responsibilities. Starting a business comes with sacrifices like initial loss of income or moving from an expensive city, etc, but sacrifice is worth it for your happiness.
---
You can find out more about bell's roar on Facebook, or check out South End Pallet Works on Etsy!