feature image via shutterstock
Trans Student's Rights Backed by Federal Govt
+ The Office of Civil Rights has backed a transgender high school student in Illinois, saying that the school violated her Title IX rights by refusing her full access to women's bathrooms and locker rooms. The report notes that "the school had discriminated against the student and caused her a great deal of emotional pain." The ruling stands in stark contrast to the vote against Houston's nondiscrimination ordinance, HERO, which was tanked by malicious misrepresentations of "men entering women's bathrooms" aimed against trans women. The Office of Civil Rights' report demonstrates the alarming gap between the legal understanding of trans people's rights at a federal level and that of the electorate, which has shown itself to be extremely receptive to ideas of trans women and girls as deviant predators. The Washington Post has a reaction from the unnamed trans student about how this report contradicts those harmful depictions to a degree.
"This decision makes me extremely happy — because of what it means for me, personally, and for countless others," she said. "The district's policy stigmatized me, often making me feel like I was not a 'normal person.' "
The Office of Civil Rights has given the Illinois school district 30 days to "negotiate an agreement" regarding the student's access to facilities or else pay $6 million in fines. It will be important to watch how this statement impacts the rest of the country. For instance, right now Wisconsin legislators are working to pass legislation (which they drafted with the help of a conservative Christian group) aimed specifically at prohibiting trans students from using the bathrooms and locker rooms consistent with their true gender. At the same time, the efficacy of transmisogynistic scare tactics in Houston has many worried about whether that will encourage lawmakers elsewhere to rely on them even more heavily than they already do. It's not clear exactly what the legislative outcomes will be for trans people in the next few months, but it is clear that we all need to stay engaged as citizens and voters to combat dangerous, bigoted legislation and support the protections that vulnerable trans citizens need.
Police/Prison/Violence
+ Daniel Holtzclaw is a former Oklahoma City police officer who stands accused of raping at least 13 black women via abusing his authority as a cop. Holtzclaw would target "poor, vulnerable black women with checkered pasts… telling them they would either have to suffer his sexual abuse or risk jail time." His trial is beginning soon, and so far signs don't look good; the jury comprises eight men and four women, all of them white. Holtzclaw's lawyer has said that his defense will focus on the reputations and "street smarts" of Holtzclaw's victims, and the fact that Holtzclaw is an an "all-American good guy." The defense strategy's clear implication that black women are untrustworthy and unworthy of protection and that Holtzclaw, a white cop, is fundamentally good and worthy of support is especially chilling when one considers the all-white jury, drawn from a population who has proven themselves already predisposed to believe those ideas. Holtzclaw's trial is expected to continue through November.
+ Darrius Stewart was killed by white police officer Connor Schilling in Memphis in July after he was the passenger in a car that was stopped for a routine headlight violation, and a warrant for his arrest was discovered. Schilling claims that when he moved to arrest Stewart, Stewart attacked him. Schilling has been cleared of any wrongdoing by a grand jury, and says he isn't worried about an investigation from the federal government into his actions.
+ The officers who killed Kajieme Powell in 2014 will face no charges, as the Circuit Attorney's office has decided they faced a "reasonable" threat that he was a mortal danger to them.
Said Mildred Powell, the dead man's grandmother: "There's so many cases that's like Kajieme where guys have gotten killed. They said they were afraid for their lives. Are they just afraid of black people, is that it? I don't understand … ."
+ A few days after BLM protesters organized an action at her appearance at Clark Atlanta University, Hillary Clinton met with the mothers of boys who have been killed by police violence, including Samaria Rice, Tamir Rice's mother, and Sybrina Fulton, Trayvon Martin's mother. According to the mothers, Hillary didn't make any promises or commitments, but the meeting was "powerful."
+ Jezebel has an interview with Synthia China Blast, an incarcerated Latina trans woman who was in involuntary protective custody, effectively solitary confinement, for over 20 years.
+ Thabo Sefolosha, a basketball player for the Atlanta Hawks, will sue the NYPD for their arrest of him, which was violent enough to break his leg. Sefolosha was charged with three misdemeanors and officers claimed he was "unruly" and "charged" at them; he was offered a community service plea deal but chose to take the case to court instead, where a jury acquitted him in less than an hour. Now, Sefolosha is suing for $50 million because of the violence of his arrest.
Oh, Republicans
+ If you've watched any of the Republican debates so far, you may have noticed a recurring theme of complaining about the debates as they're happening and/or avoiding answering debate questions by complaining about the quality of the question at hand. Amazingly, candidate backlash against the debates that are one of their primary means of building a campaign has not stopped there; the GOP candidates have written a letter to every network hosting a debate to demand better questions that aren't so hard and dumb and mean. Demands include a conference call for the candidates to ask questions about the debate format "no later than a month" before the debate, no "lightning rounds," no "gotcha" questions (what are those, exactly?), candidate pre-approval of all graphics onscreen during the debate, "questions of equal quality" to each candidate, no "candidate-to-candidate questioning," no allowing members of the audience to wear political messages, and incredibly, even more. The letter also asks that the networks "pledge" that the interior temperature in the debate hall be under 67 degrees. In short, the GOP candidates are affronted by the degree to which the debates so far have been debates and not full-on commercials (of an ideal temperature) for them.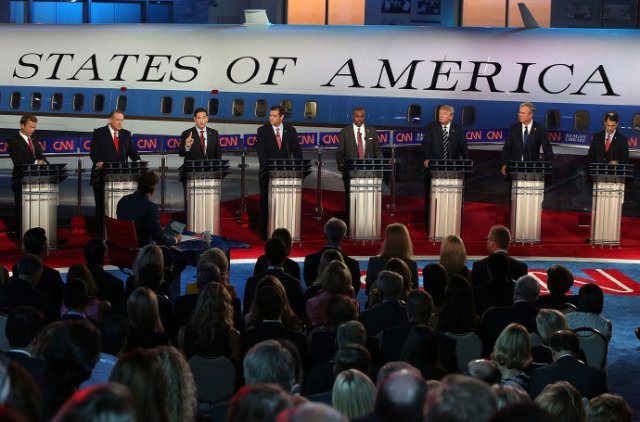 Another complaint has been that moderators of the GOP debates have not been Republican enough, a confusing assertion that seems to assume that debate moderation is a passion pursuit and not, you know, part of someone's job. Megyn Kelly of FOX News is not having it.
"Do you have any idea whether Bret Baier or Chris Wallace have ever voted in a Republican primary?"

"I have no idea," Cruz admitted chucklingly, before defending his assertion by revealing the secret that neither Kelly, nor Wallace, nor Baier could plausible be described as liberals.

"Would we have to submit our voting records to you?" Kelly shot back after noting that Cruz's proposed rule could potentially box out some Fox News anchors from moderating GOP debates.

"Megyn, it is not complicated," Cruz insisted.
Perhaps the issue of whether voting records should be a requirement to moderate debates was a gotcha question?
+ The NYT thinks Ted Cruz has a shot.
+ Jeb! has a new campaign slogan, which doesn't really seem like it will address the issues with his electability but sure, why not.
+ Donald Trump says he refuses to appear on John Oliver's Last Week Tonight, which works out well because he was never asked to.
+ Paul Ryan, new House Speaker, says that immigration reform is just not even going to be talked about while Obama is in office, because "it would be a ridiculous notion to try and work on an issue like this with a president we simply cannot trust on this issue."
+ One of the many things that happened as a result of local elections in many US states this week is that Matt Bevin will now be governor of Kentucky. He's promised to "dismantle Obamacare" and to get rid of an already-running and successful Medicaid program and health insurance exchange; he doesn't believe that climate change is a result of human action; he wants to defund Planned Parenthood, he plans to pass Right to Work legislation that would prevent unions from collecting union dues, and more. He's a real stand-up guy. Kentucky is now heavily Republican-controlled state, which means that one of the last significant Democratic presences in the South is gone.
Grab Bag
+ France and Holland will both end bands on men who have sex with men donating blood.
+ Former boxer Yusaf Mack has come out as bisexual as well as addressing an earlier controversy wherein he was filmed in a same-sex porn scene and told press he had been drugged before participating in it. Mack now says that he consented to participate in the scene, and is now going to be open about his sexual orientation.
"I'm not looking for sympathy or even understanding, I've kept this secret for a long time. It is time to move forward and this is me walking in my truth. There are other men and women that are set up in the similar situations and I just hope I can be inspiration to be just be you. The extreme taboo and harsh criticism of living a same-sex lifestyle, especially as an African- American male, makes it hard to be completely honest and comfortable within yourself. But I had to remember that I am a champ & I can fight and will fight through this. I am more than my sexual orientation. To all of my supporters I thank you dearly."
+ Justin Trudeau has revealed his cabinet for the beginning of his tenure as prime minister, and it has women in it! It will be the first time in Canada's history that its cabinet is half female.
+ Women's rights activists in Myanmar are getting death threats for talking about sexual health.
+ Seattle has declared a state of emergency regarding its homelessness crisis in order to access aid funding to address it.
A count of people experiencing homelessness in King County on one night in January 2015 found 3,772 people without any shelter, including 2,800+ in Seattle proper—which represented a 21 percent increase over 2014. There were a total of 6,275 people living in shelters and transitional housing, and Washington state reports that about 35,000 people become newly homeless in the county at some point each year. A 2013 report from the Seattle Human Services Department found that while people of color made up 33.7 percent of the population, they represented fully 72 percent of all familes (and 46 percent of all single adults) seeking emergency shelter.
+ On BLM's solidarity with Palestine and Palestinian activist Rasmea Odeh.