Hello super awesome queermo pals! Welcome to the Friday Open Thread, where we all talk about our week together and offer support, encouragement, kudos and a sympathetic ear. And since it's Halloween, that sympathetic ear might come in the form of a gruesome severed ear cookie!
Which brings me to my next point: IT'S HALLOWEEN! IT'S HALLOWEEN! YAY YAY YAY YAY YAY. Halloween is my favorite holiday — last year, I ran about town with The Illustrious Stef Schwartz while dressed as a unicorn. And this year, Halloween's on a Saturday! Holy crap, that's awesome! So what am I doing, you ask? How am I spending this Gay Christmas, the Gay Christmas that's followed by a Sunday morning and not work or school the next day? You are surely thinking that it will be a celebration to end all celebrations! That, contrary to my personality the other 364 days of the year, I will stay out all night and get breakfast at a diner the next morning still in costume. You're probably imagining I've been working on my costume since November 1st of last year, and that Abby and I have some fabulously cute couple situation like Marceline and Bubblegum or the two leads from Waiting for Godot.
In an ideal world, this would all be true. Unfortunately, I'm in my last year of my master's degree — I work here at Autostraddle, over at The Inquisitive Eater, and I'm teaching this semester. I'm taking four classes. I'm gearing up for my thesis semester, during which I'll be working on my novel… and I'm already working on that novel, so. This week my friend read me an Onion article aloud and all of a sudden I was crying, that's how stressed out and overworked I am. Didn't see those tears coming at all! I try to have some fun occasionally, but this year I am too damn busy to do Halloween in any proper way. And it's killing me.
So here's how I'm planning to combat that and still have a perfectly fun Halloween while doing all the work ever.
I Am Doing My Homework in Last Year's Unicorn Costume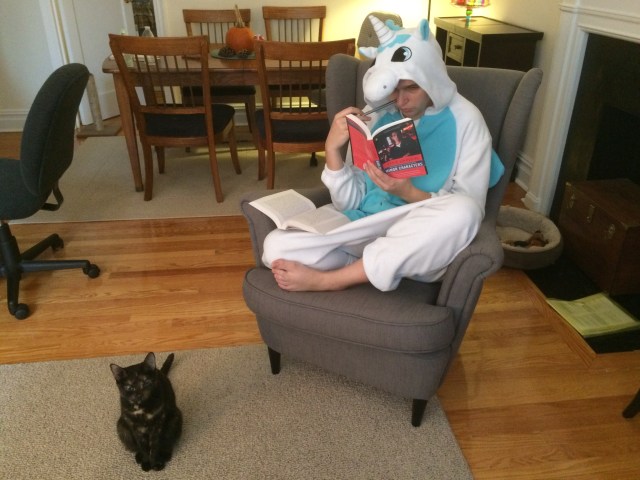 This is something I've been doing for the whole month, let's be real here. Had to read Proust this month for school; I already knew from reading a large chunk of it in French that I didn't exactly care for Swann's Way, so I put on my unicorn onesie and read Proust. It greatly improved the experience. Now I'm reading Minor Characters by Joyce Johnson, which is AWESOME and absolutely does not require that I be unicorn to enjoy it, but you know what? The homework still feels enhanced by being a unicorn. I am writing this open thread as a unicorn. I considered teaching as a unicorn this Thursday, but I have a guest speaker coming in, so I'm just not gonna do that.
---
I Will Carve a Pumpkin, Dammit
Last year, I carved Jack Skellington, the Pumpkin King.
This year, I'm not sure what I'm going to do—the pumpkin is sitting on my dining room table and I'm not sure who he will be. And I'm probably not going to get around to carving him until the Friday Open Thread is live on this here website, so I'm taking suggestions! What shall I carve into my pumpkin this year?
---
I'm Thinking of Baking Some Samhain Bread
I do not currently identify as a witch, but I feel like I get closer and closer every day. So when I stumbled upon these two recipes for Samhain bread while doing research for my other editorial job, I was like, huh. This looks interesting. Especially interesting because, while I do not identify as a witch just yet, I do identify heavily as a stress baker. So maybe, after I hit a bunch of deadlines this Friday, I'll take some time to bake some Samhain bread. Or if I can't sleep that night — generally I bake insomnia bread.
---
I Will Hand Out Candy To Small Children and Only Cry When They Cannot See Nor Hear Me
At some point in my life, I would like to place the Gringotts poem on my door, dress as a Ravenclaw, and hand out chocolate coins. I think children in the know would get a kick out of it, as would parents. And those that didn't understand it would still get chocolate coins while I amused myself. This year, I will be a sad unicorn with a bag of Hershey's candy and a wistful look upon her face. I will long for the days when we all went Trick Or Treating and when I did not have to experience holidays from underneath a two-ton mound of work.
So what about you, ghouls and bois? What are you doing for this, the best holiday of the year?
---
How To Post A Photo In The Comments:
​
1. Find a photo! This is the easy part. Find a photo on the web, right click (on a Mac, control+click), hit "Copy Image URLwp_postsand then…
​
2. Code it in to your comment! Use the following code, and use a DIRECT LINK to the image. Your image link should end in .JPG or .GIF or .PNG or .CallMeWhateverYouWant even. I don't care, but it should be an image suffix!
If you need to upload the photo you love from your computer, try using imgur. To learn more about posting photos, check out my step-by-step guide.
​
How To Post A Video In The Comments, Too:
​
1. Find a video on YouTube or Vimeo or WHATEVER and click "embed.wp_postsCopy that code, but first make sure it's for 640 px wide or less. If your player is too large, it will not display properly.
​
2. Copy the code and paste it directly into your comment.
​
3. Go forth and jam.