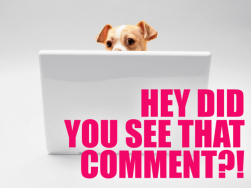 So, it's Friday! Comment Award day. Inauguration Day. What a time to be alive.
While I don't know how we crawl out of the alternate universe we've found ourselves in, I do know this: I've never been more grateful for the Autostraddle community. You all are my light. You're brave, and resilient, and funny despite everything. I'm so glad we're here together. Let's get through this day.
This week, Casey distracted us with some BDSM novels she thought we might like. Just a hunch she had.
KaeLyn had some suggestions for those of us who aren't sure about going down on our partners, and when the New York Times Style Section went full rainbow, Erin was there to tell us all about it.
Molly did some processing, Carolyn asked us how we felt about ghosting, and the team shared their stories about the Affordable Care Act.
Vita refused to apologize for her sensuality.
Carmen shared 10 smart ways to resist, on Inauguration Day and beyond.
And then there were your comments!
---
On It's Completely Legal To Think Nia Long and Idina Menzel Are A Couple In This Trailer for Lifetime's "Beacheswp_postsRemake:
The Sequel Award to amidola and Chandra:
On Steal Her Look: Eleanor Roosevelt Monocles:
The Rachel Leigh Cooking Award to Kate:
On Saturday Morning Cartoons: Mullet:
The Laziest Femme Award to Linnea:
On NSFW Sunday Endorses Ghosting:
The Holtzmann Hall of Science Award to Nadia:

On Also.Also.Also: Pregnant Dancing Lesbian and Other Stories for Your Week:
The Sliders Award to Cinnamon:
On 10 Foods From Past Presidential Inauguration Meals That Donald Trump Should Definitely Eat On Friday:
The Relativity Award to Moogsley:

On The New York Times Wants You To Come Out To Your Parents I Guess?
The End of the Rainbow Award to Chandra:
On The Autostraddle Team's Ten Most Influential Teen Albums:
The Funky Trunk Award to Chandra:

And on Also.Also.Also: A Queer Dance Protest in Mike Pence's Front Lawn and Other Stories from the Resistance:
The Same Love Award to Carmen SanDiego:

---
See a clever, hilarious or thought provoking comment around the site? E-mail me: queergirlblogs [at] gmail [dot] com.