Sometimes The New York Times gets it wrong. There's the occasional tone deaf op-ed or mishandling of racial politics, and then of course there was the time they suggested people make guacamole with peas. But the reason they've been perceived as this barometer of public truth for over 150 years is because most of the time they get it right. And sometimes they get it really right.
In a piece that came out last week entitled "How to Dress Happy This Year" the author, Hayley Phelan, suggests dressing cheerfully in order to set an intention of a positive mindset each day by adding splashes of color. Colors like red, orange, yellow, green, blue, indigo, and violet, in that order and all at once. Let's take a look:
I've got to admit, that's pretty happy! Curious if wearing something like this will have any consequences, like when I was a preteen and bought myself a pair of rainbow shoes, a pair of jeans with rainbow stripes down the sides, and a rainbow choker because I just thought they were pretty. Mostly I think people just talked in hushed whispers questioning whether or not I was happy.
If you're wondering what else people could do besides incorporating rainbow coloring into your wardrobe to give off a strictly joyous vibe, Phelan's got you.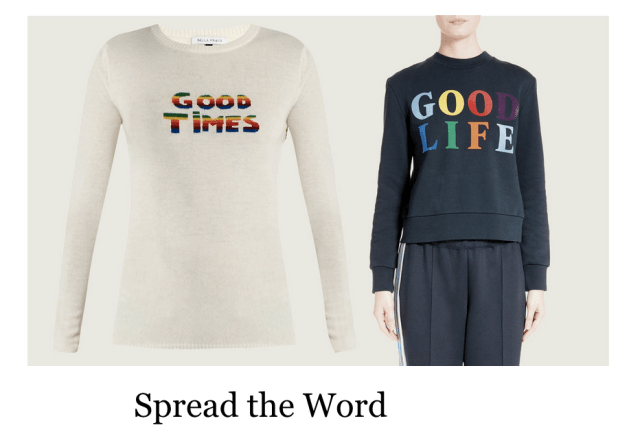 Pushing a lifestyle, nice! This is the kind of recruiting I can get behind. And I don't know about you, but this seems like exactly the kind of shirt you could wear while walking down the middle of a street while a group of like-minded people cheer you on.
What an exciting new phase in your life. Your parents are going to have so many questions! Be sure to give them time to adjust, and remember, wherever the conversation takes you, make sure you let them know that happiness is a choice we all make!