Hey y'all! Meet Megan, our official Gulf Coast correspondent, social media socialite and all-around Lousianan journo all-star. She's not really our Gulf Coast correspondent, but I did want you to envision her wind-swept in a hurricane or something, a la Anderson Cooper. She'll be contributing to Technostraddle from time to time, enlightening us with her social media wisdom and hopefully letting us know how well all the pelicans are doing. Because I'm sure they'll be doing better like any day now, right? Follow her on Twitter at @heyitsmegan.
— Taylor
---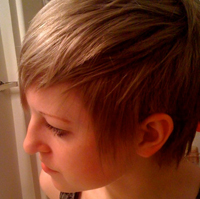 I just got back to New Orleans from the TEDxOilSpill conference in D.C. If you're unfamiliar, TED stands for "Technology, Entertainment and Design" and refers to a bi-annual event showcasing brilliant talks by amazing people. TED "x" events are organized independently, but follow the same format and guidelines that make TED talks rock, like the strictly-enforced speaker time limit (18 minutes), and their vision to promote "ideas worth spreading."
TEDxOilSpill was amazingly eye-opening, even for someone living near the gulf coast who's been following the news of the spill since day one.
We heard from scientists, oceanographers and non-profits on specific details of this disaster, so naturally the 12-hour day was a little somber, to say the least. Professional adults were in tears at some points, and rightfully so. Despite the generally devastated vibe, one voice shifted the tone of the entire room. Just like he's been subverting the official conversation about the spill on Twitter, the face behind @BPGlobalPr lightened the conference's mood (in the darkest way possible).
"Leroy Stick," the anonymous tweeter behind @BPGlobalPr, gave a talk at the conference, satirizing the spill while maintaining an air of solidarity and respect, which is naturally a delicate balance: "people can smell the bullshit and sometimes laughing at it feels better than getting angry or depressed over it."

The fake BP Twitter account started up a few weeks after the spill, and the creator and his friends never expected it would grow to these proportions. But with droves of people seeking Twitter solidarity and accountability during a disaster of this size, @BPGlobalPR went viral. Because hey, "BP Public Relations" sounded official enough to lure in people seeking the real BP account from the start: "People thought this account was for real," Stick said. The crucial, legit-seeming first tweet went live on May 19:
Almost immediately followed by:



Even after this obviously bogus follow-up, hundreds of people were RTing and accepting that this account was actually BP, which naturally pissed off the company (who has time to peruse tweets, mind you). The real BP contacted Twitter in an attempt to lay down the law. Turns out, Twitter's satire clause actually allows for this type of parody, stating that accounts such as @BPGlobalPR are totally Twitter kosher as long as the bio states that the account is fake or is unofficial.
@BPGlobalPR complied, changing their bio to read "We are not associated with Beyond Petroleum, the company that has been destroying the Gulf of Mexico for 65 days." The number updates daily to reflect how long oil has been spilling into the gulf (which is 75 as of today).
Photo by: Kris Krug (@kk)
Leroy Stick (@BPGlobalPR) chose to not reveal his identity at TEDx. He came out on stage in a mask, wig, hat and voice changer, complete with a light show and a hip hop intro. The first half of his talk was a lot like reading his (now infamous) tweets, but the second half shifted gears. He dropped the wig and voice changer, delivering a more somber message, opening with: "I'm here today because I started a Twitter account. I acknowledge that that's ridiculous."
Highlights from the talk:
– His opinions on claims he is tarnishing BP's brand: "Having a brand means you stand for something. If you lie, then lying is your brand. Your brand is over. It's dead. Quit working on that and fix the Gulf."
– This dude is clearly not accustomed to public speaking, but what do you expect from a Twitter account gone viral?
– He didn't reveal his identity. And it's much cooler that way.
– His message to the world: "The one thing you can take away is that it's a small idea from a small dude. If you think the status quo is unacceptable, don't accept it. Start something."
Aside from being invited to speak at this Gulf-themed TEDx, the anonymous figure of Leroy Stick had already raised $20,000 by June 10 by selling "BP Cares" T-shirts. @BPGlobalPR currently has over 180,000 followers and counting. The real BP account, @BP_America clocks in with a Twitter fanbase of 16,500 followers to date.