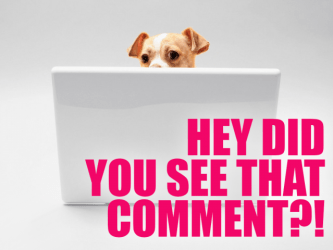 Good day, internet travelers! We're just blazing through fall, aren't we? Just yesterday I got invited to a "Pumpkin Spice Girl" themed party.  I don't even know what that means but I like the sound of it. Lucky for all of us, fall means the return of International Meetup Week from Oct 25th-Nov 3rd. Check out the post for events in your area or offer to host one yourself!
This week Hansen showed us how to make the cutest heartthrob necklace and Liz's DIYke club is the best club ever because it combines crafting and boozing. Speaking of boozing, did you hear that wine for cats is a thing now?
Also.also.also, Chelsea recapped the season 3 premiere of American Horror Story, Crystal explained the 90s brilliance that is Empire Records and Ashley continued to report on her travels across the country. Then Ali talked about sexism in the tech industry and Rachel explained how surveys using on a new polling technique are drastically impacting the results of LGBT studies.
---
On International Autostraddle Meet-Up Week Is Back And We Wanna Meet You!:
The Meetup Week In A Nutshell Award to Marika:

On Liquor On The Mountain: Taste These Whiskeys:
The We'll Drink To That Award to Ello:

On Stop Whatever You're Doing, There's A Wine For Cats Now:
The Boozehound Award to Carmen:

The Konichiwa Kitties Award to Dena:

On Dear Queer Diary: She's Making A List, Checking It Twice:
The Essence of Camp Award to Grace_B:


On OPEN THREAD: Let's Talk About How A-Camp Was Pretty Much The Best Thing Of All Time:
The We Know That Feel Award to Keely:


The Welcome To The Family Award to Ella:

The Almost A Haiku Award to Flora: 


​​
---
See a clever, hilarious or thought provoking comment around this website-ship? Email it to me at: carrie [at] autostraddle [dot] com!