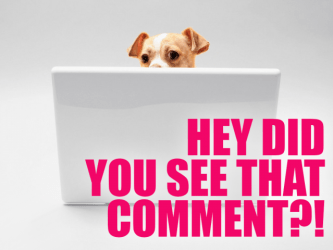 Last night my wife called me at 1:30 am to tell me she had locked her keys in the car, which is weird because to my knowledge she should have been in bed asleep like a normal human. After much confusion I learned that she was hungry and went to the grocery store to get something to eat. This morning I see that "something to eat" included a bag of frozen fish, teriyaki chicken, an entire cake of some kind with cherries on it (we both hate cherries), hot dogs and sauerkraut. So don't take Ambien, basically, is what I'm telling you.
Also we got a new cat. His name is Ceasar. He likes to sleep nested inside people's hair and gets really upset when said person wants their hair back. I'm 96% sure he's insane.
The amount of amazing on Autostraddle dot com this week is also insane. If you wanna read something/watch something with a high possibility of two or more ladies kissing each other, Rachel found 15 books with movie adaptations for you.
Dungeons and Dragons isn't just for dungeons anymore… or dragons.
After much anticipation we can finally read about the last A-Camp and get excited about the next A-Camp!
Agent Dana Scully is coming back to TV. Are you ready? I don't think you're ready. But you can get really cozy before diving in.
Everyone had lots of feelings about Dolly Parton who apparently shares a birthday with my dad.
Comic genius, Tig Notaro, adorably calls the twins she and her wife are expecting "itsy" and "bitsy."
Also puppies! And Comments:
---
On Top 10 Essential Items For Getting Cozy This Cozy Season:
The You Do You Award to OrangeCaitlin:
On Pop Culture Fix: Cara Delevingne Is Spookier Than Ever In The Bonkers New "Suicide Squad" Trailer:
The Stop The Patriarchy Award to Carmen SanDiego:
On No Filter: Did You Give Cara Delevingne This Baby?:
The SEO Award to Rocío:
On "Her Story" Delivers on the Authentic, Quality Trans Representation it Promised:
The Autocorrect Award to Mik: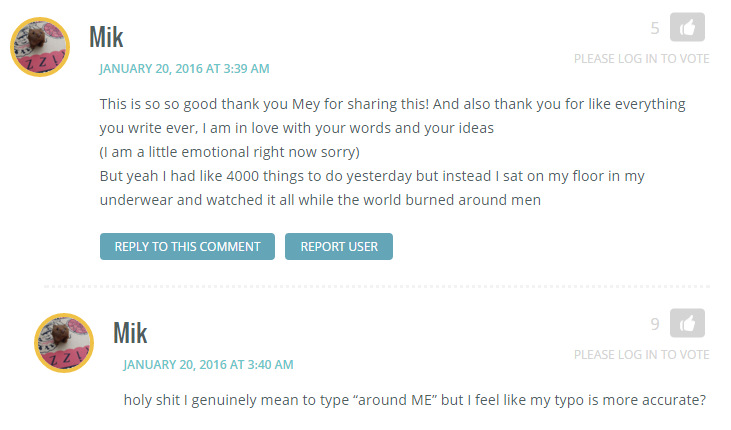 On Lesbian Lawsuit in Future for Homophobic Psychic Landlord:
The Miss Cleo Award to queer girl: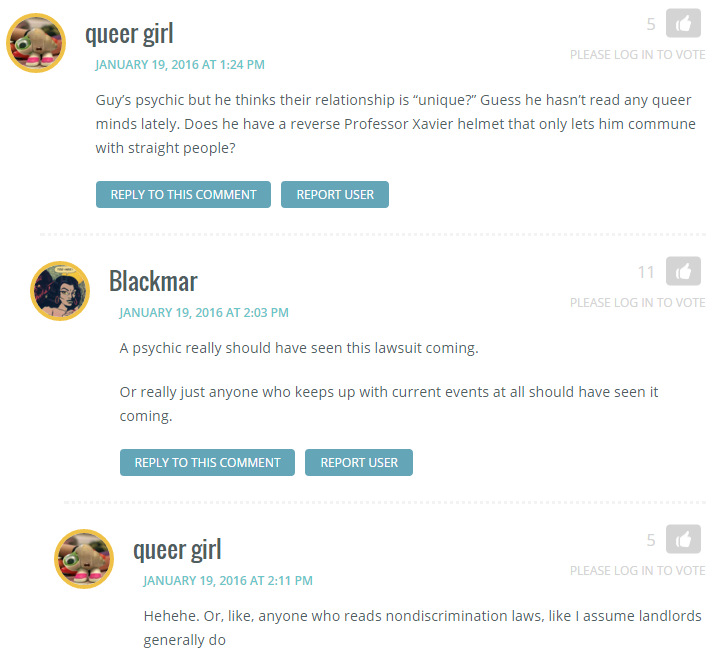 On Read a F*cking Serialized Book: "Tremontaine" is a Paradise of Queerness and Chocolate:
The Typical Friday Feelings Award to amidola:

On A-Camp 6.0 Recamps Part One: We Get By With A Little Help From Our New Friends:
The A-Camp Feelings Award to Vinzzz27:
On Tig Notaro And Her Wife Are Having Twins And Now It's Sunday Funday!:
The L Word Award to Kaitlin:

---
See a clever, hilarious or thought provoking comment around this website-ship? Email it to me at: bren [at] autostraddle [dot] com!