Our lady of skepticism, Dana Scully, played by the marvelous Gillian Anderson is returning to television and laptop screens all over the world this month.
With Fox's announcement last year about an X-Files revival, I have been impatiently waiting for what will be the first time I actually get to see Dana Scully on currently-airing television. I was about ten when the X-Files went off air, and like most ten-year-old baby queers, I was obsessed with America Ferrera in Gotta Kick it Up! ("Sí se puede!"), not whatever was coming on Fox at 8pm. Once I finally binged it (it's available on both Netflix and Amazon Prime if you need to get caught up) I fell in love with Dana Scully like every other Good American Queer. She is small, takes no nonsense, especially from men, always wears some sort of oversized pantsuit and can seriously kick ass. Scully is who I want to be when I grow up, minus the whole being-a-part-of-the-FBI thing.
It's not just Dana Scully that I'm excited about. Gillian Anderson is a gem on social media! She puts out that she loves her fans just as much as they love her, and works hard to communicate with them. The show hasn't even started yet and she's full of excitement about it on Twitter. I can't wait to see what she's like when the show is actually on.
Here are the Dana Scully/Gillian Anderson moments I'm most excited to see with this revival.
1. Scully having no patience for men
when it's been 20 years and you're still fed up of listening to men pic.twitter.com/TUCV9mFMCp

— was alexdrakes (@karenmoodys) July 11, 2015
Scully works with a man that even the most patient person on (or off) Earth would be fed up with in no time. And Dana Scully is not the most patient person. She has no time for Mulder and his belief that everything is part of a government conspiracy to cover up the existence of extraterrestrials (even though technically he's not wrong). It's so refreshing on television to see a woman who isn't afraid to show a man just how ridiculous she thinks his ideas are. "Oh, really Mulder? A chupacabra? Okay. Sure."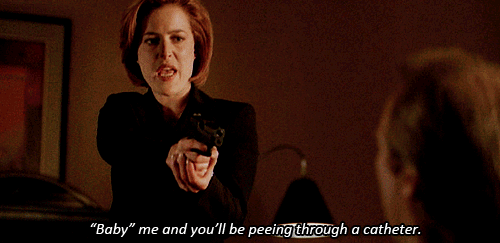 2. Scully kicking ass in high heels
#mondaymotivation #TheXFiles pic.twitter.com/vctzQc9QAf

— The X-Files (@thexfiles) January 4, 2016
Scully is such a badass, y'all. She comes into work every day with a freshly ironed pantsuit, perfect hair, flawless 90s makeup, and will still kick the shit out of you — IN HEELS! She's my #everydaymotivation.
3. Scully and Monica Reyes 4ever

I want this couple back. While they were never canon, who can forget Monica Reyes gently helping Dana Scully prepare for childbirth by singing her whale song? I've seen clips of Scully talking to Reyes in the new episodes, here's hoping their storyline revolves around them confessing their love for one another and adopting a child to raise in Georgetown.
If Scully and Reyes don't get together, I'm putting the rest of my hope into Scully and this random woman who keeps getting abducted by aliens. I mean, she's existed alongside Mulder this long, she'd probably hold her own. Gillian's no stranger to queer roles; just let us have this, Fox.
4. Scully is a medical doctor
Did you know Dana Scully is a medical doctor? Did you know she was trained in hard science? Did you? She's a medical doctor.
5. Scully rescuing Mulder
Scully is constantly saving the day. Either with medicine and hard science, or with her will to fight people who are trying to harm her friends. Especially Mulder. Scully is constantly saving Mulder's ass. I want more of that this season.
6. Classic Scully skepticism
Scully does not want to believe. She is hoping the truth is not out there. She has got real world shit to do. She doesn't want the answer to be aliens. Ever. Even after she was abducted and impregnated with an alien baby. There's gotta be some other reasoning behind it, according to Scully. She eventually comes around to it, but where would we be without her refreshing dose of skepticism? Keeps Mulder on his toes, at least.
7. Scully's glasses

Oh man, those glasses! Is there anything more serious and adorable than Scully in her glasses? Whenever she wears them, something serious is always about to happen. Glasses mean SERIOUS BUSINESS. This is one of my favorite Scully looks. I hope we get more of this look.
8. Scully can do this herself, dammit

So what if she's 5 feet tall? She wants to drive and is just as capable as any man.
---
No matter how we get to see her, I'm just excited to see Dana Scully back on the television. She's smart, beautiful and opinionated; which is everything I want in a girlfriend, and definitely everything I want in a lead of a sci-fi show. In such a guy's club, Dana holds her own and is an inspiration for all of us who deal with men who don't think we're capable enough.
If the truth is out there, Dana Scully will be there to find it, and what a gift that is to us all.