It's time, at last, for the return of The X-Files, which means I can finally share with you some fan fictions I've had bookmarked for about a hundred thousand years. The X-Files is the second most important TV show ever (after Star Trek, of course) when it comes to the genesis of online fandom. It started all the way back in 1993, when the internet was just a tiny little baby, with Usenet newsgrous, mailing lists, and fan sites like Ephemeral and Gossamer. The X-Files fans were some of the first folks to make the leap to LiveJournal in the early aughts, and also some of the first fans to begin using LiveJournal as a host for single-user fan fiction.
The X-Files also takes credit for being the fandom that actually created shipping! Even in those early days, the internet was strongly divided between NoRoMos (fans who didn't want the show to focus on the romance between Mulder and Scully) and Shippers.
It's crazy to think about this now, but in the mid-90s, Fox actually threatened to sue fansites for using images and audio clips from the show. "Foxed" is the word fansites used when they referred to having legal action taken against them. Now, of course, networks want their images and video clips everywhere, and they hire entire PR teams to make sure their chacters' faces are spread as widely as possible across every social media platform.
I love thinking and talking about fandom from 20 years ago because it also makes me think about how obsolete our way of doing fandom will look when we gaze back on it with the gift of time. For example, please enjoy this still-standing NoRoMo fan site called The NoRoMo Defense Guide. I hope I'm still alive when Tumblr looks this antiquated to us all.
---
Fan Fiction Friday: Monica Reyes and Dana Scully
Blah blah Mulder and Scully. I'm all about Monica and Scully. Here are seven reasons why.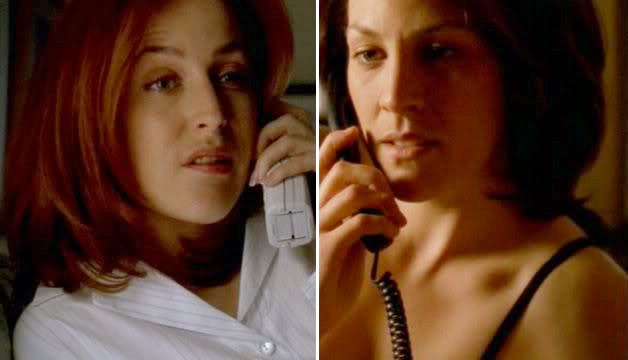 Pairing: Monica Reyes/Dana Scully
Plot: "Will a chance meeting, five years after Scully and Mulder went on the run, change anything?"
Length: 3,400 words
Pairing: Monica Reyes/Dana Scully
Plot: Scully can't fight that (lesbian) feeling anymore.
Length: 2,800 words
Pairing: Monica Reyes/Dana Scully
Plot: Rated M for Mature. A Mature Scully/Reyes Christmas, and that's all you need to know.
Length: 5,000 words
Pairing: Monica Reyes/Dana Scully
Plot: Just two girls, a hotel bar, and some red Jello.
Length: 1,000 words
Pairing: Monica Reyes/Dana Scully
Plot: Some karmic numbers lead Scully and Monica to a deeper exploration of their relationship.
Length: 3,000 words
Pairing: Monica Reyes/Dana Scully
Plot: Okay, but what if Scully HADN'T gone with Mulder at the end of the series?
Length: 7,300 words
Pairing: Dana Scully/OFC
Plot: A whole series for you, a femslash feast. This one's a classic. I think it's on everyone's list of best X-Files lesbian fic.
Length: Many, many, many words. All of them delightful.
---
Listening to the news! Again?
Fandom in the news and around the world this month.
+ Here's a fun article from The Week about how The X-Files gave birth to "obsessive fandom." It stats out skeptical, but ends up drawing a very logical line from fan culture to top-notch TV criticism.
But zealous and dogged and occasionally irrational as it may be, it's that same level of passion that created the boom in top-notch TV criticism today. Numerous early reviews of the new X-Files episodes have included sheepish disclaimers from critics who originally cut their teeth as X-Files fans, eager to analyze a show that actually seemed to reward those who took the time to scrutinize every episode. The X-Files may be an elder statesman in the TV landscape, but there's one thing you can count on: When you log on after Sunday night's episode, you'll find thousands of fans eager to pore over every frame of it.
+ George R.R. Martin is feuding with fan fiction writers again, I guess.
+ I am of the firm opinion that Dumbledore's gayness is as influential and relevant as an after-book reveal as it would have been inside the Harry Potter books (and anyway, it would have given away the entire plot of the last book if J.K. Rowling had revealed it earlier; and plus we didn't know anything about any of the professors' love lives; and plus also Harry — our narrator! — didn't even know Ron and Hermione were infatuated with each), but some people disagree. Salon has a hot take about Dumbledore and Luke Skywalker and Captain Jack Sparrow, and a little bit of commentary into how fan fiction always knew they were gay.
+ Some Star Trek fans tried to make a crowdfunded fan film. Obviously, they got sued.
+ Star Wars: A Wookie Cookie Bookie is a beautiful kind of fan fiction.
+ I never stop loving it when local newspapers write about fandom. Here's the Philly Voice asking: What Is Slash Fiction?
Well, there's different ways of answering that question. Why do women fans write slash fiction that focuses on same-sex relationships? The answer I've gotten from authors I've spoken to, the most interesting response I've gotten is that writing slash fiction is a chance for women to author male sexuality. They enjoy the creative experience of authoring male sexuality. And fan fiction, generally, there are a lot of men who write fan fiction, but I think most indications we have is it's mostly women writing a lot of fan fiction. It seems to appeal to female fans in particular.
+ Entertainment Weekly hosted a fan fiction competition earlier this month. It went about as well as you would have expected if you actually knew anything about fandom and how hard they work not to be derided and exploited.
---
I'll be back next month with some answers to your TV questions and a really exciting interview with someone who works on your favorite web series. Have a very Scully weekend, my friends!