Welcome back to No Filter, the column that best shows off what an intellectually stimulating life I lead. I spend all week lurking your favorite celebrities and choosing their best Instagram posts for this column, but what about the famous people who don't have Instagram? What about the Kristen Stewarts of the world, who probably take the most amazing bathroom selfies and never even bother to share them with their adoring (greedy) public? Evan Rachel Wood, when will you get an Instagram?
Anyway I thought we could stand to take a look at this slightly dated portrait of what Holland Taylor was looking at when the clock struck midnight a few weeks ago:
Happy New Year! pic.twitter.com/aQ86w3DcQK

— Holland Taylor (@HollandTaylor) January 1, 2016
Sarah Paulson, I like your style. Anyway, let's get down to brass tacks and talk about Samira Wiley.
---
Mission accomplished.
---

Ellen and Portia acquired a dog, and he looks like he'd be best buddies with Patter Page.
---

This is what your girlfriend Lena Waithe looked like when she hopped into the limo to pick you up for the Critics Choice Awards.
---
https://www.instagram.com/p/BAqCAIUsZRa/
Ruby Rose is on a boat. There she is.
---
https://www.instagram.com/p/BAY63slK6RV/
I thought maybe we could talk about Brittani Nichols' hair situation.
---

Or maybe we could talk about Laura Jane Grace being cute as a goddamn button.
---

Remember last week, when St. Vincent was incredibly broken up about the death of David Bowie and Cara Delevingne was posting the sweetest messages to cheer her up? Looks like it worked. Also, they found this baby. Is anybody missing a baby?
---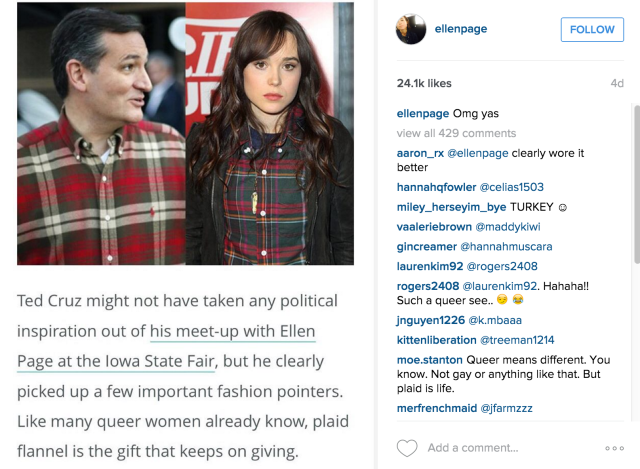 We close obviously with the most important thing that's ever happened to social media, Ellen Page's appreciation of our Presidential Candidates Who Dress Like Lesbians article. Moe Stanton would like for you to know that there is nothing gay about wearing flannel, or reading a queer women's website, or being Ellen Page.
---
Join us next week, when Ellen Page posts a screenshot of THIS SENTENCE and this whole thing gets even more meta.