As you may have read today on Slate.com, Hillary Clinton Isn't A Lesbian — But She Dresses Like One. The article is already a massive "hit" on the social media networks, just as I suspect Slate imagined it would be, with hordes of Lesbians and People Who Dress Like One sharing passionate opinions about the article's various sentences and paragraphs. Unfortunately, this article fails to make the larger, more important point about the relationship between presidential candidates and lesbian fashion: they all dress like lesbians. Why? Because lesbians are powerful and love to win… but rarely do.
As the great Jeb Bush probably never said out loud, but probably would if he thought it could improve his poll numbers, "Nobody wants to defund the male gaze more than I do."
12 Current and Former Presidential Candidates Who Want to Dress Like Lesbians
Thank you to my dearest pal Heather Hogan for making these beautiful graphics for us.
1. Rick Santorum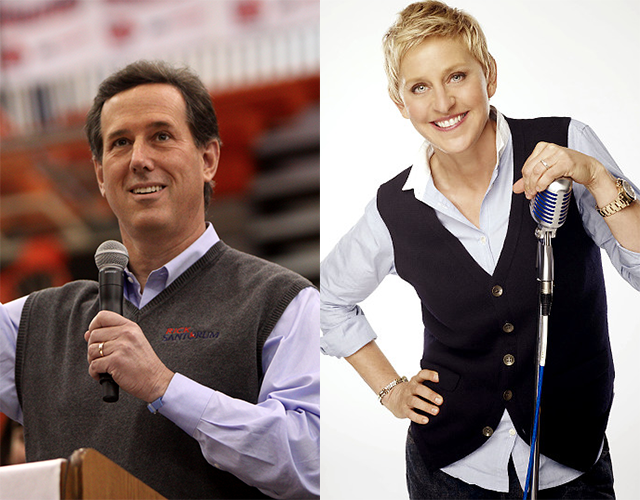 Sure, Rick Santorum may actively campaign against Ellen's rights as a lesbian and as a female person entitled to make her own decisions about her body parts — but there's one thing both of these public figures aren't afraid to endorse loud and clear: sweater vests.
2. Bernie Sanders
Bernie Sanders has big plans for spreading the green around — starting with copping Cara Delevingne's love of pea green jacket situations. It's only a matter of time 'til these two souls will surely rendez-vous at Pea Soup Anderson's, a charming restaurant located off Interstate 5 in California. "Your jacket matches the soup," Cara will say in her cheeky British accent. "So does yours," Bernie will respond, chuckling softly to himself.
3. Ben Carson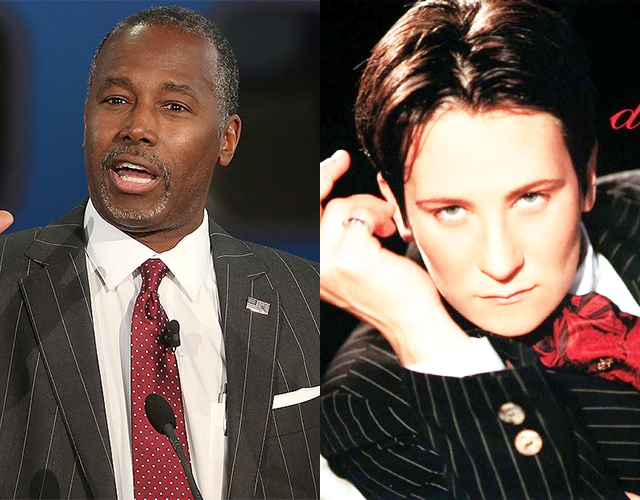 The connection Ben Carson feels with KD Lang probably began in 1992, a big year for both of these style icons: Ben Carson released his first book,"Think Big: Unleashing Your Potential for Excellence," and KD Lang released her ground-breaking album, Ingenue. To be honest, I prefer the album.
4.  Donald Trump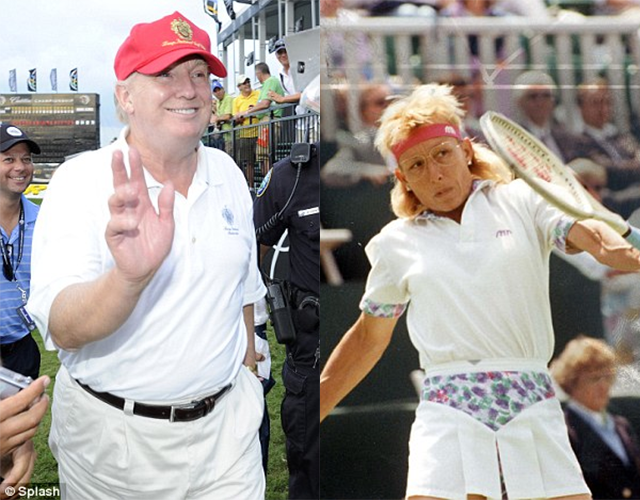 Trump may be a fan of Martina Navratilova's style, if not the fact that she was born in Czechoslovakia but now dares to live in Florida. What would a meeting of the fashion minds look like for these two? Well, I think we can agree on one thing: Martina Navratilova should probably whack Donald Trump over the head with a heavy object.
5. Ted Cruz
Ted Cruz might not have taken any political inspiration out of his meet-up with Ellen Page at the Iowa State Fair, but he clearly picked up a few important fashion pointers. Like many queer women already know, plaid flannel is the gift that keeps on giving.
6. Rand Paul
It's a universally established fact that the best way to fix your reputation as an unenthusiastic television presence is FASHION.
7. Marco Rubio
Did you hear the one about how Marco Rubio hit a kid in the face with a football in Iowa? Well, it's true, which's why anybody with children in Iowa should fear Marco Rubio. Did you hear the one about how Abby Wambach hit a goal in the face with a soccer ball? Me too, it was awesome.
8. Carly Fiorina
You've never seen Carly looking so lovely as she did tonight
You've never seen her shine so bright
and also so wrong about abortion, education, the affordable care act, and the minimum wage
You've never seen so many men and women ask Amber Heard if she wanted to dance,
they're looking for a little romance, but don't have half a chance! (b/c she's married to Johnny Depp)
And you never have seen those dresses they're wearing, except on each other one time, you have been blind!
The lady in red, is dancing with me,
cheek to cheek.
There's nobody here, 'cept the GOP
It's where you'd hate to be,
But you hardly know this beauty by my side,
You'll never forget the way she looked last night.
9. John Kasich
I think I had a polo like this once. I probably got it from GapKids. I loved GapKids. My Mom worked there for a while when I was in middle school, so we got a discount which was pretty rad. I worked there too, in 1999. It was 1999! Anything felt possible!
10. Michelle Bachmann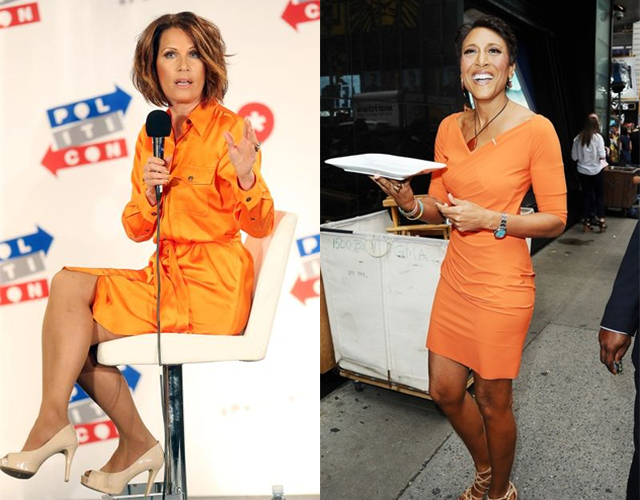 Bachmann may not be running for president this year, but that won't stop her from running to the runway, inspired by her #1 fashion icon, morning show host Robin Roberts. Despite not having any experience in politics, though, I think we can all agree that Robin Roberts would make a much better president than Michelle Bachmann.
11. Mike Huckabee

Mike Huckabee is just like you and me: an ordinary American who doesn't want to lose his sunglasses, or run out of pockets for fishing tackle. Jane Lynch is also like you and me: she finds women sexually appealing and enjoys having relationships with them. One thing is for sure: Jane Lynch is taller than Mike Huckabee, and probably has cooler things in her pockets.
12. Sarah Palin
I'm sorry, we had to.