It's the time of year in the Northern hemisphere when all we want to do is curl up with a blanket and a good book — or camp out on the couch with a movie. OR BOTH. Especially if you're getting caught in the major snowstorm headed to the East Coast of the U.S. this weekend, you'll have plenty of time to really dig in without leaving your house (because e-books). For your reading pleasure, here are 15 books either featuring lesbian/bi relationships or at least lesbian or bi characters that you can snap up in e-book format.
---

Duh. (Although Carol isn't available for home viewing yet for most of us, and you may need to brave a movie theater if you want to see it right now.) As someone who has seen Carol and is also still about 3/4 of the way through The Price of Salt — written under a pseudonym by Patricia Highsmith and the first of the popular lesbian pulp drama to end happily for its protagonists — I can confirm that both are super worthwhile.
---
Jane Rule's 1964 novel, about an English professor staying in Nevada to fulfill the legal requirements for divorce who begins a relationship with a young bisexual casino worker, became Desert Hearts, a movie loosely based on it and containing a pretty steamy love scene. It has a woman director, Donna Deitch, and was the first film to portray a same-sex relationship that ended well for both women in it.
---

A literary classic for lots of reasons, The Color Purple also features a central same-sex relationships and major bisexual characters — which you didn't see quite so vividly in the movie. The star-studded film version, directed by Spielberg, features Danny Glover, Oprah Winfrey, the film debut of Whoopi Goldberg as Celie, and Margaret Avery as Shug Avery.
---

The 2008 novel deals with not just coming out but with interfaith relationships and grappling with tradition when Christian Tala and Muslim Leyla fall in love. The film version was produced by author Shamim Sarif's longtime partner, Hanan Kattan.
---

It's a tale as old as time — oyster girl meets tomboy music hall phenom, the rest is history, etc. Seriously, there's a reason so many people love Sarah Waters' historical fiction about two young women falling in love — and that the BBC adapted it for the screen. If you love lady-loving-ladies in period costumes, you're in luck.
---

Amazon calls Fingersmith "engrossing lesbian Victoriana… hypnotic suspense novel is awash with all manner of gloomy Dickensian leitmotifs." Do they have your number or what? Once again, the BBC has come through with the miniseries version to get obsessed with afterwards.
---
The Secret Diaries of Miss Anne Lister are the real-life writings of a real-life aristocrat in the 1880s who was a real-life lesbian. We've written about her before! Her diaries, which were painstakingly curated for modern consumption by Helena Whitbread, are a healthy mix of intense lesbian drama and the same super boring stuff you write about in your own diary. (If you read the Amazon reviews of the diary itself, you'll find several people who are put off by this and perhaps not all that clear on what a diary is, with complaints like  "I found the historical content interesting yet the pace was slow and didn't have a clear story line. Often very mundane tasks were included in the diary.") If you'd like to skip all that and get to something with a "clearer story line," just watch the BBC version, which is… not necessarily great, but has some steamy historical scenes.
---
8. The Hours, by Michael Cunningham
The book and the movie are both excellent enough in and of themselves, so you need not avoid or consume one to endure the other, they hold their own pleasures. Michael Cunningham is the only male author on this list, but oh! the things you will want to underline! in this book! Three women — one of them the famously depressed bisexual writer Virginia Woolf, one is a housewife in the Los Angeles suburbs in the '50s and one is a woman named Clarissa Vaughan who is having the party — tell their three stories, and they twist together in unexpected ways and it's all glorious.
---
9. Orlando, by Virginia Woolf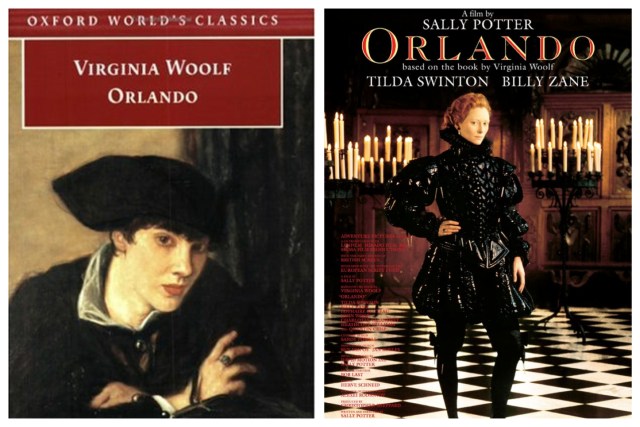 Classic text of the real-life bisexual Virginia Woolf, this will push your buttons if you're interested in identity and gender or just want to watch a movie where Tilda Swinton swans about in fancy old-timey outfits, for which no one could blame you.
---
If you somehow made it the last few years without having watched Blue is the Warmest Color, now is your opportunity to (re?)discover it. Maybe start with Julie Maroh's graphic novel for a little more context.
---

Even if Ruth and Idgie don't get to be as gay as they should be in the film version, reading the book (where they get to be together for real!) should help temper your frustration a bit. It's a really wonderful book.
---
12. Valencia, by Michelle Tea
When this movie came out in 2013, Gabby Rivera called it "the most masterful dyke-centric artsy-weirdo-stoner film I've ever seen." 20 different filmmakers shot different chapters of Valencia with all different casts, creating a sort of mosaic of the coming-of-age-and-falling-in-love story. You should probably read the book first so you have a handle on what's going on, right?
---
13. Farewell, My Queen, by Chantal Thomas and translated by Moishe Black

If you are the kind of person to look at something like Sofia Coppola's Marie Antoinette and think to yourself "seems neat, but needs lesbianism," you're in luck. In Chantal Black's historical fiction set in the French court in its very last days and the film adaptation, Marie Antoinette is totally gaga over her lady  in waiting the duchess of Polignac, Gabrielle de Polastron, and our narrator — a handmaiden named Sidonie, played by Léa Seydoux in the movie, is totally gaga over the queen. Were it not for the looming French Revolution, everything would be really adorable and perfect, basically.
---

This real-life love story of two women, one Jewish, who fell in love in 1942 Germany, won a Lambda Literary Award when it was published in 1995. Ready to spend your weekend going through an emotional wringer? This is the book/movie combo for you!
---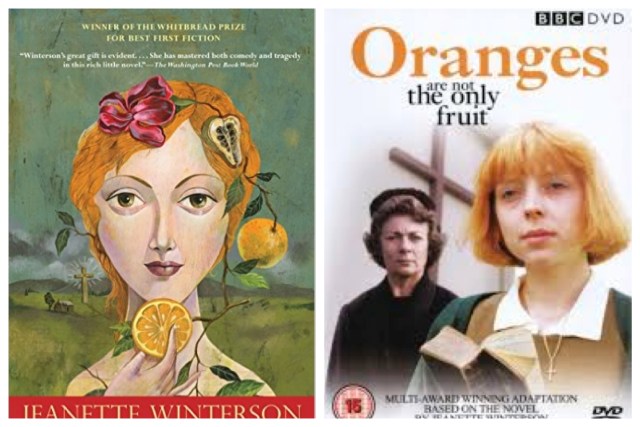 More uplifting than Well of Loneliness, Oranges Are Not the Only Fruit deals with growing up, with evangelism, and fruit as pastry ingredients as young Jeanette tries to figure out how to deal with her family's cultish religion and also being gay. Jeanette Winterson wrote the screenplay for the BBC miniseries, ensuring that none of the teen angst or fruit metaphors are lost in translation from the page to the screen.