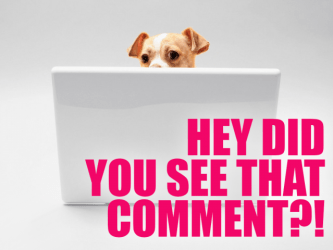 Hey there, Snowflakes!
Today I am transported back to the dark days before the invention of WiFi. I can't find a drop of internet anywhere. My home WiFi is down and after fighting with it for 2 hours, I decided to seek internet elsewhere only to discover that the entire world has been enveloped in the darkness. I have now gone to the library, a Burger King, THREE Starbucks and the parking lot of a restaurant that Shall Not Be Named. None of their internets were working either. SO! Here I sit trying to do this thing from my wife's phone. Thank goodness for wives with 4G connections. That's what she said. Right, Ladies!?
But before my internet dried up like a raisin in a fruit dehydrator there was so much to enjoy on Autostraddle dot com this week.
There's this awesome feminist book list that I'm recommending to my 8 year-old niece. Speaking of feminists…Carmen found 9 queer/feminist folks you should know about that aren't Judith Butler.
These 8 movies on Netfilx are gold. I watched Winter Wonderland all day at work yesterday. And Steven Universe is gayer than gay.
Laura looked into the science behind Star Wars while Ruby Rose threw a onesie party. Ali put some red wine in her hot chocolate, thereby changing lives for years to come. And Bette Porter ain't got nothing on Jennifer Lawrence's "slutty power lesbianwp_postslook.
Julia Nunes, A-Camp Legend, made a video of her song "Make Out." There's lots of girls kissing girls in it. Also, newly engaged Alex Vega is on drums. There's even a behind the scenes Q&A!
Molly followed rapper, artist and choreographer, Lady Cultura around for a day. There's lots of amazing pictures of it.
Also the first queeroscopes of 2016! And Comments!
---
On You Need Help: You're Getting Married, Grandma Doesn't Know:
The Reverso Award to MB:

On How To Blow Up A Planet And Other Highly Scientific "Star Wars" Theories:
The Blank Award to Alecia: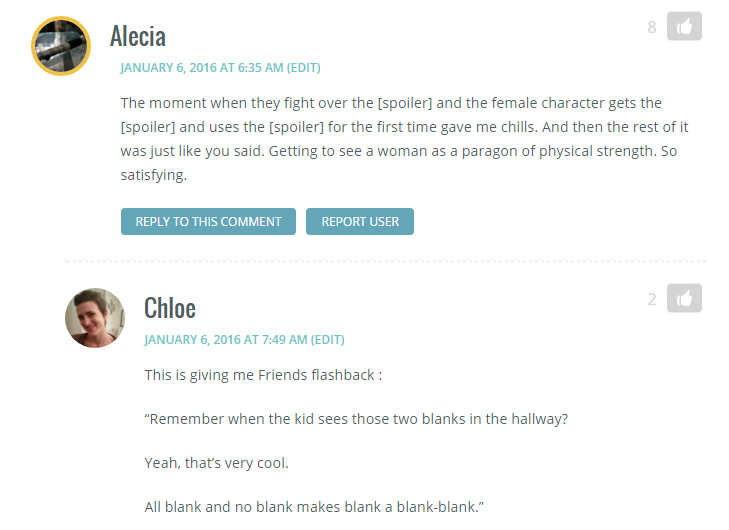 On 13 Outfit Suggestions for Jennifer Lawrence to Achieve Her Dream "Slutty Power Lesbian" Aesthetic:
The Sexy Lumberjack Award to queer girl: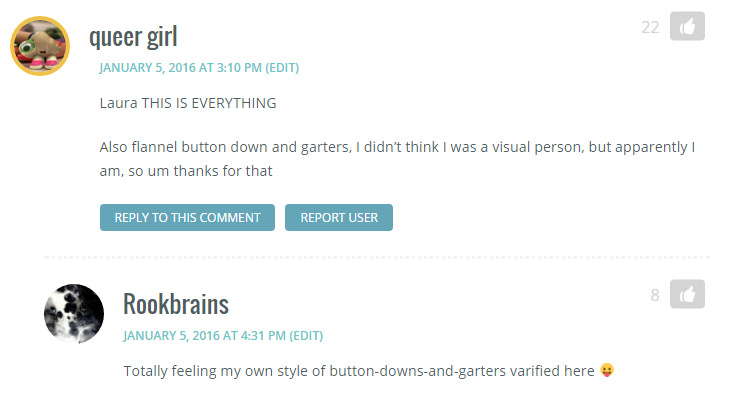 On 2015 By The Numbers: An Autostraddle Plus Exclusive:
The Search History Award to Vinzzz27:

On 6 Ways "Steven Universe" Out-Gayed Itself With "The Answer":
The Future is Bright Award to queer girl:

On 8 New Movies You Absolutely Need to Watch on Netflix in 2016:
The Watching Grass Grow Award to Ashley:
---
See a clever, hilarious or thought provoking comment around this website-ship? Email it to me at: bren [at] autostraddle [dot] com!