On Monday, Steven Universe returned from its hiatus with a week of brand new episodes on Cartoon Network. I know I'm not the only one who sat in front of her TV with baited breath; as soon as I heard the theme song, I couldn't contain my squeals. In "The Answer," Garnet, stand-in leader of the Crystal Gems, finally gave us (and Steven) her origin story — which, of course, was a fairytale romance between Ruby and Sapphire — as a present for his birthday.
There were so many sugary-sweet moments in the first episode of the #StevenBomb!; it almost felt like showrunner Rebecca Sugar added a subliminal lesbian melody, sorta like Pied Piper's tune, to lure us in and keep us blushing.  Here are six ways this already very queer show out-gayed itself.
---
6. The Music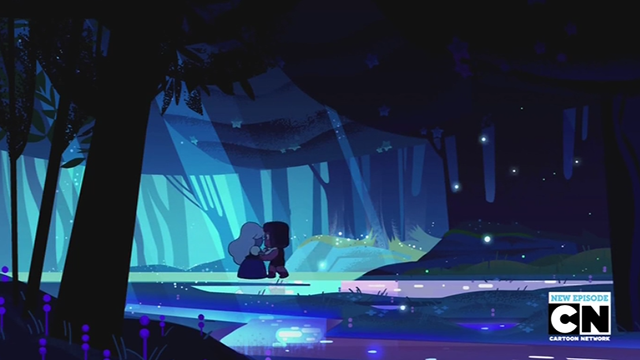 Ruby and Sapphire's first fusion was an accident! Sapphire planned to sacrifice herself to help stop the rebellion on earth, and Ruby, who had bumped into her and touched her for the first time moments earlier, refused to let that happen. Something happened when they brushed up against each other, though neither of them understood what. Ruby threw herself onto Sapphire to keep her safe and they spontaneously fused into a cotton candy-colored giant Gem.
"Something Entirely New," the enchanting song Ruby and Sapphire sang as they danced together to fuse on purpose for the first time, made us fall in love right alongside them. Ruby and Sapphire's relationship was unacceptable to society, but they chose it anyway. The music perfectly captured the innocence and confusion of their union. It's a call-and-response for most of the song:
Ruby: Oh,um.
Well, I just can't stop thinking
Sapphire: So, um.
Did you say I was different?
Ruby: And you hadn't before?
Sapphire: Of course not!
When would I have ever?
Right before they fused, they began to hum a familiar song in harmony. It's "Stronger Than You," one of Garnet's most kick-ass solo tunes.
5. Three Little Rubies
Three adorable little warriors, sworn to protect the dutiful Sapphire while she shares premonitions with Blue Diamond. Just look at them! The representation of different gender expressions (although supposedly genderless) and female forms on this show make me happy. It seems that cartoons outside of Adult Swim are gradually normalizing queer stories and relationships. Ruby Gems, it turns out, and are basically considered a dime a dozen on Homeworld. They had one job!
Our Ruby certainly felt like a cookie cutter Gem — until she tripped into the love of her life on accident. Ruby and Sapphire fusing was a big no-no according to Homeworld laws and traditions. Fusing was traditionally a way that two or more like Gems grow stronger and more powerful, so Ruby and Sapphire's union shocked onlookers. Sapphire tackled Ruby off the edge of the world and down to earth to save her life.
Ruby: Why'd you do that? I have to get you back up there!
Sapphire: They were going to break you.
Ruby: Who cares! There's tons of me!
Ruby: What kind of Ruby am I supposed to be? Look at you, stranded here. How am I going to save you?
Sapphire: You already did.
Ruby: WHAT?!
Sapphire: You already saved me.
I wonder of these three Rubies were assigned to Sapphire before all of this happened, and how the third Ruby felt during that time? From the episode, it seems that Ruby was secretly pining for Sapphire even before jumping out to protect her.
4. Ruby Has the Hots for Sapphire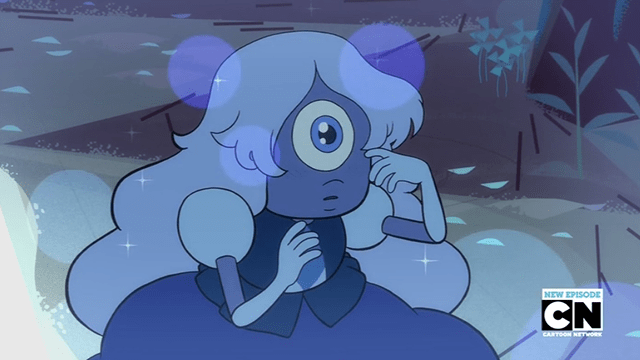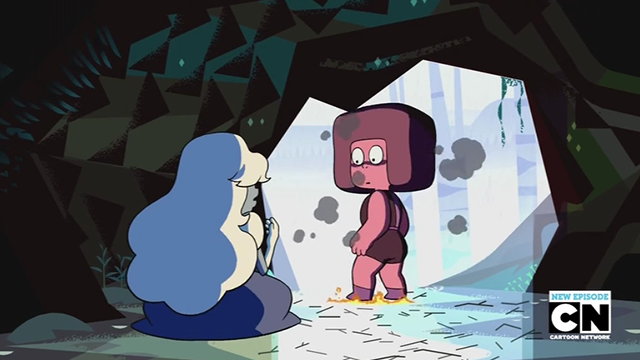 Remember when your ex girlfriend showed you that cute little tattoo in that special place and you felt your heat rise? This scene was just like that: Sapphire pulled back her hair to reveal her eye, and Ruby's feet actually lit on fire. It was like all of the love inside of Ruby burst into happy flames, a charmingly corny rom-com moment.
3. Cotton Candy Garnet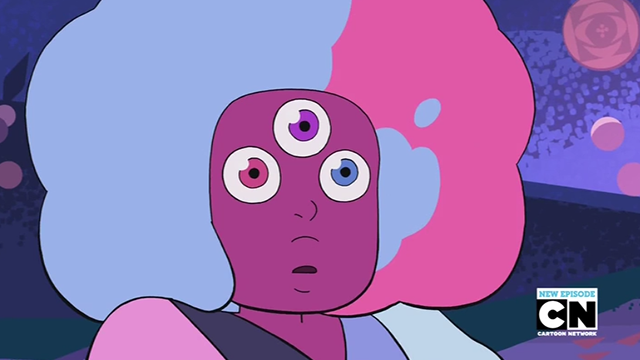 Flowers, and mini dresses, and three eyes — oh my! Seriously, Cotton Candy Garnet (a name given to Garnet's first fusion form because of her cotton candy-colored hair) is arguably the most adorably confused fusion look of them all. Right out of Two Face's aesthetic, her form accurately depicts how disjointed the pair of gems must have been when they first fused.
Cotton Candy Garnet: We didn't mean to fuse. Well … we did this time. We'll unfuse! We'll, we'll…
Rose Quartz: No, no. I'm glad to see you again.
Present Day Garnet: And there they were, Rose Quartz, the leader of the rebellion; and her terrifying renegade Pearl.
Cotton Candy Garnet: I don't … upset you?
Rose Quartz: Who cares how I feel? How you feel is bound to be much more interesting.
Cotton Garnet: How I feel? I feel lost … and scared … and happy. Why am I so sure I'd rather be this than everything I was supposed to be? And that I'd rather do this than everything I was supposed to do?
It was a really cute look and one that I hope we'll see in the future, if Garnet changes her form again.
2. Rose's Curiosity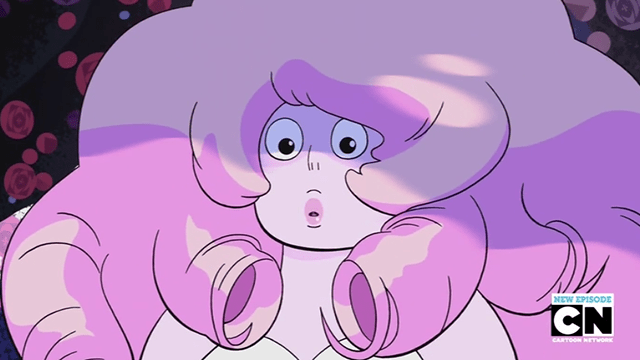 The beautiful Rose Quartz, Steven's mother and leader of the Rebellion to protect earth, made a few appearances in the episode much to our excitement. Much was centered around her fascination with the new fusion and adoration for the two Gems as they explored who they are together. Rose's wisdom and gentle nudge made our collective hearts tingle with joy.
Rose Quartz: Welcome to earth!
Cotton Candy Garnet: Can you tell me, how was Ruby able to alter fate? Why was Sapphire willing to give up everything? What am I?!
Rose Quartz: No more questions. Don't ever question this. You already are the answer.
 1. The Answer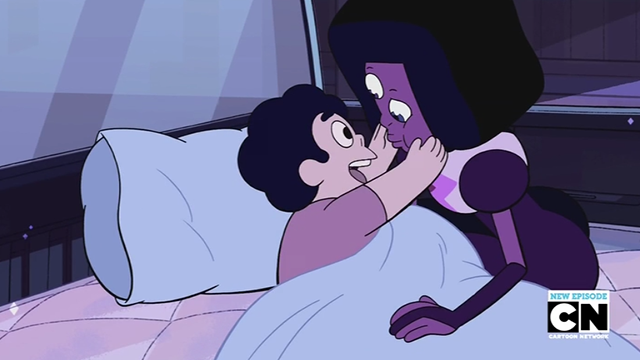 Steven: So, what was it? The answer?
Garnet: [whispering] Love.
Steven: Wow! I knew it!
Garnet: So did I.
Good luck to every other TV show this year trying to out-gay the first episode of Steven Universe in 2016!