One of my absolute favorite things to write about is queer representation in all-ages and young adult media. Being young and queer can be super confusing, and if you don't know where to find other people like you, it can be super lonely and super depressing. If you can't find anyone who's like you and your age, you might turn to books, TV, movies, comics or other media to try to find someone, anyone, who reflects you back at yourself. We need to see ourselves, we need to see possibilities for our future.
I'm going to keep on championing queer representation in all-ages media until my dying breath. As long as queer kids are taking their own lives, as long as young lesbians are told that their crushes on other girls are just fleeting feelings that all straight girls have and as long as trans girls as young as age six are treated as sexual deviants who shouldn't be allowed to use the bathroom, we're going to need TV shows, comic books, novels and all sorts of other media that counters the dangerous and misleading information queer kids hear every day. These are some of the best examples of that from this past year.
---
1. The Legend of Korra has Korra and Asami Portal Off Into the Sunset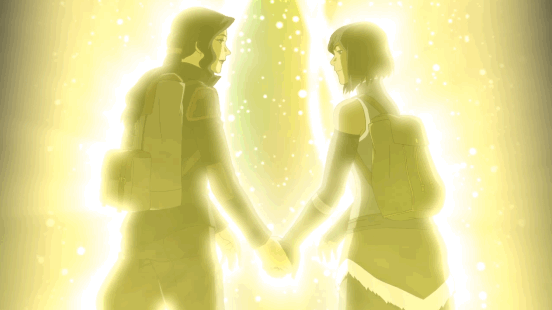 This technically happened in late December, but the shock waves are still being felt. After four seasons of fans shipping the main character, Korra, with one of the members of Team Avatar, Asami, in this cartoon sequel to Avatar: The Last Airbender, the show's creators rewarded their patience by ending the show with the two women holding hands and walking into a portal to the Spirit World together. If this wasn't clear enough, the showrunners confirmed that the two were a couple and that both were bisexual. Although their relationship wasn't shown very explicitly on the actual show, this was the first time many young queer people (and especially queer people of color) got to see someone like them end up in a happy relationship on a show designed for them.
---
2. Jeff on Clarence has Two Moms
In the Cartoon Network show Clarence, one of the main character's best friends has two moms. Jeff's two moms, EJ and Sue, first showed up last December in the episode "Jeff Wins," and have reappeared, including this summer in the episode "Breehn Ho!" While they're far from main characters on the show, they still go a long way in helping queer kids, and kids with two moms feel less alone.
---
3. Princeless introduces a Queer Pirate Princess
The all-ages comic book series Princeless has long been showing girls that they can be whatever or whomever they want to be, including their own heroes. With the introduction of a new princess, Raven Xingtao, to the series, the book also sent the message that girls who like girls deserve to have heroes too. Raven is the daughter of the Pirate King, and in her first appearances, she develops a crush on Adrienne, the series' protagonist. While that crush didn't work out, Raven is now starring in her own series, Raven: The Pirate Princess, meant for slightly older readers, where she gets to continue to go on adventures and flirt with fellow female pirates.
---
4. Help Us! Great Warrior Shows that Trans Women can be Great Warriors Too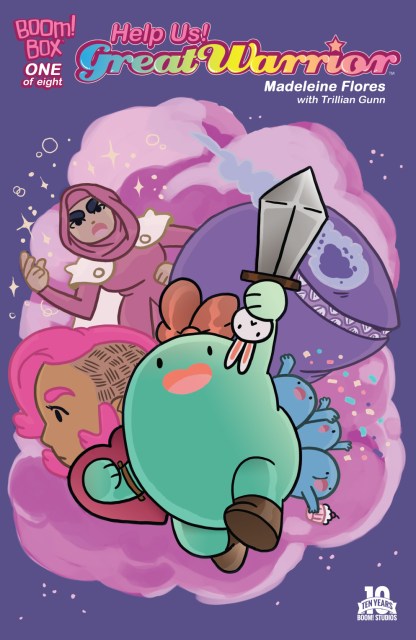 This limited series, written and illustrated by Madeleine Flores and with colors by Trillian Gunn, was a super fun fantasy comic that featured Leo, a trans girl of color, as the best friend and co-warrior to the titular Great Warrior. This comic is great for young readers and makes it clear that Leo is trans without being awkward about it and without putting her through any pain because of it. While it's important to show that trans women are often the targets of violence and oppression, it's also good to show that sometimes being trans is just one part of who a person is and it doesn't always mean sadness and fear.
---
5. Steven Universe Loudly Becomes the Queerest Show on TV
When it comes to Steven Universe, there's a lot to say. Early in the year, in the episode "Alone, Together," Steven and his best friend, a girl named Connie, fuse into one person, the wonderfully genderqueer Stevonnie, who looks a little feminine of gender-neutral and uses "they" pronouns. Then, in the episode "Jail Break," we find out that one of the Crystal Gems, Garnet, is really a fusion of two gems, Ruby and Sapphire, who are so in love with each other that they prefer to always be fused. This character is literally two small lesbians combined into one big lesbian.
As we learn more about other characters on the show, we see that another one of the Gems, Pearl, has long held strong romantic, but unrequited, feelings toward Steven's mother Rose Quartz. In another episode, Steven proudly and gleefully puts on a friend's skirt and crop top and sings and dances on stage. This isn't played for laughs or to be weird; this is Steven having a great time and expressing himself. Finally, at the end of the season, a new Gem, Peridot, joins the team. After formerly being an enemy, she straight up romantic-comedy-style tackles another Gem, Amethyst, and looks down at her, blushing. These alien space rocks are just really, really gay.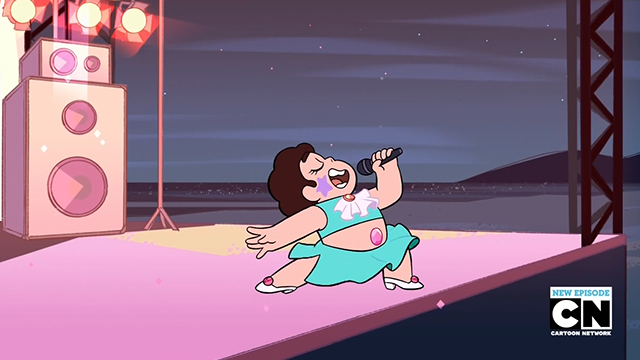 This is a show for kids and about kids (and some alien space rocks), and it has more queer characters than just about any other show on TV. And these characters are mostly coded as women of color. And they all get complex, fleshed-out, well-written storylines. Compared to what was allowed just a year or two ago on cartoons, Steven Universe is in a completely different universe.
---
6. Peach and Plum share a kiss and Become a Couple in Bravest Warriors #33

Kate Leth and Ian McGinty had been having Peach and Plum, two female characters in their Bravest Warriors comic, flirt with each other ever since Peach was introduced in issue #26. This series is based on the animated web series created by Adventure Time's Pendleton Ward, making it yet another franchise (along with Adventure Time and Steven Universe, created by former AT writer and artist Rebecca Sugar) that branched out from that series and features queer women in all-ages media. This comic went a step farther than a lot of other cartoons and all-ages comics and actually had Plum, one of the main characters, kiss Peach, right there on the page.
---
7. Trans Teenager Jazz Jennings Gets a TV Show
Jazz Jennings has long been in the spotlight, making speeches, fighting for her rights and even co-writing a children's book, but this year she took the next step when she and her family starred in a reality show for TLC. I Am Jazz followed her as she struggled to fit in, figure out if she wanted to date, and face the fact that she would be starting high school soon. Seeing a real-life trans girl go through a lot of the same struggles that other trans girls go through, all while her family stood right beside her is a huge thing for trans kids who want to know that they'll be okay. The series was just picked up for a second season.
---
8. Lumberjanes, Already Full of Queer Characters, Has Jo Come Out as Trans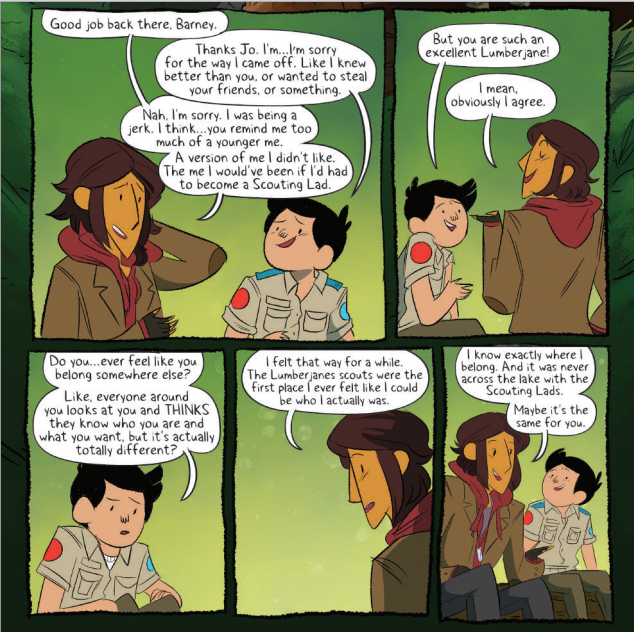 Lumberjanes was already an excellent, groundbreaking and pretty queer book when issue #17 came out and forever changed the face of trans representation in comics. In this issue, Jo, one of the protagonists of the book, has a conversation with Barney, a Scouting Lad who's been hanging out with the girls and talking about how he feels like he doesn't know where he belongs. Jo offers support and understanding and tells him that he reminds her of a younger version of herself, a version of herself if she hadn't been allowed to be the girl that she is. This issue was one of the best of the year, and Jo is the most prominent trans character ever in an all-ages comic.
---
9. Nimona is a Finalist for a National Book Award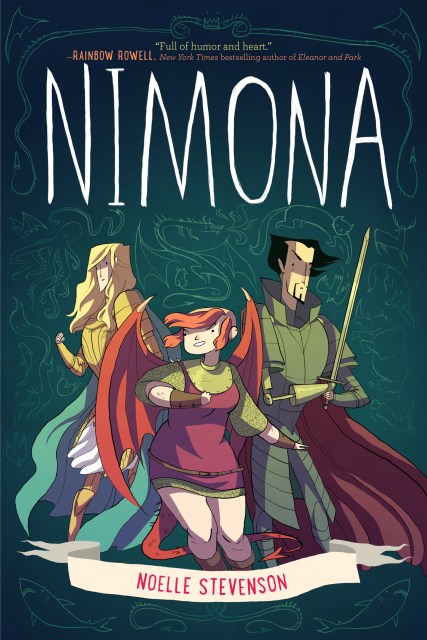 This graphic novel by Noelle Stevenson, one of the writers for Lumberjanes, is about a shapeshifting girl and the villain and hero whose lives she interrupts. It's an excellent look at identity, different ways to be a girl, good and evil and sharks with boobs. Nimona very deservedly made a bunch of Best Of lists and was one of just a handful of graphic novels or comics to ever be nominated for a National Book Award. Additionally, Stevenson is the youngest ever finalist. To have such a prestigious award recognize a book like this helps to show people that books by and for queer women aren't just niche, they can be mainstream.
---
10. Maggie Thrash Talks About Coming Out at Camp in Honor Girl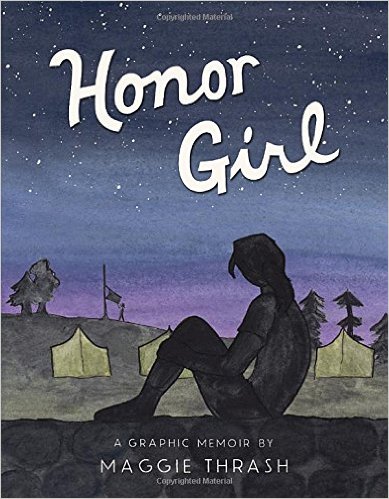 Maggie Thrash's memoir, Honor Girl, is one of the best books to come out this year, and one of the best memoirs I've ever read. It picks right up in the tradition of Fun Home and Skim in crafting a genius work of graphic storytelling about a queer girl coming of age. While the story of falling in love with a female counselor at summer camp, becoming a top target shooter and dealing with being queer in a place that isn't queer friendly is all Thrash's, the book will resonate with queer women everywhere.
---
11. Best-Selling YA Author James Dawsom Comes Out as a Trans Woman
In October, James Dawson (who is still using the name James and "he" pronouns for now), one of the best selling YA authors in England, announced that he is a trans woman and will start transitioning. It's a big deal to see someone with such a bright profile in the world of YA Lit come out publicly as a trans woman, and hopefully, many of readers will be inspired by him to either come out themselves or be better allies.
---
12. Adventure Time Miniseries "Stakes" Goes Deeper into Marceline and Bubblegum's Relationship
In a lot of ways Bubblegum and Marceline are the cat-rescuing, vegan farm-owning lesbian grandmas of the all-ages crowd. People have been considering them canonically queer since way back in 2011. This year, we saw the miniseries "Stakes," which explored Marceline the Vampire Queen's past, her present identity crisis and her future relationship with Bubblegum. There were a lot of longing glances and fond caresses and a really cute scene where Marceline dreams of the two of them growing old together.
---
This year was a pretty good one for queer representation in all-ages media, but there's always a need for more. Hopefully, by this time next year, we'll look back at 2015 and laugh at the thought that this is what was considered "a lot of queer characters" in cartoons, comics and books for kids.