I've been reading and loving Madeleine Flores' webcomic Help Us! Great Warrior about a super awesome, snack-and-hot-bodies-loving, super femme and super tough warrior for a while, and so of course I was so excited when I heard that it was becoming a series by Boom! Studios (the same people who put out the wonderful Lumberjanes) with colors by Trillian Gunn (who I mentioned in this roundup of artists to support). Well, Help Us! Great Warrior is almost here, and I'm here with an exclusive sneak peek and an interview with Flores herself! The deadline for preordering the first issue (which comes out February 11) is January 19, so make sure to head to your local comic book shop and tell the employees that you want to read Help Us! Great Warrior as soon as possible.
I talked with Flores about the comic and what she hopes readers will get out of it.
Great Warrior is such a funny, tough, feminine, self-centered (in the best way), amazingly original character — how did you come up with the idea for her?
She was totally based on me at first, haha! I wanted to draw my daily life but in a fantasy setting. Eventually she just became her own separate person!
Can you tell me a bit about how Help Us! Great Warrior went from being a webcomic to an eight part monthly series by Boom!?
I had just self published my first collected volume of the webcomics and was selling them at SPX. Shannon Watters — an editor for Boom! came over and picked up a copy and asked if I was interested in publishing with them. A couple years later and here we are!
What does the format of a long form eight issue story allow you to do that you couldn't do before? Are we going to learn more about the Great Warrior's past or her world?
I'm doing a long story. It's been a challenge to try to keep it funny but also move ahead. I hope people will still stick with it! I promise it's a cool story! We get to see more of Great Warrior's world and also explore more of her character.
What's your favorite part about turning Help Us!Great Warrior into a monthly comic book?
Getting the chance to tell a whole adventure, versus just seeing clips of it from the webcomic.
I was super excited to see Leo be there in the comic. When she does appear, she says that she's listed under the name "Samson the Magnificent" on the Scroll of Heroes. Can you talk about her development as a trans woman character?
Yeah, yeah, yeah! Leo is a transgender warrior woman and Great Warrior's BFF5ever! The problem is that I kept her whole story in my head and in my sketchbook so I didn't really do a good job of letting my webcomic audience know. The monthly comic is a good chance for me to start telling everyone more about her!
My friend Jack Qu'emi read through the script to make sure there weren't any accidental cissexist undertones, and I received a lot of good advice from Ivy on twitter (she does a great webcomic called Computer Love) on proper ways to let a reader know if a character is trans.
We all know that the Great Warrior loves snacks, but what's her absolute favorite food?
Probably ice cream! She's got a sweet tooth for sure!
Now, an exclusive sneak peak at the first four pages of this excellent, excellent new comic, coming out February 11th.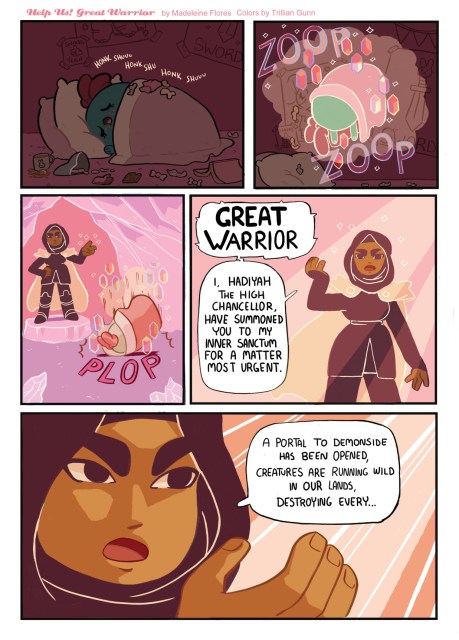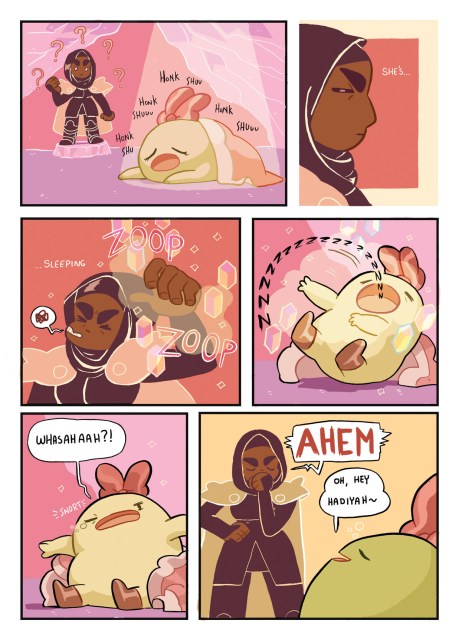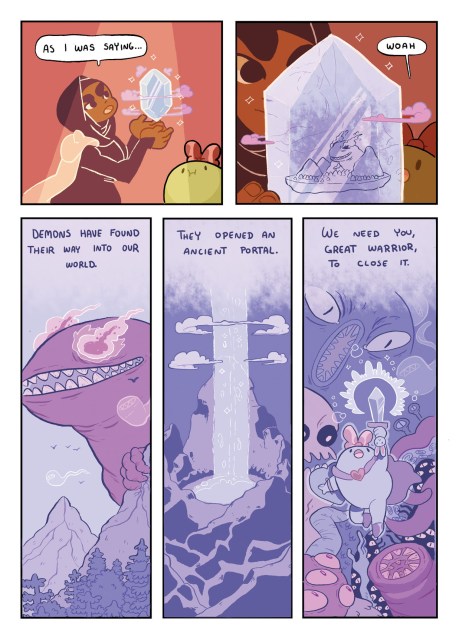 How great is that? Remember, preorders have to be in by next Monday, January 19th. All you need to do is talk to your comic shop worker or print out this form that Flores posted on her tumblr, fill it out and give it to them!