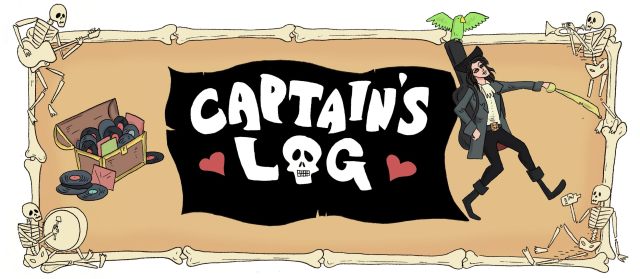 Hello watermelon radishes, I'm so sorry I have neglected this column for as long as I have! I have been very busy feeling a lot of feelings about Kristen Stewart's beach vacation. In 2015, I resolve to pay better attention to the Captain's Log and work hard to actually seek out new tracks for Autostraddle's collective enjoyment. As a primer for the new year, I've assembled a small collection of records due out this year that I think you might be interested in – a list which is by no means complete, but which I invite you all to contribute to. Let's get started.
---
Björk – Vulnicura
I'm having a hard time keeping myself from reading this hand-written note Björk bestowed upon us in the voice Kristen Wiig uses when she does her Björk impression on SNL. None of the songs have leaked yet, but I feel confident that this album will contain lots of fishing, dragons and screaming.
Britney Spears – TBA
Any day now, Brit Brit is going to drop her brand new single from her upcoming record, which she apparently recorded in-between gigs at her residency in Las Vegas. Her last album Britney Jean was pretty solid, and Britney genuinely seems to be on a great track professionally. Here's the thing though – the new single is going to be a collaboration with Iggy Azalea, which some corporate dudes in a boardroom probably thought sounded like a really solid decision a few months ago. Now? Ehhhh. Still, I'm curious to see what the rest of the album looks like, and hoping Britney will stay in Vegas long enough for me to save up the cash and actually go.
Sleater-Kinney – No Cities To Love
The New York Times already named No Cities To Love the first great album of 2015. You can listen to it over at NPR. You should.
Purity Ring – Another Eternity
There's always the worry that a band's second record won't be quite as good as the first, that their success was a stroke of luck and they'll never match their previous success. Purity Ring's 2012 debut Shrines is a near-perfect record, swirling Megan James' reverb-soaked, peculiarly phrased vocals over Corin Roddick's otherworldly synths. This new track is just as haunting and gorgeous as anything we've heard from them before, but it seems a little bigger somehow – like they're growing in the proper direction. Another Eternity is out March 3 on 4AD.
Julia Nunes – TBA
A long time ago, I used to be really into seeking out strange ukulele covers on YouTube, and when I found this pleasant-looking blonde girl playing a really excellent cover of Destiny's Child's "Survivor," I finally decided that it was time I picked up a uke of my own. Nowadays, Julia is a star in her own right, recording her own songs with her own band. She's in the middle of a fundraising campaign for her new record that's already reached twice her goal amount, which features a pretty adorable video explanation for her crowdsourcing efforts.
Angel Haze – TBA
According to her Twitter, Angel Haze has been working on some new shit that will blow 2013's Dirty Gold out of the water. As she told NME earlier last year, this record won't be a rap album – she cites Amy Winehouse and Adele as inspirations for her new direction.
Grimes – TBA
As legend has it, Grimes spent a great deal of time writing an entire new album's worth of songs to follow up her breakthrough record Visions, and then ultimately scrapped the whole thing. She's since started over, and although there hasn't been much to go on since she dropped "Go" (a song she'd originally written for Rihanna), she did contribute to this excellent Christmas song to enrich all of our lives:
Mal Blum – TBA
Forever friend of Autostraddle Mal Blum recently signed to Don Giovanni Records, home of some of the best rock bands working in music today. Along with this news came the revelation that their upcoming record would be helmed by Screaming Females singer/guitarist Marissa Paternoster, aka an incredible miracle. At press time, no information was available regarding Mal's decision to name their album Malware, Maleficent, Malennium or any of our other (excellent) suggestions.
Screaming Females – Rose Mountain
It bears noting that the Screaming Females also have a new album due out Feb 24. They are one of the most excellent bands in the business, hands down. According to this video, "Criminal Image" is a song about proper dental hygiene.
Christina Aguilera – TBA
I have fervently loved Christina Aguilera ever since Stripped and I don't even care that none of her subsequent albums have even come close. Even Bionic — which included collaborations with Sia, Peaches, members of Le Tigre, Ladytron — fucking Bionic, which on paper sounded like it was going to be the greatest album of all time — it was just awful. That said, I am goddamn stoked for Christina's upcoming album, primarily because producers Da Internz have described its sound as "caviar ratchet." You heard me. Caviar. Ratchet. What could go wrong?
The Soft Moon – Deeper
File under "things I'm pretty sure nobody cares about but me," the Soft Moon have traditionally been a fairly dark post-punk band from Oakland who sound like they sleep with a Joy Division album under their pillows. This new track "Black" is a little different – described by Fact Mag as an "industrial march," it uses vocals as percussion in a way that's mildly hypnotic. I'm well aware this doesn't fall under the "queer lady music" oeuvre but I'm more excited about this record than I am about most things this year.
Mark Ronson – Uptown Special
If you aren't listening to "Uptown Funk" 24/7, you don't make any sense and you can go home.
A Place To Bury Strangers – Transfixiation
Another record I'm pretty sure nobody is as excited about as I am. At any rate, the loudest band in New York are preparing to release their latest collection of uplifting tracks called things like "Fill The Void" and "I Will Die." Transfixiation is due Feb 17.
https://soundcloud.com/deadoceans/sets/aptbs-transfixiation
Adele – TBA
Somewhere out there, Adele is working on a whole new album of songs that will come on the radio while you're at CVS and it'll strike just such a nerve that you'll start tearing up in the toothpaste aisle and wonder why this is happening to me? Why now? Why here? Ugh, thanks again Adele.
Garbage – TBA
These guys spend so much time in the studio that this will only be their sixth studio album in twenty years. I have loved this band for twenty years. What have I done? Why are we here? What's going on? Shirley Manson sold her soul the devil and will never age.
Ellie Goulding – TBA
For her third album (following 2010's Lights and 2012's Halcyon), Ellie Goulding is recording some songs. That's about all I could find out, sorry. She made two albums already. This is going to be another one. Here's a brand new song she put on the Fifty Shades of Grey soundtrack for some reason.
Drake – View From The 6
Everything Drake does is important. It's worth noting that Ellie Goulding has also apparently contributed some vocals to at least one track on the upcoming album. "We converse," she cryptically informed Capital FM.
Fleetwood Mac – TBA
There's not a great deal of information about Fleetwood Mac's upcoming record, but the world is certainly waiting with baited breath (especially ever since Christine McVie rejoined the band). As Mick Fleetwood morbidly informed Mojo, "Look at where we are right now. It's sort of magically being given back. I don't want to be maudlin [but] Fleetwood Mac, we're here for maybe five years [more] or whatever. We're able as a band to get our house in order before the book is closed." If you're feeling particularly ambitous, you could also pick up the Rockabye Baby album% featuring lullaby versions of Fleetwood Mac classics like "Go Your Own Way," "Dreams" and "Gold Dust Woman," out Feb 10.
Finally, this isn't off an upcoming album, but check out this new video for FKA Twigs' "Pendulum" off last year's record LP1. The video is a metaphor for what it's like to date the guy from Twilight.
If there are any records you're excited about this year that I've missed, please let us know in the comments!