A few days ago, a recap of the Adventure Time episode "What Was Missing" was posted and subsequently taken down from the Mathematical youtube channel. Mathematical is "a Channel Frederator show-all that takes you behind the scenes of our show, Adventure Time!" In the case of this episode, the behind-the-scenes "look" exposed light lesbian subtext. Like the best multi-level jokes from the best cartoons and Pixar movies, the relationship between these two female characters is a thing kids won't pick up on, teenagers might, and adults definitely will.
The video launched a thousand 'ships into the night when the narrator spoke of Marceline's song from the episode by noting, "She might like Princess Bubblegum a little more than she'd like to admit." At the end of the video,  fans are asked to respond to what they think of the pairing. Throughout the video there are drawings from one of the crew members, Natasha Allegri.
At this point you might be wondering what a Princess Bubblegum is but no worries. I did allllll the work for you and will now break down the basics. I guess you should know that Adventure Time is an animated show about a teenage boy named Finn and his magical dog Jake. As suggested in the title, they go on…you guessed it — adventures. Princess Bubblegum and Marceline the Vampire Queen are two of his friends that often accompany him.
The episode begins with the Doorlord taking prized possessions from the group of friends. He takes a piece of Bubblegum's hair from Finn. We adults learn that Finn jerks off to the piece of hair. Moving along and pretending we don't know that, the group follows the Doorlord as he retreats behind a door that can only be opened by a "genuine band."
This is when it gets super gay. Marceline begins playing her bass which already deserves the side eye. It's not just any song though. It begins with Marceline 's desire to "drink the red from her pretty pink face" which sounds to me like she wants to make the fair princess a vampire so they can be together forever. However, Bubblegum doesn't get this impression and takes Marceline's lyrics about putting her in the ground a tad more literally and is offended by the song. This sends Marceline on a bender.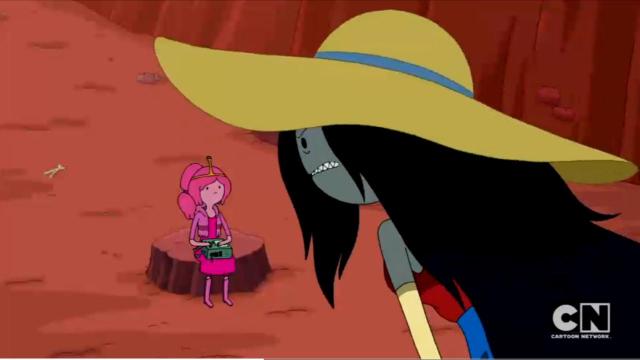 Marceline: Oh, you don't like that? Or do you just not like me?
She then continues singing "I'm Just Your Problem," a title that already sounds like a song from a Tegan and Sara back to basics live performance EP.
"I shouldn't have to be the one that makes up with you. So why do I want to? Why do I want to…"
This is when she has a Santana gay panic moment and loses her grip and her focus.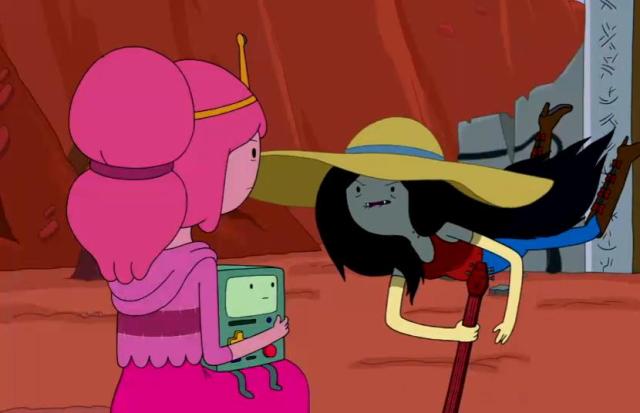 Marceline: Stop staring at me. You threw me off.
But it doesn't end there. Upon repossessing their favorite things, there's a slight mix up. Jake thinks Marecline's t-shirt would naturally go to Marceline. Princess interrupts stating the shirt was gifted from the Vampire Queen and announces it means a lot to her. Marceline bitterly comments that she never wears it. Bubblegum counters that she wears it all the time…to bed. At this point it's no longer subtext. It's just text. Probably Stencil.
Seems cute and harmless, right? Fred Seibert, the show's producer, had this to say about the video's removal:
There's been chatter on the internet recently about our latest Adventure Time "Mathematical!" video recap that we created, posted, and removed here at Federator. I figure it's time to clear up the matter.

In trying to get the show's audience involved we got wrapped up by both fan conjecture and spicy fanart and went a little too far. Neither Cartoon Network nor the Adventure Time crew had anything to do with putting up or taking down our latest re-cap. The episode "What was Missing" remains a terrific short and will be shown again and again just like any other Adventure Time episode.
He claims that the powers that be had nothing to do with the removal of the video. Then why remove it? Were they worried about media watch groups coming after the show?  The people who seemed to be in a joyous heat about the episode were the same people who seem to be in one whenever something like this happens: tumblr lesbians.
Does Adventure Time status as a children's show make this kind of subtext inappropriate? I think all of us agree that the answer to that is a resounding hell no. Because we aren't inappropriate. Nor are our feelings or relationships. Heterosexuality is present in shows for even the youngest children and often they are problematic representations. You're telling me Gonzo can fuck chickens but a vampire can't have a crush on a girl made of bubble gum? 
I think the Adventure Time associates were surprised with the outpour of support which says something, doesn't it? People are more surprised when there's a strong positive reaction to a lesbian relationships than if it had been overwhelmingly negative. No matter how they felt, the video was removed and again the message is sent. It's not ok to embrace queer relationships. It is ok to silent our voices. What did you think of the episode? Are you upset that the video was removed?