Even though it boasts a dozen slang terms for the word butt — hams, patoot, buns, stumps, beans, funky junk — Cartoon Network's Adventure Time is one of the most grown-up shows on TV. Not "grown-up" like "sex and violence"; grown up like asking enormous, subjective questions. "What does being a hero look like in a world where good and evil aren't black and white?" And, "What makes life worth living?" And, "How do you find your purpose?" And, simply, "What does it actually mean to be a grown-up?" Adventure Time started with 12-year-old Finn, the only human boy who survived the Mushroom War in Ooo, and his best friend/foster brother/shape-shifting dog/roommate, Jake; and has evolved into a show about their chosen family. Things don't stay the same in Ooo. Finn is 16 now and as he wrestles with what it means to grow into an adult, so do his friends.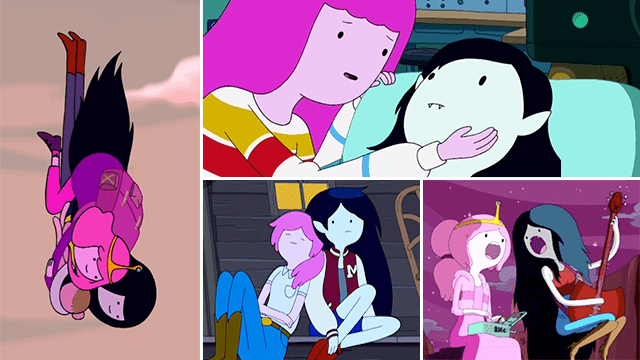 Season seven, which kicked off in early November, has focused much of its existential storytelling on Princess "Bonnibel" Bubblegum and her gal pal, Marceline the Vampire Queen, culminating in Adventure Time's first mini-series, Stakes. The eight-episode endeavor colored in some of Marceline's past, answered lots of questions about her relationship with Bonnie, and promised her a richer future. It also explored the loneliness and listlessness both PB and Marcie have grappled with as they've moved from childhood into adulthood.
Former Adventure Time story-boarder (and Steven Universe creator/showrunner) Rebecca Sugar one time summed up the brilliance of Adventure Time by saying:
"Sublime art is unframeable: It's an image or idea that implies that there's a bigger image or idea that you can't see: You're only getting to look at a fraction of it, and in that way it's both beautiful and scary, because it's reminding you that there's more that you don't have access to."
That method of storytelling has served the writers well, especially when it comes to Marceline. Over the years we've seen glimpses of her past, and those impressions have asked as many questions as they've answered (in a good way!). The more we know about her, the more we want to know about her — but the cryptic nature of her character is one of the things that makes her so enchanting. "Stakes" elevates Marcie's story — and her relationship with PB — by bringing her into the coming of age conversation the other characters have been having for the last two seasons. During the first episode, she tells PB, "I was just a messed up kid when I became a vampire. Now it's a thousand years later and I'm still messed up. I don't want to spend eternity like this, with this emptiness. I wanna grow up."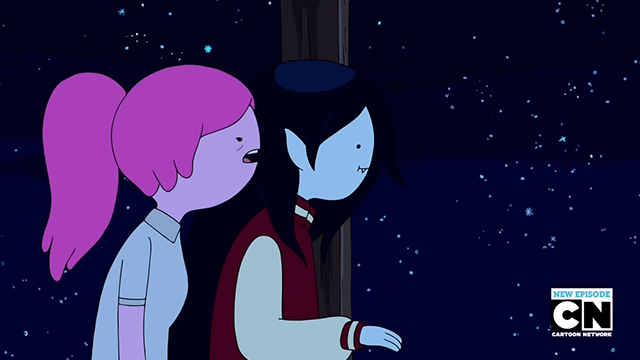 Princess Bubblegum is actually going through a similar struggle. The lead-in to Stakes is a Marcie/PB solo episode called "Varmints" that aired a few weeks earlier. In it, Marcie finds out PB has been throne-jacked by Princess King of Ooo, so she tracks her down to an isolated cabin near Lake Butterscotch where she's sitting on her front porch with a shotgun, trying to keep her pumpkin patch safe from varmints.
They skedaddle off on an adventure to try to eradicate the pesky pumpkin-munchers, and find themselves down below the Candy Kingdom, where they used to hang out when they were just kids. They even stumble across a spray paint tag Bubblegum created because Marceline dared her to. Together, they remember what it was like when PB first came to power, skipping out on meetings with the Cheese Kingdom and managing her small candy territory with ease. As it grew, so did its problems, and her responsibilities, and her opportunities to mess up. She was forced to make compromises, and to accept that she was never going to always make everyone happy. She finally confesses to Marcie that she wasn't actually deposed; she quit. And that she pulled away from her all those years ago because work was the only thing she could control, the only thing she was confident she could succeed at.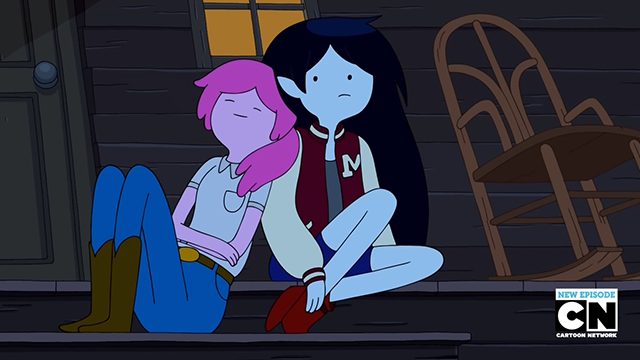 Back on the cabin porch after their varmint triumph, Bubblegum rests her head on Marceline's shoulder and says, "I'm crazy tired, Marceline; I think I have been for a long time."
Bubblegum is still living in her cabin when Stakes shifts into action, kicking off its first episode with Marcie growing weary of getting scorched by the sun and deciding to ask PB to cure her of her vampirism. As PB is tucking Marcie into the machine she invented to suck her vampiric essence out of her, they have a casual conversation about mortality, echoing Walt Whitman 200 years later.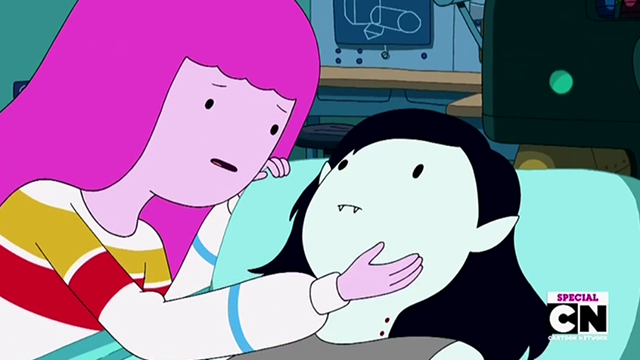 Bubblegum: This means some day you're going to die. You know that, right?
Marceline: I guess it'll be my last adventure!
Bubblegum: You know I care about you. I think you're making the right choice. Your natural lifespan is going to be richer and fuller than you can imagine. And some day, when you die, I'll be the one who puts you in the ground.
Unfortunately, the bucket of vampire sludge PB sucks out of Marceline doesn't stay in its container; it morphs into an ether that summons all the vampires Marceline killed back to the mortal realm of Ooo. The remainder of Stakes is a heady mix of Marceline and Bubblegum — along with Finn, Jake, Lumpy Space Princess, and Peppermint Butler — tracking down the rogue vampires while Marceline flashes back over the last several centuries.
We already knew she was an orphan after the Mushroom War and that her protector, Simon Petrikov, abandoned her to keep her safe after he began transforming into the Ice King. And we knew that her dad was a hell demon who imbued her with the power to suck souls. It turns out both of those things led to Marceline becoming a vampire because both of those things led to her slaying vampires and slurping up their souls to gain their powers. One-by-one she slayed them to keep Ooo safe for the very few remaining humans, and even joined the humans at night by their campfire to sing the Mr. Belvedere theme song. It was when she slayed the Vampire King that he turned her into a vampire, from the inside out.
Adventure Time has always been about finding family and beauty in the candy-coated apocalyptic decay of Ooo, and about the deep sadness that often accompanies isolation, and those themes are more pronounced than ever in Stakes. Marceline begs her mom not to make her sleep when she's a kid because she has weird, weird dreams. She begs Simon not to leave her after the War because she's just a child with no way to take care of herself. By the time she's a teenager, she's all alone and running out of places to forage for food, and that's when she meets her first vampire. Slaying him gives her purpose, and power. She finds the will to go on.
It's no surprise that when the vampires return, Marceline chooses to try to fight them alone. After all, that's how she did it for hundreds of years, and now that she has a family, she doesn't want to put their lives at risk. Princess Bubblegum convinces her she's being a dope, and so they set off together to save the world (some more). Marceline gets poisoned and has a fever dream of growing old with Bubblegum in her cabin by Lake Butterscotch, singing in her arm chair, while PB smooches her forehead and strokes her hair.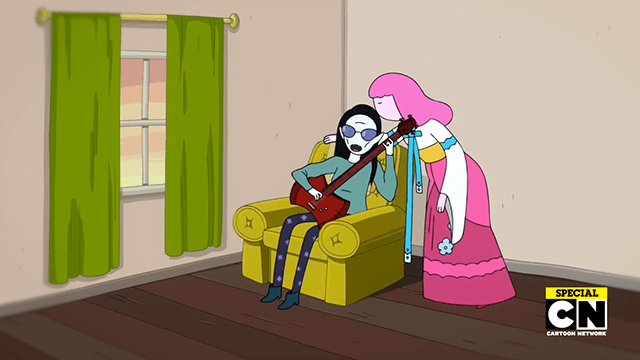 When the Vampire King grows ten times as strong as he was before Marceline tried to stop him, and stomps off to destroy the entire world, PB and Finn and Jake are ready to take their adventure to the next level, but Marcie finally gives into her despair and makes the depression metaphor literal.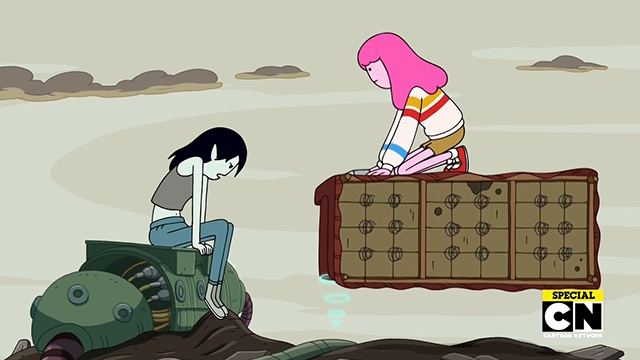 Bubblegum: What's wrong?
Marceline: Me, I guess.
Bubblegum: What?
Marceline: Me. I'm wrong. All of this is my fault. Just fighting the vampires in the first place screwed everything up. Sure screwed me up, anyway, and geez louise, trying to fix it? Trying to fix me? It just made things a thousand times worse, so why even try, you know? What's the point?
It's not her friends who convince her to keep going; it's the Ice King. He doesn't do it with a pep talk. He doesn't do it with a hug. He compares them to each other, says they're the same, and Marceline realizes she doesn't have to live his story. Yeah, she's kind of messed up. And she breaks stuff. And she knows the paralyzing ache of loneliness. But that doesn't mean she has to be alone. These people who love her, Bubblegum especially, are willing to be messed up with her. So she zooms off to fight the Vampire King, shouting, "Ooooh, I'm gonna poop my pants if Finn kills this guy instead of me!" as she flies toward him.
Finn doesn't. Marceline gets him in the end, sucks his soul with her heart — which means, of course, that she turns back into a vampire. She doesn't beat her vampirism(/depression), but she ultimately realizes that fighting it helped her grow.
Marceline: Being mortal was good, but at the same time, it was terrifying. Now I'm a vampire with fresh mortal memories and, I dunno, more empathy or something. More grown-up. Bonnie, thank you for helping me grow up. Now I guess we get to hang out together forever.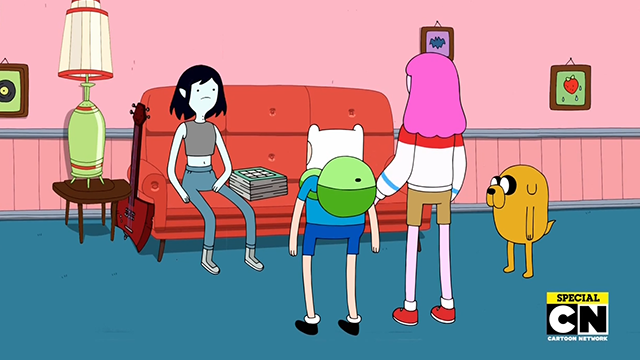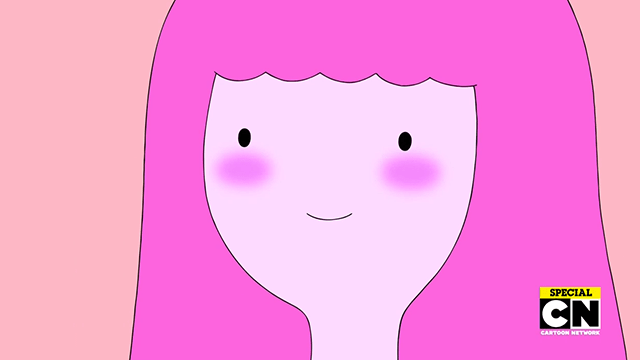 Fighting with Marceline helped PB, too. She returns to the Candy Kingdom to take back her throne, to reclaim her purpose, while Marceline sings the lullaby her mom made up for her when she was just a little girl, too afraid to sleep. The perfect song for Marcie and PB to grow old to, together:
Everything stays
Right where you left it
Everything stays
But it still changes
Ever so slightly
Daily and nightly
In little ways
When everything stays
---
People always ask where you should start Adventure Time if you just want to just watch Marceline and Princess Bubblegum's love story, so here's a list of episodes/comic books for y'all.
Episode 220: "Go With Me"

Episode 310: "What Was Missing"
Episode 505: "All The Little People"
Graphic Novel: Marceline and the Scream Queens
Episode 529: "Sky Witch"

Episode 538: "Red Starved"

Episode 614: "Princess Day"
Episode 702: "Varmints"
Episodes 706-713: Stakes Miniseries
You really should watch the whole series, though. It's one of the smartest things on TV!