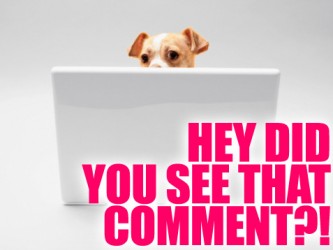 Hello there special starlights! Have you had a nice week? Did you eat lots of chocolate? Did you pet a puppy? And most importantly, how close are you to a queer lady right this very moment? Kristen tried to answer that question by checking out the apps available for meeting local queer women, but it didn't go so well. You might be better off putting on your finest skinny tie and heading to Katrina's pop-up queer barbershop. Not in NY or too broke to go out? Why not make some rice and beans and live vicariously through Alex's colorful trip to Miami? Or you could play one of Anna Anthropy's LGBT-centric video games from the comfort of your futon. And there's always Words With Girls — Brittani posted a new episode co-starring our fantasy girlfriend Hannah Hart. Speaking of imaginary girlfriends, did you check out Carmen's interview with Hesta Prynn? Good stuff.
Lizz recapped Pretty Litte Liars 311 and then made an Open Thread for Tuesday's dramatic mid-season finale. Riese recapped another episode of The Real L Word — an experience that's only slightly less painful than attending a NOM Conference or listening to RNC speeches. (Though this list of fab and drab outfits on RNC attendees is pretty spectacular.) And while we're talking politics, how cool is this app that tells you who paid for political ads?
In Autostraddle-centric news, we gave away two A-Camp camperships and introduced you to the six women comprising our college lesbianage series. Don't they seem perfect? Then Stef and Laneia reminded us that we can all be made of kittens and Carolyn and Riese brought you another installment of Lez Liberty Lit. It might just inspire you to pick up a (properly gendered) pen and start writing.
Oh, and we have less than ten days left in our fundraising campaign. If you haven't donated yet now would be the BEST TIME to do so. If you've already donated but are super-wonderful human, now is also good time to throw in a few more dollars. The limited edition You Do You shirts might be gone soon!
Now let's give out some awards to you lovelies…
---
On Five Stars for Amazon Reviewers:
The WWWeirdos Award to Helpless Womenfolk Unite: "Once again internet weirdos have restored my faith in humanity."
The You Just Haven't Found A Good Man Yet Award to Danielle: "I refuse to buy one until there is a giant pen for lesbians like me with man hands and penis envy."
The Itty Bitty Digit Committee Award to kd15 and Tara Bluh: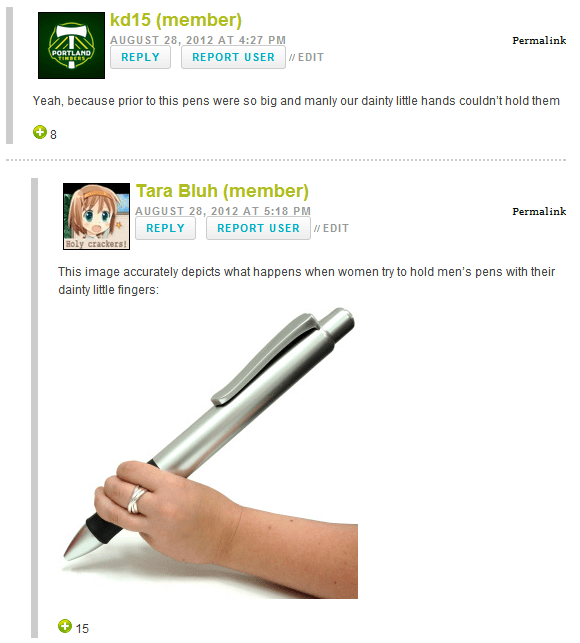 The Cutest Poem And Cutest Username Award to HarryTheHandsomeExecutive: 
The Triple (Non)Threat Award to Caitomo: "Romi having her own song will be a nice addition to her Sunday evenings in between filming of rewatching her own parts of the show and wearing exclusively clothes that have her face on them. Now she has background music!"
On The Stranger Helps You Be A Gay Person:
The Sustainable Coming Out Award to Paloma: "I am so Dutch, I came out to my mum while we were both on bikes."
On College Lesbianage: Meet the Class of 2016:
The Wooderson Award to Paramecium: "All of you are around 5000x more adorable than I was when I started university. Also, WHEN DID I BECOME SO OLD."