Hello and welcome to the seventh recap of the third season of The Real L Word, an hour-long teen drama centered on a tight-knit group of surprisingly artictulate friends growing up in the quaint seaside town of Capeside who carry on passionate teenaged affairs with one another, create terrible self-referential films, escape housefires and deal with Adult Issues like estranged parents, dead parents, divorced parents, re-married parents, sex, teacher-student affairs, mental illness, slut-shaming and homosexuality.
I got the screencaps last night and have been immersed in this delightful program all day! My dearest love, Intern Grace, did not have time to create her clever image titles past the first few scenes, unfortunately, and this recap is kinda late, but it's here now and that's all that matters. We're all here now.

We open in sunny Los Angeles, California, where Whitney and Sarahara are attempting to leave on a jet plane for Connecticut, where Whitney's family lives, but their bag is overweight! Riveting stuff.
After removing their medium-sized strap-on, their large strap-on, Sarahara's Ashton-Drake realistic baby doll, the nightstick Whitney uses for cop/robbers role play, the bust of Ilene Chaiken she insists they bring with them everywhere they go, six identical copies of Infinite Jest, Sarahara's five-gallon Caboodles and a small household cat, they're good to go!

We cut to Lamanda's Love Shack, where the Beautiful Party Princess Amazonian Lovergirl Lauren Bedford Russell wakes up to greet the morning but finds herself alone, yearning for Kiyomi's soft futch touch and the gentle snap of her suspenders as they graze her skin and fall delicately to the floor, where someone recently spilled a beer. What am I even talking about anymore.
Lauren sulks into the kitchen, adorned in her lady-love's varsity jacket:
Lauren interviews that she's still thinking about Kiyomi, in case you missed that whole thing from five seconds ago, and Amanda points out that Lauren's been really wacky lately:

We take a midnight train back to New York City, where Kiyomi is meeting up with Vero The Coolest Cucumber for cornbread, daisies, fight club, ping-pong, arsenic, hemp tattoos, babies and a heart-to-heart.
Obviously Lauren is on Kiyomi's mind as well:
Kiyomi: "I feel like everything is happening really fast and I'm trying to, you know, take things slow, you know. We're both really busy people in our careers, just gonna try and see each other when we can and see how it goes."
Kiyomi interviews that part of her hesitation is because she's just gotten out of this relationship with Ali, because now that she's out of it, she can call it a relationship without hyperventilating. Vero is like, dude, she is way into you though:
Vero: "At Dinah Shore she told me something, she said something along the lines of I can see myself just being with her."
Kiyomi: "She must have been loaded! No, I'm just kidding."
Vero: "It sounds like she she really digs you."
Regardless, Kiyomi is k-k-kinda busy:
We then cut back to Lamanda in Los Angeles, still sitting in The Room With The Table In It, still talking about Kiyomi. Lauren points out that perhaps the distance will enable a more mature relationship as they're unable to hang out all day every day until they lose all their friends and develop a false sense of intimacy and understanding that cannot possibly exist until you've known someone for a really long time. But also, she's never done long distance, and also it's not a relationship yet but also —
Lauren: "It's like crazy to talk about it right now, you know?"
Amanda: "Yet you're like talking about it constantly to the point where I wanna like gouge my eyes out with a fork."
And SCENE.

Somewhere else on a planet far far away but probably in the Los Angeles Metro Area, it's Kacy's Mom's turn on the Meet The Parents Tour. Kacy interviews that since retiring, her Mom's become super-awesome: she drives long distances, enjoys golf and is a Great Source of Love and Comfort.
Mom asks how Cori is holding up and Kacy admits that "sometimes I think she's doing better than I am."
Kacy: "I think everybody expects to be really gentle with her, and they think I'm fine."
Mrs.Kacy: "Well, that's so crappy."
Kacy: "It is pretty crappy."
Mrs.Kacy: "You have to tell people, I'm hurting too."
This show's done a great job of showing that Kacy is hurting too, but it's unsurprising that perhaps her friends haven't noticed it themselves. Often butch or masculine lesbians are handled like men are handled when it comes to emotional situations — expected to be The Protector somehow immune to The Feelings, and probably moreso in this case because it was Cori who carried the baby. But pro tip: butches cry too.
Mrs. Kacy tells Kacy that she had a hard time getting preggers too — ten years, four miscarriages — but she never had to carry the baby to term, like Cori did. Mrs. Kacy says what we're always thinking every episode every single week, which's that it's mega-inspirational to watch how losing Charlie brought KayCor closer together rather than driving them further apart. Kacy says that they're ready to try again.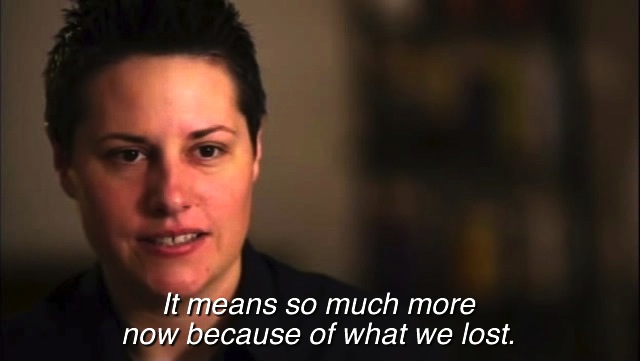 It's true, there's so much more now. Because when her first sibling is born, Charlie won't be their last child anymore. She'll be their first.

Starsweep cross-country to cloudy Connecticut, where Whitney and Sarahara have traveled to participate in the next stop on The Real L Word's Meet the Parents Coming Out World Tour — this time Grandma's in the hot seat. She's 92 years old and also awesome.
Whitney gathers 'round the table with Grandma, Sarahara, Mom, a bottle of wine and captivating conversation:
Whitney interviews that as a kid, when her family split up and money was low, Whitney and her Mom moved in with Grandma so Grandma is really important, just like Sookie Stackhouse's Gran and Jen Lindley's Grams.
Whitney's never directly addressed The Gay Thing with Grandmother and now she'll be delivering the double-whammy of Gay and Engaged. Whitney's nervous and taking it slow:
How will Grandmother react?
Will she react like this?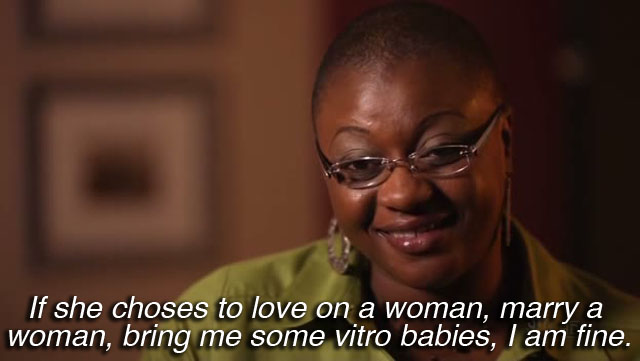 +
I hope it's not like this: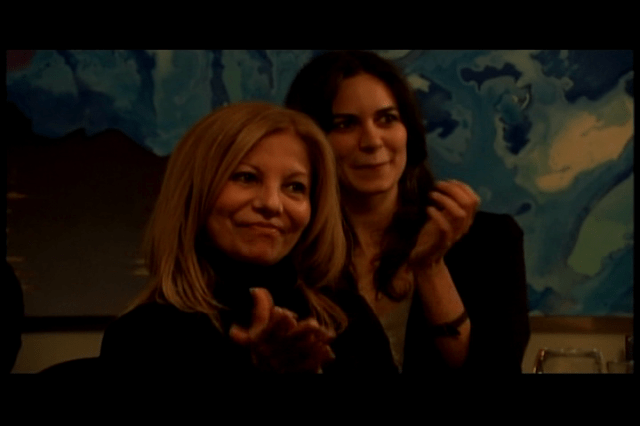 +
Or like this: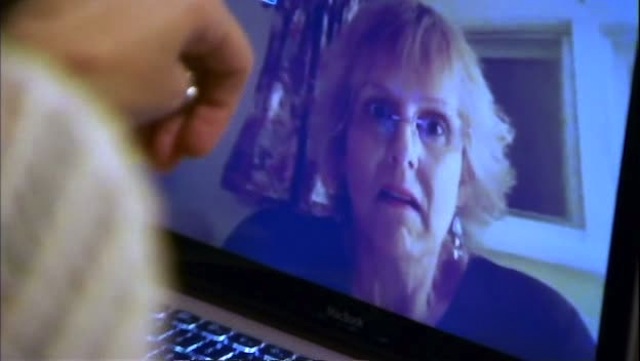 Hopefully it won't be anything like this, either: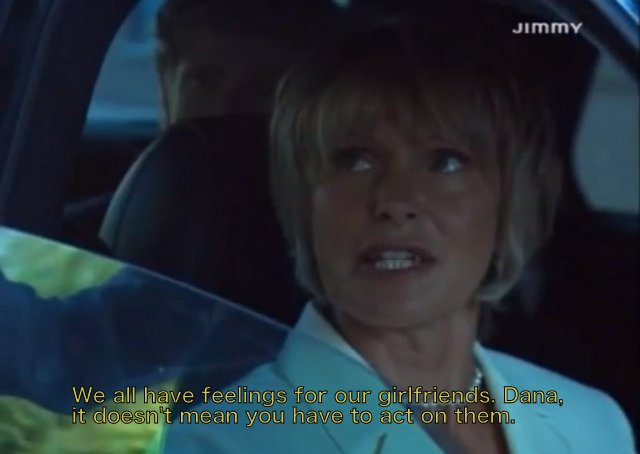 +
Ideally, it will go something like this:
Whitney's gonna break the big news during dinner, for which she's invited her childhood pal Tiffany who accidentally steals the scene when she announces during dinner that she and her boyfriend Luigi are getting married.
She's basically marrying the second-most-popular video game character of all time! Sarahara cannot compete with this holy union!
Despite all the love in the air, Whitney fails to announce her engagement:
Whitney:  "Basically everything is like engagement engaged discuss and I for some reason am not going there at all, I was avoiding it like the plague."

Cut to somewhere else in the universe, probably Venus or Pluto or The Inferno, where Romi's meeting up with some alternatively coiffed ladies named Mercado and Erika to discuss her latest adventure in self-referential commerce: Romi's gonna become a pop star and would like "her own song."
These chicks are gonna make her music video for this song she hasn't recorded or heard yet.
At this moment in the recap I would like to introduce a new device, which's "copy/pasting g-chats I had with (Autostraddle Executive Editor) Laneia during the show."
Laneia: she looks like a twelve-year-old's take on what a hip hop starlet would wear
Riese: fur coat
baseball cap
oh she's practically nicki minaj
Romi's had just about enough of established musicians like Rihanna and Madonna stealing the stage at her club appearances. Why's she wasting her time introducing other people's music when she could be introducing her very own song?
Romi: "I do a lot of club appearances, and I think it would be nice to have something that was mine, now I'm trying to have fun with another creative side of me."
Romi interviews that her Mom's ex-girlfriend was a songwriter/producer and used to write songs in the car, which's basically like Romi growing up on Bob Dylan's lap. My Mom's ex-girlfriend was a high school track coach and you don't see me doing sprints in the backyard, but whatever. Romi also claims to have experienced the completely unique and totally remarkable sensation of wishing she was the one on stage while watching other humans perform musically.
Romi: "My thing to every work opportunity right now is YES."
It's also her answer to every ex-boyfriend, coincidentally — Romi plans on laying down her slick beats with none other than the world-famous Dusty Ray of my favorite tumblr, dustyandromi dot tumblr dot com!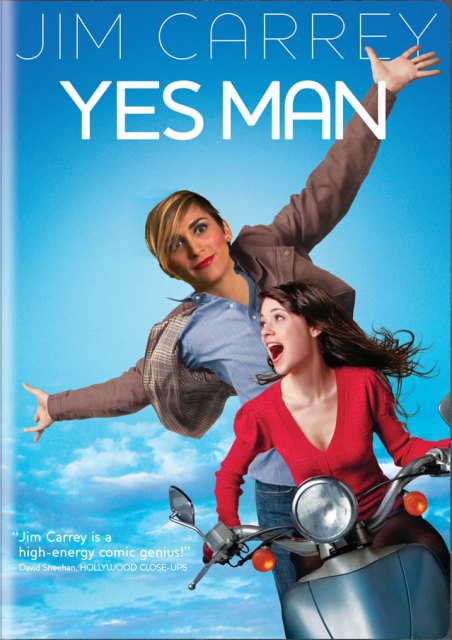 Once upon a time, Romi was just the rock star's girlfriend, drooling in the front row with her Miracle Bra and chunky rings and whiskey flask but we've all grown/changed so much since then, haven't we?
Erika and Mercado are concerned regarding Romi's mike-holding skills. I'm sure Jay could testify that she'll do just fine with it.
Romi interviews that she dated Dusty Ray six years ago.
Riese: 6 years ago?
um, i thought that she hadn't dated men in 8 years
Laneia: she is such a raging twat
Riese: seriously do the people who make this show think we're total idiots?
i'm not being hyperbolic this is a a real question
she said it'd been eight years since she dated a guy like two episodes ago
Laneia: puppppyyyy

Pages: 1 2 3See entire article on one page