Somewhere else at some other crucial and influencial moment in history, Amanda walks into the Room With The Table In It and announces she's flying to New York City in two hours and needs a ride to the airport.
Amanda's bought a one-way, which isn't actually entirely notable 'cause sometimes you just don't know what day you're flying back yet and round-trips aren't cheaper than one ways like they used to be when I was a toddler eating my own thumbs and rubbing paste on the wall, but I think we're supposed to think this is a big deal and Amanda will never return to Los Angeles, or something.
Amanda: "Can you please not question me and just drive me to the airport?"

Smear to Cozy Connecticut, where Whitney, Sarahara and Grandmother are still warming their asses around the kitchen table. Now that Tiffany The Scene-Stealer is out of the picture, it's Whitney's time to shine. Prior to departing, Tiffany gave Whitney this blessing:
Tiffany: "Don't be scared, be brave, lionheart."
So Whitney goes for it:
Grandmother's response is, more or less, "NBD."
Sarahara shows Grandmother her ring and then Grandmother shows Sarahara her wedding ring and you know, rings rings rings fingers slipping into things. All's well.
Whitney: "This whole time I'm sitting there creating this response or this fear in myself of what Grandma is gonna say and what she's gonna think about our engagement, and when it finally came up there was nothing weird. I feel silly for creating it into something that it isn't."
Never underestimate Grandmother, I'm telling you.

Back at The House of Sad and Slowly Clearing Fog, Cori and Kacy are prepping physically and emotionally for their appointment at Seattle Grace for another insemination.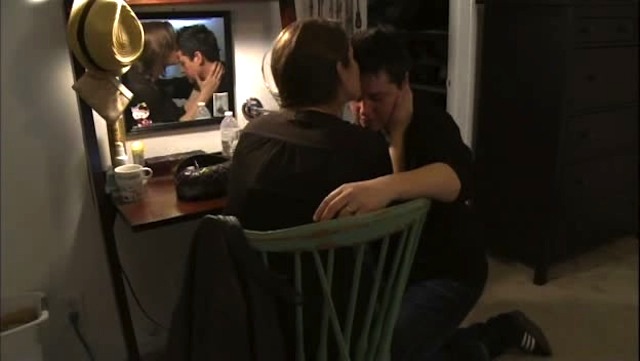 Kacy: "It's the craziest combination between happy and sad ever."
Kacy & Cori keep Charlie's ashes in a tiny heart-shaped box, and they decide to bring the box with them to the doctor.
Cori: "I definitely think that Charlie — I know that she's the reason that I'm pushing. I know she would be so upset if we gave up, and I know that she's up there picking out the perfect little sibling, I know it."

Cut back to Connecticut, where Whitney and Sarahara are visiting a cafè to pretend like they'd been living in isolation cells ever since Telling Grandma and have gathered here to discuss it like it's brand-new news.
Whitney notes that due to the seductive legality of gay marriage in Connecticut, perhaps it'd benefit them to get legally hitched while they're in town and then have the Big Wedding in California with Everybody in June.
Whitney interviews:
Whitney: "Honestly, a legal ceremony, it's important in the sense that I want the same rights as a heterosexual couple would have, for sure, and it's not like gay couples can just wake up one morning and say, "Hey, let's go to Vegas and get married!" In a spiritual sense, it doesn't matter, the legality of things, I would go through the ceremony if it wasn't legal, but in a human rights sense, absolutely the legality part matters."
But seriously, who the fuck needs Vegas anyhow when you've got Connecticut's own Mohegan Sun?
Amirite?

We now travel to what I believe is the deepest, darkest, swampiest murky bits of hell to meet up with Dusty Ray, The Passionate Artist Musician Sensitive Soul Genius.
Romi, wrapped in a delightful  headscarf, wearing a t-shirt with her own face on it and carting two gigantic hoola hoops on her ears, implores Dusty Ray to help her not make a fool of herself. Dusty Ray's not worried about that:
Laneia: "i don't wanna look like a fool"
too late
me: i already hate him
i hate him more than romi
Romi interviews that Dusty ALMOST got signed when he was 18, just like I almost got into Columbia, almost got hit by a car, almost got my book published and almost didn't binge drink throughout this episode. Furthermore, he's opened "for a lot of big artists" and been on Warped Tour!
Laneia: megan whispered "warped tour" and rolled her eyes
this is my feeling
the whispering of warped tour
god he looks like such a douchebag riese
me: oh my g-d
Laneia: i will die of douchebag
me: this is worse than warped tour
no wait warped tour was worse than this
it was just beer and heat
Laneia: he looks like he's dressing like he thinks a a rock star would dress in a movie
a movie about a rockstar
me: "how is it that she is both simultaneously sharp and flat" – marni
Following her first go at it, Dusty inquires:
Dusty: "Are you gonna have anyone sing with you?"
Romi: "Nope."
Dusty: "I mean you should."
Romi: "But I'm not."
Dusty: "You're not though?"
Romi: "You can."
Dusty: "Let's do it."
Romi: "Will you do it with me?"
Dusty: "Of course I will!"
Romi: "Really?"
Dusty:"Yeah."
I think we all know where this is going. Romi interviews:
Romi: "I felt so much safer having him do it with me and I could feel it when I was singing with him and like, looking at him, that I could pretty much zone out what was going on as long as he was with me… I think he felt the same thing. I've wanted to do this like my whole life, and why not try it with somebody who has so much experience and can really work with me and believes in me."
Dusty interviews:
Dusty: "Romi's so natural at everything. You've just gotta get the artist in tune with themselves and once they do that, they can do anything. It's about having fun on the mike… she's just so good at being her, that it's just interesting to hear."
Laneia: the key here is that he believes in her
she is really good at being her, that's true
me: they're perfect for each other
that's true
Romi's invited Kelsey to drop by the studio to assess her competition:
Kelsey: "At first I was a little weary about Romi making music with her ex-boyfriend but I met him and you know, Dusty has a girlfriend so he doesn't seem like a threat at all, I actually thought he was on my team and gay, but apparently he's not gay."
Laneia and I typed "!!!!" at the same time when Kelsey said that, sidenote.
Kelsey notes that Dusty is a "cuter version of Jay." He's sort of a pocket Jay. Like a pocket Gay. That's the most clever idea I've had all recap.
Anyhow, Queer Pomp + Mercado arrive to snatch footage for the upcoming music video.
Kelsey: "Romi's an entertainer and she loves to entertain and her making pop music is what she wants to do, she should definitely do it. But is it good? I don't know. Listen to it and tell me what you think."
Oh, I thought you'd never ask! Readers, take a gander:

Back in New York City, Amanda's hot-rigged a motorcycle and is zooming around the city like she owns the place.
Amanda: "I've never had like alone time or down time in any way with Kiyomi, so while i'm in New York I wanna figure out what her intentions are and what the hell is going on. I have every intention to call her out and talk to her."
So Kiyomi invites Amanda to a dinner party Laura's throwing.
Kiyomi is really putting on the ritz for Amanda:
Kiyomi: "The only thing that I can do is be myself and be authentic. if she likes me then she likes me and if she doesn't then she doesn't and there's nothing that I can do about that."

Cut to The Hospital, where Cori and Kacy are preparing for their new journey into The Miracle of Life.
Much like marijuana, the sperm vials are labeled with obscure symbols indicating particular strains and Kacy recognizes the one they've got:
Kacy: "It's the same batch [that made Charlie]."
Cori: "Oh my gosh, that's crazy."
Kacy kisses the sperm vial for good luck.
Cori: "Did you ever think your mouth would be so close to some sperm?"
Kacy: "Really? Really? That's what we're doing with this? No, but if this is what I gotta do to make a baby, then yes."
Really, they're on a roll with the humor this scene:
Cori: "I hope my cervix isn't being an asshole today. Ugh, why does this have to be so uncomfortable."
Kacy: "It could be worse, you could have dude on top of you."
Kacy kisses her and tells her it's gonna be okay and they are so cute and I'm pretty sure Laneia cried a lot during this scene.

We zoom back over to the East Coast, where Whitney and Sarahara are visiting Uncle Mike to tell him they're getting married. Let's just do this forever! Whitney and Sara tell the mailman about their wedding! Whitney and Sara show the ring to their roommates from college! It could be a spinoff called "Whitney and Sara Tell People About Their Wedding!" and I wouldn't have to recap it because it'd be a spinoff, duh, and I'm only recapping this show, not the inevitable spin-offs. I'd also like to pitch All Romi, All The Time as a potential breakout hit.
YAWN BRING BACK THE CREAMED CORN.
So basically, Whitney's Dad isn't coming to the wedding because he doesn't wanna be on camera. I can't believe that her father is both alive and supportive but she'd rather have it filmed than have him there, but my rant on this topic wasn't well-received by my viewing companion so I'm probably totally wrong and should be mad at Mr. Whitney.
Whitney: "My Dad is not coming to the wedding because he feels uncomfortable being on camera, and I'd like him to be there for such a huge event in my life you know, that matters to me, it's my one wedding, and so yeah it pisses me off that my Dad can't put whatever shit he's got going on in the back burner and make it there. 'Cause the reality is he is supportive of me being married but he just can't get over himself…"
Mom shows up and Whitney tells her that they've extended their vaycay, which means they've gotta go to TJ's asap and get more Chicken Tacos, and also they "might" get technically married in Connecticut and "might actually go down and get like an actual license here."
Whitney: "My mom's reaction to hearing that we're getting legally married is comparable to me telling my mom that we're neared, she kinda has this pause and like—"
Sara: "A blank stare."
Whitney: "She just needs process time, it varies between 10 and 25 seconds."
Mom says of course she'll be there tomorrow for their impromptu ceremony, which's excellent 'cause I think it's happening in her backyard. LITERALLY.


Pages: 1 2 3See entire article on one page