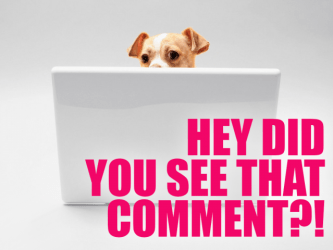 Greetings cowgirls and cowbois! Today is a good day because it's sunnier than ever in my town and I'm heading to a science museum right after work tonight. What the heck are you up to?
In this week's examples of the government being the worst, we have the Supreme Court putting a stop on 35 foot buffer zones between abortion clinic protesters and patients and a Senate delay that's threatening funding for thousands of untested rape kits. In better news, an Indiana judge threw out the state's same-sex marriage ban and an arrest was finally made in the 2012 shooting and sexual assault of a young lesbian couple in Texas that left one dead.
All caught up on OITNB, PLL and Orphan Black? Great, because now you have time to check out The Switch! You could also learn to program a thing or prepare berries in 25 delicious ways or make freezer paper stencil t-shirts! The possibilities are endless.
---
On FRIDAY (.gif) OPEN THREAD: Your Relationship Status:
The Going Down Award to Mandy:
The And It's So Easy To Turn On Award to Lea: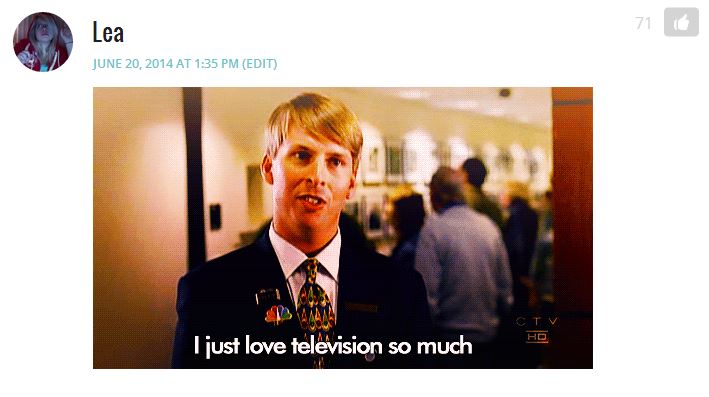 The Congratulations! Award to Wondy: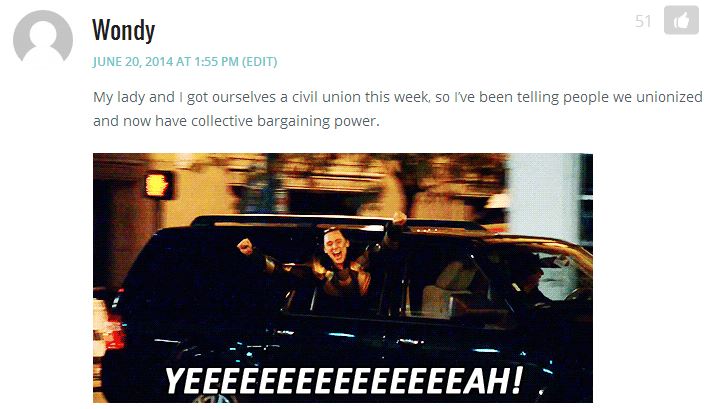 On Orange Is The New Black: 202 Thank Lesbian Jesus It's Taystee's Episode:
The This Is The Way That We Live Award to jane:

The That Time The Real Larry Commented On Autostraddle Award to Larry Smith:
On Seeing Double: Smoking Up With Orphan Black And The Clone Club:
TheWe Don't Usually Give These To The A-Staff But Grace Defies All Reason Award to Intern Grace:

---
See a clever, hilarious or thought provoking comment around this website-ship? Email it to me at: carrie [at] autostraddle [dot] com!