You may remember the story of 19-year-old Mollie Judith Olgin and 18-year-old Mary Christine Chapa, a young lesbian couple who, in June 2012, were assaulted, shot and left for dead in Violet Andrews Park overlooking Corpus Christi Bay in Portland, Texas. Chapa survived the shooting but suffered a brain injury. Olgin did not. Friends described the couple, who had been dating for five months, as "full of love and laughter."
This weekend, almost exactly two years after the couple was found unconscious in a knee-deep grassy area by park visitors, an arrest was finally made. David Malcom Strickland, 27, faces charges of capital murder, aggravated sexual assault and aggravated assault with a weapon. On June 20, the Lone Star Fugitive Task Force in Helotes, Texas, in conjunction with the Portland Police Department and the Texas Rangers, tracked Strickland down at his apartment in Helotes. David was hiding out with his wife, 23-year-old Laura Strickland, who was arrested for fabricating evidence and tampering with evidence.
The United States Marshal for the Western District of Texas stated, "I am thrilled that the collaborative efforts of the Lone Star Fugitive Task Force, Texas Rangers, and Portland Police Department resulted in Strickland's arrest. He's a stone cold killer who thought he got away with murder, but will finally pay for his crime. My sympathies and condolences go to the victims and their families who had to endure this wicked act of violence."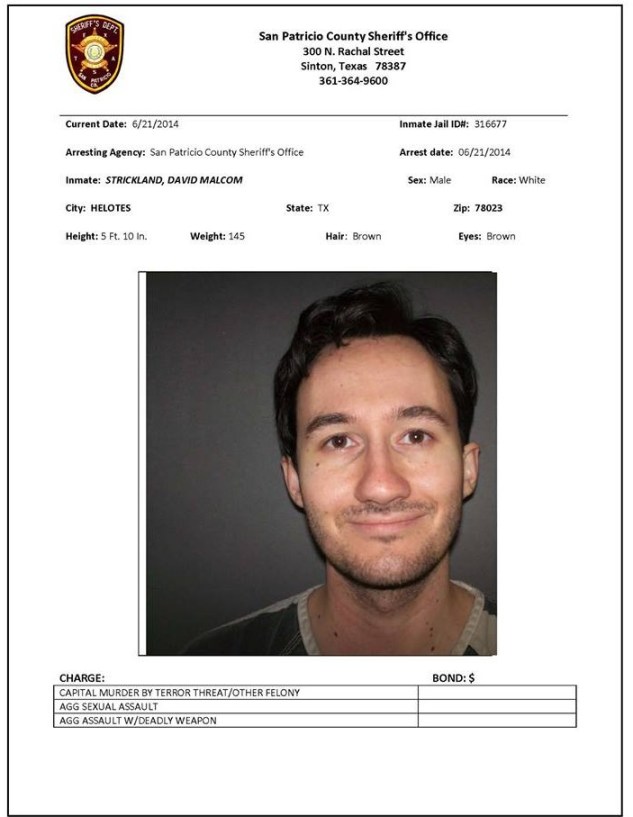 Olgin had taken Chapa to Violet Andrews Park that day because she wanted Chapa to see where she was baptized. The park is an impeccably maintained bayside nature preserve located in an upper-middle-class suburb of Corpus Christi, containing a children's playground and surrounded by expensive waterfront homes. The two women were approached at gunpoint, lead down to a grassy area in the park, assaulted, and then bound and shot.
The fact that the women were sexually assaulted is new information not released at the time of the shooting. John Wright of Lone Star Q verified that "the sexual assault charge is the first indication since the attack that at least one of the women was also raped."
One year ago, NBC News did a story on Chapa, who was still recovering from her gunshot wound to the head and had "learned to sit, walk and even smile again." Initially, Chapa was unable to balance, speak without a stutter, make facial expressions, sit, stand or walk. Unfortunately, health insurance did not cover all the rehabilitation Chapa required, such as a hearing aid and calf brace.
Two weeks after undergoing surgery to remove skull fragments from her brain, Chapa was informed by her friends and family that Mollie had not survived the attack  "Everything stopped. I went blank. I couldn't think," Chapa recalled. "And then I just started crying."
Chapa told NBC News that she and Olgin had fought the night of their death because Olgin wanted to meet Chapa's parents but Chapa wasn't ready because she hadn't come out to them yet. In fact, they first learned that Chapa was gay when the police told them that Chapa had been with her girlfriend during the attack.
That July 2013 story also said that authorities had tested DNA samples and fingerprints, generating 250 potential suspects before "zeroing in" on one man who they said was incarcerated in a different state. They believed that the suspect didn't know the girls or have a relevant criminal history. It's unclear if this suspect was David Malcolm Strickland.
Last year, Chapa said that "I want them to hurry up and find the person because (…) there are still times where I find myself scared, wondering if they're going to come after me. I'm always looking around, seeing if I recognize anyone. There's still a part of me that's scared."
The police caught a break this month when Laura Strickland left a letter about the assaults at a home in Sinton, Texas, on June 11th. Laura wrote pretending to be a "hit man hired to kill Chapa by David Strickland's friend and former roommate in Utah."
A witness who saw the letter dropped off described a woman driving a car very similar to David Strickland's, and GPS information verified that his car had been in Portland that day. The former roommate implicated by Laura's letter said he had nothing to do with it and had a rock-solid alibi besides: He was stationed in California with the military at the time of the shooting. However, David Strickland had been arrested in Moab, Utah, in January, on charges of stealing that friend's firearms. The arrest also turned up "evidence of interest" in the Olgin and Chapa case, which is probably why Laura felt the need to fabricate evidence to cover up her husband's unforgivable acts.
Initially, the murder and attempted murder of a lesbian couple raised questions about whether or not this was a hate crime, but police continue to say there is no evidence that it was a hate crime.
Unfortunately, it is also entirely possible and increasingly likely that the two women were targeted not because they were two women in love, but because they were two women, period.
In a statement, the Portland police said, "we are confident that we have the person responsible for this horrific crime in custody. There is still a lot to do in order to prepare the case for prosecution. The families involved will never be the same, but it is our hope that the Olgin and Chapa families will at least feel some form of closure on this chapter of life."