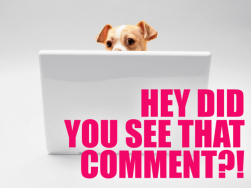 Hi there, scooby snacks! Today I present a brief list of words that my browser's autocorrect thinks are misspelled: WordPress, autocorrect, Kickstarter, and mansplain. Get it together, Chrome! Don't you know what kind of sites I visit?
This week, Dickens made an announcement. (Squee!)
Have you watched The Handmaid's Tale yet? Riese has this reflection, and Dorothy Snarker has this review. (And I have this fun new situational depression.)
Sinclair wrapped up View from the Top with a look towards the future.
Priya wrote about searching for her queerness in Bollywood.
From Mey: Strong Female Protagonist is running a Kickstarter!
And then there were your comments!
---
On Also.Also.Also: Making You Think of "Chasing Amy" On a Monday and Other Stories for Your Week:
The Philosopher's Stone Award to Nina:
The Tale As Old As Time Award to Blackmar:
On Be The Change: A Community Organizer's Glossary:
The Wibbly Wobbly Timey Wimey Award to QueSarahSera:

On What I Wore: Navigating the Heteronormative Patriarchy, Pt. 10:
The Lunar Cycles Award to Sally:
The Dishonorable Discharge Award to Monique:

On How Koko the Gorilla Describes Some Words Will Ruin You:
The Warm Wishes Award to Blackmar:
The Context Award to Courtney:

On No Filter: Janelle Monáe's Raspberry Beret:
The Socks Bisexual Award to Cyclone and Carmen SanDiego: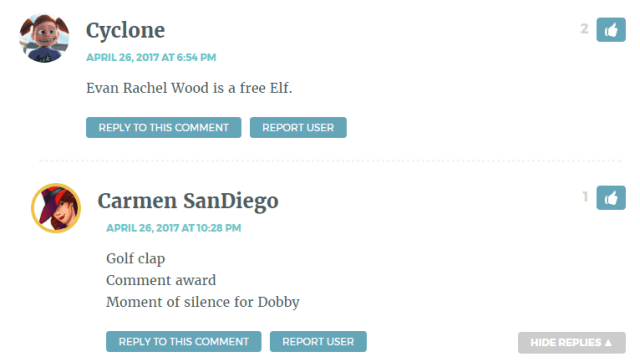 And on 21 Unintentionally Gay Vintage Newspaper Clippings That I Wish Were Gay For Real:
The Old Soul Award to SurelySurly:

---
See a funny or amazing comment that needs to be here? E-mail me at queergirlblogs [at] gmail [dot] com!