The trick to creating a truly terrifying dystopia is showing us exactly how we got there. Sure, almost anyone can imagine a future gone mad with its own ugliness. But to tell us why, well, that's where the real horror lies.
Hulu's new original adaptation of The Handmaid's Tale is a startling reminder that what we as a society will accept as normal can and will change when the circumstances are right. Margaret Atwood's dystopian feminist masterpiece may be more than 30 years old, but decades have done nothing to dull its sharp, merciless edges.
The new series has been called timely and topical and anti-Trump. Given your perspective, it could indeed be seen as all those things. But it is also timeless in the weary way that human's ability to commit untold atrocities against other humans is timeless. Alas, misogyny, homophobia, and zealotry still remain ever-present unworthy foes.
The Handmaid's Tale tells the story of Offred (played by a magnificent Elisabeth Moss), a woman who serves as a childbearing concubine to the ruling class in a world plagued by infertility. Among her friends and fellow Handmaids are not one, but two gay women – Moira (Samira Wiley) and Ofglen (Alexis Bledel) – whose lives also play prominently.
Authoritarian religious militants have taken over what used to be the United States and rule it with puritanical zeal and lots of machine guns. And to get there, to no one's surprise, their first step was to strip women of their rights. Our right to own property. Our right to have bank accounts. Our right to work. Our right to autonomy over our own bodies. Stop me if you've heard any of this before.
The new nation Gilead is a patriarchal (because, of course, it's always patriarchal) system forged with devout totalitarianism and forcible piousness. All the Handmaids must wear plain crimson dresses and robes, which in public are punctuated by white, blinder-like bonnets to keep them from seeing and being seen.
The rest of the country's barren women are divided by specific purpose: the Marthas (who cook and clean), the Aunts (who command other women), and the wives (who marry commanders and raise the children the Handmaids bear as their own). Those women with no purpose or those women labeled "Gender Traitors" (that would be us queer folk) are sent to clean toxic waste in the colonies and die.
What makes The Handmaid's Tale so striking isn't just this world where all the pretense of female equality has been stripped away, but the ordinariness of such oppression even today.
Sure, we might not label women Handmaids or Marthas or Gender Traitors – just yet. But we do have states passing laws forcing doctors to lie to women about abortions. And we do have congressmen incensed that men should have to pay for women's prenatal care. And we do have a president who openly bragged about being able to grab women by the pussy. So, there's that.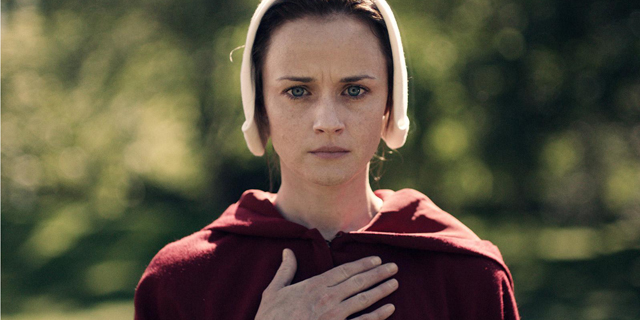 In Moss, the series has found its perfect Offred. While the actress has no need to prove herself, Mad Men and Top of the Lake did that for her, she puts on a master class in restraint and under-the-surface everything – rage, sorrow, disbelief, despair, et al. Most of her dialogue is delivered via internal monologue voiceovers – as Handmaids are not to be seen or heard, just fucked for procreation in nightmarish sterile rituals called "the ceremony."
We see Offred's before and after as the series unfolds. Now, as a Handmaid, and then, in flashback as a book editor with a husband and a child. Before her best friend was Moira, a seemingly carefree lesbian played by the always winsome Wiley of Orange Is the New Black fame. After she walks daily to do errands with Ofglen, a seemingly dutiful fellow handmaid and secret lesbian played by Bledel of Gilmore Girls fame.
Bledel is a quiet revelation here. Sure we knew she could banter with the best of them and look utterly adorable. But nothing prepared us for the haunted torment those big baby blues could convey. In the first three episodes released to the press, Ofglen's story deviates most from the books (giving her a wife and child) and making her sexual orientation integral to her past and present – as it should be.
By amplifying the queer character's voices – and indeed making them essential to building empathy in the audience – Hulu's adaptation has taken things a bold step further than its source material. We care for Ofglen and Moira because they are people caught in a monstrous scenario where their entire existence, in fact even the word "gay," has been outlawed.
This is something LGBTQ viewers will feel intrinsically. For all the strides we've made both legally and societally, our fight is never far off. Sure, we're not rounded up and arrested in bars anymore. And, sure, we aren't banned from marrying the people we love anymore. But so-called "Religious Freedom" laws and bathroom bills keep trying to legislate away our very lives. Progress is all too fragile all too often.
Rounding out the show's supremely talented female cast is The Leftovers veteran Ann Dowd (as the Nurse Ratched-like true-believing Aunt Lydia who directs the Handmaid indoctrination centers) and Chuck star Yvonne Strahovski (as the Commander's wife with the supremely paradoxical name of Serena Joy).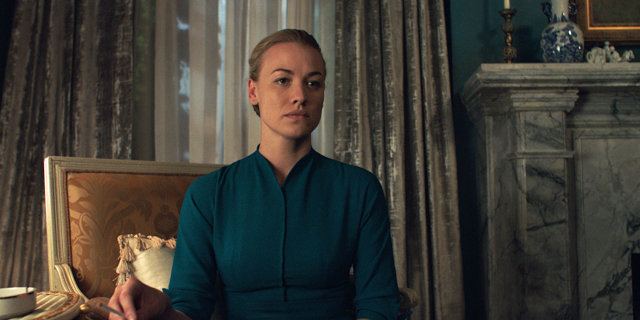 The Handmaid's Tale is not easy to watch, yet mesmerizing in the way it depicts some of its most upsetting imagery in hushed tones. Just as stunning is its rich, visual language. The blood-red of the Handmaids' robes. The agean coldness of the wives' frocks. The first three episodes are directed by Reed Morano – the female cinematographer behind Frozen River, Kill Your Darlings and Beyoncé's Lemonade – and it shows. Shots taken from above exemplify one of Gilead's creepiest (because, trust me, they're all creepy) religious maxims, "Under his eye."
The best dystopian stories remind us, even in their most fantastical hyperbole, that the human capacity to accept the unacceptable is nearly boundless. It is only rivaled by our desire to find convenient solutions to complex problems. Cling to dogma. Assert your superiority. Blame the other. Lather, rinse, repeat.
The essential question The Handmaid's Tale poses then is whether, when faced with the unspeakable, we look away or stare ahead. Whether we comply or we resist.