Hey! We're back after a few months! Sorry I fell behind in taking care of my favorite coven. To tell the truth, I've had a very stressful last few months. I moved to LA, I moved out of LA, we have a horrible evil monster as a president and a whole bunch of horrible evil monsters running the government with him. I let my stress get the best of me and I got behind on my work, most notably on doing Witch Hunt. But I'm back, and we're back, and we're going to stay back as long as we can. We're back like a witch who was being burned at the stake and promised she'd come back one day. Like the Blair Witch or the witch's ghost from the Scooby-Doo movie with that awesome girl rock band.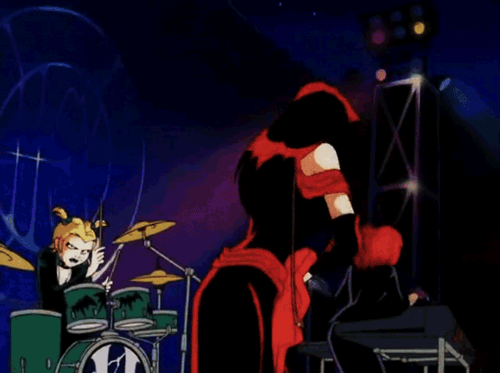 To catch you up, here at Autostraddle we're still doing those wonderful queer horoscopes that will haunt you forever and whisper your darkest secrets into your ear. Beth is still doing her terrific tarot series, and is making all of us smarter and better because of it. And now, Siobhan has started a new regular column about queer folklore that's so far really cool. Also, we recently did a recap of our Dead TV Lesbian Haunted House that we did at camp last fall, and in it Cecelia and I talk about playing famous queer witches Willow and Tara from Buffy the Vampire Slayer. Lots of fun witchy stuff!
The rest of the internet has lots of fun stuff too! There's this really informative piece about "hysteria," female sexuality and how women being accused of being witches ties into that. Do you remember when witches were being kicked off of Etsy? Well, it's happening again with Square this time because witches are selling "occult items." K. Araújo wrote this terrific essay about how, despite people seeing it as "trendy" and "mythology," POC witchcraft (Lucumi, in her specific example) is a real thing that isn't just a thing that everyone can hop onto. And over at Remezcla, they talk about how young POC culture makers are embracing Bruja Culture and using it to empower their feminism. Also, look at this magic color-changing hair dye invented by a British witch!
By the way, did you know the Hex Girls (that "eco-goth" band from Scooby Doo and the Witch's Ghost) has almost 30 minutes of music??? Here's all of their songs put together into one "concert," and actually this is definitely some of the best witch-themed rock I've ever heard. Check it out.
https://www.youtube.com/watch?v=1tS9wPqhlJk
---
The End of the World Playlist
By Laura
https://open.spotify.com/user/1238936003/playlist/7uPoOl6O2TbQwKPYLHw4vC
---
Words With Witches
By Rachel
salt – a chemical compound found naturally in seawater and biologically essential for humans; it functions as an electrolyte and helps nerves, muscles and water regulation. It has been used in rituals and religious ceremonies, from Greek new moon rituals to possible associations with holy water in Christianity. It seems often associated with purity or warding: "Salt is believed to ward off evil spirits in Mahayana Buddhist tradition, and when returning home from a funeral, a pinch of salt is thrown over the left shoulder as this prevents evil spirits from entering the house.[87] In Shinto, salt is used for ritual purification of locations and people (harae, specifically shubatsu), and small piles of salt are placed in dishes by the entrance of establishments for the two-fold purposes of warding off evil and attracting patrons." In Wicca, salt is representative of earth. According to Zolar's Encyclopedia of Omens, Signs and Superstitions, a dubiously reliable but charming text, "it was said that black magicians and necromancers were thought to never eat salt with their bread before raising the dead, as it would cancel out their spells. Similarly, alchemists held salt as symbolic of the body, the female, and earth. In their attempts to create gold, white salt was one of the ingredients often employed." Some magical traditions recommend using salt as a protective ward, putting salt or saltwater across doors and windowsills to prevent evil from being able to enter, or creating a protective ring with it as in the perennially popular Supernatural.
---
My Favorite Witch
by Casey
I love so many witches, so picking a favorite is really hard for me! But instead of talking about Willow or Tara or Ursula the Sea Witch who y'all already know, I thought I'd gush about two real life witches some of you might not know about: Marcelle Kosman and Hannah McGregor. They're two self-described "lady scholarswp_postswho run a fortnightly podcast called "Witch, Please" about the Harry Potter world. I LOVE this podcast. It's just everything I would ever want in a Harry Potter podcast, including a special section every episode on Hermione (and other witches in the series) called "Granger Danger,wp_postswhich they introduce every time with thunder sound effects. They talk about stuff like which character is the most feminist (they decided on Hedwig), how good of a reader Hermione is, and how her SPEW campaign is totally white feminism.
Marcelle and Hannah are real fans of the series, and came up with the idea for the podcast as a fun way to re-read the series (and watch the movies) together but also as an alternative, accessible way to do academic work. It's so refreshing to listen to women talk about their emotional reactions to the story, but also do smart cultural/political/literary analysis. They're the best lady witch scholars! Every episode is a bit like a really awesome conversation with your friends but also like the best university classes you've ever taken. Imagine a combination of a class with your hip English prof who doesn't look down on popular culture and the best women's studies teacher explaining feminist theory in down-to-earth language mixed with a chat with your witchy friends about how magic really works in the Rowling universe.
Perhaps my favorite part is that Marcelle and Hannah end each episode by saying "later, witches.wp_postsI think we should take a page out of their book and start using this in our everyday conversations.
---
Willow – The Witches' Tree
By Beth
The water-loving willow tree is associated closely with the moon, intuition, spirituality, emotion, dreams… in fact, all that belongs to the intangible realm of the water element. There's a reason Buffy's Willow Rosenberg is so named! Willow is known as the "witches' tree," and is used in all kinds of spells, especially enchantment and binding, and for journeying into the underworld.
Ruled by the moon, willow also help us deepen our connection to our intuition and spirituality. This power is particularly strong in spring, when energy is rising and moving outwards. Where I live in the north of Scotland, spring's stirrings are slow to get going, but it's impossible to miss the sudden bursting forth of the willows that grow abundantly here, long shoots growing inches each week. These past weeks, the willow's beautiful flowers — grey, furry little catkins — have appeared all over these wavy branches. Like a truly magical wand, a fresh-cut branch of willow pushed into the earth will grow roots and shoots and grow into a new tree! You can imagine this sudden flowing of energy, this rising of feeling, as something that can help you clear emotional blockages, get in touch with your feelings, or access your intuition (and weeping willows are especially associated with grieving).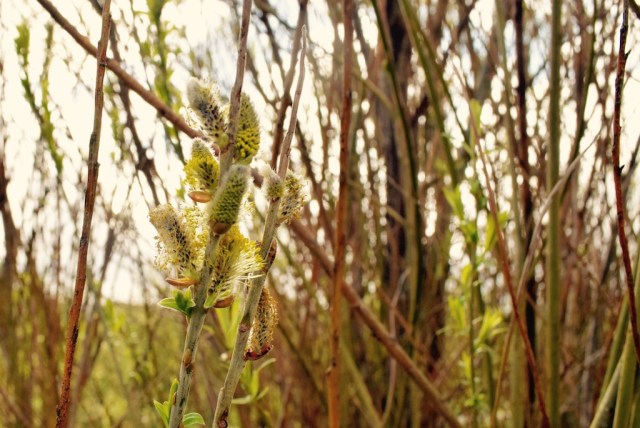 To work with willow, you could cut yourself a willow wand (greet, ask and thank the tree as you do!) and place it on your altar or sleep with it under your pillow to deepen your connection to your inner wisdom. Or simply sit under a willow tree and allow yourself a moment of peace and reflection. Have a full-moon gathering (or party of one) beneath a willow-tree. You can burn willow bark as an incense to aid your creativity, sleep with a willow twig under your pillow for vivid dreams, and if you want to "draw down the moon" in a full-moon ceremony, choose a willow wand.
This time last year I spent a lot of time weaving willow fences using the long, fresh green shoots — I found cutting, sorting and weaving the willow incredibly relaxing and meditative. You can make something more fun than a fence, though! Cut a few shoots and try weaving them into any shape you fancy…let your intuition guide you. Use your willow art to decorate your altar, or burn it as a symbolic release or offering.
---
Magical Potion of the Month: White Nonsense
By Raquel
At its core, this drink is pretty straightforward: red wine hot chocolate. Winter just ended, and if you don't live in Texas, some of you are still shaking off the last chills of winter. This drink, my friends, is the perfect potion for getting that cold out of your bones.
But if I'm going to be honest with you, dear reader, as I've been experiencing life—as a first-generation child of immigrants, as a queer WOC, as, for goddsakes, a human with a heart in the world— it's really about the complete fucking bullshit that's going on in the world right now.
Also, it's about about how I stole this recipe idea from Martha Stewart.
This is the beginning of Spring, when a young boi's fancy turns to thoughts of love. Whether in celebration of all the diverse forms of love in your life, or to drown out the voice that perjures the court of your heart into believing you're only worthwhile in conjunct with someone else, it's always a good plan to drink some wine.
A heartfelt note: you don't have to do it with this, but keep taking care of yourself, your body, and your capacity this month.
As always, I believe in experimentation, adjustment, and what-the-hell winging it. Take every instruction as a suggestion, add more or less alcohol to taste. (Warning: I tend to like things strong). And please—let me know if you've improved upon what I've given you!)
White Nonsense
Ingredients:
Powdered hot chocolate (I used Ghirardelli baking 100% cocoa, to cut some of the sweetness)
½ cup of milk, or heavy whipping cream if you're nasty
1 cup red wine (make it cheap and save a glass for drinking while you make this)
a handful of mini marshmallows
1 tiny drip of vanilla extract
1 dash of nutmeg, allspice, cloves, star anise, cinnamon, and/or whatever other spices you use to make mulled wine
If you feel fancy, burn some orange peels and drop that shit in too.
Instructions:
This is important: make the mulled wine and the hot cocoa seperately before you mix them. You can use whatever recipe is your favorite (here's a good one), but I usually keep it simple:
Pour the wine into a small pot on medium heat until it's simmering. Stir in the spices to taste, and keep it simmered and stirred as you make the rest. Try to avoid getting it so hot that it steams and you lose a lot of your wine.
Mix the cocoa and milk in another small pot, and simmer and stir it until it's a rich, light brown.
Remove both pans and carefully pour them into a very large mug. Pick one that feels good held inside your two palms.
If you make more than a mug's worth and you plan on drinking more than one successively, you can leave the two pots, covered, on low heat.
Drop in the mini marshmallows and breath in the warm, hot steam. If you're a sweet tooth, go ahead and put a spritz of whipped cream on top of that sucker. Put something equally saccharine on the TV (to your taste) and give into a few hours of a warm chest and another world.