Many of us don't yet have words for Beyoncé's performance at the Grammys because… language has yet to catch up with her. But do you remember how, in Cranes in the Sky, Solange danced like a gold, shimmering bird? Remember how it felt to watch the last few scenes in Moonlight? How you were buzzing? Whether it's the blues or a flash, there is this tradition of alchemy in African American culture. Using art to turn suffering to light. Inspired by Black History Month (but moving beyond it!), we are featuring personal essays as part of the Renaissance series. Each essay will describe how one queer black life has been saved by art. In the name of healing, wholeness and resistance, we hope you enjoy!
---
In the weeks following Trump's election and leading up to his inauguration quite a number of reading lists circulated throughout social media. Independent, left-leaning publishing houses such as Haymarket, Verso, and A.K press published their "Stop/Fuck Trump" reading lists, replete with their own publications. Each reading list sought to arm readers with the critical pedagogical tools to take part in mounting a large-scale resistance to Trump, fascism, and white supremacy. Similarly, the rise in post-election think pieces became their own sort of required reading list in preparation for the resistance to come January 20th.
What's interesting about those lists is that art, specifically poetry, doesn't really factor in at all. I don't think this dearth of poetry truly hit me until I took the time to re-organize my fiction/poetry bookshelf. I woke up one Saturday morning and almost tripped over a book pile on my way to the bathroom. I couldn't remember how those books got there, just that there was no room for them on the shelf.
After arriving at the sobering realization that my obituary could have literally said "death by book pile," I sat against the wall, facing a sea of books, and waited for inspiration to hit me. I began thumbing through the piles, realizing there are titles I didn't even realize I had because they had been lost amidst the chaos. The memory of discovering and reading them immediately flooded back upon touching the cover or their spines.
I briefly held Patrizia Cavalli's collection My Poems Won't Change the World and went back to the day I found it at Powells. I remember mumbling something like "well poetry can change the world, not always, but it can." The day I bought Cavalli's collection was the same day I bought Ariel Dorfman's In Case of Fire in a Foreign Land. Dorfman's descriptions of resistance, violence, and torture in Chile broke me open as I read in the bathtub under December moonlight. That was also the day I bought Sonia Sanchez's Does Your House Have Lions, an epic poem about the death of a brother from AIDS and the difficulty of reconciliation after estrangement.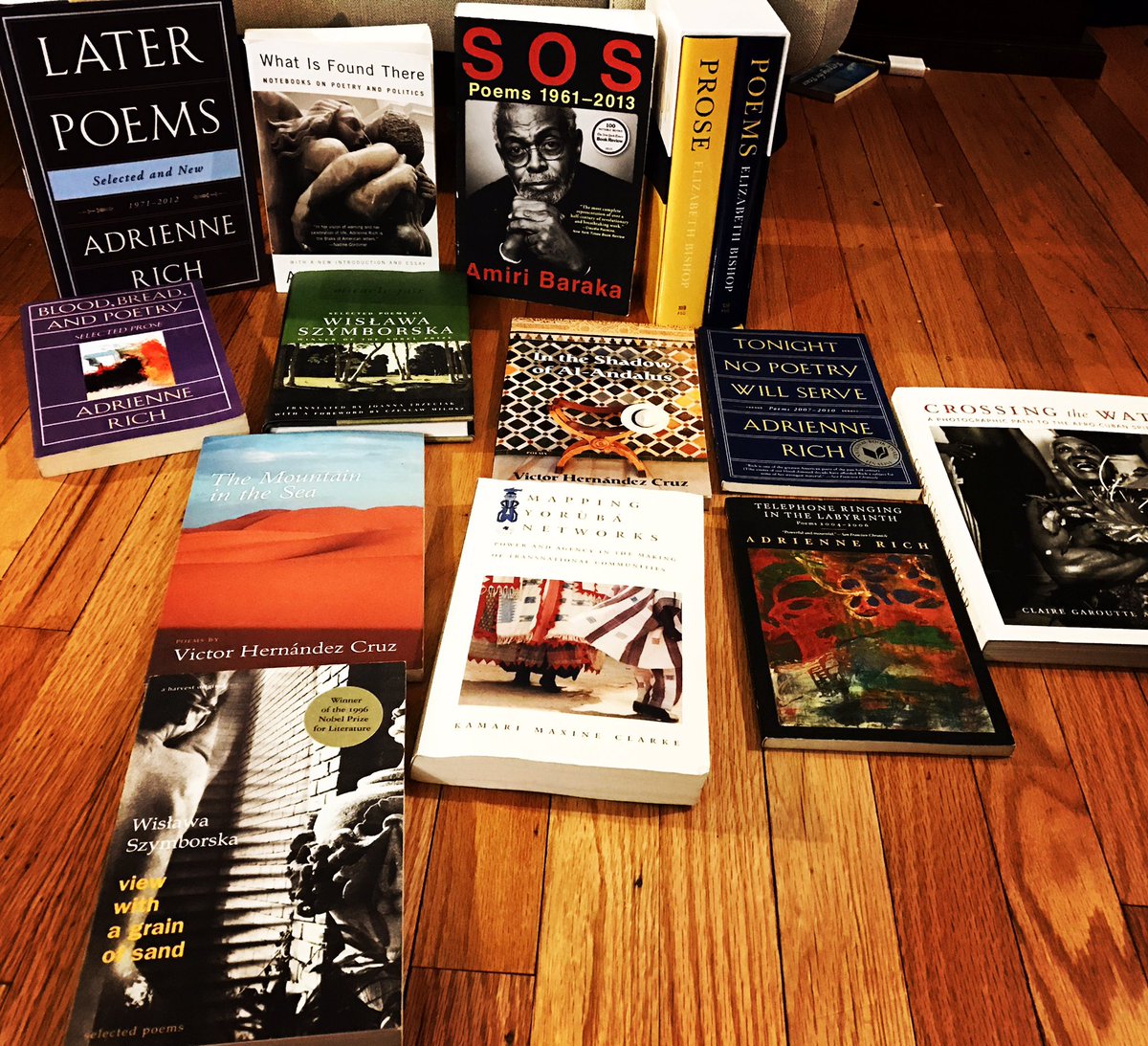 With close to 300 books at my feet, I realized certain books are more important to me than others. Poetry, specifically black poetry, is sacred to me. Ntozage Shange, June Jordan, Lucille Clifton, Audre Lorde, Pat Parker, Sonia Sanchez, and Alice Walker are my cannon of black poetic resistance.
I return to them; in urgency, in want of reprieve, begging their pages for guidance when it all becomes too much. I retreat into the words of black poets when I'm on the cusp of burnout or have crossed the threshold of no return.
I fizzle out when my life seems to consist of floating from organizing space to organizing space where the faces of black folx, particularly black femmes, are scarce or in low supply. I get burnt out from being the only black person in LGBTQ Muslim organizing spaces in relation to the amount of emotional labor I do as a black femme in order to keep things from going completely awry. When I log onto social media and see the perpetual attacks on black womanhood, especially as non-black people expect our unconditional solidarity while continuing to siphon our energy and creative brilliance for their survival, I grow weary. When think pieces attempt to dissect manifestations of black joy, such as celebrating the news of Beyonce's pregnancy, as "distractions from the struggle," "tacky," or "anti-revolutionary behavior," I feel sick to my stomach. When I'm expected to have it all together as my non-black comrades melt down left, right, and sideways over the implications of a Trump presidency, curling up in the bathtub with some Sonia Sanchez is all I can do from giving up completely. In those moments I retreat to a world ruled by the poetry of black women. If both misogynoir and anti-blackness threaten to completely wreck my immune system and state of mind, the poetry of black women is like the drops of an immunity tincture. It reminds me the only people who can truly celebrate us, hear us, and see us, is us.
Shange, Jordan, Clifton, Lorde, Walker, Parker, and Sanchez.
I return to them where there are little lessons to be learned along the journey of this thing we call resistance.
Audre Lorde boldly declares "for we were never meant to survive" in her infamous poem "a litany of survival." In "Won't You Celebrate With Me," Lucille Clifton reminds us our survival is worthy of celebration and remembrance:
come celebrate
with me that everyday
something has tried to kill me
and has failed.
An untitled poem of Pat Parker's invites us to think about who is often left out of our conceptions of sisterhood and what a new dream of liberation would look like that included the oft forgotten or ignored,
is she our sister?
once upon a time, there was a dream
a dream of women, a dream of women
coming together, and turning the world
around. turning the world around and making it over
a dream of women, all women being sisters.
a dream of caring; a dream of protection, a dream of peace.
once upon a time, there was a dream
a dream of women, for the women who rejected the
dream; there had only been reassurance. for the
women who believed the dream — there is dying, women, sisters dying
once upon a time there was a dream, a dream
of women turning the world all over, and it still lives.
In quick, sensual, and filthy verse Sonia Sanchez's poems in Like the Singing Coming Off the Drums reminds us the importance of the pleasure principle.
Ntozake Shange opens up her collection Nappy Edges with an essay calling for a radical reconsideration of the way black poets are collapsed and confused with one another despite their differences and nuances,
our language shd let you know who's talkin. what we're talkin abt & how we can't stop saying this to you. some urgency accompanies the text. something important is going on. we are speakin. reaching for yr person/ we cannot hold it/ we don't wanna sell it/ we give you ourselves/ if you listen.
Poetry lets black women get ugly in ways the world often won't. It gives us the space to be candid about our shit without having to apologize for it. We can be as guttural, sensual, lyrical, prosaic, or angry as we wanna be about our needs, desires, and experiences. To paraphrase a famous gospel song, poetry is the place where black women lay our burdens down, carving out enough room for the word "burden" to even enter our lexicon in the first place. In line breaks we rescue ourselves from the expectations of being thought of as "superwomen" and "strong black women." Our stanzas keep it all the way real about how much of a crock of shit it is to be everybody's everything and expect nothing in return. Poetry is where we get to be joyful and invite others into our state of jubilee. Poetry is where black women make meaning of our lives, sense of our struggles, and space for our dreams. In poetry we don't ask permission to be ourselves, or to contain multitudes, we just are, and it's up to readers to listen.
If the president threatens to cut funding for the National Endowment of the Arts, it seems like the perfect time to crystallize the role and importance of art to our movements. I know there are people who can see movements without art, and it's not hard to imagine why. Moments in history like this create a sense of urgency. In crafting responses to such urgency we have to make difficult decisions about what is most important to us, what is worth our time and attention, and what is worth saving.
To me, reading lists comprised primarily of non-fiction books say we haven't divested ourselves from a Eurocentric notion of what it means to be "well read." In the same way that being well read in the classics of western literature had its own connotations for previous generations, being well read has its own cultural currency in leftist spaces. If you've read bell hooks's Feminism is for Everybody in intersectional feminist spaces, you're considered well read. If you've read Marx's The Communist Manifesto and the communist latter day saints of European Marxism, then you're considered well read. If you can quote Audre Lorde's "The Master's Tools Will Never Dismantle the Master's House" in white queer and even white feminist spaces, without ever having read the whole essay, you can get away with being considered well read. In this way being "well read" becomes more about performance and not a meaningful engagement with a person's body of work.
The left's reading list features canonical texts on any given subject, mostly written by white authors. Meanwhile, authors of color exist in the language of "key texts" that isolate single books from the necessary context that is the rest of the author's work. People who consider bell hook's Feminism is for Everybody a key text for feminist struggle might be surprised to learn she also wrote a poetry book When Angels Speak of Love, a collection of poems which, in many respects, thematically complements the writing she does on love in All About Love, Communion, Salvation, and Sisters of the Yam. To engage more of hook's writing outside of Feminism is for Everybody would illuminate how she connects the importance of divesting from white supremacist patriarchy to its impact on our interpersonal relationships and capacity to love ourselves and each other. Altogether, hooks's body of writing provides insights on feminism, love, and relationships that are necessary for engaging in processes of movement building and alternative world making. Her body of work demonstrates how crucial both non-fiction and art are to resistance, and why we don't have to sacrifice one for the other in order to have an impact or see our freedom dreams come true.
This world that we're moving towards, actively working to build, cannot wait for the resistance to succeed in order for art to flourish. If imagination and creativity are lost in the fervor of not letting the world succumb to fascism, then all the nazi-punching and taking to the streets at every opportunity will have been in vain. Fascism will have won the silent war, that is the war of destroying the places within ourselves that hold out for hope and joy and laughter and magic, that dares to make room for the impossible, the improbable, and the downright implausible.
Those places may not seem worthwhile when the world is in turmoil. It may seem silly to think about art when so much of the discourse seems to turn capitalist notions of productivity on its head and instead constantly belabors the question of how one can be "productive" for the resistance. In this sense the thought of art doesn't immediately inspire confidence in one's productivity beyond the creation of protest signs and fliers. But like any movement that came before us and any movement that follow, we'll need artists to carry us through such dark times. We'll need artists to light the way, to remind us of our humanity, our capacities for joy, anger, compassion, and love alike. We'll need artists on the other side when it's all over to memorialize history, to tell the tale of who was lost, who survived, what the world used to look like in relation to where it ends up.
We'll need poets to tell the story of how Beyoncé's Lemonade album reignited a wave of black women and femmes involved in the struggle just when the weight of misogynoir within movements might have otherwise caused them to give up entirely. We'll need poets to envision a future with black children in it whose lives are not cut dramatically short, a Flint with clean water, and a Brooklyn as black again as Spike Lee's Crooklyn. Our ability to dream ourselves into the future and yet stay in the present is owed largely in part to artistic resistance.
---
I don't believe in telling people what to read. I don't follow book trends or keep up with who's currently lighting up mainstream bookstore shelves. I live in used bookstores and feel a personal calling to collect poetry books that easily get lost in library catalogs and boolean amazon search engines. I believe people encounter a book exactly when they're meant to read it, and not a moment sooner.
Instead I invite people to follow my progress on Goodreads, where I track my progress in trying to read 100 books in the name of leisure and black joy. Find me on twitter. I love talking to folks about the black poets and poets of color that are holding them over in troubled times. Talk to me about who are you reading, how you're supporting black poets and poets of color that are currently resisting in verse and in a multitude of other ways off the page. Who do you think is unsung, past or present? Who's got a word to teach us something new or remind us of something forgotten?
Let's keep the conversation going.
My reading for resistance list, the black poets edition:
Black Women's Works, complete collections
The Collected Poems of Audre Lorde
The Collected Poems of June Jordan
The Collected Poems of Lucille Clifton
The Collected Works of Pat Parker
Collected Poems: 1974-2004 by Rita Dove
Anthologies
The Ringing Ear: Black Poets Lean South. edited by Nikki Finney
Furious Flower: African American Poetry from the Black Arts Movement to the Present
Individual Collections
Supplying Salt and Light by Lorna Goodison
How God Ends Us: Poems by DéLana R.A Dameron
Head Off & Split: Poems by Nikky Finney
Black Crow Dress by Roxane Beth Johnson
nappy edges by Ntozake Shange
Does Your House Have Lions by Sonia Sanchez
Ossuaries by Dionne Brand
Lorde by Katie Lois Johnson
Spill: Scenes of Black Feminist Fugitivity by Alexis Pauline Gumbs
Preparing My Daughter for Rain by Key Ballah
Like the Singing Coming Off the Drums by Sonia Sanchez
Black Wings & Blind Angels by Sapphire
The Sweet Breath of Life: A Poetic Narrative of the African-American Family by Ntozake Shange and Kamoinge Workshop
play dead by francine j harris
trigger by Venus Selenite
Reacquainted with Life by Kokumo
Cannibal by Safiya Sinclair
Remains: A Gathering of Bones by Lady Dane Figueroa Edidi
Voyage of the Sable Venus: and Other Poems by Robin Coste Lewis
The Blood of a Thousand Roots by Lady Dane Figueroa Edidi