Today the Kickstarter campaing for one of my all-time favorite comics starts. I've been reading Strong Female Protagonist, written by Brennan Lee Mulligan and illustrated by Molly Ostertag, for years, and it's one of my favorites. The comic has always been great, but I've especially been loving recent chapters that include lots of Feral (my favorite character), some really interesting writing about philosophy and right vs wrong and good vs evil and a great biodynamic convention — there's tons of amazing stuff. Both the writing and the art are top notch, and Mulligan and Ostertag are a great team, skillfully playing off of each other's strengths, making for one of the most entertaining, emotional and thought-provoking superhero comics ever.
Very few superhero comics approach morality and social justice the way that SFP does. While Marvel has its flagship character revealed to be a Nazi, and they're doubling down on defending their decision to make Nazis and fascists the good guys in their universe, this comic discusses the importance of fighting against exactly that kind of thing. In these chapters we see discussions of privilege, rape culture, gender identity, community building, social responsibility, and a lot more. All of it is done really, really well.
I know for sure I'm going to support this campaign, and I want as many of you to do so as possible. Strong Female Protagonist is going to go down in comics history one day as one of the finest comics of any type of its age, and you can get in on it right now. This volume will publish chapters five and six in full color and include bonus content, to make a paperback book of over 300 pages. Rewards include books, obviously, plus some great enamel pins, a lovely tote bag, customized books, and even a cameo in the comic itself! The Kickstarter went live today, and in case I didn't sell you on it, I asked Ostertag and Mulligan some questions.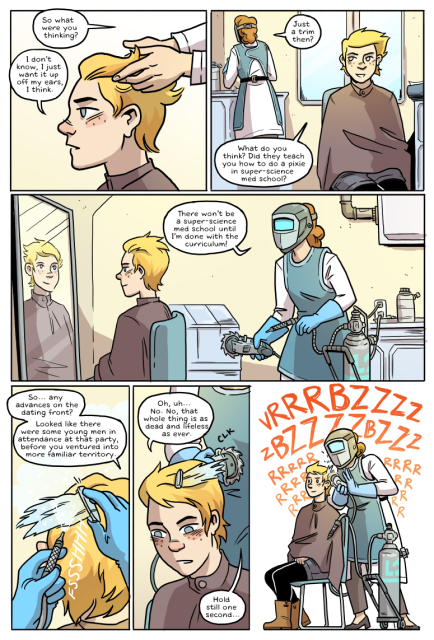 Mey: What makes you most excited about seeing this new volume in print?
Molly: I'm really proud of the art in this volume. After our last Kickstarter, I started coloring the comic, and I think it gave the story and characters a lot more dimension. We also introduced and revisited some of my favorite characters — Lisa, Feral, and all of the different biodynamic superheroes. I had a lot of fun drawing these guys. I can't wait to see how it will look as a book!

These chapters also dig into some intense and complex issues. Since the comic updates one page at a time, sometimes it was nerve-wracking as a creator to be exploring these issues so slowly. We had plans for where the story would go and how things would be explored and resolved, and we had to trust in our readers to stay with us as the chapters unfolded. Having it collected into one volume is the form I've always imagined it in.

Brennan: I'm so excited to get the last two chapters into the hands of readers who connect more with a story when it's tangibly in their hand. I've always been a big webcomic guy, but I have a ton of friends and family who have been waiting patiently for Volume Two so they can catch up on the story.
Mey: What are your favorite rewards and stretch rewards in this campaign?
Molly: I'm excited about the pins I designed! I've been enjoying the enamel pin fad a lot — it's a way to own a little piece of art you can wear with anything — so I was happy to have a chance to design some myself.

Brennan: Double Book! For people that missed out on our last Kickstarter, you can feel the warm, fuzzy, completionist satisfaction of getting the entire comic in one fell swoop!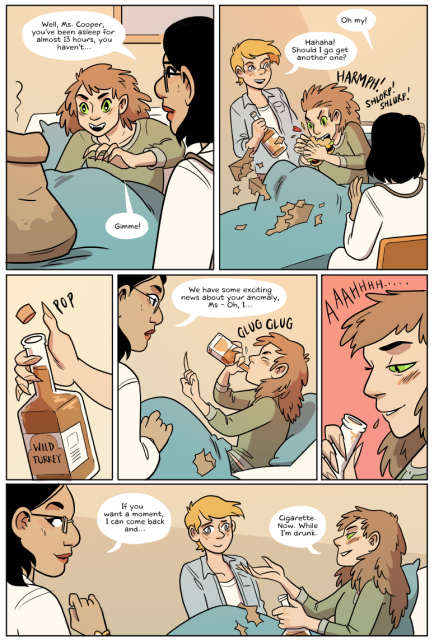 Mey: We get to see some great scenes with Feral here; can you talk about what makes her so great?
Molly: She's my favorite character to draw from anything, ever! Feral is so expressive and fun. She has a lot of bravado and a big personality, but we see her in some very vulnerable positions throughout the story, which I think is one reason why people like her. I don't want to spoil her role in these chapters, but I was so happy to get to draw her more. As a personal aside, I've been drawing this comic for six years at this point, and I identified as straight when Feral was introduced. Since then I've come out as gay and it's made her a much more important character to me!

Brennan: Hard to overstate how important Feral is to SFP. Her impact on the story is enormous. If you were to chart a character's emotional heft per page, Ms. Cooper's would be through the roof. I think what makes Feral so gratifying to write is that Alison's story is about trying to think your way to the right thing when your instincts often lead you astray, but Feral is just intuitively good. She also has a lot of contradictions that I love. She is completely selfless and just the most loving person, with a kind of saintly vibe at times, but also just the most profane, exuberant, coarse, life-affirming character. She does this incredibly sad, heroic thing, but is all smiles, hugs and jokes. I will never get tired of writing her.
Don't forget to head over to the Kickstarter page and support this project, and spread the word!
New Releases (April 26)
Avatar the Last Airbender Vol 15 North South Part 3 TP
Batman 66 Meets Wonder Woman 77 #4
Wonder Woman: Who is Wonder Woman New Ed TP
X-Files Vol 2 Come Back Haunted TP
Black Widow Vol 2 No More Secrets TP
Moon Girl and Devil Dinosaur #18
Patsy Walker AKA Hellcat #17
Jonesy Vol 2 TP
---
Welcome to Drawn to Comics! From diary comics to superheroes, from webcomics to graphic novels – this is where we'll be taking a look at comics by, featuring and for queer ladies. So whether you love to look at detailed personal accounts of other people's lives, explore new and creative worlds, or you just love to see hot ladies in spandex, we've got something for you.
If you have a comic that you'd like to see me review, you can email me at mey [at] autostraddle [dot] com.